How Long Is Acceptable For My Landlord to Fix My Toilet?
 is legally bound to maintain a habitable environment for renters. They are responsible for the function of all utilities, including your toilet.
A broken toilet is a serious lifestyle disruption. It falls in line with state habitability standards. Part of your ecosystem, when awry, the environment is unsanitary.
But not every landlord shows up to right the wrong, do they? 
What are your rights?
What can you do if the situation isn't resolved promptly?
DoNotPay can help answer those questions. On top of that, we help with aggravating situations where the landlord won't do their job.
What Are My Rights as a Tenant?
 is your right to safety, cleanliness, and comfort. Among the many things you have a right to are a working toilet, bathtub or shower (not necessarily both), and a washbasin. The location of the toilet and bathtub or shower should be in a room both ventilated and private. If your toilet doesn't work, your level of comfort becomes substandard.
But that doesn't necessarily mean the landlord is responsible for a broken toilet. They must investigate and repair. But if a plumber discovers the defect is the fault of the renter, the owner can hold renters responsible. You may have to negotiate how to take care of that expense.
How Long Does the Landlord Have to Fix the Toilet? 
Once notified, the landlord has a "reasonable" amount of time to make repairs. A reasonable time's framed around the defect's severity and the scale of work needed.
The law uses 30 days as a rule of thumb. A shorter period is a must if, say, a toilet's flooding. In that case, the landlord has to act quickly, but only under the assumption that a qualified plumber is available.
How to Ask Your Landlord to Fix Your Toilet
For repairs, the protocol is writing the landlord, preferably by certified mail. If your situation is difficult, such as a burst tank or overflowing, reach out directly via phone, text message, or whatever communication channel is typically used. 
Upon notification, the reasonable time period begins.
How to Fix Your Toilet on Your Own
As much as you may want to,  do nothing until the landlord's been notified. Legally, you cannot hold the landlord responsible for issues they knew nothing about.
| | |
| --- | --- |
| Shut off water to the toilet. | Contact the landlord or his representative (superintendent, management company). |
| Write a letter requesting the repair | If you're not sure how to frame the demand letter, DoNotPay can help. |
| Wait a few days to hear back | If the landlord makes no effort to fix the toilet in a reasonable time, you are legally allowed to have the repairs done yourself, deducting the cost from the rent. |
| Keep a capped portion | Until the unit's returned to a habitable state |
| Include a letter detailing the repairs and costs | Attach copies of receipts and invoices |
Take note, you do not need your landlord or the court's permission to do this, even if the landlord tells you not to. But you must give the owner reasonable time to take care of the situation first.
In severe cases, you can leave the residence, abandoning the lease. The problem is the landlord may try to sue for breaching the lease. They may try to withhold your security deposit.
Before making that move, consult with an expert in renter law.
Next Steps for Fixing Your Toilet If You Can't Do It Yourself
Here are steps to take if your landlord ignores the matter.
Continue writing and voicing your concern and demands. And record every contact, even if you leave a message.
File a complaint.
Speak with a lawyer, consumer advocate, or local housing authority.
Reach out to a housing or building inspector. Contact a local health department to find one.
Have the repairs done and deduct the expense from the rent. Just remember:
Call the landlord about your intent and then reiterate what you told them on the phone in writing.
Keep all receipts.
Costs must be reasonable, so don't think about upgrading your toilet!
Get Your Toilet Fixed And More With the Help of DoNotPay
With DoNotPay, file your disputes. Our Landlord Protection product can help you:
Learn about state eviction laws and what protections apply in your case
Resolve disputes regarding repairs with your landlord
Resolve disputes with roommates by filing demand letters or going through small claims court
Break your lease early
If you want to get your toilet fixed but don't know where to start, DoNotPay has you covered in four easy steps:
1. Search for and open the Landlord Protection product on DoNotPay.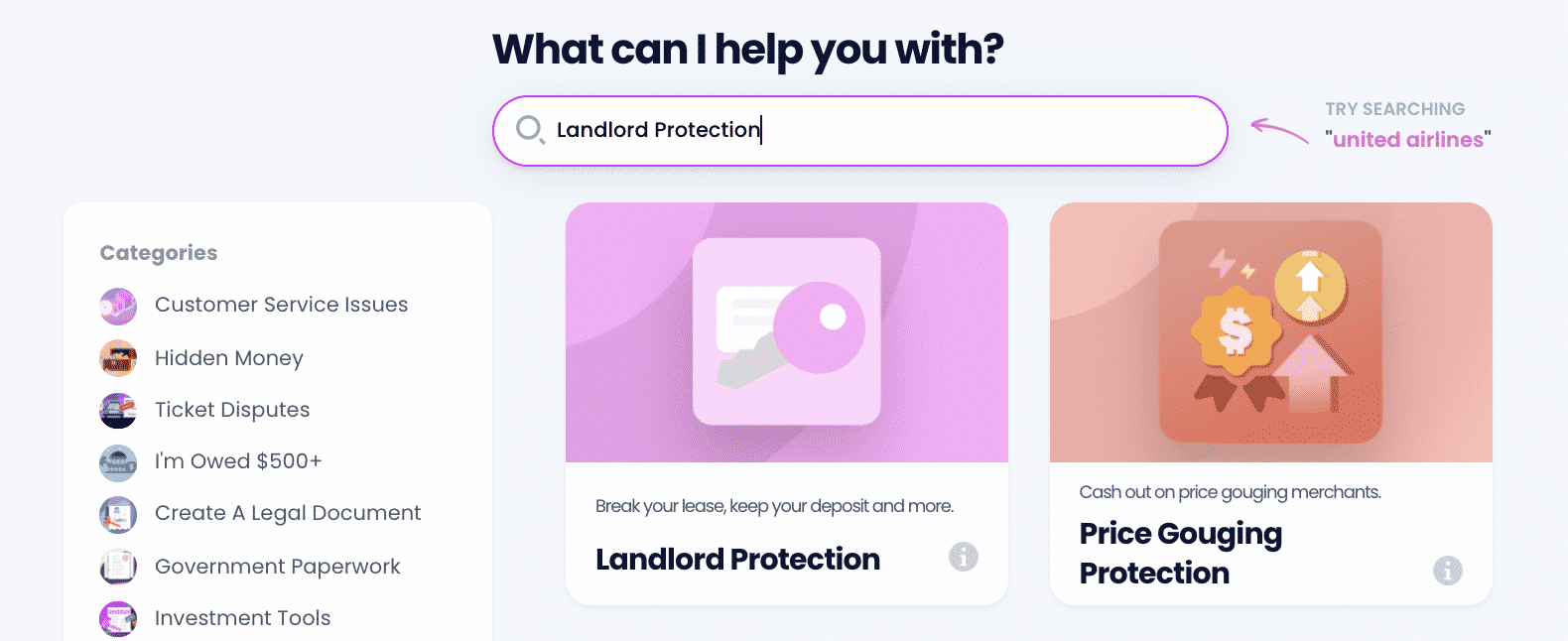 2. Select which issue applies to you.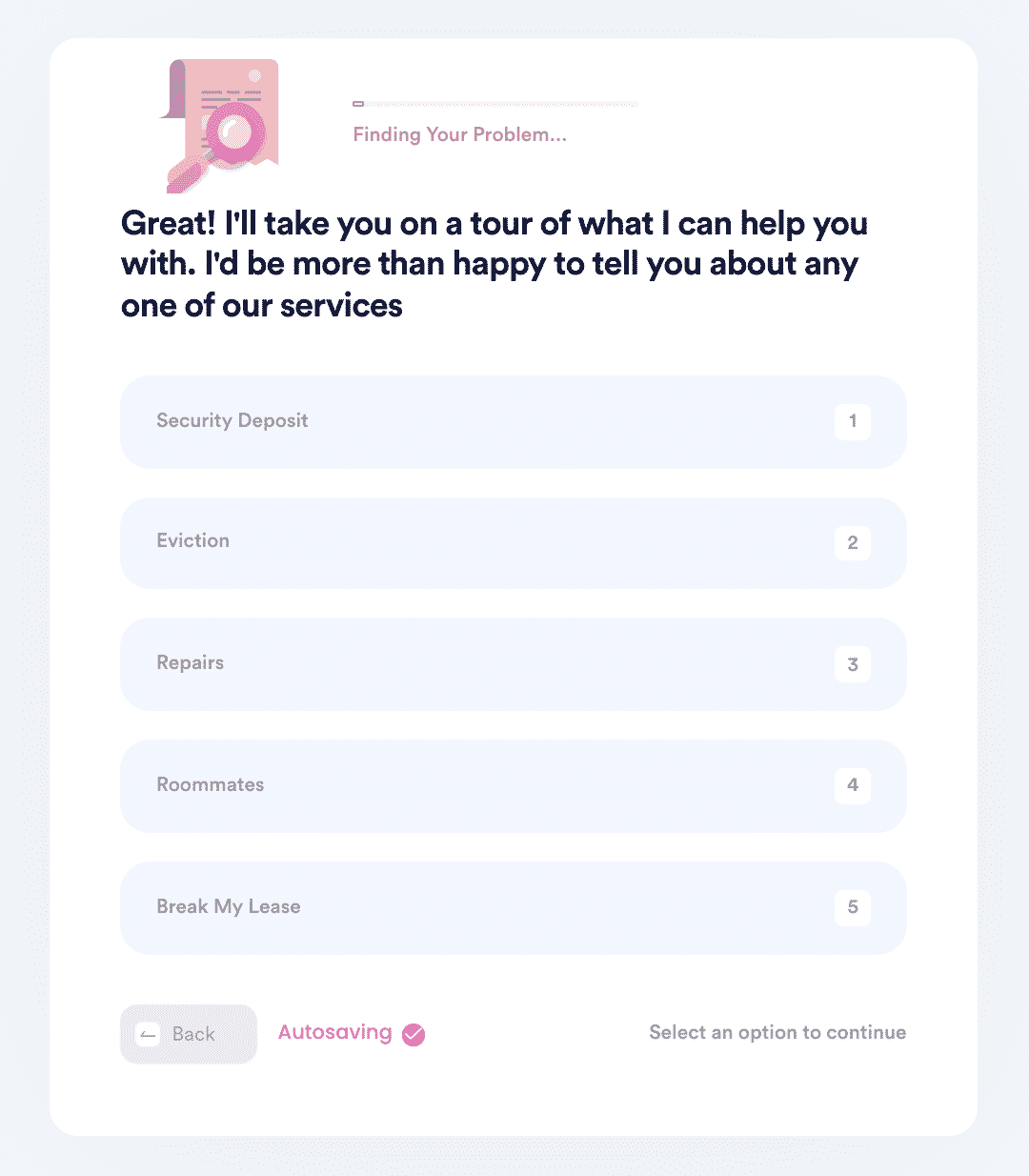 3. Answer a simple set of questions so our chatbot can collect the necessary information to create your demand letter.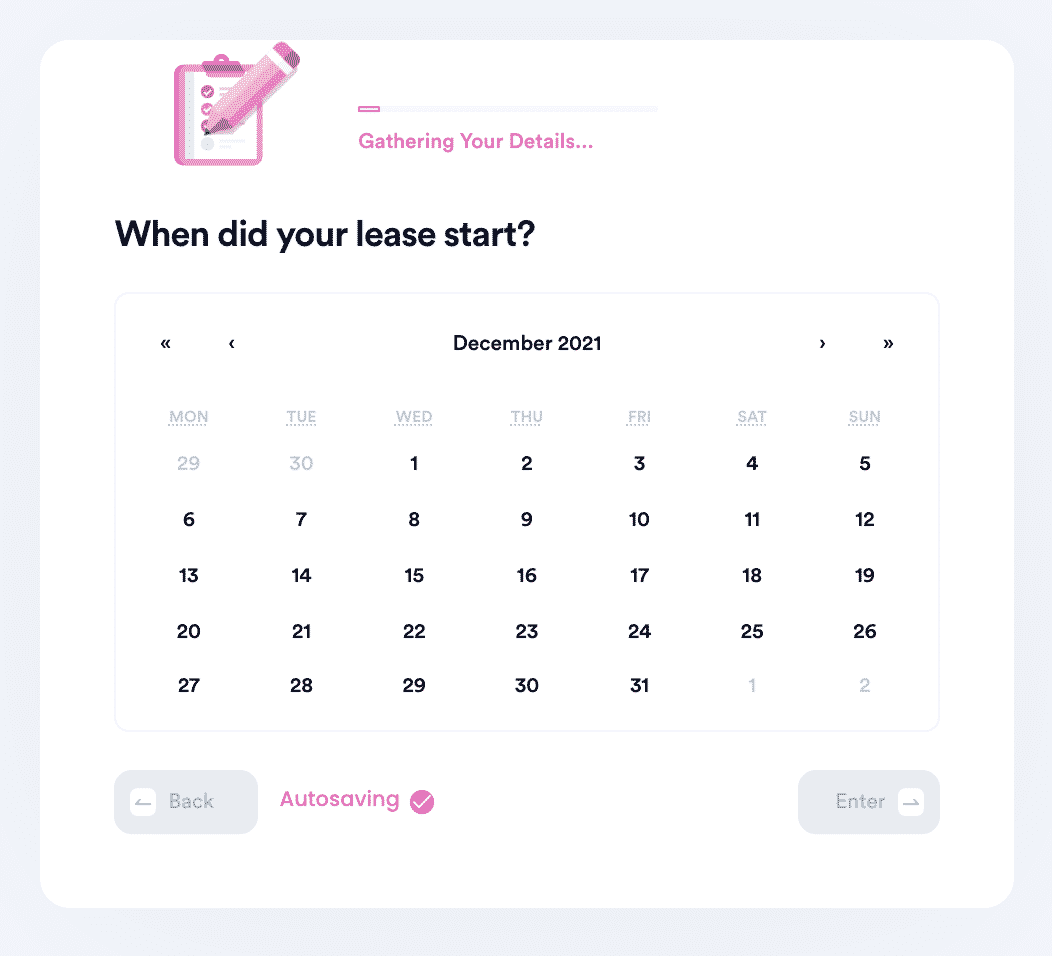 4. Choose whether you want DoNotPay to send the demand letter to your landlord or roommate on your behalf. If you already tried sending a demand letter and it didn't work, we can help you start the small claims court process.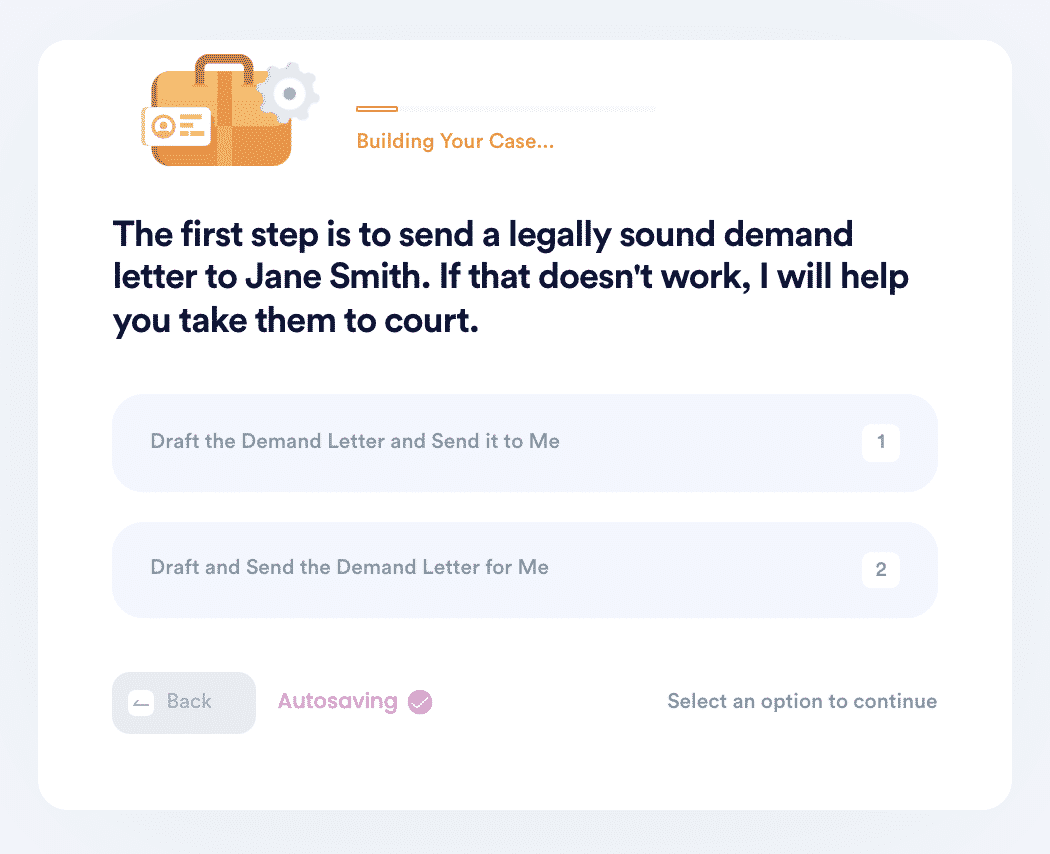 And it's that easy.
Why Use DoNotPay to Get Your Toilet Fixed
DoNotPay has the resources you need to:
Send a demand letter.
Take your landlord to court.
DoNotPay Works Across All Companies, Entities, and Groups With the Click of a Button
DoNotPay is a robot lawyer available to consumers, companies, schools, churches, corporations, clinicians, and more. Regardless of the scope, DoNotPay helps you push through the red tape to get results!
What Else Can DoNotPay Do?
DoNotPay is ready to help produce documents and notarize them, find missing money, investigate an eviction, and access the Freedom of Information Act. And that's only a start. Browse the site and find what we can do for you!