How Long Does Petit Jury Duty Last? DoNotPay Knows
Jury duty is a mandatory civic duty, and it is an important part of the U.S. legal system. You cannot skip it unless you have a valid reason. Having work isn't a reason enough for excusal from jury duty. The good news is that you cannot be fired for serving on a jury. Since you may be absent from work due to jury duty, you'll want to know the answer to the following question: "How long does petit jury duty last?"
This article will provide information on the duration of your jury service and help you request time off from your employer. to draft a jury duty leave request letter in a few steps.
What Is a Petit Jury?
A petit jury is a trial for both civil and criminal cases. It can consist of six to 12 citizens who have an obligation to listen to evidence during a trial and reach a verdict. In civil cases, a verdict may be reached for or against the plaintiff or defendant. For criminal cases, there can be only two verdicts—guilty and not guilty.
How Are Prospective Jurors Selected?
The selection of prospective jurors depends on the state and county, but in most cases, each district court selects prospective jurors at random from lists of:
Registered voters
Driver's license holders
State ID holders
Once the computer randomly selects you, you receive a questionnaire that you must complete within the specified timeframe so that the court can determine whether you qualify.
The eligibility criteria will depend on your state, but in most cases, to qualify, you need to:
Be a U.S. citizen and resident of the summoning county
Not have been charged with a felony or convicted of a crime without your civil rights restored
Be at least 18 years old
Not have a medical or physical condition that prevents you from serving
After the court determines that you meet the eligibility criteria, they send a summons. The summons will contain the date and time when you must appear in court. After you receive the summons, you will:
Appear in court adequately dressed
Go through the selection process, also called voir dire, during which you will be asked questions that will help the court determine whether you can be objective
Attend all court proceedings
How Long Is Petit Jury Duty?
The duration of service, once you're selected for jury duty, is usually one month, but it also depends on your state and your county. This doesn't mean that you'll have to report every day during that month—you'll only need to report during the trial for which you're selected.
Most trials last one to three days, but this depends on the complexity of the case—certain trials may last much longer.
In most states, the courts will keep calling you for jury duty, but you may request to be exempt if you served within the last two years. The period during which you don't have to be on a jury again depends on your state's laws.
How Much Will You Be Paid for Jury Duty?
The attendance fees for jury service depend on the state and county that summoned you. Check out the table below for state-specific information:
In most cases, state jurors are paid $40 per day, and federal jurors are paid $50 per day. Government employees are sometimes not paid for serving jury duty.
Create a Leave Request Letter With DoNotPay
During your preparations for jury duty, one of the most important steps is informing your employer about it. If you don't know how to notify them, DoNotPay can help! We will draft a professional leave request letter after you provide all the necessary information. The letter will comply with all the relevant jury duty laws of your state.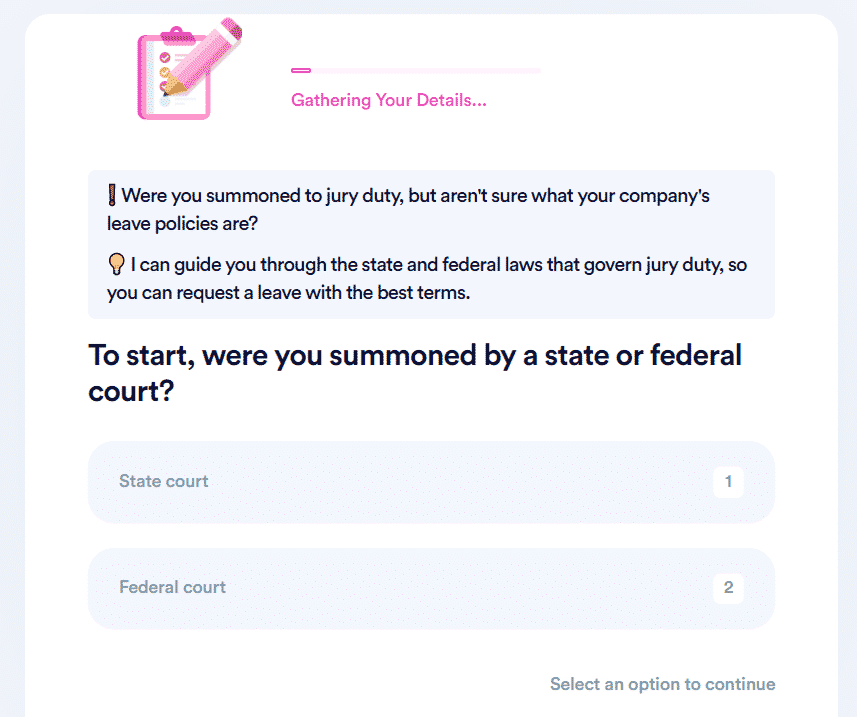 To obtain the letter, and follow these steps:
Open the Request Jury Duty Leave feature
Answer a few questions about:

The summoning state
Court
Your company
The period during which you'll be absent

Upload your jury duty summons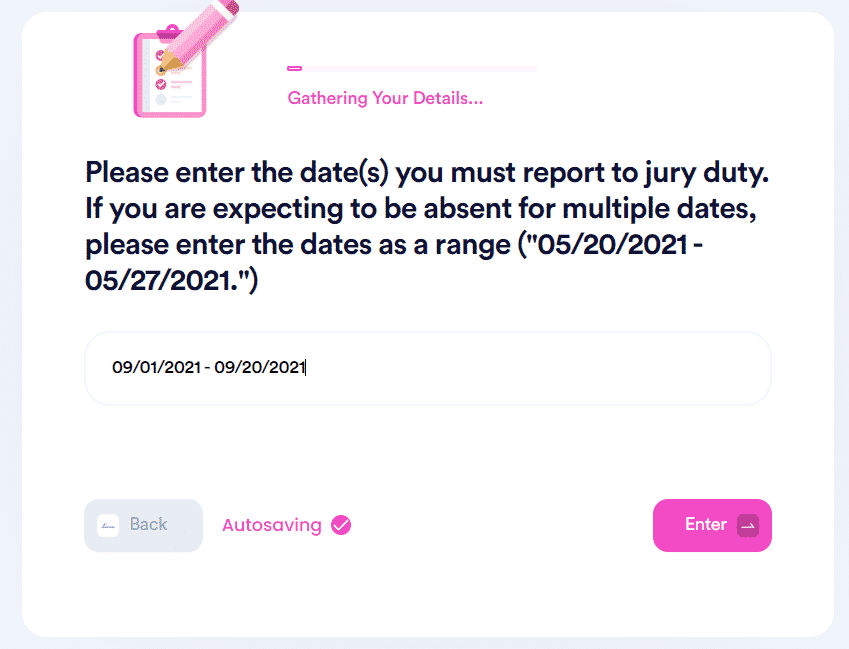 DoNotPay Is Your Ultimate Money-Saver
Don't spend your hard-earned money on subscriptions you don't use—cancel them with our app in a few simple steps! The best part is—that's not all we can do to help you save some coins. DoNotPay can also reduce other expenses by helping you:
Reduce property taxes

Create legal docs without hefty attorney fees
Kiss Spammers and Harassers Goodbye for Good With DoNotPay
Our app offers handy features that can assist you with blocking irritating robocalls and getting rid of pesky spam texts and emails. It also gives you peace of mind by helping you fight workplace discrimination, stalking and harassment, annoying neighbors, and defamation.
With DoNotPay, you will always be able to maximally protect your safety by searching updated sex offender databases and avoiding unpleasant situations. Suppose you have already been a victim of harassment or any other crime. In that case, we can help you get compensation with no difficulties!