How Long Does an Online Divorce Take? It Can Be Pretty Quick!
Before filing for divorce, you should get familiar with different aspects of the divorce process. Find out about state laws, divorce types, necessary paperwork, and mandatory waiting periods so that you would know what to expect.
How long does an online divorce take? DoNotPay provides the right information and helps you finalize your divorce quickly!
How To Get an Online Divorce
To get a divorce online, it needs to be uncontested. An uncontested divorce is a type of divorce where you and your spouse negotiate and reach an agreement on divorce affairs together.
To finalize most of your uncontested divorce online—i.e., from the comfort of your home—you should take these steps:
What Happens Next? Do You Have to Go to a Court Hearing?
Once you've filed the papers, you need to have the divorce papers served to your spouse. Some states allow a spouse to serve the divorce papers to their spouse directly. However, some U.S. states mandate a neutral third-party to do it, including:
A friend
A professional server
The sheriff's office
Keep in mind that:
Professional servers and sheriff's office charge a fee for this service
You need to give your spouse a certain state-defined period to file their response
In many states, you don't have to go to court when you file for a no-fault uncontested divorce, regardless of whether you've filed the papers online or not.
In some, you'll need to attend one—usually quick—hearing where the judge formally approves and signs the divorce papers they have already reviewed.
How Long an Online Divorce Takes Depends on Several Factors
While filing for divorce through a third-party online divorce website might seem the fastest and easiest way, you need to make sure that the:
Provider is trustworthy
Available divorce forms meet state and local legal requirements
Offered service is worth the fee you'll need to settle
The duration of the divorce process depends on the following factors:
State laws—Some states and counties might have longer waiting periods or more demanding and time-consuming divorce procedures
How fast you and your soon-to-be ex-spouse resolve all issues
The court's workload and the judge's availability
How Long Does an Online Divorce Take if You Choose an Uncontested Divorce?
An uncontested—or friendly—divorce is the fastest, easiest, and cheapest type of divorce you can go through since you and your spouse can work out all disputes among yourselves. If you need assistance, you can attend several mediation sessions with your soon-to-be ex-spouse.
Once you've reached an agreement, here's what you can do online:
Download and fill out court forms alone to start divorce proceedings
Register for DoNotPay to generate the crucial part of your divorce paperwork—a divorce settlement agreement
Aside from being able to complete most of the process online, uncontested divorces are also quick because you don't have to:
Hire a divorce lawyer—You don't need to spend time looking for an experienced divorce lawyer, explaining your case to them, and visiting their law office frequently. This option also saves a lot of money since attorneys' fees are steep
Go to litigation—If everything is agreed upon and in compliance with state laws, the judge will review and approve your documentation
Prepare a Watertight Divorce Settlement Agreement Online
DoNotPay can help you save:
The money you'd need to spend on a lawyer to make sure your divorce settlement agreement meets legal requirements
The time you'd spend on trying to get familiar with state laws so that you can create the document yourself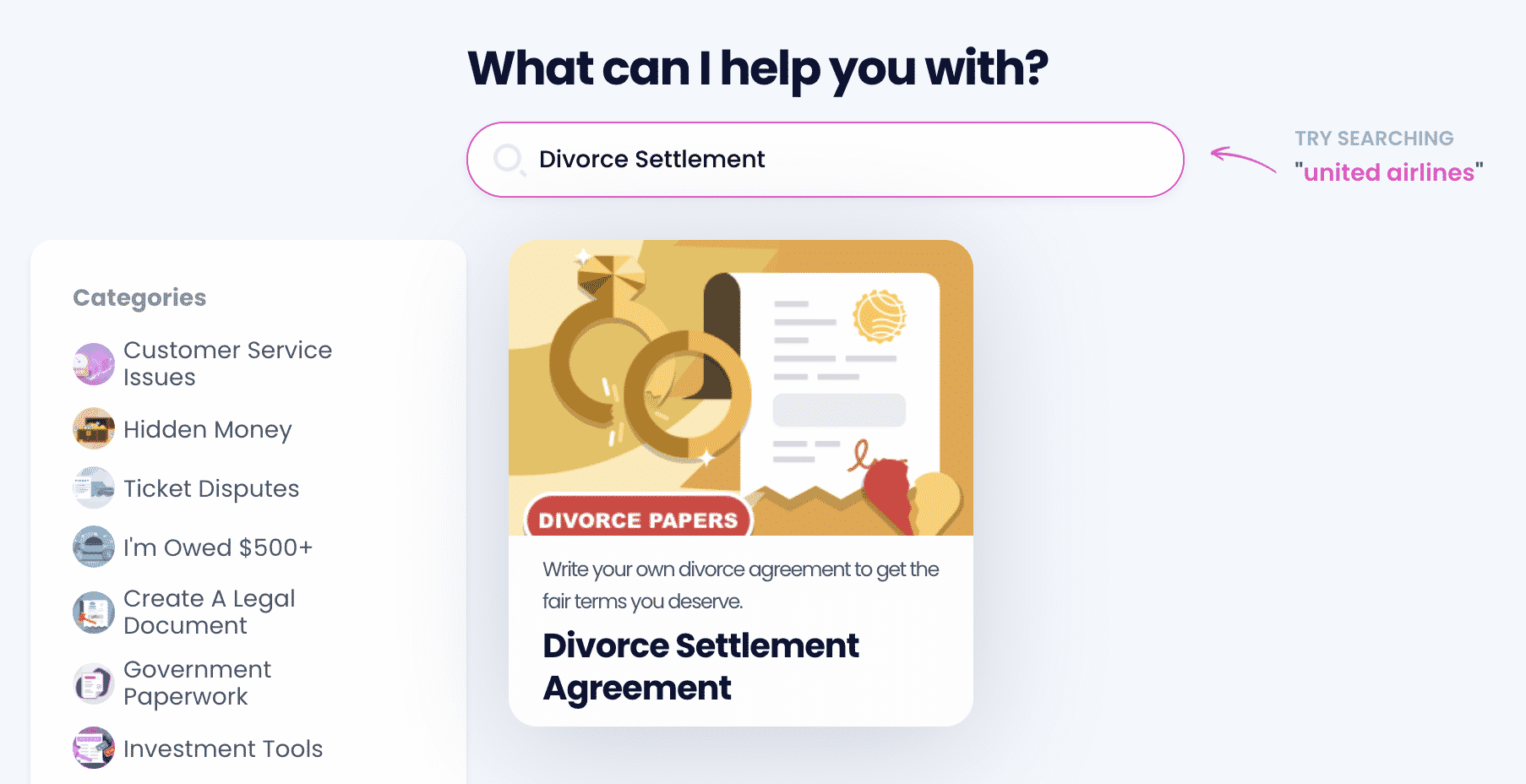 To receive a trustworthy divorce settlement agreement, open DoNotPay from a web browser and:
Pick the Divorce Settlement Agreement product
Enter the specifics you'd like the agreement to cover
Choose if you need the document to be notarized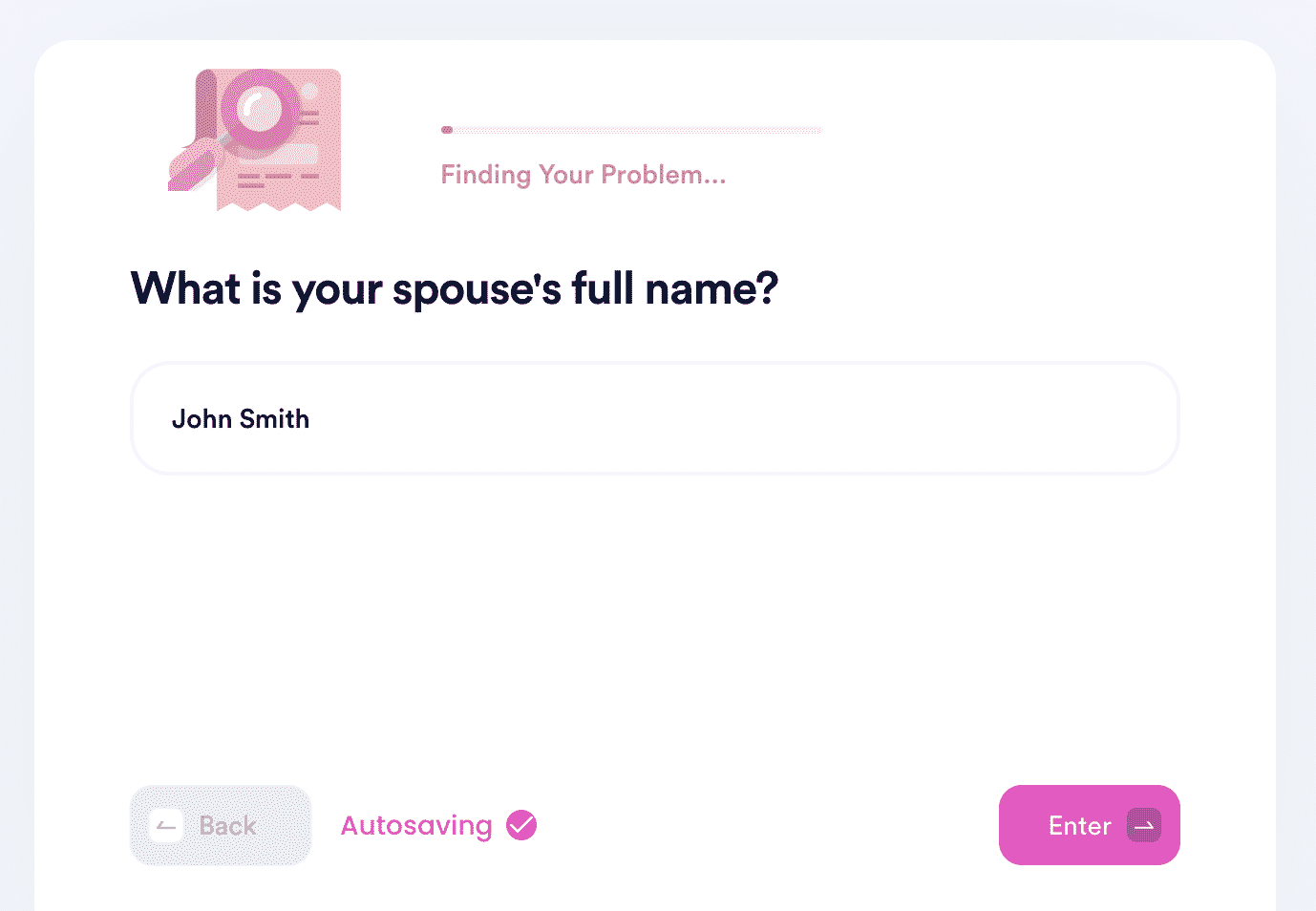 Once we've got your data, we'll generate the agreement in a flash!
Collect the Right Info To Speed Up Your Divorce
If you're familiar with the divorce process, you'll know how to protect yourself and avoid potential obstructions. To have a smooth divorce procedure, you should find answers to all your questions, such as:
Check out the following table to learn how long a divorce takes in:
There Is No Shortage of Tasks DoNotPay Helps You With
If you find finishing administrative tasks tedious, you can rely on our app to assist you through the entire process and make it a smooth-sailing experience. Check out the table below to find out what DoNotPay can help you do:
| Deal With Companies By | Get Rid of Pesky Spammers By | Get Help With Your Studies By |
| --- | --- | --- |
| | | |
Buried in Paperwork? Not for Long!
Is creating legal documents giving you a migraine? Not everyone is acquainted with the law and legal jargon, which is necessary when writing documents, such as:
Luckily, DoNotPay can draft your legal documents in minutes! Why waste hours doing it yourself or hire a lawyer when you can have our app do it in no time?
Creating anonymous HR complaints and demand letters for your inconsiderate neighbors is also something our app does best!