How Long Does It Take To Get an Uncontested Divorce in NC? DoNotPay Breaks Down the Timeline
Your marriage became unsustainable, and you and your spouse decided to separate. You don't want to complicate things further, so you choose a friendly divorce. Being pragmatic, you wish to know—how long does it take to get an uncontested divorce in NC?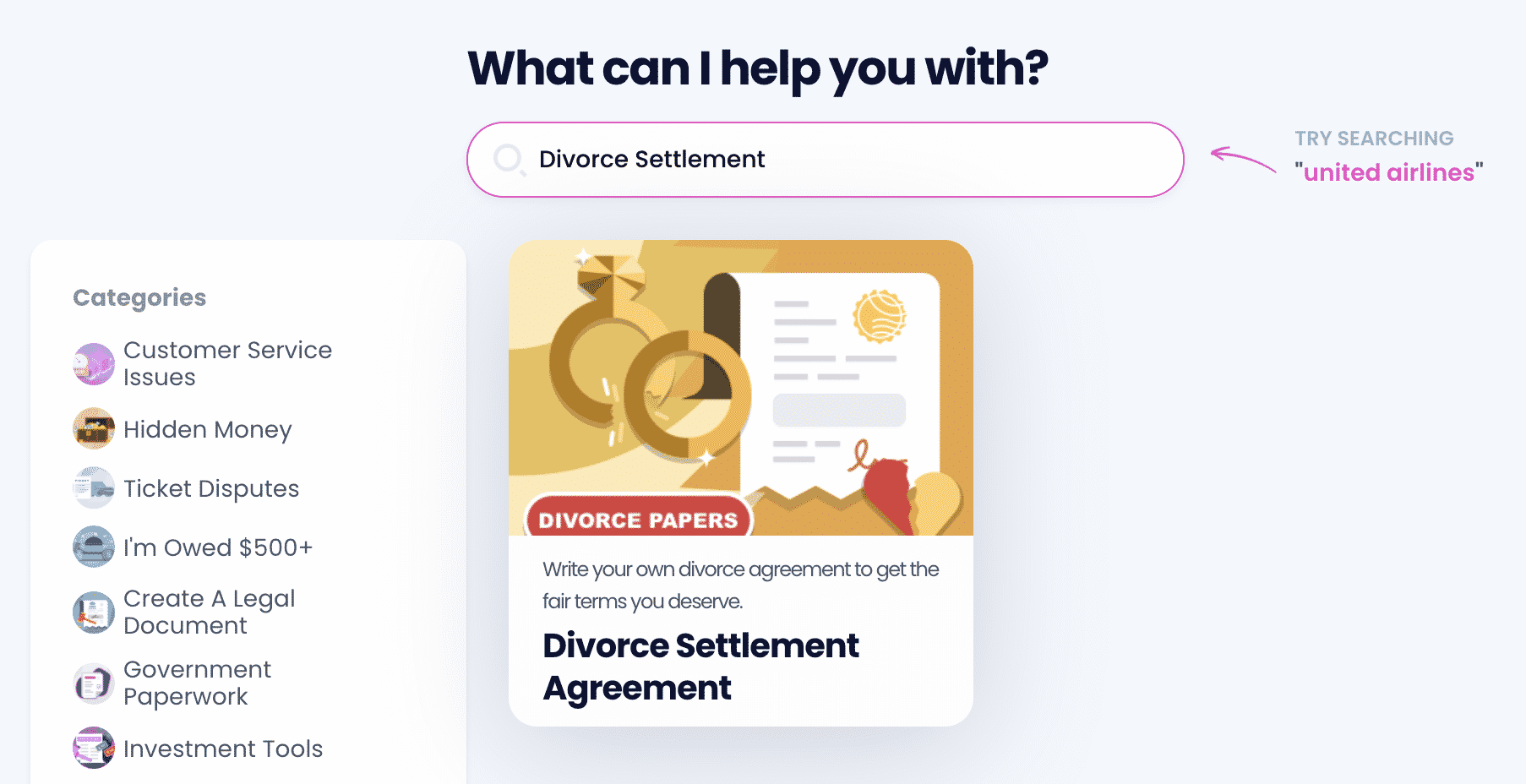 Gathering NC divorce papers takes time, but you can avoid going to court. There's also a neat shortcut to obtaining a crucial divorce document. Sign up to DoNotPay and draft a divorce settlement agreement in no time.
NC Uncontested Divorce Timeline
In North Carolina, the term for the permanent termination of marriage is absolute divorce. The process takes time because NC law sets specific requirements you cannot meet in a short time.
Note that North Carolina family law doesn't allow you to speed up the procedure. After you meet the criteria to file for divorce, opt for the no-fault option, which is your highway to quick marriage dissolution. The following table shows how long uncontested and contested divorces may take after filing the petition:
| Uncontested Divorce Duration | Contested Divorce Duration |
| --- | --- |
| A little over a month | From 45 to 90 days |
The indicated duration of the uncontested divorce is the best-case scenario, possible only if you and your spouse agree on every detail of the post-divorce arrangements, including:
Child custody
Child support
Spousal support
Property division
Uncontested divorces are way cheaper, and many of them turn out to be a low-cost option.
If you and your spouse fail to agree on every aspect of the divorce at first, consider mediation in NC since hiring a lawyer and going to court will cost you more. Many couples manage to find adequate solutions with the help of a mediator.
Requirements for Getting an Uncontested Divorce in North Carolina
To apply for divorce, at least one spouse must be a North Carolina resident for six months before initiating the procedure. Another mandatory requirement is that the parties involved must live in separate residences for at least one year. Note that there are no exceptions to this rule, and the court may take steps to confirm the fulfillment of this requirement.
Before you get into the procedure, consider whether you can settle without going to court. You don't actually need a lawyer, but you must attend the final hearing.
What Does the Uncontested Divorce Procedure in NC Entail, and Can You Make It Shorter?
There are quite a few steps to take to terminate your marriage in North Carolina. Some might take longer than others, affecting the process duration, such as:
Filing the paperwork
Serving the divorce papers to your ex-partner
Drafting a divorce settlement agreement
Filing the Paperwork
Here are the documents the petitioner must fill out and deliver to the court::
Complaint for Absolute Divorce—This document launches the divorce procedure
Civil Summons—Form AOC-CV-100
Domestic Civil Action Cover Sheet (Form AOC-CV-750)
Servicemembers Civil Relief Act Affidavit—Form AOC-G-250 (for military personnel only)
Delivering the Documents to Your Soon-To-Be-Ex
The party filing for divorce must deliver copies of all forms to their spouse and submit proof of service. You can serve the papers to your partner by:
Using certified mail
Paying the sheriff's office to hand-deliver
Asking someone who is unrelated to the case and is over 18
NC law doesn't allow you to perform this task yourself.
In case you cannot reach your spouse, consider serving by publication. Be aware that this option will increase the cost of your divorce.
The served party has to respond within 30 days. In specific circumstances, the response time may be extended for another 30 days.
Once you serve your ex-partner with the divorce documentation, the county court requires you to submit proof of service. This step ensures that both parties are informed about the separation procedure.
Creating a Divorce Settlement Agreement
A divorce settlement agreement is a contract between divorcing parties confirming they accept the terms of the divorce. Once you and your soon-to-be-ex sign the document and the court verifies your decision, your marriage is officially terminated.
Draw Up Your Divorce Settlement Agreement With DoNotPay
To make the final step simpler and more affordable, create the divorce settlement agreement online with DoNotPay.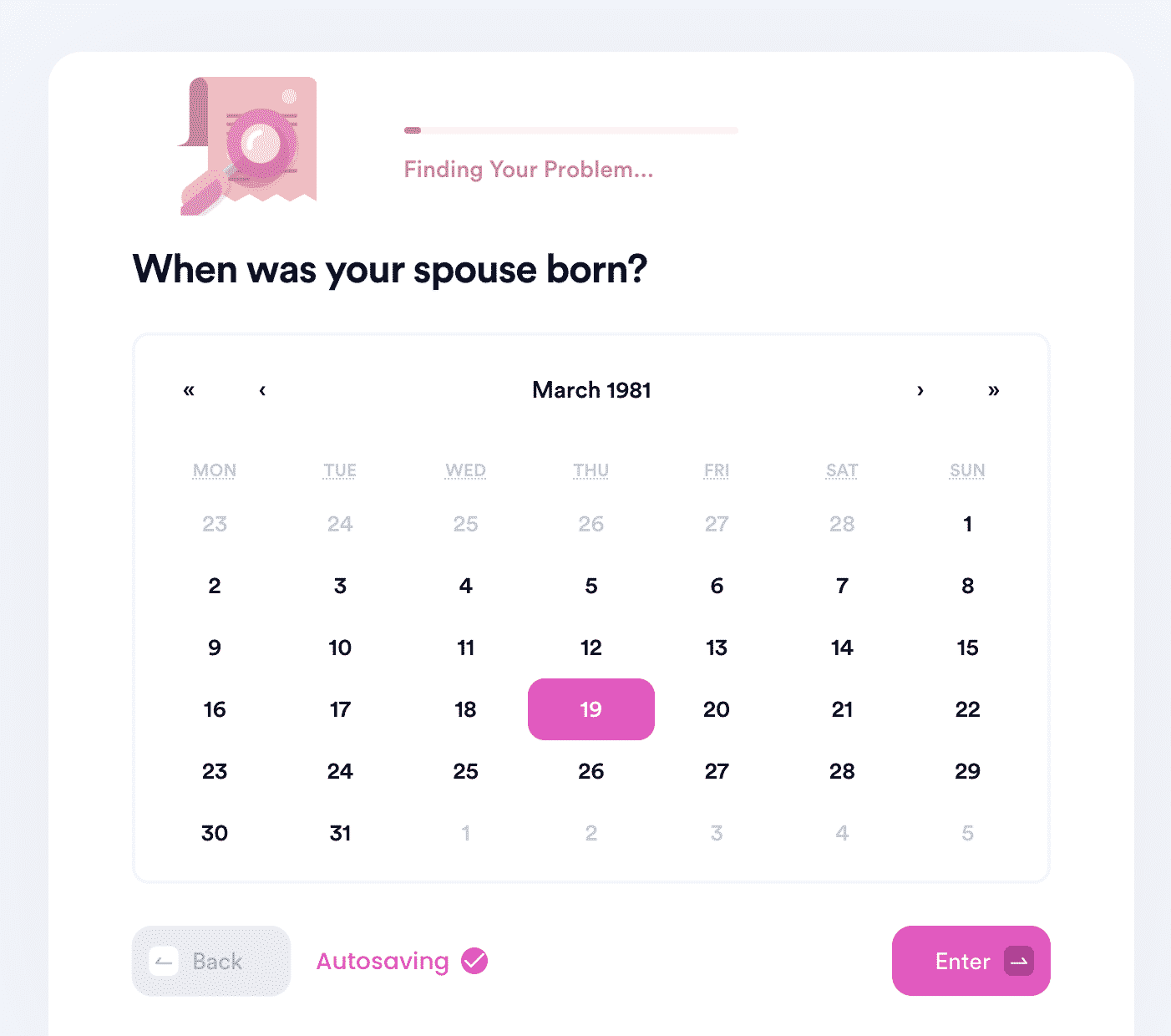 To benefit from our convenient service, here's what you need to do:
Log on DoNotPay and open the Divorce Settlement Agreement tool
Answer our chatbot's questions regarding your spouse and children
State how you wish your assets and income allocated
DoNotPay generates a customized divorce settlement agreement and sends it to you instantly. Keep in mind that it becomes legally binding once both parties sign the contract and get it notarized. You can set up a meeting with an online notary via DoNotPay and complete the process remotely.
DoNotPay answers all divorce-burning questions you may have, including:
Choose From a Variety of DoNotPay's Amazing Tools
Did you manage to solve the issue with our app? If the answer is yes, you may also be interested in checking out other interesting features we offer. DoNotPay can help you:
| Get Rid of Spammers By | Deal With Uncooperative Merchants By | Get Help With Your Studies By |
| --- | --- | --- |
| | | |
Let DoNotPay Prepare Important Documents for You
Are you having a hard time drawing up a contract due to insufficient legal expertise? Say goodbye to failed drafts—DoNotPay can generate divorce settlement agreements, powers of attorney, child travel consent forms, and many other legal documents in under five minutes!
We will also help you create anonymous HR complaints and demand letters for your neighbors if you are experiencing any issues with them.