How Long Does It Take To Get a Trademark?
Are you ready to protect your trademark by registering it with the USPTO? The top question on your mind could be—how long does it take to get a trademark registered?
Ideally, it will take 12–18 months. Not as fast as you expected? Learn why it takes that long and how you can .
How Long Does It Take To Register a Trademark? An Overview of the Process
The trademark registration process involves several stages. We have summarized the process in the table below to help you understand why it takes that long :
| Stages of the Trademark Registration Process | Timeline (Months) | Details |
| --- | --- | --- |
| Initial review of the application | 4–6 | The USPTO reviews your application for any errors and confirms if your mark conflicts with any registered ones |
| Office Action | 6 | If there are any issues found during the initial review process, the USPTO will send you an Office Action—a letter detailing issues that you must correct within six months |
| Publication period in the Official Gazette | 3 | The USPTO publishes your mark in the Official Gazette for 30 days. The Gazette is published weekly to notify the public and give anyone a chance to dispute the claimed marks |
| Issuance of the trademark registration certificate | 2–3 | If no one disputes your trademark, you will be issued a trademark registration certificate |
Why Get a Trademark?
Trademark registration is not required by any law in the U.S. You get the common law trademark rights by using your mark in commerce. The common law right means that you can enforce your ownership of the mark in your geographic area.
The federal trademark registration has more benefits over unregistered marks, for instance:
Getting legal ownership of the mark in relation to certain goods or services
Enforcing your exclusive ownership across the country
Having the basis for registering the trademark in foreign countries
Filing lawsuits for trademark infringement in a federal court
Before you apply for a trademark, you should assess whether this is the type of intellectual property protection you need. Learn the differences in the table below:
| Intellectual Property | Details |
| --- | --- |
| Trademark or service mark | Protects brand elements—such as a logo or name—that help customers recognize your products or services |
| Patent | Protects inventions and manufacturing processes, such as new machinery or chemical formulas for new drugs, by giving you exclusive rights for 20 years |
| Copyright | Protects creative and literary works, such as music, paintings, or books, for the creator's lifetime and the additional 70 years |
What Can You Trademark?
You can trademark almost anything that makes your brand stand out if you use it in commerce, for instance:
How To Register a Trademark in the United States
The trademark application process has two major steps:
Search the USPTO database to avoid infringement
Complete the online application
Search the USPTO Database To Avoid Infringement
You should conduct a USPTO search to see if someone else has registered a similar mark. The USPTO can reject your application if it's similar to an existing one in your industry. In such a case, the application fees are not refundable. The trademark protection law only allows similar marks to coexist if the registered goods or services fall under different trademark classes.
If you find similar marks and your small business is in its initial stages, you can rebrand to avoid being sued for trademark infringement.
Complete the Online Application
Currently, USPTO accepts online applications only. To apply, you need to create a USPTO account which will allow you to access the Trademark Electronic Application System (TEAS). For your initial application, you can choose either of these trademark application forms:
TEAS Plus—This application will cost you $250 for every class of goods or services and has more upfront requirements
TEAS Standard—This form has fewer requirements and includes an option to add custom descriptions of your items. You will pay $350 per class of goods or services
You must specify the goods or services to which your trademark will apply. Depending on the nature of your business, you can list your products under several trademark classes, but payment will be necessary for each class of goods or services that you list.
Registering a Trademark Is a Simple Task With DoNotPay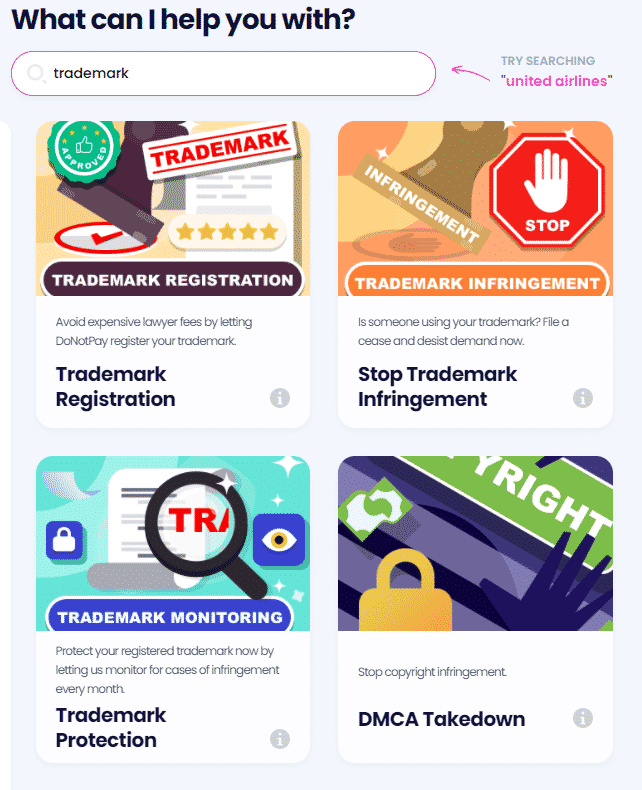 Would you like to make the application process as fast as possible? We have a perfect solution for you. Our AI-powered app will make the complicated legal process simple and easy. We will help you do everything fast and right—from searching for similar marks to completing the tedious forms.
Protect your trademark now by filing your application with DoNotPay in mere minutes:
and log in
Search for the Trademark Registration tool
Tell us more about your mark by answering a brief questionnaire
Confirm that you have paid the USPTO fees
When your trademark is registered, it can last a lifetime as long as you use it in commerce and periodically file the required documents for renewal.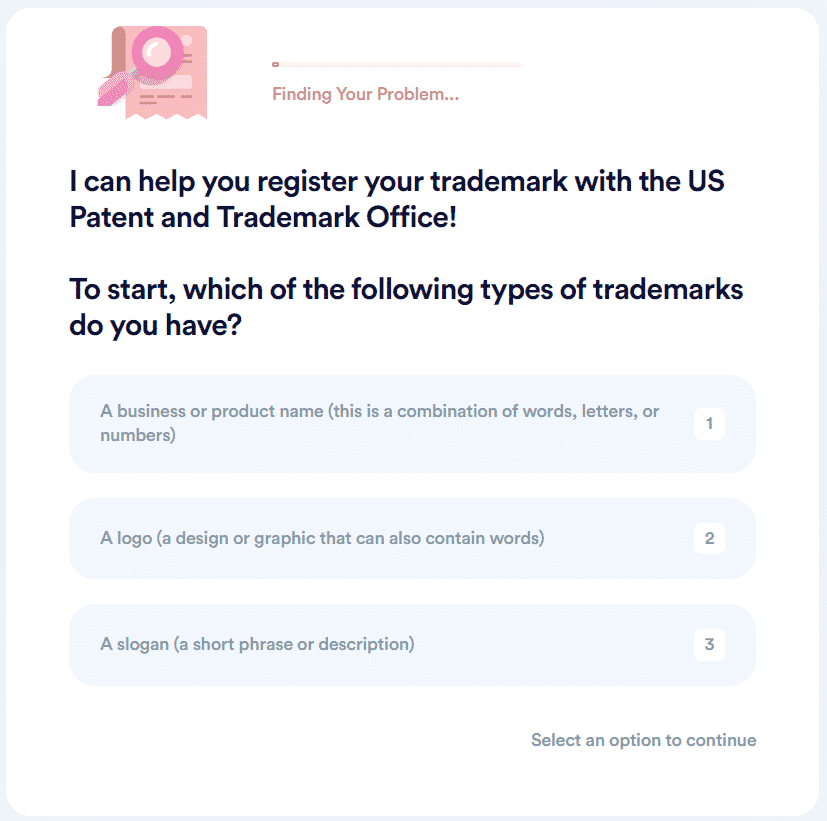 Small Business, Big Issues—Resolve Yours With DoNotPay
DoNotPay is here to offer a helping hand in your business endeavors. We can help you handle various procedures as effortlessly as possible. Want to make sure you get a small business loan for real estate purchases, job creation, debt repayment, and similar? DoNotPay is here to assist you in writing a convincing request letter! Want to make sure your employees and shareholders save money on taxes by filing 83(b) election forms? We can help with that too!
The world's first robot lawyer has a myriad of nifty features at your disposal. Use your precious time to work on your brand while we take care of most business-related issues for you. Our app can help you:
Fight unfair chargebacks
Deal with illegitimate online reviews
Send formal demand letters to clients who won't cover the cost of your services
File the self-certification request with the Privacy Shield program in a matter of clicks
Send documents to your customers or business associates from the comfort of your office with our faxing and mailing tools
DoNotPay Helps You Deal With Various Registration Processes!
One of the first tasks you should complete as a business owner is to obtain an Employer Identification Number (EIN). Applying for it is usually a tedious process unless you use DoNotPay! We can file your application on your behalf and notify you accordingly.
Does your business have a website that allows users to share or store content? An important aspect you should take care of is registering a DMCA agent, and DoNotPay is here to make the process easier!
If you wish to register your business name, slogan, or logo as a trademark but you're not sure how the process goes, rely on DoNotPay and finish your registration in no time! We can also help you protect your trademark by monitoring it every month and filing a cease and desist demand if anyone tries to steal it.