How Long Does It Take To Get a Divorce in Missouri? It Depends on the Type of Divorce You Choose
If you want to go through a divorce fast and without too much hassle, you need to pick the right divorce type. Aside from that, you should get informed about proper filing procedures, divorce papers, potential costs, and obligatory separation or waiting periods.
How long does it take to get a divorce in Missouri? This article provides the answer and additional tips for seamless and quick divorce proceedings.
How Long Does It Take To Get a Divorce in Missouri?
How long it takes to get a divorce in Missouri partly depends on legal requirements. State laws mandate:
One spouse to have been a Missouri resident for at least 90 days
A 30-day cooling-off period between the filing of divorce papers and the final judgment
The point of the cooling-off time is to prevent spouses from making any rash decisions they might regret later.
While you can get divorced in the Show-Me State in 30 days, the actual duration of divorce proceedings:
Can last a year or even longer
Is determined according to various other criteria
How Long It Takes To Get a Divorce in Missouri—Other Influencing Factors
The main criteria that affect the duration and cost of a divorce in Missouri are:
Judge's schedule
Court workload and impending hearings
Potential contested issues
Judge's Schedule
One of the factors that influence the duration of the divorce process is how available the judge is. If they've got a busy schedule, your case might take longer to be completed, even if it's a simple uncontested divorce.
Court's Workload and Hearings
If your local court has a heavy workload, you may need to wait for your case to come to the court's calendar.
Aside from this, if you and your spouse are having disputes over some divorce matters, your case will probably last longer because:
You'll need to attend a few court hearings
The judge will need more time to make the final judgment
You and Your Spouse Have Unresolved Issues
Your divorce will take longer if you and your spouse have some contested issues, i.e., divorce matters you cannot work out alone. You should consider going to mediation if you need professional assistance with some aspects of your divorce, including the following ones:
If you achieve an out-of-court settlement, you can file for a friendly, uncontested divorce. For this type of divorce, you can:
Collect and prepare the uncontested divorce papers alone—You can download all required forms from the Missouri Courts website and complete and file them by yourself
Save money—You don't need to have a pricey attorney prepare the documents or represent you in court
Complete the whole process fast—An uncontested divorce takes much less time than a contested one. You can take advantage of online divorce services in Missouri and present all the agreed-upon divorce terms listed in your divorce settlement agreement to the judge for approval
Can You Prepare a Divorce Settlement Agreement Alone?
A divorce settlement agreement is a crucial part of your divorce documentation as it contains all the divorce aspects you and your spouse agreed on. You could create the agreement by yourself if you're familiar with state laws.
If not, you can consider the following options:
Let a lawyer do it—You could hire an attorney to draw up all documentation for your divorce, but make sure you've got enough money. A retainer fee can be substantial
Use online divorce services—While online templates could seem like a good choice, you should check whether they comply with state laws
Sign up for DoNotPay—Use our extensive legal database to create a reliable divorce settlement agreement stress-free
Prepare a Divorce Settlement Agreement With DoNotPay—No Way! Yes, Way!
Can you avoid spending money on a lawyer during your divorce? You can if you go through uncontested divorce proceedings, complete court forms alone, and use DoNotPay's help with drafting your divorce settlement agreement.
Our AI-powered app knows state laws and ensures your document fits the legal framework and meets your specific needs.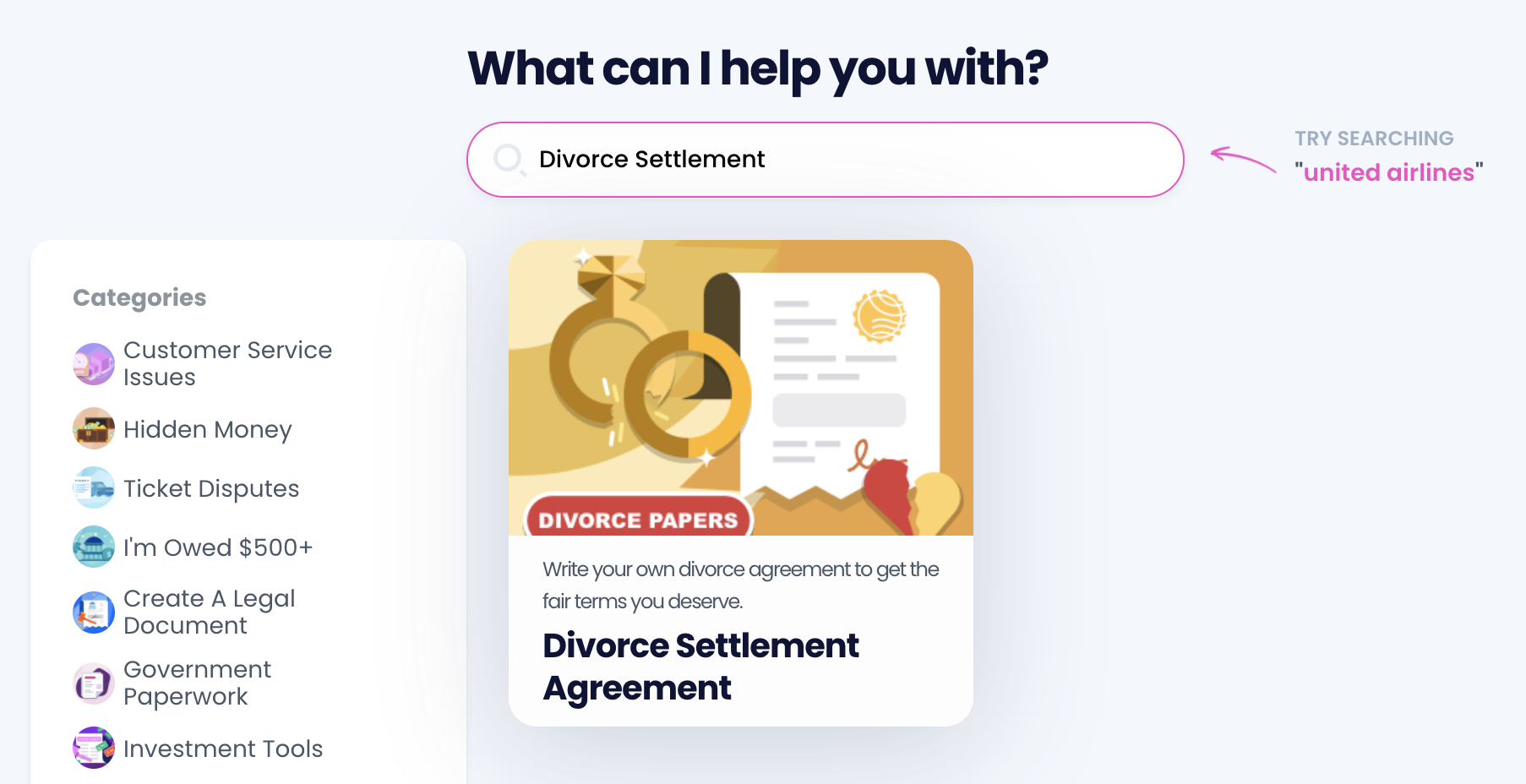 Here's how you start the process—subscribe to DoNotPay and:
Pick the Divorce Settlement Agreement feature
Provide information about your situation and the agreed terms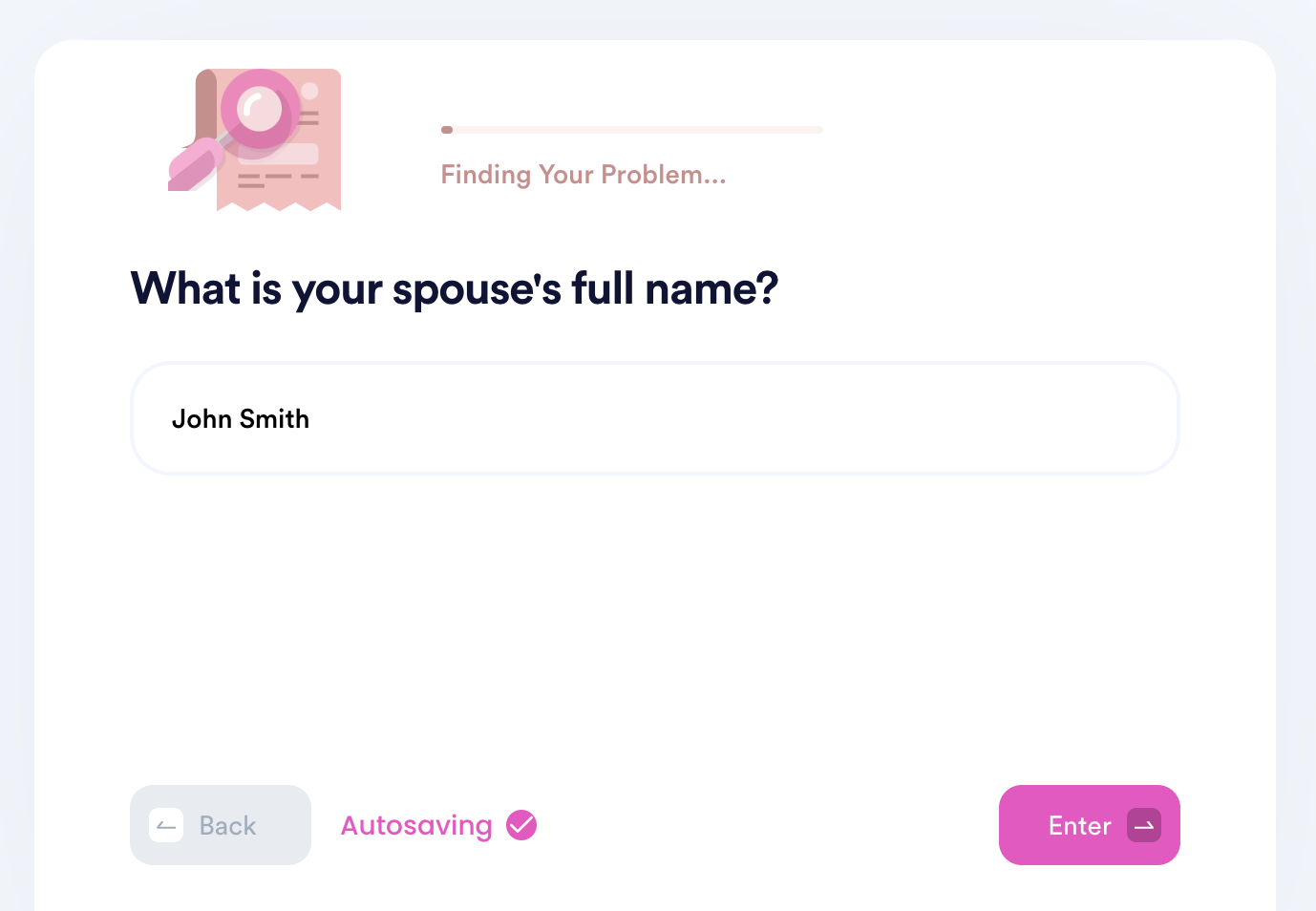 Would you like to get the agreement notarized before filing it with the court? We can help you with this aspect as well. Online notaries that we cooperate with work 24/7!
Want To Learn More About Divorce-Related Matters?
To prepare well for your divorce, you should collect all relevant data. DoNotPay's learning center provides lots of helpful information, as presented in the table below:
There Is No Shortage of Tasks DoNotPay Helps You With
If you find finishing administrative tasks tedious, you can rely on our app to assist you through the entire process and make it a smooth-sailing experience. Check out the table below to find out what DoNotPay can help you do:
| Deal With Companies By | Get Rid of Pesky Spammers By | Get Help With Your Studies By |
| --- | --- | --- |
| | | |
Buried in Paperwork? Not for Long!
Is creating legal documents giving you a migraine? Not everyone is acquainted with the law and legal jargon, which is necessary when writing documents, such as:
Luckily, DoNotPay can draft your legal documents in minutes! Why waste hours doing it yourself or hire a lawyer when you can have our app do it in no time?
Creating anonymous HR complaints and demand letters for your inconsiderate neighbors is also something our app does best!