How Long Does It Take To Get a Divorce in Florida? DoNotPay Has the Timeline Info
Once you see that there is no salvation for your marriage, it is normal to want to finalize your divorce as soon as possible. If you are wondering. "how long does it take to get a divorce in Florida?", DoNotPay has the answer.
We can even speed up the process! Use our app to create a divorce settlement agreement in no time!
How Long Do You Have To Be Separated in Florida To Get a Divorce?
Unlike some other states, Florida doesn't impose any specific requirement regarding separation before divorce. You may file for divorce at any time after you get married.
Florida is also one of the no-fault divorce states—neither of the spouses can blame the other for the termination of their marriage. Spouses can initiate a divorce without providing any reason.
A couple has to meet one criterion to be able to get divorced—one of the spouses needs to have resided in Florida for at least six months prior to filing for divorce.
How Long Does a Divorce Take in Florida?
The length of a dissolution of marriage in Florida will depend on a few factors. You can see more information in the table below:
Factor
How It Affects the Divorce Process
County you live in
In certain counties, courts are extremely busy, which means it can take more time to get a divorce
The whereabouts of the spouse
The divorce can take longer if you don't know where your spouse is or if they live abroad
Type of divorce
Whether your divorce is:

Contested—Spouses can't agree on anything
Uncontested—Spouses see eye to eye on all relevant issues and want to end the marriage in a friendly way
How Long Does a Contested Divorce Take in Florida?
Because the spouses usually can't reach an agreement easily and disagree on all relevant topics, a contested divorce in Florida can take between six months and a few years.
The time the spouses spend in court will depend on how skillful their lawyers are.
How Long Does an Uncontested Divorce Take in Florida?
When both parties come to mutual decisions about alimony, child custody, and division of property with ease, the entire process runs smoothly. This means that an uncontested divorce in Florida can be finalized in four to five weeks, making it a quickie divorce.
Other Benefits of Getting an Uncontested Divorce in Florida
An uncontested divorce is less stressful and a cheaper option for marriage dissolution. The cost of this procedure includes only the filing fees that are around $400. The exact price will depend on the county you file for divorce in.
Check out how divorce works in different Florida counties:
How To File for an Uncontested Divorce in Florida
To get an uncontested divorce in Florida, you will need to follow these steps:
Fill out the required forms—Find the necessary forms for your county and complete them
File the divorce papers—File the papers with the help of the county clerk
Serve the papers to your spouse—Make sure your spouse gets the necessary copies of the divorce papers. You will need to ask the local sheriff or use a private process server to deliver the papers to your partner
Create a divorce settlement agreement—Draft this legal document to ease and speed up the divorce process. You can draw up this agreement with DoNotPay's help in no time
Create a Divorce Settlement Agreement in a Flash With DoNotPay
If you lack the necessary legal knowledge, it is best to avoid trying to create a legal document on your own. DoNotPay can help you make a foolproof divorce settlement agreement in a few minutes. Follow these four simple steps:
Select the Divorce Settlement Agreement product
Provide us with essential information
Choose to get your document notarized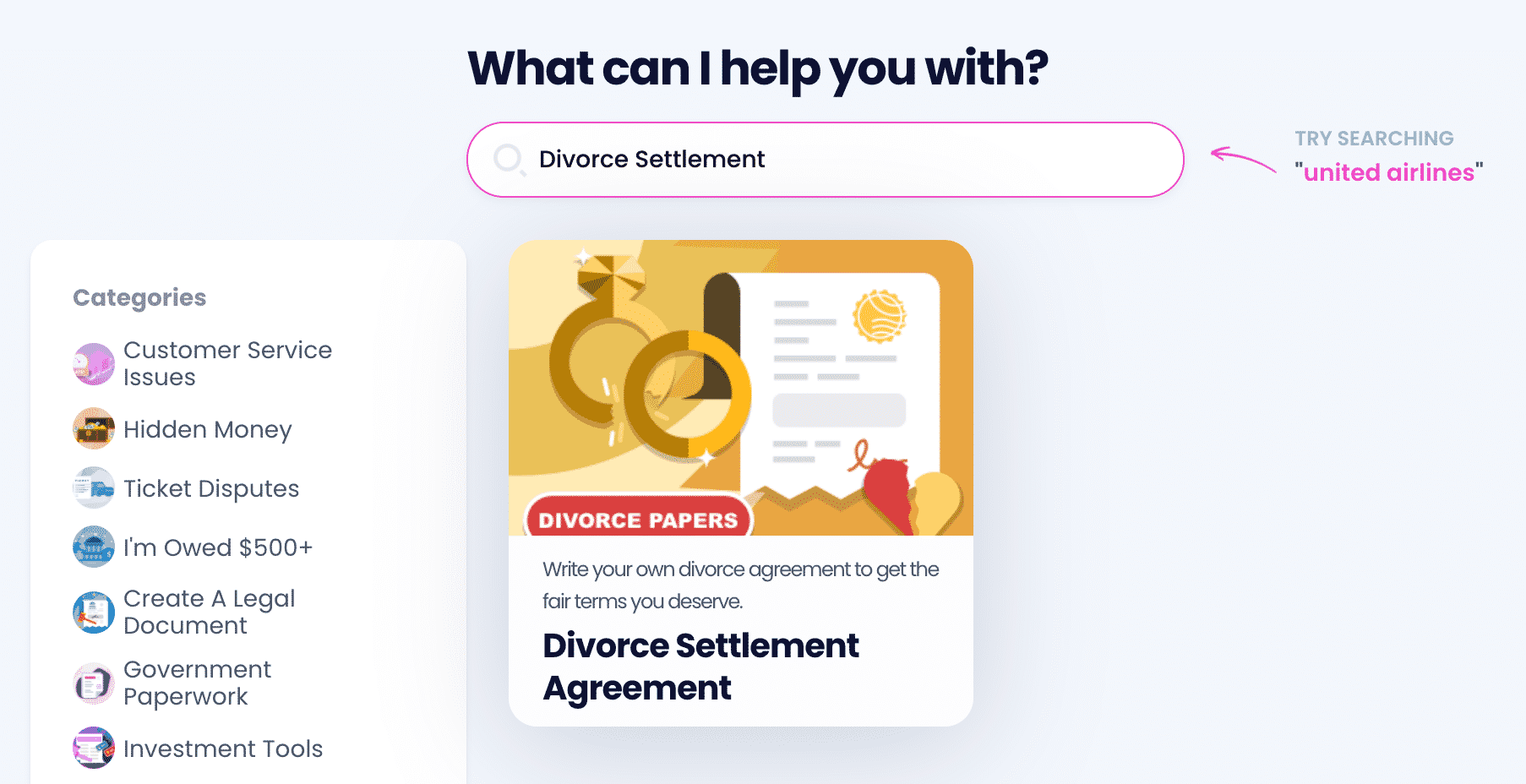 Need More Information About Divorce?
Whether you seek specific information about divorce in Florida or in general, DoNotPay has got you covered. Get your answers in the table below:
| | |
| --- | --- |
| Florida-Specific Questions | General Questions |
| | |
Work Smarter, Not Harder!
Although there are certain tasks that are a pain but can't be avoided, such as paying your property taxes, you don't have to do them the hard way. There is always a way to make the overbearing bureaucratic procedures a bit easier. DoNotPay can find a loophole and help you cut through red tape!
Reducing your property taxes is only one in the sea of tasks our app will make super easy to do! You can also use DoNotPay to:
Explore DoNotPay's Other Neat Features
DoNotPay offers a plethora of useful products to make your day-to-day life easier and enjoyable! Consult the list below to see what you can do using our app: