How Long Does It Take To Get a Divorce in Colorado? DoNotPay Has the Answer!
Have you and your spouse decided to go your separate ways? If so, it's understandable that you want to complete the divorce as quickly as possible. A certified way to speed up the process is to get familiar with state-specific regulations and learn your options for a low-cost, quickie divorce.
How long does it take to get a divorce in Colorado? DoNotPay will answer the question for you and show you the path to a friendly divorce!
How Long Does a Divorce Take in Colorado?
The length of any divorce depends heavily on the parties' approach to the process and the state-specific procedure each couple is required to follow. The table below displays an average timeframe for a typical Colorado divorce:
| | |
| --- | --- |
| The Steps of the Divorce Process in Colorado | Details |
| Initiating the procedure and filing divorce papers | One spouse should start the process by filing the divorce petition with the court and serving the divorce papers to their partner. After that, the couple has to go through a 91-day waiting period while the judge reviews their divorce request |
| Disclosing financial information | During the waiting period, spouses have 20 days to submit their respective financial information to the court. If they fail to do so, the time frame extends to 40 days. If the judge grants additional orders, the process can last even longer |
| Attending the initial status conference | Within the six weeks of filing, the spouses have to attend the initial status conference (ISC), an essential court-mandated meeting |
| Dealing with temporary orders | During the 91-day waiting period, the judge may also issue orders to temporarily resolve items such as child support, alimony, the use of the family home, and attorney fees |
| Handling settlement through mediation or trial | Once the spouses file the petition, they may have to attend a parenting class to settle divorce issues through mediation. Couples that fail to reach an agreement will have to go to trial, which prolongs the divorce proceedings significantly (typically for more than one year) |
| Going to the final hearing | The judge will schedule a hearing to finalize the divorce after 91 days (or much later if there are aggravating circumstances) |
Which Factors Can Prolong the Divorce Process in Colorado?
Numerous factors can cause a delay, including:
Marriage duration—Couples with a long marriage typically share plenty of assets, which can be difficult to divide. Alimony and custody can also take time to resolve for couples who have been married for a long time
Minors—Underage children are a common cause of argument between spouses and often require the involvement of a child custody lawyer
Couples' net worth—The high net worth of spouses typically means a long divorce since the division of property has to be heavily negotiated. The exception is when partners sign a prenuptial or postnuptial agreement
Parties' collaboration—If both parties agree to a divorce, dividing property and resolving other issues typically takes a lot less time. Bear in mind that if one spouse doesn't want to end the marriage or files for fault-based divorce (blames their partner for the dissolution of marriage), the process will last longer
What Can I Do To Speed Up My Divorce in Colorado?
Having all the eventualities in mind, couples in Colorado can expect to finalize their divorce in three to twelve months. If you and your spouse are eager to get divorced as soon as possible, you can take specific steps to expedite the process, such as:
Avoiding trial at all costs—By filing for an uncontested divorce, you can avoid attending multiple hearings and having your issues settled in a courtroom. This type of divorce requires you to resolve all divorce-related items without the judge's involvement
Resolving all your issues by yourselves—If you and your spouse can work out the terms of your divorce privately, you can avoid any unnecessary delays. , and we'll incorporate the details of your understanding in a comprehensive marital settlement agreement
DoNotPay Is Your Ticket to a Fast Divorce in Colorado
Creating a marital settlement agreement with DoNotPay will save you time, money, and nerves. There's no need to hire a lawyer or take chances with iffy online divorce services. Our app will use the inside info about state requirements and details you provide to draft a professional document tailored to your specific needs.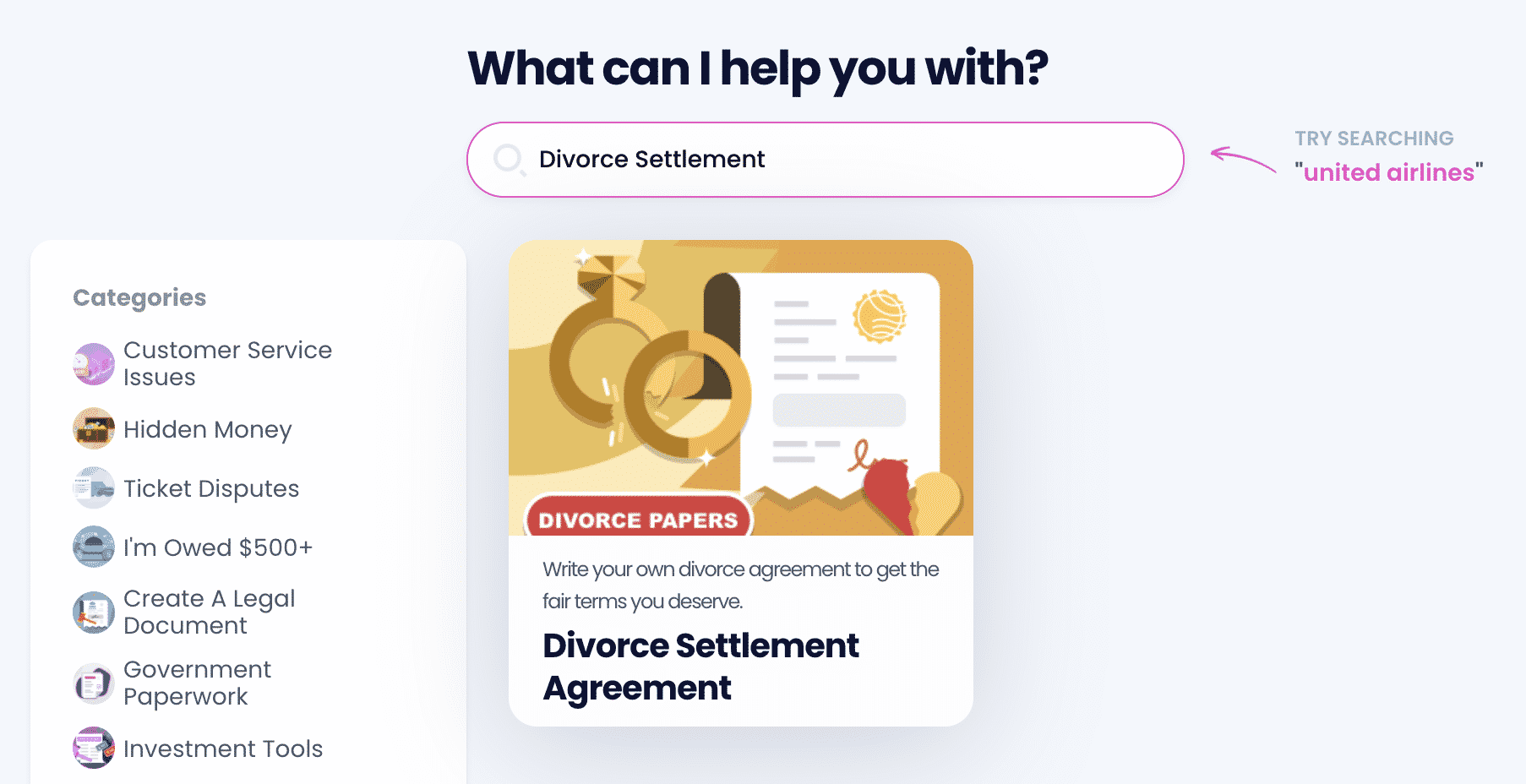 Here's how to initiate the process:
Enter Divorce Settlement Agreement in the search box
Answer our chatbot's questions about your spouse, income, and other relevant items
Choose to have the document notarized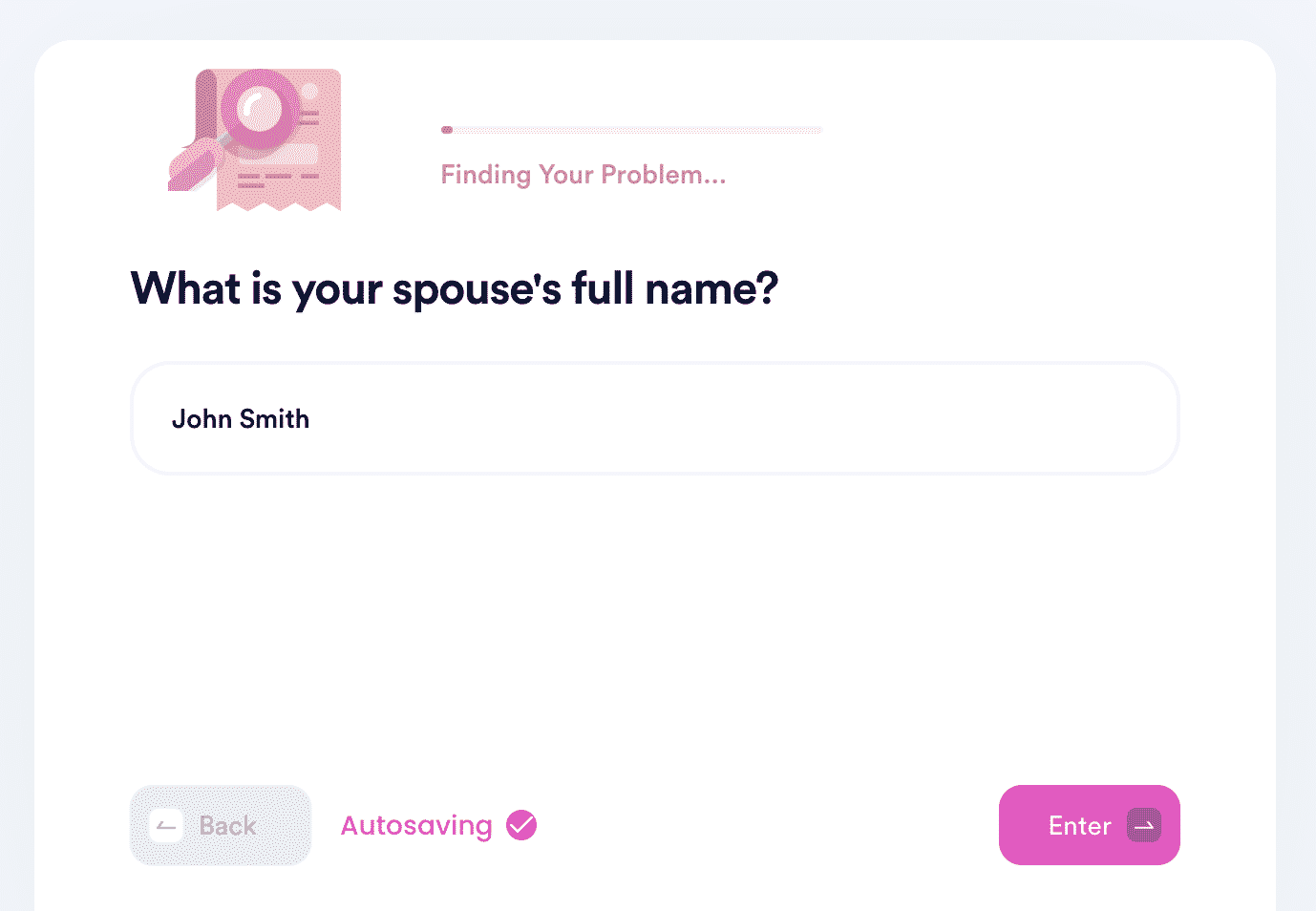 DoNotPay needs mere minutes to draw up the agreement and send it your way. Notarization is crucial to add legal weight to your document, but that doesn't mean you have to waste time at the notary's office. Once you indicate you want the agreement notarized using our platform, we will connect you to an online notary!
If you'd like to learn more about divorce-related topics, the following articles can give you the info on:
DoNotPay Makes Your Troubles Go Away
If you want an app that gets the job done, subscribe to DoNotPay! We have various features that can help you with almost anything—from canceling subscriptions and filing insurance claims to getting in touch with inmates!
It doesn't matter if you need help with bureaucracy issues or with everyday struggles because DoNotPay is your go-to app! We can help you:
Protect Your Customer Rights With DoNotPay
Have you been wronged by a company? Why not sue it in small claims court with our AI-based app? We can also help you claim any warranty or file an item return request in a few clicks! Trying to reach customer service representatives, but the phone keeps ringing? Your virtual assistant can help you jump the queue for any company in the blink of an eye!