How Long Does an Uncontested Divorce Take? Do What You Can To Shorten the Process
Going through a divorce is a hassle. You need to get familiar with the filing procedure, necessary divorce papers, mandatory waiting period, and available divorce types. Having the correct info will save you time, money, and energy.
How long does an uncontested divorce take across the States? This article provides the criteria you should regard if you'd like to finalize your divorce as soon as possible.
What You Should Know About an Uncontested Divorce—How Long Does It Take?
An uncontested divorce is a friendly type of divorce procedure where you and your spouse reach an out-of-court settlement on all divorce matters, including:
Insurance
Child support, visitation, and custody
It is the easiest, fastest, cheapest, and least stressful divorce you can file for since:
You and your spouse:
The judge doesn't have to make decisions for you but can review all the filed documentation and approve it if it's in accordance with state laws
While this is the quickest way to end a marriage, the total duration of an uncontested divorce depends on the following:
How much time you and your spouse need to agree on all matters
Whether there's an obligatory waiting period between filing the papers and finalizing the procedure—While some states have no waiting periods, others require from 20 to 60 days to pass (or even longer)
Whether the court's workload is heavy and how soon the judge will be available
How well you prepare the necessary divorce settlement agreement and other uncontested divorce papers—If your documentation doesn't comply with state laws, the judge will reject it
How quickly you go through the required divorce steps
Take the Necessary Steps for an Uncontested Divorce
Here's a list of steps you must take if you choose to file for uncontested divorce:
Steps To Complete
Additional Information
Agree with the spouse
If you need help resolving certain issues, you should:

Hire a mediator
Consult a financial expert
Visit a lawyer

Once you reach an agreement, you can register for DoNotPay to create relevant documentation, including a:

Divorce settlement agreement

Complete the court forms
As most states offer online court forms, you can fill them out by yourself. Make sure you read the provided instructions carefully before completing, signing, and filing the papers
File the documentation with the court
Keep in mind that you:

Must file the papers with the clerk's office of your county court
Might need to have some documents notarized before filing them
Have to make a sufficient number of copies

Have the papers served to your spouse
While your state laws might let you serve the papers directly to your spouse, others could require you to have them served using a third-party service, e.g., a:

Sheriff's office
Professional server
Published notification (if you cannot find your spouse)

Keep in mind there's usually a specific period during which your spouse gets to file a response after he or she receives the papers

Appear in court's hearing
In most states, you and your spouse are required to attend at least one hearing to finalize your divorce. For uncontested divorces, this is typically a mere formality where the judge approves and signs the filed documentation
The uncontested divorce process varies from state to state, so you might want to check out:
What the easiest state to get a divorce in is
How long an uncontested divorce takes in your state
How To Create a Divorce Settlement Agreement
Once you and your spouse agree on all matters important for your post-divorce life, you need to list and explain them in a divorce settlement agreement. Here are some options you could consider for preparing this document:
Hire an attorney—While lawyers can prepare all documentation for you and handle the whole divorce process from the beginning, you should check their retainer fee and hourly or flat rate
Use online divorce material—Keep in mind that online templates can be too general and disregard state laws, so you should check before completing and filing them
Sign up for DoNotPay—Our app knows the state and local regulations and will make sure your agreement meets them
DoNotPay Is an Efficient and Affordable Way To Generate a Divorce Settlement Agreement
We've got the know-how and want to help our users deal with the necessary documentation efficiently. If you'd like to end your marriage fast, we're here to assist you with your divorce settlement agreement.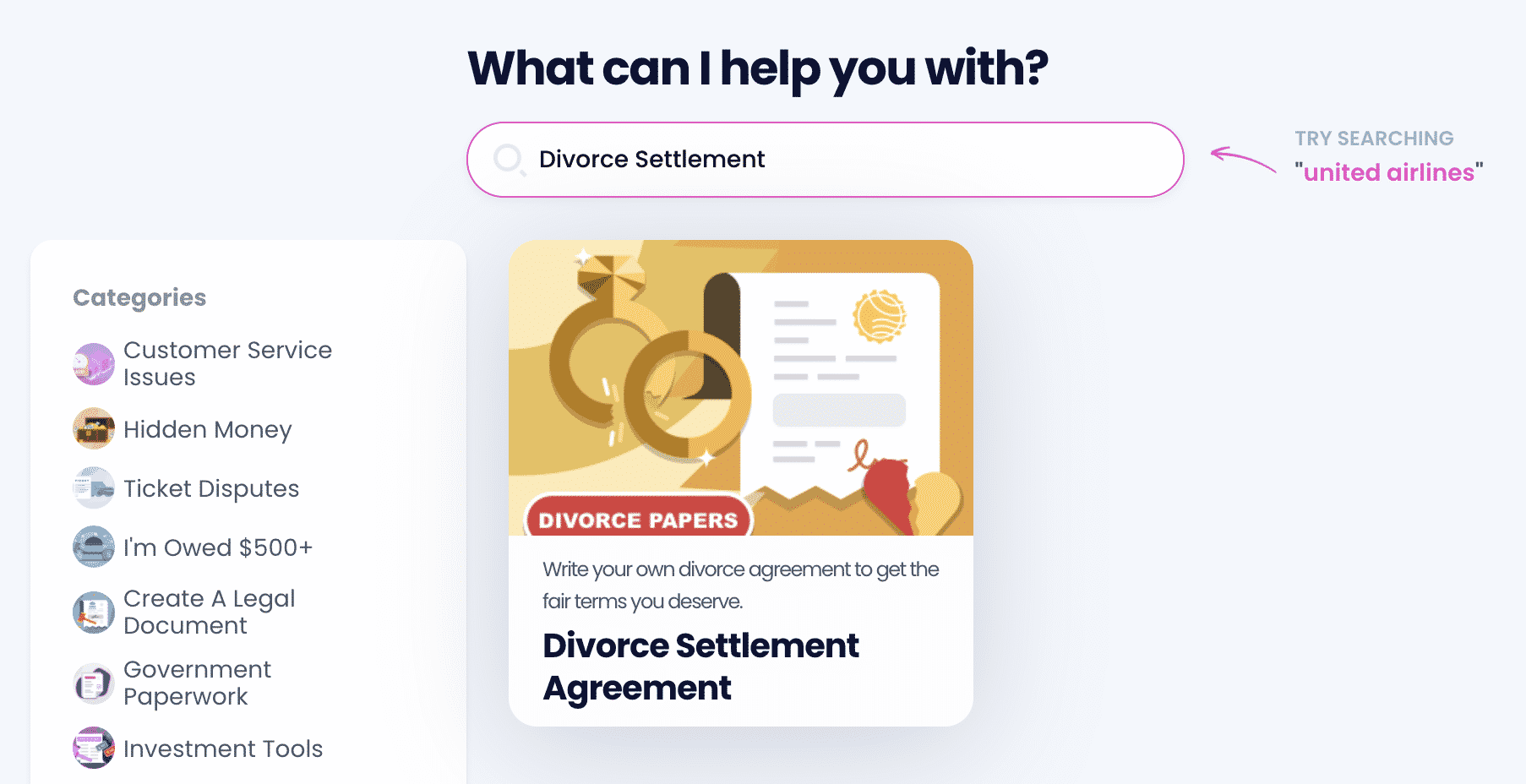 Subscribe to DoNotPay and take these steps:
Enter Divorce Settlement Agreement into the search box
Answer our chatbot's questions and provide information on debts, income, and assets
Choose if you'd like to have the document notarized online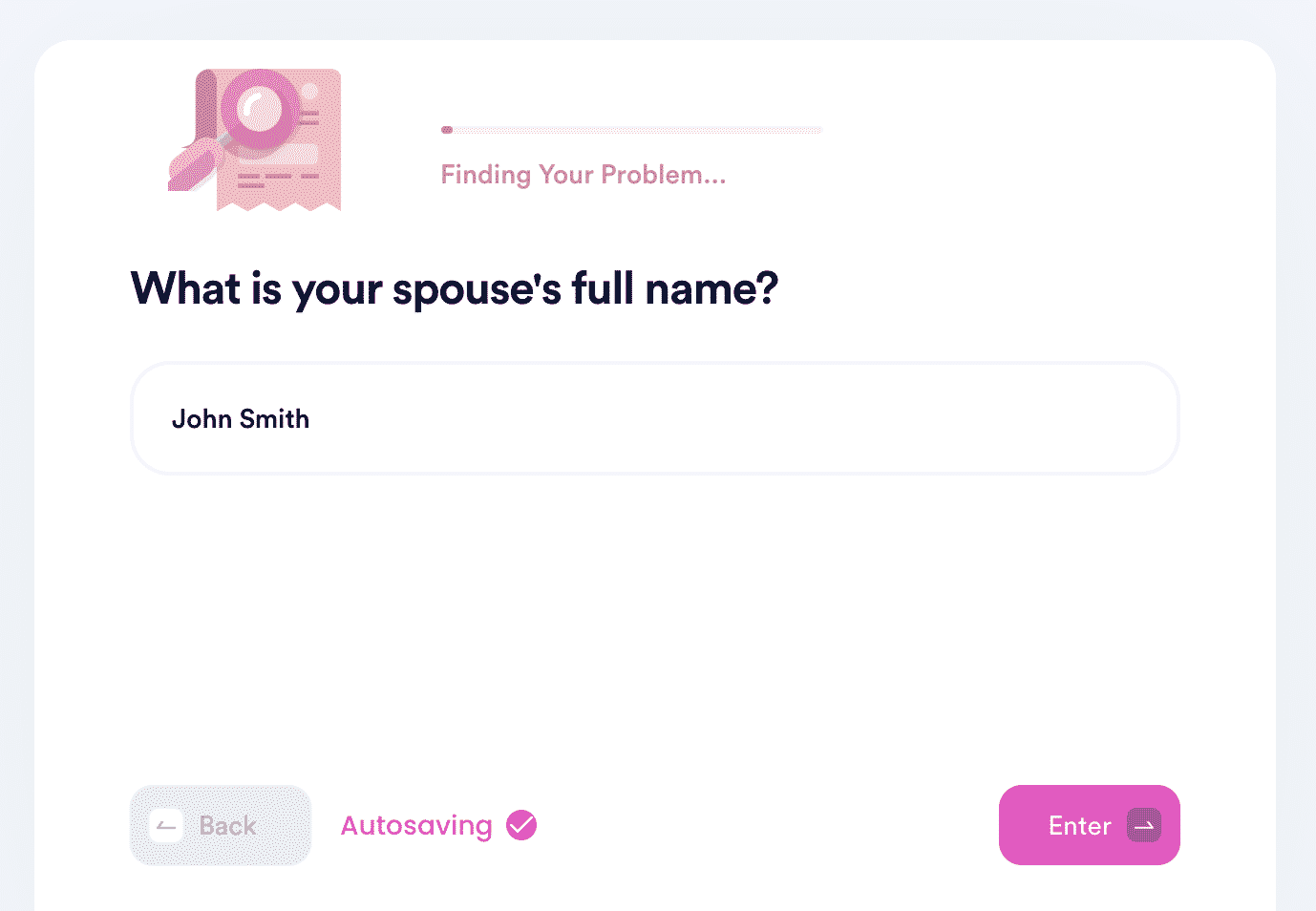 A document created with us will be approved by any judge.
Get Familiar With Various Divorce Aspects To Go Through the Process Smoothly
DoNotPay provides lots of useful guides on administrative- and divorce-related issues. You should browse through our website to get the relevant information. Here are some articles we provide:
Learn About State-Specific Divorce Procedures
Check out the following table to find all relevant state-specific divorce information:
DoNotPay Helps You Tackle All Kinds of Problems From the Comfort of Your Home
Are you too busy to go to Target, Walmart, or photo studios to get your passport photos taken? DoNotPay offers you the possibility of taking them yourself and having them edited without going anywhere!
Thanks to our app, you don't need to visit the post office if you want to initiate a return. You can also skip going to a notary office because we'll help you get your documents notarized.
Here are some other tasks you can complete with ease using DoNotPay:
We Help You Get Fuss-Free Subscriptions to Any Service
Interested in a specific service or platform? Make sure to get the best out of your free trial without getting charged and ending up with an unwanted paid membership. Even if you make a mistake, DoNotPay can end your subscription in a few simple steps!
Our system allows you to generate virtual credit card numbers to prevent platforms from getting your real bank details and using them for unauthorized transactions. We also offer burner phone numbers that will help you go through any subscription or verification procedure without disclosing personal details.