How Long Does an Insurance Company Have To Settle a Claim?
Every company has a specific set of rules and uses different methods for filing and settling insurance claims. The simpler cases can take one to two weeks to resolve, while the more complex ones can drag on for months or years. Most companies have a 30-day self-imposed deadline.
Shouldn't Your Insurance Company Respond to Your Claim Within Days by Law?
Under the terms of your insurance policy or state law, the adjuster needs to complete an initial review and respond within a reasonable amount of time, usually about 30 days. 
Unfortunately, providers tend to take their time responding to claims. You can take matters into your own hands and use DoNotPay to file insurance claims and appeal the rejected ones, as well as to take the company to court if need be.
How Long Does a Car Insurance Claim Take?
When it comes to car insurance claims, there are a lot of factors to consider, and settling a claim depends on numerous factors.
For example, if there is damage that is easy to evaluate, not overly demanding, and involves only property, it can get settled quickly.
If a claim involves a medical or personal injury, the process will take a lot longer and be a bit more complicated.
How Long Does an Insurance Claim Take To Settle?
Companies will take time settling insurance claims depending on the type of claim you are filing, as well as the complexity of your case. Check out the table below for the common claims and how long they usually take to settle:
Claim Type
How it works

Glass claims

This type of claim is the quickest to resolve, and it can usually be done on the same day or within a week

Roadside assistance claims

Making towing claims is also simple and doesn't require much time

In case you need to be reimbursed, it will take a week or two to receive the check

Physical damage claims

Settling a physical damage claim depends on the severity of damage and complexity of a claim

Cut-and-dry physical damage takes around 14 days to be fixed

Total loss claims

A total loss insurance claim can take quite a bit of time to get finalized

You need to go through a ton of paperwork and gather numerous signatures

This process can last for 30 days or longer

Medical claims

Medical claims take the longest time to settle

What you can do is finish all the paperwork and file the claim, but the rest is up to the company and its protocol
How Can I File Insurance Claims?
There is not one but several methods to file your insurance claims and get the most from them. The company should present all available ways to claim your insurance. You choose the one that suits your needs.
Here are the most common ways you can file your insurance claim:
Over the phone

In person

Online

By email

Via letter
To claim the insurance on your own, you should reach out to your provider and ask for help regarding your insurance claim or any other issue you want to resolve.
You can also avoid the unnecessary hassle and use DoNotPay to cut the work in half and file your claim easy-peasy!
DoNotPay Helps You File Any Insurance Claim Easily!
Using DoNotPay will help you save time and file your claim in a matter of minutes! You do not have to burden yourself with research or challenging procedures. We present you three simple steps you should follow to claim your car, home, hurricane, flood, travel, accident, or unemployment insurance from the comfort of your home.
When you load DoNotPay in any web browser, follow these steps:
Select the insurance type you need

Give us your contact information, provider details, and policy number

Explain why you are filing your insurance claim and provide us with details about your case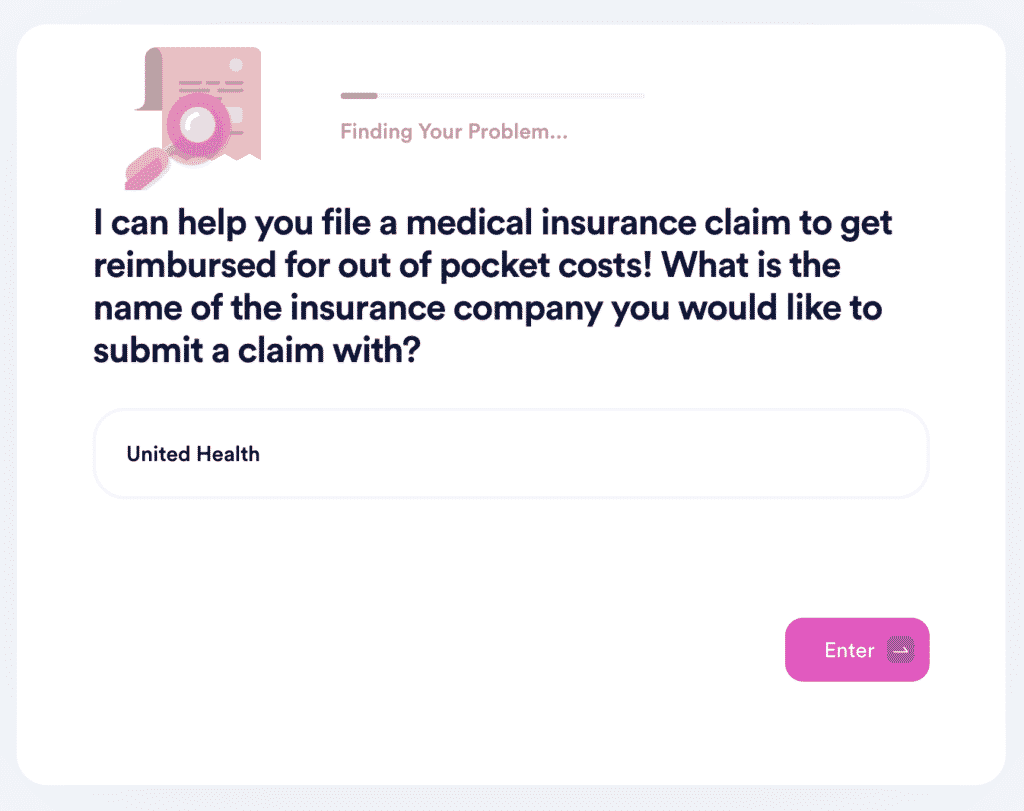 Appeal a Denied Insurance Claim With DoNotPay in Four Steps!
Aside from helping you filing insurance, DoNotPay can assist in appealing a denied claim as well! We came up with the Appeal a Denied Insurance Claim feature to streamline this somewhat complicated procedure! Our robot lawyer composes and sends the appeal letter in your stead!
Follow these instructions to appeal your rejected insurance claim with our app:
Visit DoNotPay from your

web browser

Look for the insurance you want to appeal

Click on the

Appeal a Denied Insurance Claim

tool

Finish the process by following our prompts
Feel free to use our app if you need assistance in filing or appealing rejected insurance claims from companies like Dairyland, Safeco, Erie Insurance, ACCC, MetroPCS, Hartford, The General, Metlife, Mapfre, StateFarm, Shelter, and many more!
DoNotPay Helps You Claim Your Money
Our virtual assistant app makes sure you get back funds that are rightfully yours. 
Whether you need to claim insurance, warranties, or your property held by the state, we will help you do it in minutes.
DoNotPay can also help you initiate a chargeback on any transaction you disagree with. We can help you secure compensation from airlines, robocall and text scammers, or in case you've been a victim of a crime.
In case you are dealing with an unfair company regarding your subscription cancellation or any other matter, we can help you get your money back by suing them in small claims court. 
Bypass the Administration With DoNotPay
There's no more need for extensive research, abundant paperwork, or endless phone calls with customer service reps. 
DoNotPay brings the administrative nonsense to a minimum.
Book DMV appointments fast and easy, appeal your parking citations, sign up for free trials without disclosing your credit card info or phone number, or reach your loved ones in jail—all in less than five minutes.
We also generate any legal document, provide full access to public records, offer DMCA protection, and reduce your property taxes with a few clicks.