How Long Does an Employee Have to File a Sexual Harassment Complaint at the CHRO?
Sexual harassment is a violation of employment rights and characterized by unwarranted comments or behavior against someone's gender or sexual orientation. It is a form of discrimination that violates protections under Title VII of the Civil Rights Act of 1964. Employees and managers at any position, whether working full-time or hourly, should be aware of sexually offensive acts and know what to do when they become a victim or have witnessed sexual harassment in the workplace.
In this article, we will provide you with helpful pointers for when you file a sexual harassment complaint with the Chief Human Resources Officer (CHRO) of your company. We will also introduce you to a safer and easier way to file employee complaints using the app!
Sexual Harassment in the Workplace: Harmless Banter or Harassment?
How do you draw the line between innocent teasing and sexual harassment? Differentiating between the two can be challenging. The bottom line is, any sexually charged conduct or comment that adversely affects employee productivity or makes you uncomfortable in any way is considered sexual harassment. Here is a table that serves as a general guideline:
Sexual harassment
Not sexual harassment

Sharing sexually inappropriate images or videos with

co-workers

Taking selfies together even if posing sensually

Sending salacious emails or notes

Sending email requests to meet company dress code

Displaying pornographic posters at work

A single disagreement about socio-political issues

Telling sexual anecdotes

Commenting on someone that they have lost or gained weight

Making lewd gestures

Mutual flirtation between employees outside of work the environment

Staring or whistling offensively

Complimenting someone on their physical appearance

Inappropriate touching or intentional brushing up against a co-worker

A mutual hug between employees who are friends

Interviewing someone about their sexual orientation

Disputes or disagreements regarding beliefs related to gender
Filing a Sexual Harassment Complaint: Timeline
When you witness or experience sexual harassment, don't wait too long before you act or spend time overthinking whether you were just being too sensitive. This is because there are statutory limits on filing sexual harassment complaints with your company's CHRO and the U.S. Equal Employment Opportunity Commission (EEOC). Here are some statistics that you need to take note of:
180 days – the deadline of filing a state and federal

complaint

with EEOC

240 days – the deadline of filing a sexual harassment

report

with the EEOC

15 or more – minimum number of employees for your company to be liable for discrimination

Alabama, Arkansas, Georgia, Mississippi, and North Carolina – the five states that don't have state agencies for anti-discrimination claims
How to File a Sexual Harassment Complaint
Most state laws protect employees from sexual harassment while at work. Additionally, most states also enforce fair employment practices that prohibit sexual harassment. If you are being sexually harassed at work, here is a general guideline you can follow to protect yourself:
Confront the harasser – Although it can be awkward and challenging, clearly telling the harasser to stop makes it known that you do not tolerate such behavior. If you do not believe a face-to-face confrontation is safe, you can write a letter instead. Make sure to keep a copy with you for future reference.

Report to the

manager

– If the confrontation does not resolve the harassment, escalate the complaint to a supervisor or your company's

human resources

department. Do not skip this step because the company may not be held liable when you decide to pursue a lawsuit. For you to win a legal case, you need

HR reports

to serve as proof that the company was made aware of the sexual harassment you faced.

Document everything – Collect detailed evidence about the harassment. Keep a journal of events including names, dates, and places. Keep a copy of your performance report that will serve as proof later on that your productivity at work was affected.

Escalate to the EEOC – If complaining to your

boss

or the HR department doesn't resolve the situation, it's time to go to your state's fair employment office or straight to EEOC.
Employer Responsibilities When Addressing Sexual Harassment Complaints
Employers must provide a safe and discrimination-free workplace for their employees. Employers should be aware of employment laws, enforce policies, and take employee complaints seriously. If you are an employer, here are your responsibilities when addressing allegations of sexual harassment:
Understand state and federal laws regarding harassment and discrimination

Write a company policy prohibiting discrimination and include it in the employee handbook

Establish clear-cut procedures for reporting with the HR department

Hold managers accountable if their behavior is being complained about

Investigate employee complaints about sexual harassment and take action immediately
As an employee, you also have an obligation to report and file complaints when you witness sexual harassment in the workplace. However, this is easier said than done. Filing a complaint can sometimes result in awkward situations in the workplace or worse, retaliation. To protect yourself, file a complaint anonymously with instead!
How to File an Anonymous HR Complaint With DoNotPay
is your lawyer in an app! With the Anonymous HR Complaints service, you can file a complaint safely and easily without having to reveal your personal details! All you have to do is:
1. Log in to and open the Anonymous HR Complaint product.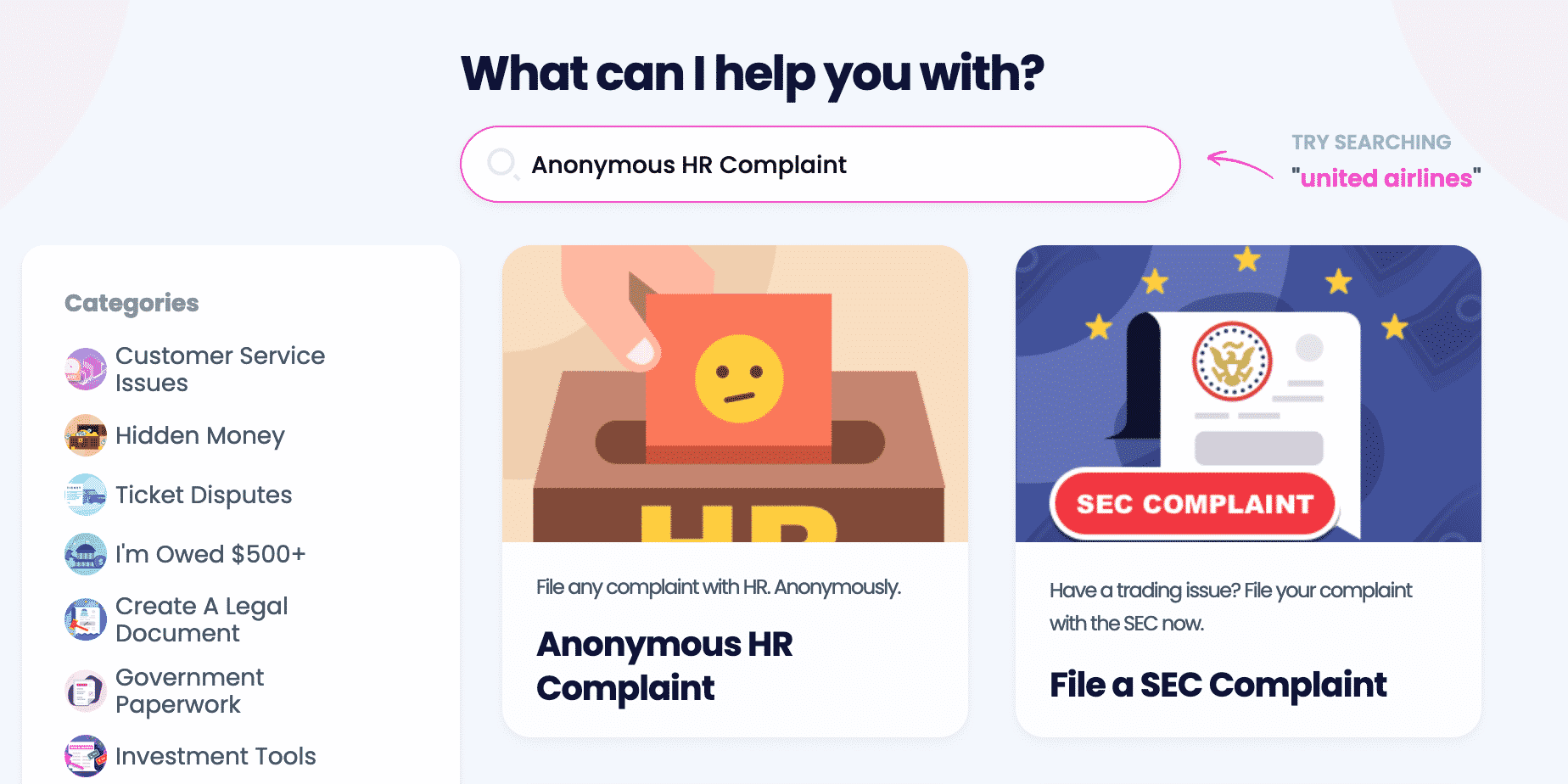 2. Enter your employer's name and HR department's mailing address.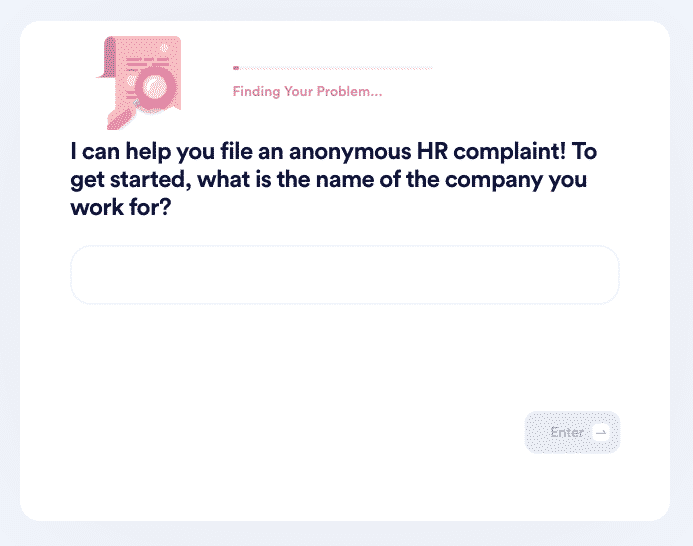 3. Describe the issues you're experiencing and how you want them to be addressed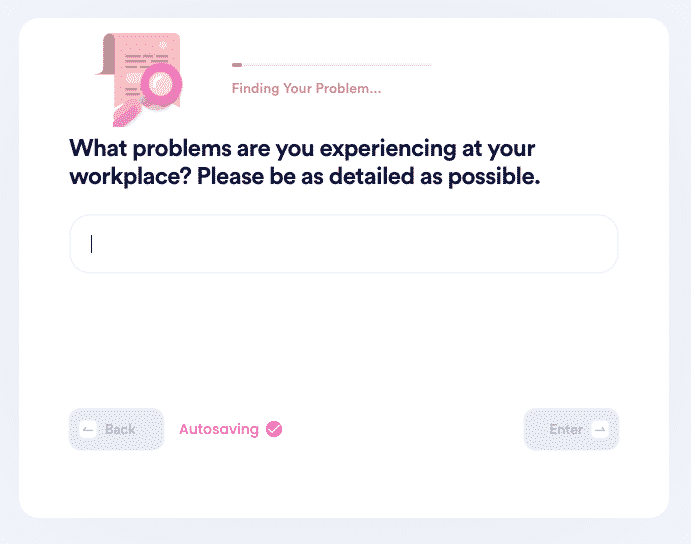 4. DoNotPay will automatically mail the report anonymously on your behalf.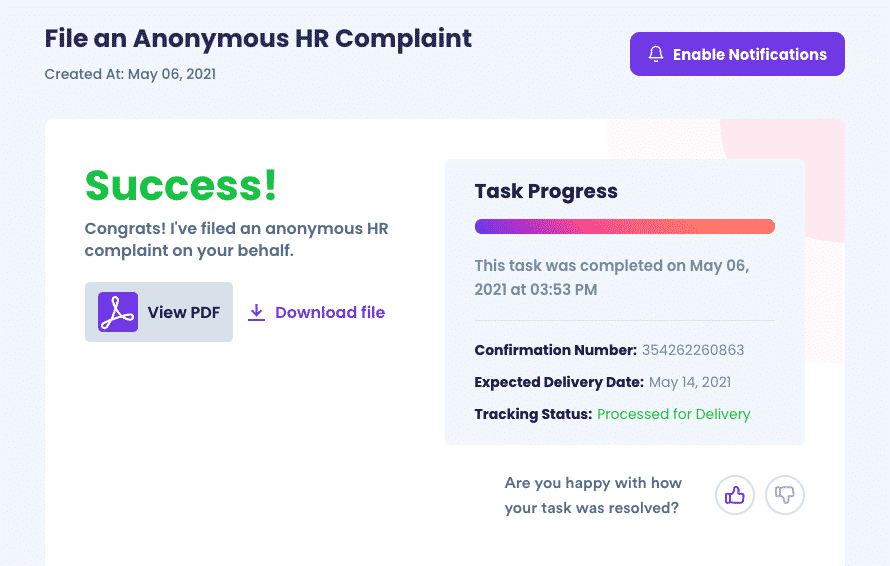 That's it! Once you're done, we'll take care of the rest. Your complaint will be mailed directly to your company's HR department and your identity will remain confidential.
Get Your Errands Done With DoNotPay
If you're wondering what else can do other than help you with workplace complaints, here are some answers! Sign-up for free trials without using your own credit card, schedule a DMV appointment, and get refunds on any purchase! Here are more services that will tackle your to-do list with the power of AI: