How Long Does a Trademark Last? Find Out With DoNotPay
How long does a trademark last, and why do you need to register in the first place? In this article, we discuss the length of trademark protection acquired through registration and the accompanying benefits for small businesses. We will also explain how to get started with the whole process by .
What Is a Trademark, and Do You Need To Register It?
A trademark can be any visual or textual symbol, such as:
The basic requirement for a "strong" trademark is that it applies a recognizable feature to your goods and services. You also need a trademark that is available for registering. Before you start the registration process, conduct a search of the United States Patent and Trademark Office (USPTO) database to check if the desired mark has already been taken.
Once you come up with an original and distinctive symbol, you can start using it in commerce and ultimately apply for registration.
The main advantages of registering a trademark include:
Legal protection—While common law rights can protect your trademark to a certain extent, it is also recommended to file for state or federal registration. You will be able to prevent trademark infringement outside the local area
Trademark ownership—A registration certificate can serve as evidence in court if you are ever to sue a company or individual for infringement
Brand visibility—Getting your trademark registered can give your brand credibility. Not to mention it will make it more recognizable to potential customers
Preventing the importation of counterfeit goods—You can forward your registration information to the U.S. Custom and Border Protection (CBP). They can intercept all products containing the stolen trademark and deny entry
How Long Is a Trademark Valid?
If you are wondering how long a trademark is good for, the answer is a tad complex. Unlike other forms of intellectual property protection (e.g., copyright), trademarks and service marks can expire within a few years.
The owner of the trademark must take proper steps to keep the registered trademark "alive" and renew it once every ten years. You will receive a heads-up from the United States Patent and Trademark Office (USPTO) as the deadline approaches. Acquiring the right paperwork and filling it out is subsequently your responsibility.
What happens when a trademark expires? It is henceforth considered "dead," meaning it is no longer actively registered. You should also know that:
The use of a dead trademark can still be viewed as an infringement unless the rights for it are cleared
Trademarks with expired registrations can still be used
The local trademark protection laws continue to protect your trademark ownership
Trademark registration can be revived
How To Maintain Your Trademark Registration
The precondition for maintaining a trademark registration is filing the Declaration of Use (or Section 8 Filing) with the USPTO. It serves as evidence that you are actively using the trademark in commerce.
You will need to submit the documentation at different intervals:
Six years after the initial trademark registration was issued. It is also possible to file it early, i.e., during the fifth year
Right before the tenth anniversary of the registration. You can also submit it at the nine-year mark
Once every ten years after the first two submissions
If you are late with filing the declaration, there is a six-month "grace period" for the first two submissions. Keep in mind you will be charged extra for the delay.
For the USPTO to accept and process your paperwork, it has to include the following elements:
| Declaration of Use Element | Brief Explanation |
| --- | --- |
| A formal declaration | You need to write a legally binding statement listing the goods and services you currently provide under the registered trademark. If you have recently removed an item from your product listing, make sure to emphasize it in the form |
| Visual representation of the trademark | It is necessary to enclose an image of the trademark as it is currently shown on your products |
| Proof of payment | The Declaration of Use requires a $125 fee for each trademark class you listed in the document. You must cover the expenses upfront |
How Often Do You Have To Renew a Trademark—The Trademark Registration Renewal in a Nutshell
Apart from filing a Declaration of Use, you will also need to renew your trademark registration once every ten years. You should know that:
The fee for filing a trademark registration renewal is $300 per trademark class
You put in the request online, using the USPTO Trademark Electronic Application System (TEAS)
The USPTO will send you a confirmation email if you have submitted the form successfully
The USPTO will cancel your registration automatically if you fail to renew it before the tenth year expires
The date when your registration was first issued is the starting point—not the day you submitted the trademark application form
DoNotPay Can Help You Register Your Trademark in No Time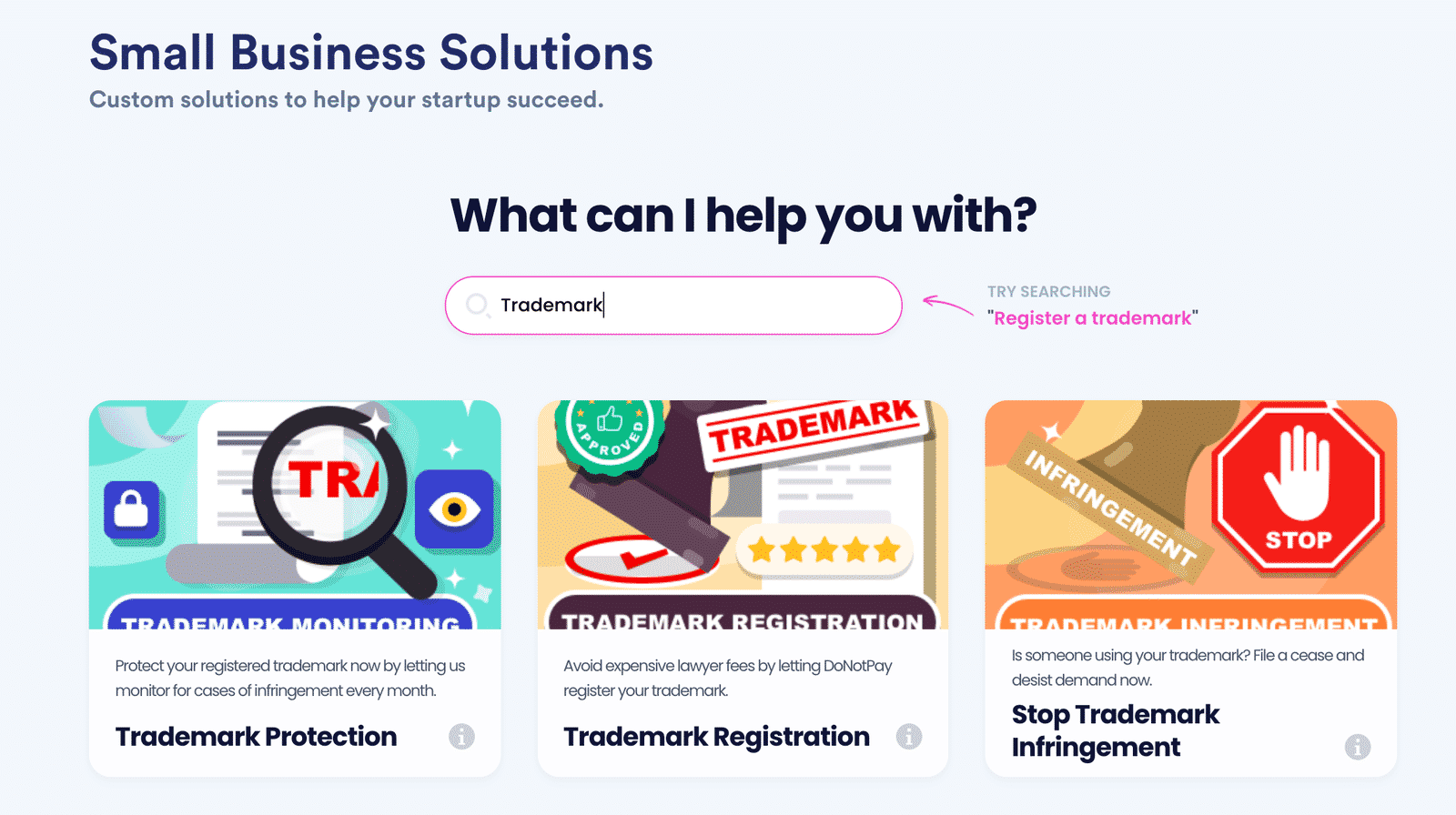 Instead of fretting over the trademark registration duration, why not focus on more pressing matters? Take the first step toward trademark registration with DoNotPay's user-friendly product!
All you have to do to file a trademark is follow these simple steps:
Access the Trademark Registration product
Answer a series of questions about your brand and desired trademark
Provide evidence of covering the costs of registration
Once you have e-signed the documentation, we can prepare it and send it to the USPTO. You can rest assured our AI-operated platform will get the job done without charging exorbitant flat fees.
Run Your Business Worry-Free!
Every beginning is challenging, which is why DoNotPay has everything you need to start running your business stress-free! We have created numerous easy-to-use products that will make boring administrative tasks easier to manage.
To help you get started, DoNotPay will assist you in taking care of trademark, Employer Identification Number (EIN), and DMCA agent registration, Privacy Shield self-certification, and business loan requests.
We can even help you maintain a good business reputation by:
Monitoring your trademark and filing a cease and desist letter in case someone tries to use it
Reporting fake negative reviews that could harm your business
Disputing illegitimate chargeback requests in a matter of minutes
DoNotPay Helps You Create and File a Number of Legal Documents
Why waste time worrying about how to draw up and file various legal documents when you can have the world's first robot lawyer do that in your stead? You do not have to waste thousands of dollars on lawyer's fees—our extensive database has a myriad of documents on offer.
DoNotPay will help you automate the procedure of completing and filing 83(b) election forms, write a formal demand letter requesting payment from clients who try to avoid it, and deal with other important paperwork.
Don't want to waste time going to the post office to mail a contract? Now you do not have to! With DoNotPay, you can fax and mail any document in a matter of clicks!