How Long Does a Landlord Have to Fix AC in Arizona?
Landlords and tenants both have obligations to one another. As a tenant, you must:
Pay your rent on time
Maintain the property
Cause no damage
Tell your landlord if repairs need to be made
Therefore, "?" is a common question for Arizona tenants because it is one of the many things a landlord is obligated to handle. To learn what you should expect from your landlord in this regard, you have to find a basic understanding of tenant and landlord rights. You may also need to know how to write an effective letter to your landlord about repairs.
DoNotPay can help you with all parts of this process. We can help you understand your renters rights, know what to say to your landlord in your request, and even submit a letter on your behalf if you want us to.
Understand Your Rights as a Tenant in Arizona
You strive to be a good tenant and do all that you are obligated to do, and your landlord is required to do the same. The Arizona State Statute (A.R.S) 33-1364 requires your landlord to:
Ensure your rental property meets building and health codes
Make repairs as needed to keep the home habitable
Keep grounds of shared access areas clean and safe (playgrounds, swimming areas, laundry rooms, etc.)
Ensure proper working order of electrical, plumbing, heating, air conditioning, etc.
Provide trash containers and removal
Ensure adequate water to your home
These responsibilities often include . There are exceptions to every rule. You are encouraged to read your rental agreement to find out if there are stipulations in it that absolve the landlord of some responsibilities. Whether you rent a home or an apartment may also influence what you are responsible for.
Some common exceptions, especially for single unit rental properties, may be related to:
Lawn Maintenance
If you own a single unit rental, it may be listed in your contract that you need to maintain the lawn by mowing or removing fallen limbs. However, if a large limb falls and damages the home, your landlord may still be the one responsible for removing it and repairing damages.
Trash Removal
In single-unit homes, you may be responsible for hiring your own trash removal company or hauling garbage to the landfill.
Basic Repairs
If your landlord lives in another town or state, you may be required to handle minor repairs of the home you are renting. These minor repairs may include:

Changing light bulbs
Repairing plumbing
Hiring tree removal services
And other non-permanent repairs

However, if you have to hire someone to repair the property, the landlord should still be responsible for the overall cost. In some cases, this could be either by paying the service provider or by giving you a reduced rent payment the following month. This includes the repair or replacement of an air conditioning or heating unit.
If the landlord fails to provide you with the things your rental agreement promises, then you have the right to fight back and make them. You simply have to know the correct process for getting it done.
How to Send Repair Notices to Your Landlord in Arizona Yourself
One of the major things you should do when trying to get your landlord to perform necessary repairs will be to provide them with written notice. The notice you write should include:
Your name
Their name
The date you write it
What needs to be repaired
Your signature
Even if your landlord lives nearby, you should mail the letter to them as certified mail to ensure you have delivery confirmation. This confirmation will ensure that if the landlord does not deliver on the repairs, you may have a legal way to withhold rental payments until they do.
As per A.R.S §33-1363, Arizona law says your landlord should make necessary repairs within 10 days of receiving notice from you. If it is not taken care of in a timely manner, you can notify your landlord that you will be making repairs on your own and deducting the cost from your next rental payment. In some situations, you may also choose to terminate your lease early without repercussions.
If you choose to cover the cost and deduct it from your rental payments, you are protected, by law, from eviction for doing it. In the event that they try to evict you over it, you are urged to seek legal help.
How to Get Help From DoNotPay When Your Landlord Doesn't Repair AC in Arizona
DoNotPay is the world's first robot lawyer. We know what your rights are and how to ensure that you are protected as a renter. We can:
Help you get out of a lease in Arizona due to landlord neglect or refusal to manage their repair responsibilities
Help you know what to do if your landlord is threatening to evict you
Help you issue a security deposit demand letter in Arizona
Help you sue your landlord for your deposit
Help you send/create/make  for landlords in Arizona
Help you fight evictions without notice in Arizona
Help you evict roommates in Arizona
File small claims in court if all else fails
Our services are available to both landlords and tenants, and we can help everyone understand tenant and landlord rights in Arizona. We can even help you understand the complicated laws that apply to the state's eviction laws and those regarding return deposits.
If you are unable to find another solution and choose to break your lease in Arizona, we can help you get the process started in just 4 easy steps:
1. Search for and open the Landlord Protection product on DoNotPay.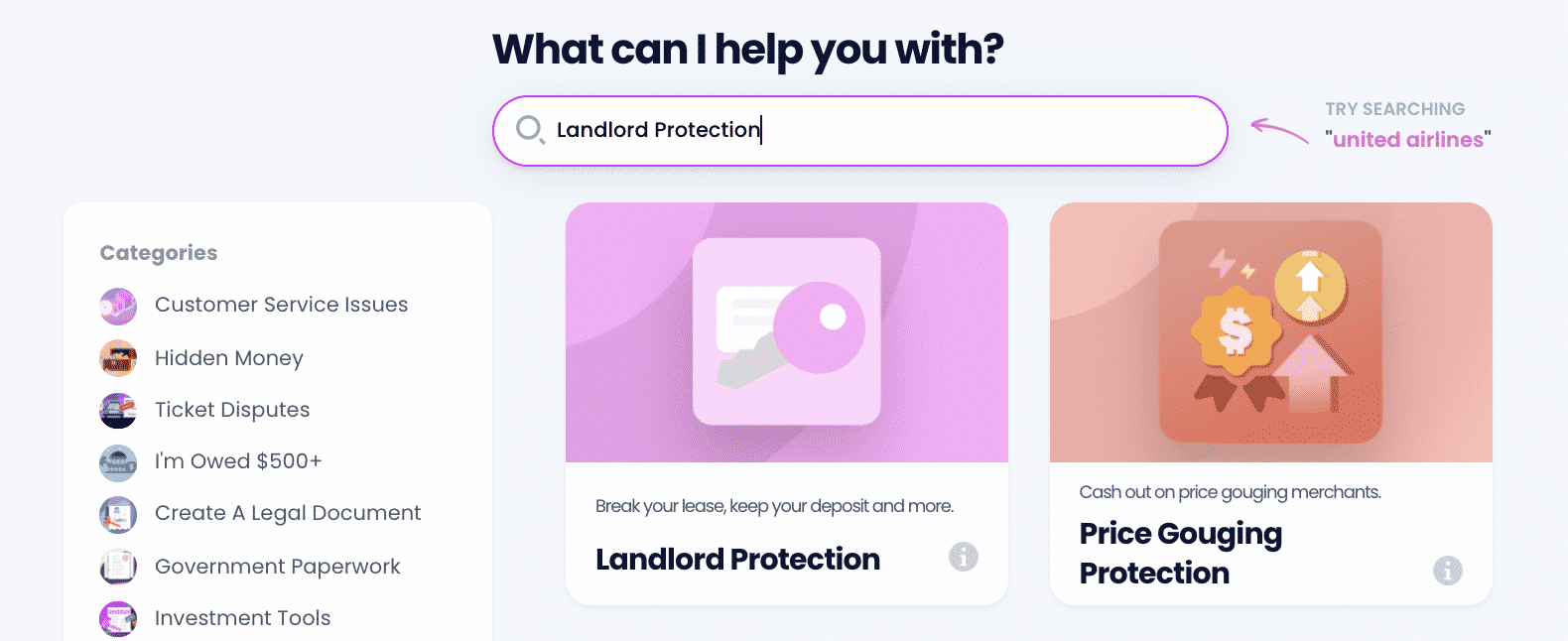 2. Select which issue applies to you.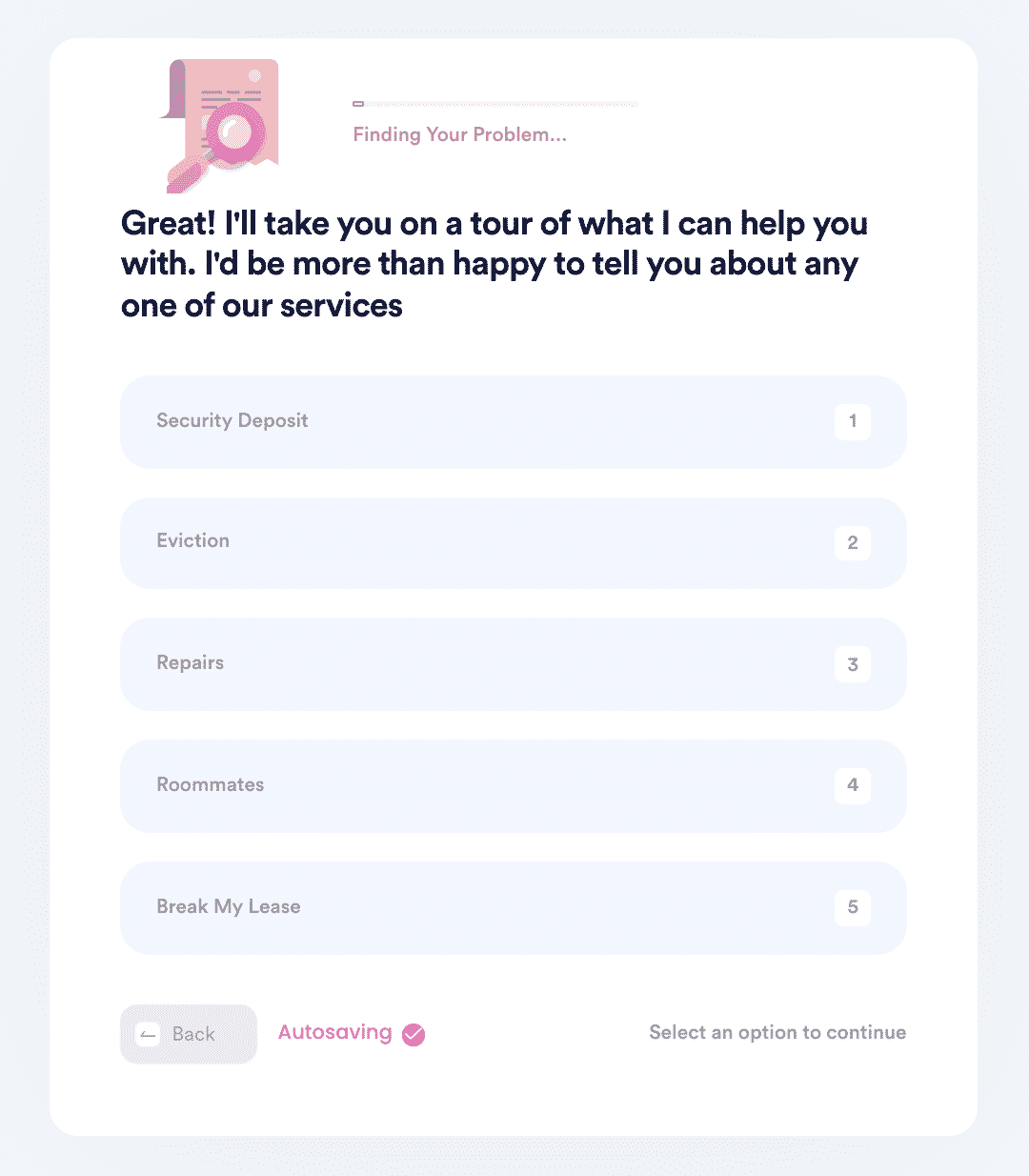 3. Answer a simple set of questions, so our chatbot can collect the necessary information to create your demand letter.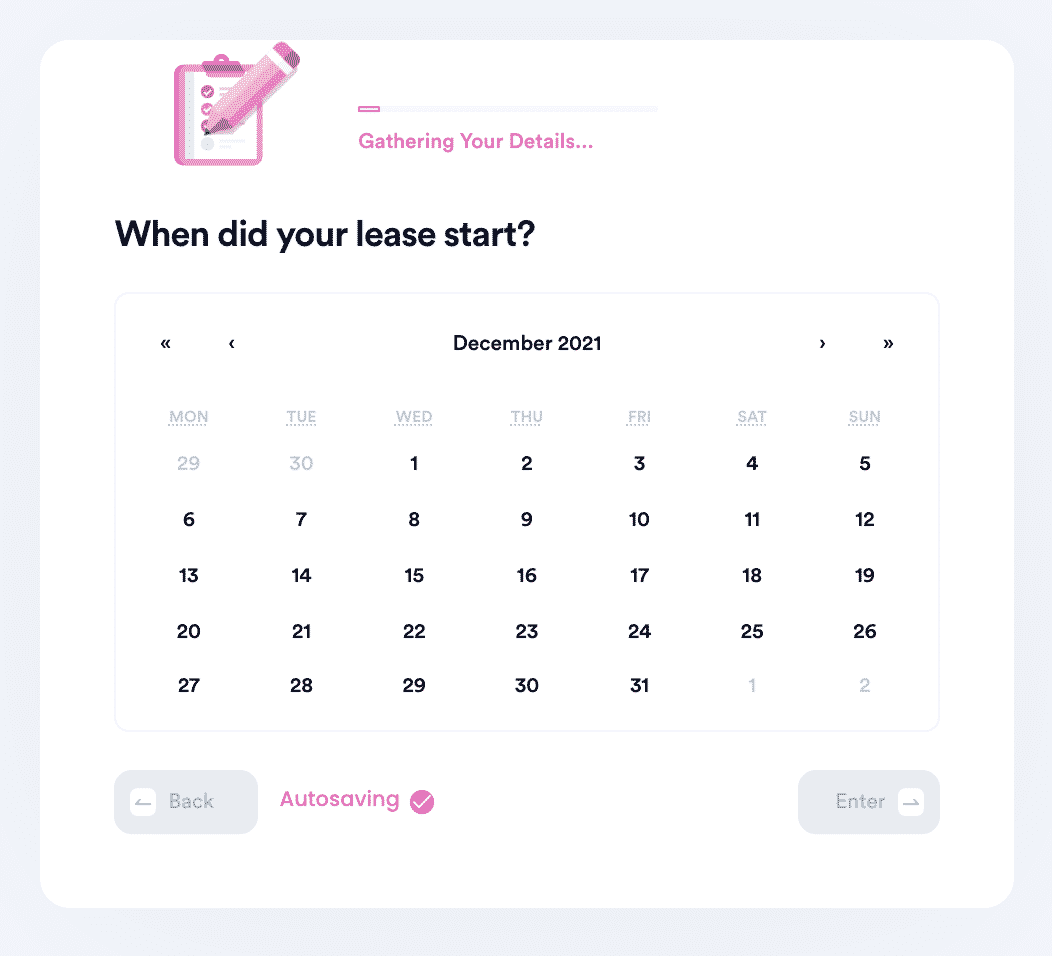 4. Choose whether you want DoNotPay to send the demand letter to your landlord or roommate on your behalf. If you already tried sending a demand letter, and it didn't work, we can help you start the small claims court process.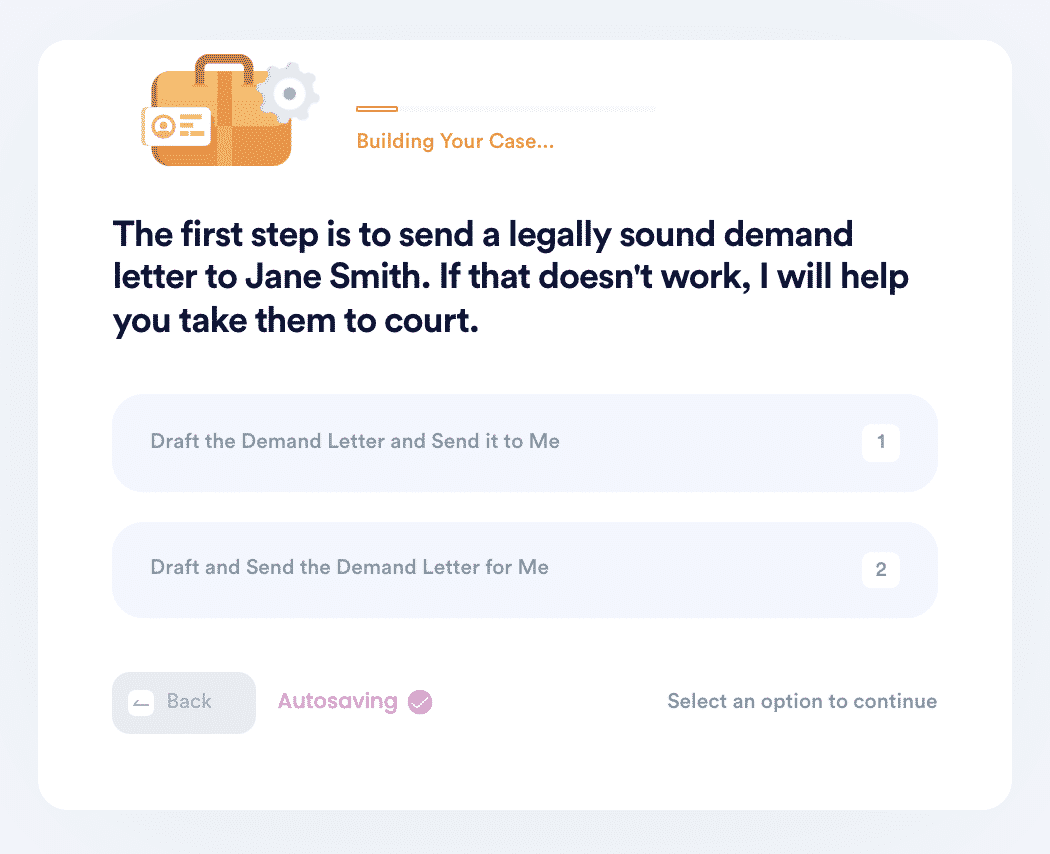 And that's it. You should hear back from your landlord directly once your demands are sent.
What Else Can DoNotPay Do to Help You?
With DoNotPay, you can expect fast, secure, and effective service regardless of what you need to take care of in your life. Every step of the way, we do our part to make it easy for everyone involved.
Therefore, not only can we help you get the necessary  you need for your rental, but we can also help you:
If you are ready for our help, contact DoNotPay to see all the ways we can help you through life's more complicated issues.