How Long Does a Divorce Take, and Can I Finalize It Swiftly?
However eager you may be to finalize your divorce, many factors can influence the length of the process. While you have to respect your state's legal requirements, being familiar with potentially aggravating issues can help you avoid them and speed everything up.
"How long does a divorce take?" is a question DoNotPay will address in this article. We will also explain how to execute a friendly divorce as fast as possible!
How Long Does It Take To Get Divorced?
Estimating the time it takes to get divorced depends on:
Your state laws
Type of divorce you're filing for, such as:

Fault or no-fault
Contested or uncontested

County court's availability
Your and your spouse's circumstances
State Laws
Your state of residence may have specific demands that can slow down the process, such as:
Having a mandatory cooling-off period—It serves to give the spouses a chance to reconcile or get adjusted to their new situation
Going through a required period of separation—Some states won't let you get divorced if you haven't been separated for a specific period of time
Meeting residency requirements—Almost all states require you to be a resident of the jurisdiction before you can file for divorce
Type of Divorce
Every state allows you to file for a no-fault divorce (where neither spouse gets blamed for breaking up the marriage). In some states, you can file a fault-based divorce claiming adultery, cruel behavior, etc. A divorce based on fault involves numerous court hearings and a trial, which prolongs the process significantly.
Having a contested divorce is similar. If you and your spouse can't agree on certain issues, you will have to follow a time-consuming court procedure before the judge decides on your case.
Family Court's Backlog
If your county's court has a backlog of cases, yours will take more time to get on the court calendar. Bear in mind that if your county has a large population, delays are much more likely.
Other Aggravating Issues
A person will sometimes try to punish their former partner by prolonging the divorce. They often do it by:
Filing for a fault-based divorce out of spite—Talk to your spouse and see if you can come to a solution together
Avoiding to be served with the divorce papers—Don't waste time and hire a professional server
Other times, a person can suspect their former spouse is hiding assets from them. Investigating the situation typically prolongs the divorce further.
Note that complex issues, such as those involving assets and child custody, will take longer to resolve in court. It's in both partner's best interest to come to an agreement quickly and avoid any unnecessary stress and expenses.
How Long Does the Divorce Take if Both Parties Agree?
A certified way to speed up the divorce proceedings is to file for an uncontested divorce. That involves agreeing with your partner on all major issues, such as:
Child custody and visitation
Division of assets
Child and spousal support
Life and health insurance
The length of the uncontested divorce depends on the steps involved to complete the process. Take a look at the table below for further clarification:
Steps
Details
File for divorce

Fill out appropriate forms
File them at your county's court
Pay the fee
Serve the papers to your spouse
Wait for your spouse's response
Have the documents notarized
Go through a state's mandatory waiting period (you may be able to get a waiver if there's a good cause)

Complete the process
Once your case reaches the judge, it may take them anywhere between a few weeks to a few months to approve and sign the judgment
One of the crucial documents in an uncontested divorce is a divorce settlement agreement. It outlines the items you and your spouse have agreed upon.
A divorce settlement agreement must be created according to the state laws, or the judge may dismiss it. Since hiring a lawyer to write it is expensive and relying on online templates is risky, we offer the ultimate solution. Sign up for DoNotPay and get a bullet-proof divorce settlement agreement without breaking the bank!
Let DoNotPay Fast Track Your Divorce
Even when you and your spouse are on the same page, a divorce can cause a significant financial setback. To complete the process fast and with as few expenses as possible, use our app to create a marital settlement agreement!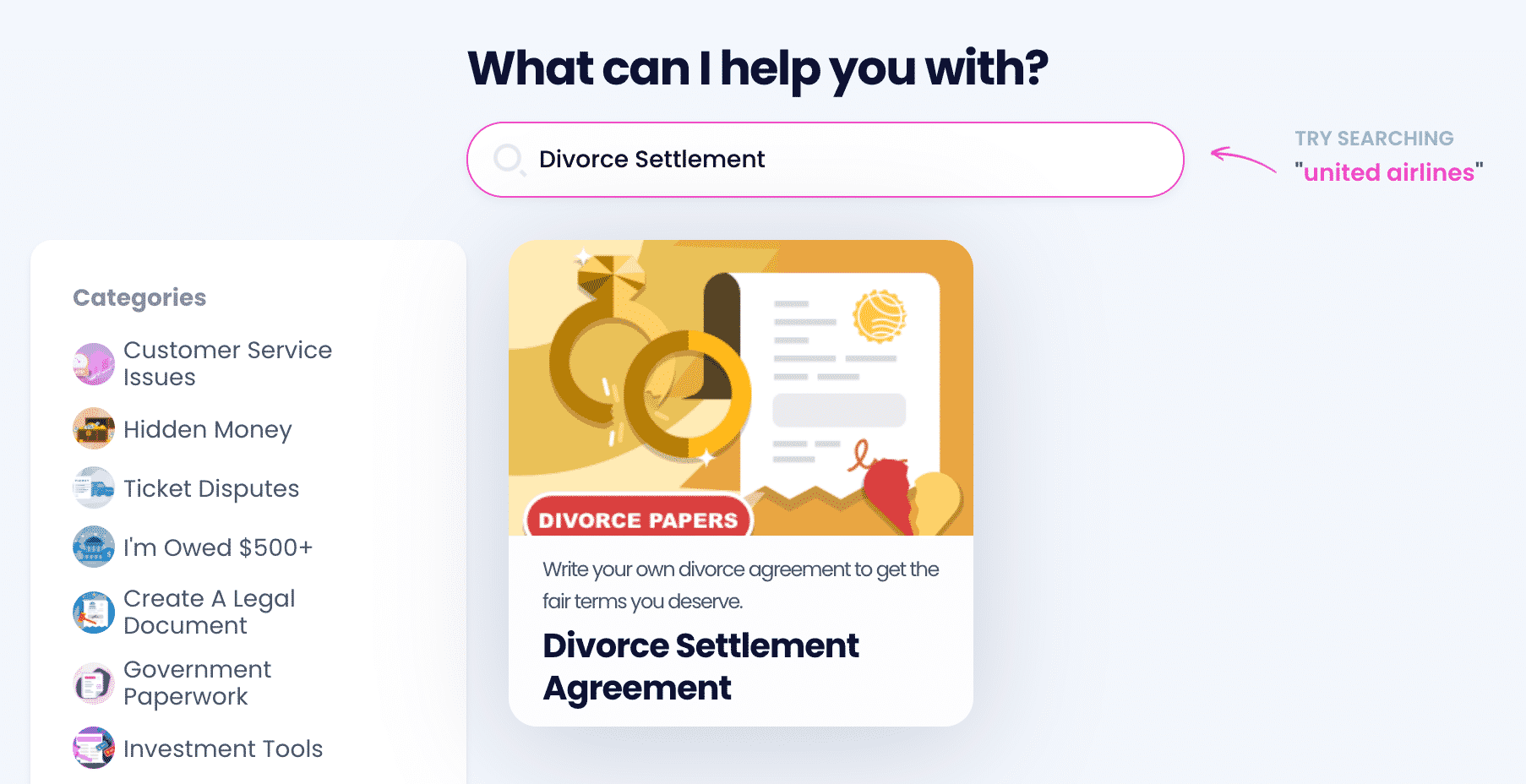 With DoNotPay, you will get a professional divorce settlement agreement that complies with state laws and personal requirements.
Before getting your personalized document, you'll have to follow these steps:
Access DoNotPay from a web browser
Locate our Divorce Settlement Agreement tool
Answer questions from our chatbot regarding your:

Spouse
Children
Income
Financial assets
We will create a divorce settlement agreement based on the details you provided and send it to you right away. To get the document notarized, choose the appropriate option in our questionnaire, and we will connect you with an online notary.
That's not all! We have more info on divorce procedures that you may need, including:
Outsmart Big Corporations by Using DoNotPay
Our platform is always on the side of regular people, and the number one item on our agenda is fighting for your rights.
If you need help requesting refunds for faulty products, late parcels, or canceled flights, you can turn to DoNotPay for help. Protect your privacy and stay one step ahead with our spam email collector, burner phone numbers, and virtual credit cards.
We will provide you with everything else you need in your fight—online fax, mailing service, and products for drafting legal documents and having them notarized online.
Improve Your Leisure Time Too!
You can win some serious battles with the help of DoNotPay—after all, our app can even get you ready for small claims court—but we offer numerous useful features that will improve the quality of your entertainment.
Signing up for free trials doesn't come with the risk of losing money anymore, and if you get bored with that new streaming service, you can easily cancel it using our app.
If entering raffles is your idea of fun, you'll be glad to know we can help you participate in all kinds of these games of chance. You can also review your knowledge using our government test prep quizzes or retrieve any unclaimed money under your name and spend it on something fun!