How Long Does a Divorce Take in Virginia? Opt for a Fast Procedure
Not only is going through a divorce unpleasant and stressful, but it's also time-consuming and complicated since you should get familiar with the procedure, paperwork, cost, and other important details.
How long does a divorce take in Virginia? Depending on how successfully you and your spouse cooperate and negotiate, you can complete it fast, or it can drag on forever.
Divorce in Virginia—Timeline
The time it will take you to end your marriage after you've filed the necessary papers depends on the type of divorce you'll have.
There are two divorce options in Virginia—contested and uncontested. Take a look at the basic difference between the two in the following table:
Divorce in VA
Information
Contested divorce
You'll need to go through this procedure if you and your spouse cannot agree on all divorce matters, including:

Attorney fees
Property division
Child custody and support

Uncontested divorce
To enjoy the benefits of uncontested marriage termination, you must:

Sign a separation agreement covering all important divorce aspects (custody and support of your underage children, fair division of property, etc.)
File for divorce after being separated for at least:

Six months if you don't have children and have signed the agreement
One year if there are minor children or you cannot reach an agreement
As legal separation is not an option in Virginia, you'll need to file for a:
Divorce from bed and board
The latter one requires a spouse to allege fault, e.g., abandonment, desertion, or cruelty.
How Long Does a Divorce Take in Virginia? Uncontested Divorce Is the Fastest Option
A friendly divorce will take less time, money, and nerves. Once you prove you've been separated for at least six or twelve months (depending on whether you've got children or not), an uncontested divorce can be over in one to three months.
Keep in mind that a contested divorce takes over a year, depending on the complexity of your case. You should also hire an experienced lawyer, which will increase the total cost of your divorce.
To avoid problems, reduce legal costs, and get divorced as soon as possible, you should work hard to reach an agreement with your soon-to-be-ex-spouse about all matters. If you cannot work out some issues alone, you could:
Try mediation
Consult an attorney
Steps to a Virginia Uncontested Divorce
Here are the additional steps you'll need to take when opting for an uncontested divorce:
Submit a bill of complaint and other required forms—You should file them with your local circuit court
Have your spouse served with the divorce papers—Ask the sheriff's office or an impartial third party to serve the papers to your spouse
Give your spouse time to file an answer—The spouse has 21 days to file an answer to the circuit court. If they don't, the court may grant the divorce by default
Decide on divorce hearing—You can use a deposition or affidavit or ask for a formal hearing in front of a judge or commissioner
Wait for the court to enter a ruling—While a judge commonly issues a verdict at the end of the hearing, they also have to sign a Final decree of divorce
If your case is clear, you might not even have to go to court to complete your divorce. to prepare a divorce settlement agreement smoothly and avoid unnecessary stress and costs.
DoNotPay Provides Reliable Help With Divorce Settlement Agreements
You can save energy, time, and money by getting DoNotPay's assistance. We know all state requirements, and once you provide the details of your case, our app can generate a divorce settlement agreement tailored to your particular situation. Hiring a lawyer to draft the document from scratch is not necessary.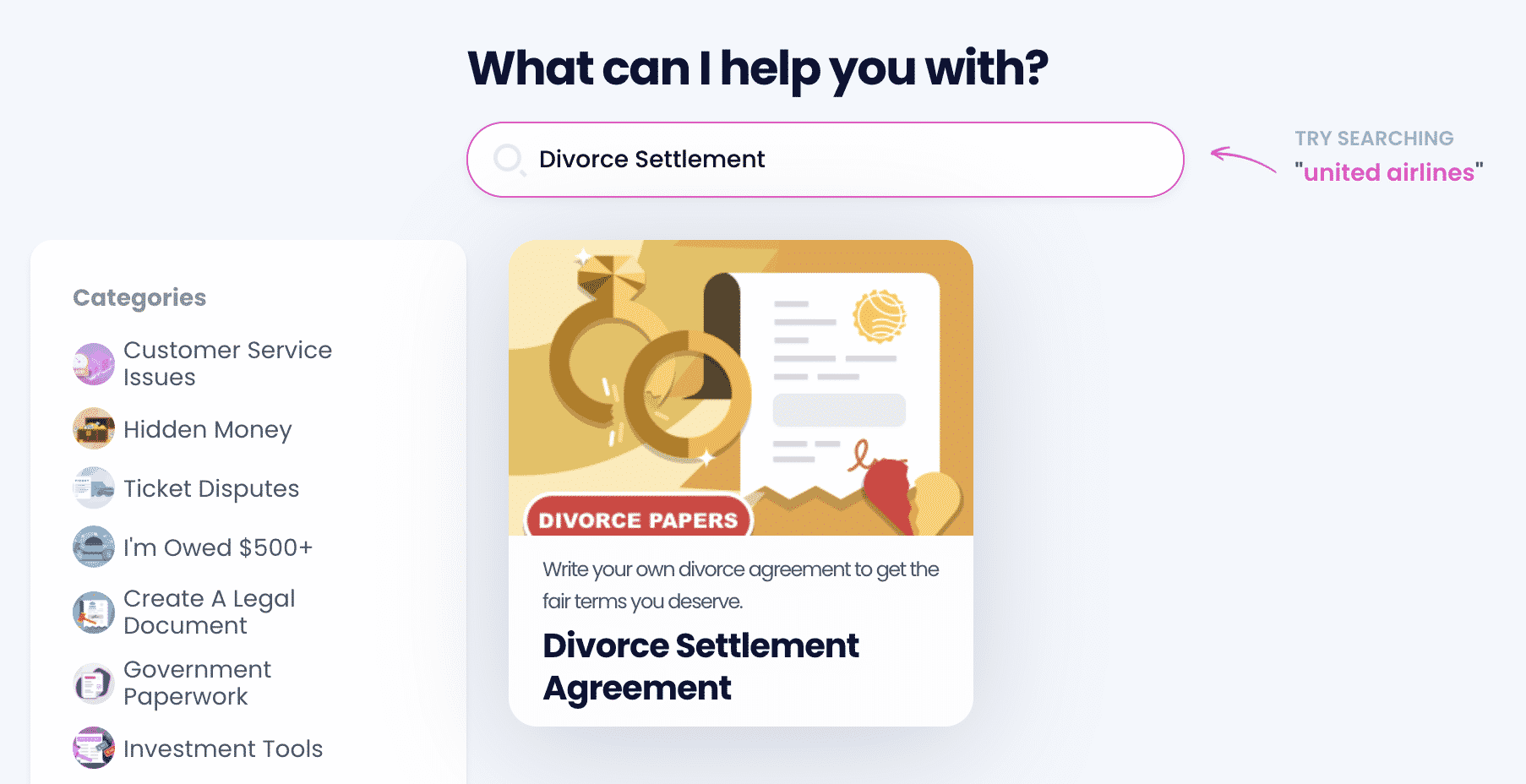 and take these steps:
Enter the Divorce Settlement Agreement in the search box
Answer our chatbot's questions
Provide information about your income and property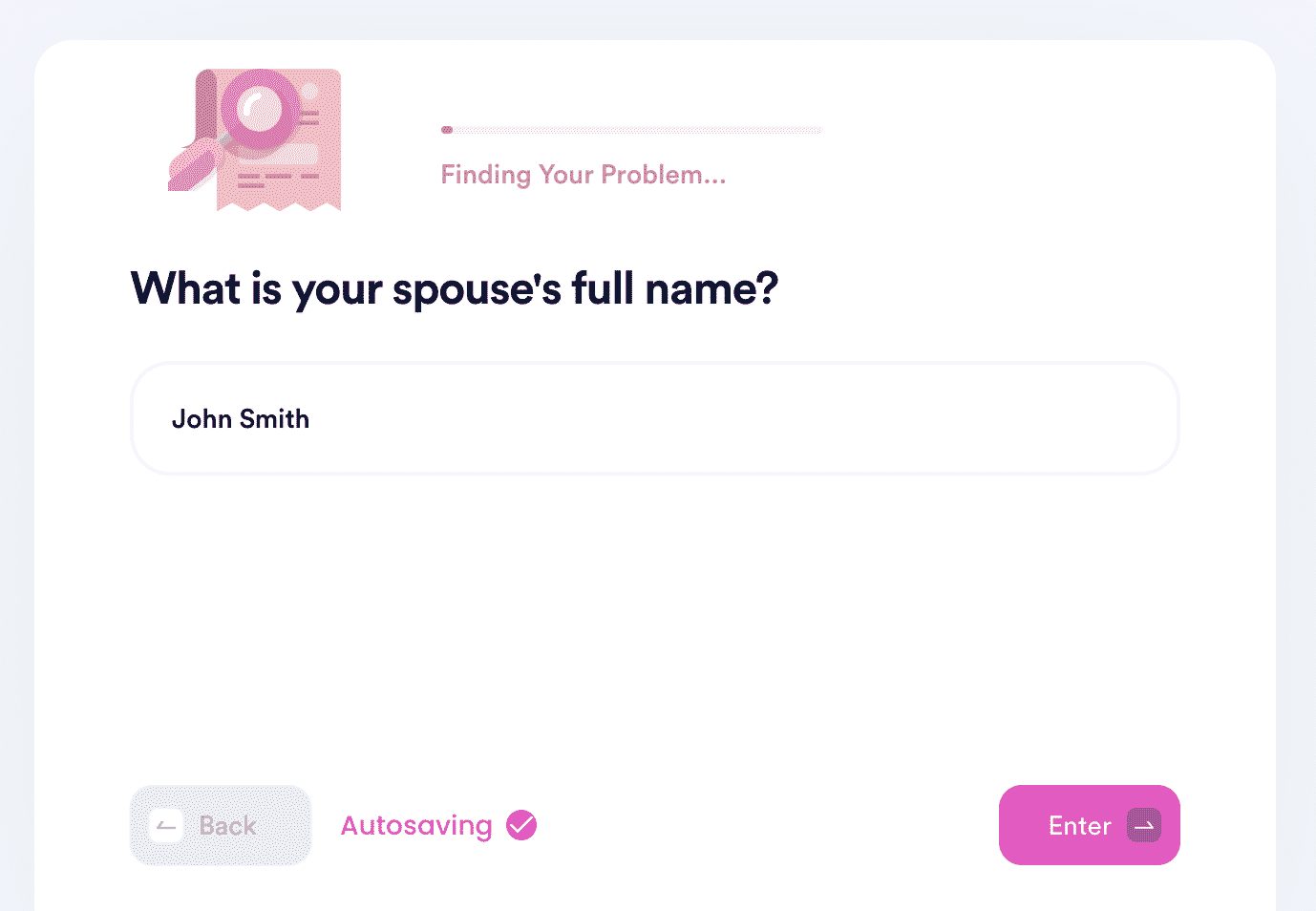 DoNotPay uses your answers and state-specific rules to create a top-notch document. We can also facilitate the notarization process in the same app. You can get your settlement agreement and any other document notarized with our Notarize Any Document tool. Our partners work around the clock, so you can meet a notary on a live video call whenever it suits you.
If you'd like to learn more about the divorce-related hot topics, read our helpful articles on:
Paying for Lawyers? We Don't Think So!
For an average Joe, any mention of legal terminology and complicated administrative processes is likely to cause a headache, and understandably so! Still, you don't have to jump the gun and hire expensive lawyers for the smallest matters.
It's the 21st century, and everything is automated. Why would it be different with bureaucracy? DoNotPay can help you draft efficient neighbor complaint letters, prepare you for a small claims court appearance, or create standardized legal documents and have them notarized online.
Our app is a great resource for fighting workplace discrimination, stopping stalking and harassment, protecting copyrights, securing compensation for victims of crime, and even reducing property taxes—all at a fraction of the price of traditional legal help.
Need To Do Some Penny-Pinching?
Whether you're saving for rainy days or a new gadget, DoNotPay can provide numerous options to save and earn more cash.
Do you need help with utility bills? Are you wondering how to get those few dollars left on your gift cards? Are you unsure about how to find your unclaimed money? If the answer is yes, our app can help.
With our assistance, you'll be able to enter raffles, start free trials with no risks, participate in lucrative clinical trials, or claim refunds for late deliveries!