How Long Does a Divorce Take in Texas, and What Factors Affect the Duration?
When you and your spouse decide to part ways, you have a lot to think about, including how much the divorce in Texas costs, who gets the house, can you get a divorce while pregnant, is it possible to initiate the process online or without a lawyer, etc. The divorce timeline is also important because you wish to end the process as soon as possible. How long does a divorce take in Texas? It depends on various factors, which makes the estimation difficult.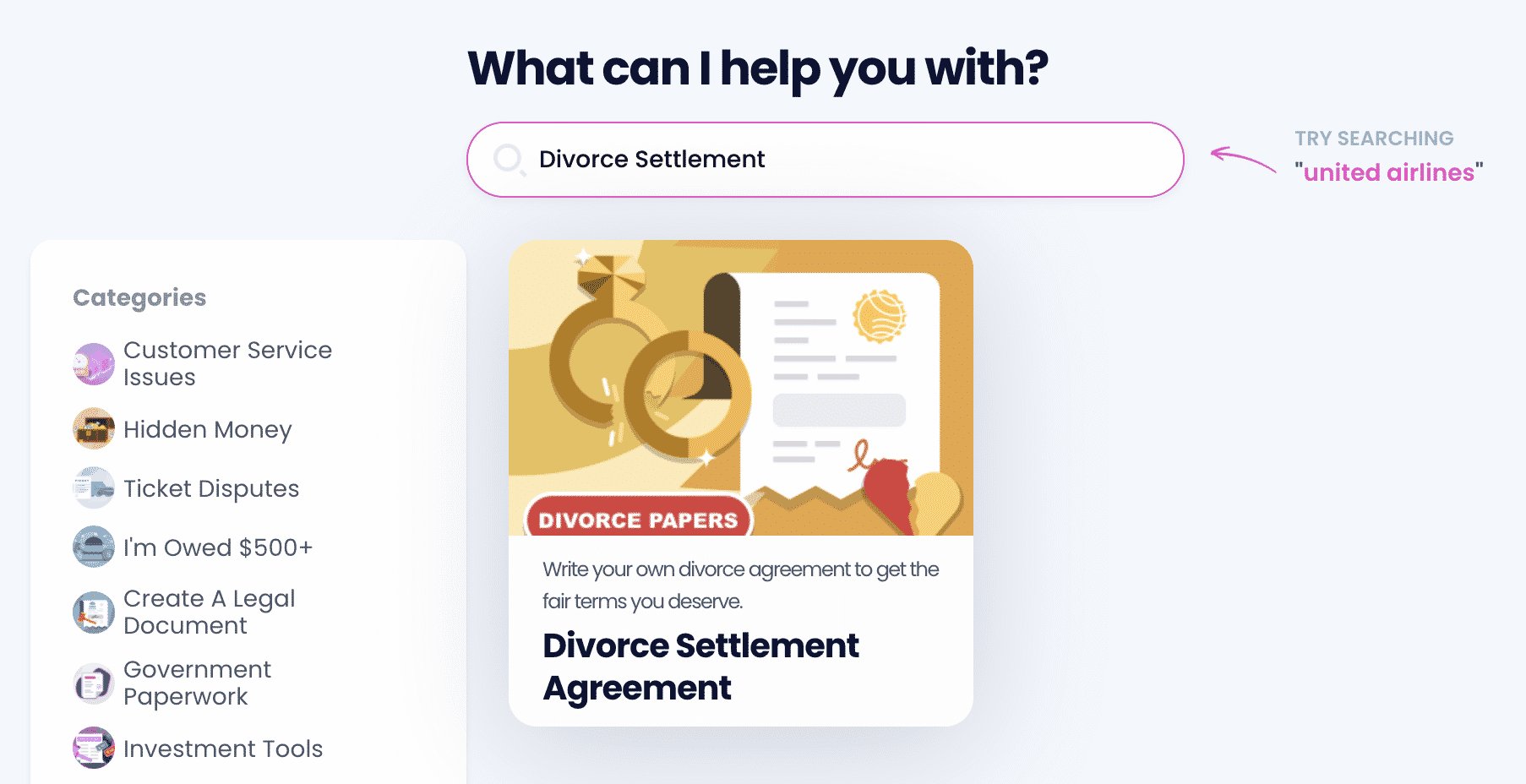 DoNotPay explains how to file for divorce in TX, speed up the process, and get the best divorce settlement agreement.
How Long Does It Take To Get a Divorce in Texas—The Facts You Should Know
How long it takes to get divorced in Texas depends on many factors, including:
Uncontested divorces—when ex-spouses agree on the divorce conditions—usually take less time. In theory, you can complete a friendly divorce in as little as one day once the 60-day Texas waiting period for divorce expires. In practice, you will probably have to wait for the final hearing because TX courtrooms tend to be busy.
Refer to the following table to learn how long divorces typically take:
| Divorce Type | Average Duration |
| --- | --- |
| Uncontested | 90–120 days |
| Contested | 6–12 months |
Note that uncontested divorces are usually low-cost. Most couples bypass hiring a lawyer if they agree on the post-divorce arrangements.
What Affects the Divorce Duration in TX?
The following factors influence the duration and cost of the divorce in the Lone Star State:
To learn the divorce procedure details in your county or city, refer to the following table:
How Do Children Influence the Duration?
Defining the custody terms is sensitive and can require a lot of time. Upon this issue's resolution, the parents negotiate the child support, visitation rights, and other relevant details.
What Role Do Assets Play?
If you and your spouse acquired nothing or little during the marriage, you won't have to prove what belongs to whom. If your shared property is substantial, the negotiations can get ugly. The best course of action is to stay pragmatic and reach an agreement out of court.
Can Alternative Dispute Resolution Cut Down Texas Divorce Time?
Parties unable to reach an agreement on their own may resort to Alternative Dispute Resolution to:
What Is the Average Divorce Timeline With Everything Considered?
To terminate your marriage, you may have to go through the following procedure:
Pre-filing stage
Filing for divorce
Waiting for the served party's response
Honoring the waiting period
Final hearing
Pre-Filing Stage
This phase involves preparing the necessary paperwork before you file for divorce in TX. You can find most forms on the government websites or at your local court or county house.
Filing for Divorce
You should submit Texas divorce forms regarding spousal and child support (if applicable), distribution of mutual assets and property, etc. Filing for divorce at the district clerk's office usually takes a few days.
Response Time
Send the paperwork to your spouse via certified mail or delivery service. In case these attempts fail, you can resort to publication in the media. Note that the latter option is a pricey one.
The respondent typically has between three and four weeks to examine the divorce papers and respond to the request.
Waiting Period
The Texas divorce waiting period allows you to reconsider your decision. It starts from the moment you file for divorce and lasts 60 days. Note that the waiting period may be waived only in the case of family violence.
Final Hearing
Finalizing the divorce typically takes a few days. Note that if the divorce is contested, additional procedures may apply, and the timeline can be significantly prolonged.
Draft a Divorce Settlement Agreement With DoNotPay To Save Time and Money
Once you and your soon-to-be-ex settle your disputes, you are ready to finalize the divorce. You can draft the Divorce Settlement Agreement with DoNotPay in a few minutes and cut down unnecessary costs.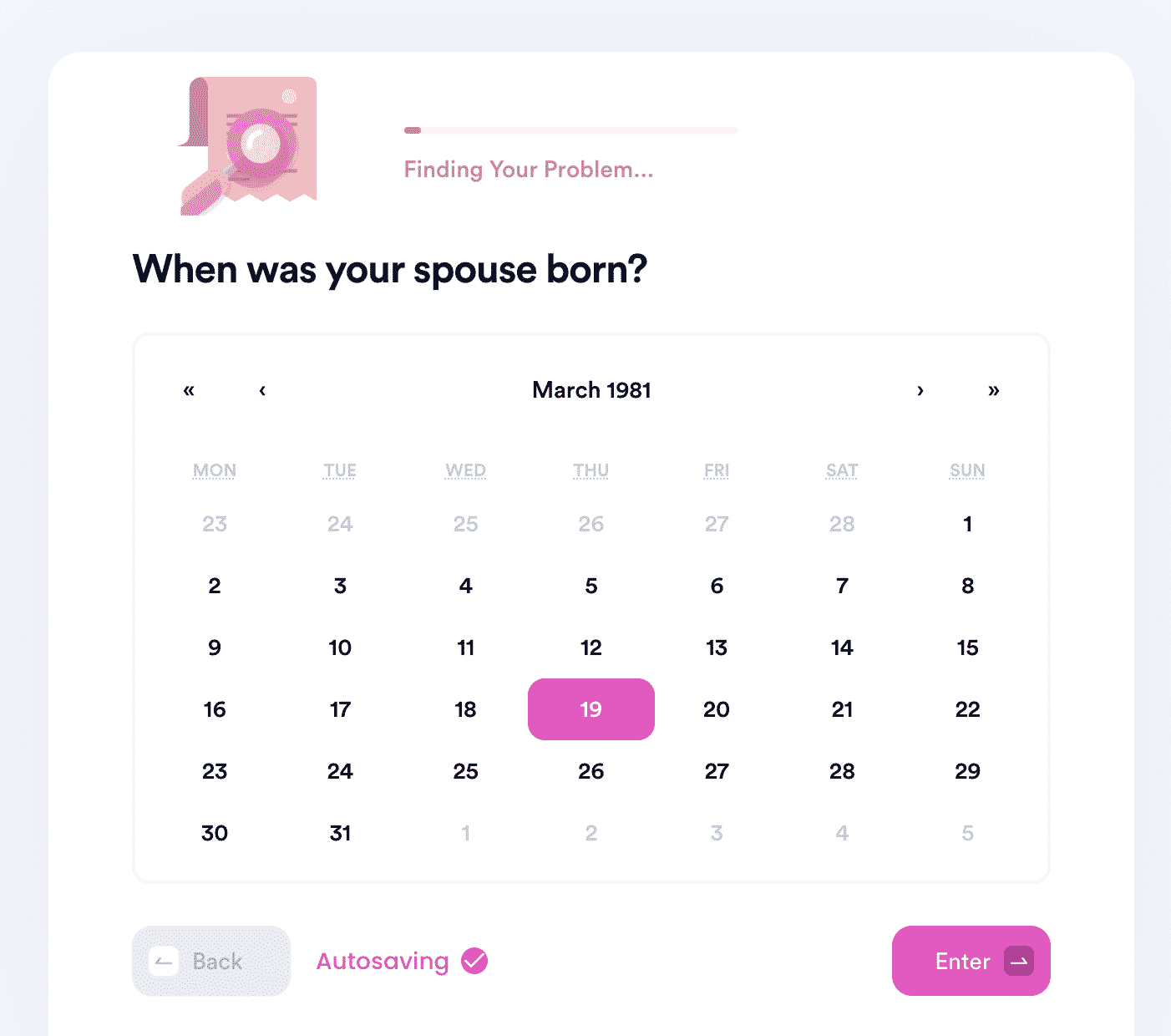 Once you log in to DoNotPay, the procedure goes like this:
Choose Divorce Settlement Agreement
Answer our chatbot's questions about your spouse and children, if applicable
State how you wish your income and assets allocated
DoNotPay creates a customized divorce settlement agreement ready for you to sign and get notarized. We can connect you with an online notary who'll complete the notarization in a video meeting.
DoNotPay Is the Best Solution for Your Bureaucratic Problems!
A wide range of handy features DoNotPay offers can assist you in resolving administrative issues without breaking a sweat! Our app provides the easiest way to:
Get What You're Owed in a Few Taps!
Shopping is fun, but retailing companies can sometimes be difficult to negotiate with, especially when things go wrong. With DoNotPay, you can reach their customer service without spending hours on hold and get a refund fuss-free! Should the merchant refuse to collaborate, we can help you get justice by suing them in small claims court.
Our app can also file an insurance or warranty claim in your name, request gift card cash back, or initiate returns for dissatisfying products.
If you want to check whether you have any unclaimed money in old bank accounts, using DoNotPay is the easiest way to do it!