How Long Does a Divorce Take in PA? Find Out Here
A divorce can be stressful and complicated, and if you and your spouse can't resolve your issues quickly, it can drag on for years.
How long does a divorce take in PA? DoNotPay can answer this question and provide other useful divorce-related information.
If you want to learn how to get a quick divorce in PA, you're in the right place.
Subscribe to DoNotPay to create a divorce settlement agreement for your friendly, uncontested divorce and speed up the divorce process significantly.
How Long Does It Take To Get a Divorce in PA?
How fast you can get a divorce in PA mostly depends on which type of divorce you choose to file for. There are two types of divorce in Pennsylvania:
At-fault
What Is a Fault-Based Divorce, and How Long Does It Take?
You can file for an at-fault divorce if your spouse's misconduct caused the marriage to end. The grounds for an at-fault divorce in PA are:
Desertion
Adultery
Cruel treatment
Bigamy
Imprisonment for at least two years
Indignities like verbal or emotional abuse, public shaming, mistreatment, and severe debt
At-fault divorces are usually contested, and they last anywhere between four months and several years. You and your partner will have to attend multiple court hearings, and you'll have to provide proof of your spouse's wrongdoings.
No-Fault Divorce in PA—How Long Does It Take, and What Is It?
In a no-fault divorce, neither you nor your spouse needs to prove who's guilty of the marriage breakdown. You can file for a no-fault divorce in PA on the grounds of irreconcilable differences.
There are two types of no-fault divorces in PA:
Mutual consent divorce—This type of divorce can happen if both parties consent to divorce and file for it together. You'll wait around 90 days after the divorce papers are filed and served for the process to be finalized. To file for a mutual consent (uncontested) divorce, both spouses need to provide an affidavit stating that they agree to end the marriage. This type of divorce is the fastest and most affordable one
One-year separation divorce—A one-year separation divorce is also called unilateral divorce because only one party needs to want the divorce. This type of divorce might be the only option if the other party can't be found or doesn't want the divorce. You can file for a separation divorce if you and your spouse have been separated for one year
How To File for an Uncontested Divorce in PA
The fastest and least expensive way to get a divorce in Pennsylvania without engaging lawyers and involving courts is to file for an uncontested divorce. This process requires you to work with your spouse and agree on all terms of your divorce before filing for it. To file for this type of divorce, follow the steps below:
Steps
Explanation
Make sure your spouse is on board
If you want to make your divorce as fast as possible, you need to negotiate all of the divorce terms with your spouse before you file the papers. If you do agree on most points but have trouble reaching the solution to some concerns, you should consider mediation.

PA mediation isn't cheap, but it's much more affordable than handling the matters in court. Another advantage is that it allows you to have control over your case instead of letting a judge decide in your stead

Collect and file all the necessary forms
Before you file for divorce, make sure that you've acquired all the required divorce forms. In most cases, you can find those documents online or you can check at your local county clerk's office which documents you need
Serve your spouse
You need to serve the divorce papers to your spouse within 30 days of the day of filing for divorce. Your spouse has to sign the Acceptance of Service form
Create a divorce settlement agreement
A divorce settlement agreement is a vital document for your uncontested divorce. It will spell out all the terms that you and your spouse agree on, such as:
Let DoNotPay Take Over and Create the Perfect Divorce Settlement Agreement in a Snap
You can hire a lawyer to draft you a divorce settlement agreement, but that could cost you an arm and a leg. Another option is to rely on online templates, but the downside is that they won't be personalized to your case and might be filled with errors.
With DoNotPay, you don't have to waste time or money—we'll create a professionally written document for you in the blink of an eye and help you avoid courts. Your agreement will contain all crucial divorce-related aspects, and it will be tailored to your needs perfectly.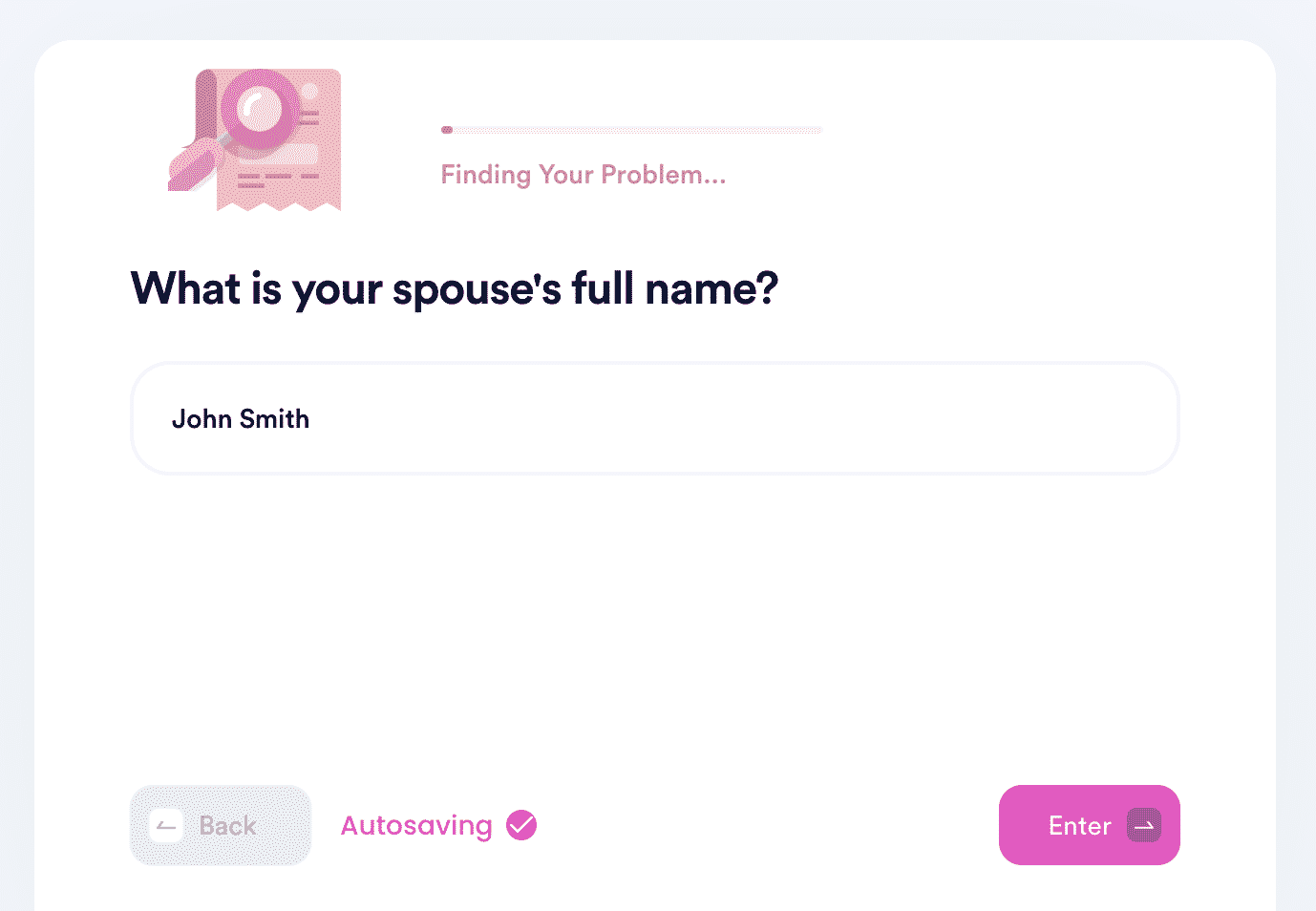 Sign up for DoNotPay and follow the instructions below to draw up a divorce settlement agreement fast:
Find our Divorce Settlement Agreement product
Add all the necessary information and tell us how you want to allocate your assets
Select whether you want the service of an online notary
Once you complete these steps, DoNotPay will generate a divorce settlement agreement and connect you with a Pennsylvania notary in no time. You can sign your document and give it more legal weight by getting it notarized.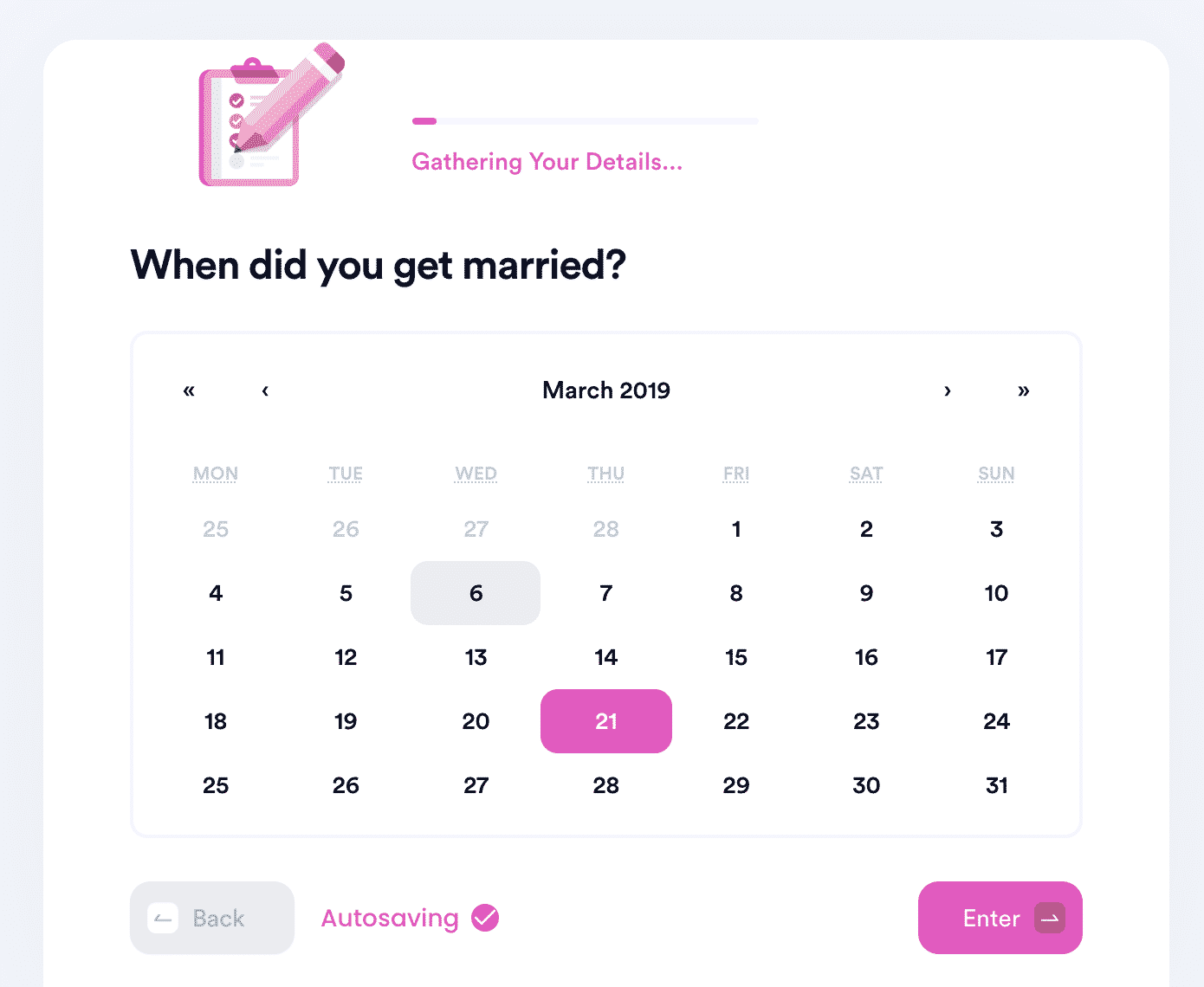 This is not all that DoNotPay can do for you! We have an extensive database of articles that cover all divorce-related matters. We'll tell you how to:
DoNotPay can also provide info about divorces in numerous counties in PA, including:
Tackling Administrative Issues Has Never Been Easier
DoNotPay was created to help you deal with burdensome everyday tasks you would rather skip. The features we offer will make sure you can:
Dealing With Legal or Security Issues? DoNotPay Will Make Them Go Away
Has a company refused to issue a refund you are entitled to? Sue it in small claims court and get your money back with the help of the world's first robot lawyer! You can also turn to us if you want to protect your work from copyright violation, prevent stalking or harassment, or get virtual credit cards to avoid disclosing your credit card info.
Besides assisting you in seeking justice and security, DoNotPay can help you arrange DMV appointments, contest parking tickets, prepare divorce settlement agreements, and compose various legal documents.