How Long Does a Divorce Take in Nevada? DoNotPay Has the Answer!
A divorce is an expensive and emotionally painful experience. The longer it takes, the more problems it creates for the parties involved.
How long does a divorce take in Nevada? In this article, we'll address the question of duration and explain what causes a divorce to drag on for years. That's not all—we can even help you finalize your Nevada divorce by writing a divorce settlement agreement! , and we'll draw up this legal document in a snap!
What Factors Affect the Duration of Divorce in Nevada?
How long a divorce is going to take depends on several factors. In the following table, we'll explore all of the factors and the ways they influence the duration of marriage dissolution in Nevada:
Factor
Explanation
Type of divorce
What influences the length of divorce the most is whether it's contested or uncontested. If you and your spouse can agree on the important matters (uncontested), a divorce can be over in a couple of weeks. In case you can't resolve your disputes and negotiate the terms, the process can drag on for several months or even years
Issues regarding children
Having children together—biological or adopted—increases the complexity of the case. It creates more issues and potential disputes. If it's a contested divorce, the court must make decisions regarding several essential matters, such as:

Child custody
Visitation time
Parenting responsibilities

Both you and your spouse need to present your cases on these matters during the trial, which can take quite some time. The more issues there are, the more the divorce takes

Division of the property
Any property (financial assets, real property, and personal property) earned or obtained during the marriage—unless by will, gift, or lawsuit—is community property. If the couple can reach an out-of-court settlement regarding the division of this property, the court has to divide the property between them
Spouse's location
If your spouse is out of state or you don't know their location, it takes more time to serve divorce papers and finalize the process
Court's caseload
The court in the county where you're filing for divorce might be busy and overloaded with cases and hearings. This can make your contested Nevada divorce even longer
Contested vs. Uncontested Divorce in Nevada—How Long Does Each Take
Nevada is one of the states that doesn't have a mandatory waiting period for divorce. There is a six-week residency requirement, though. This means that if an out-of-state couple wants to get divorced in Nevada, they must reside in the state for at least six weeks before filing the petition.
Depending on the residency requirements, the complexity of the case, and other factors, a typical contested divorce in Nevada can take from six to nine months.
In Nevada, you can get a divorce without going to court if you and your spouse agree on everything. Without a mandatory waiting period and having to attend hearings, an uncontested divorce might take less than two weeks.
Can You Get a Quick Divorce in Nevada?
Yes, you can get a quick divorce in Nevada if you qualify for uncontested marriage dissolution. You can get a low-cost divorce if all of the following applies to your case:
Your petition for divorce is based on incompatibility (one of the no-fault grounds for divorce in Nevada)
Either you or your spouse meets the residency requirements
Both you and your spouse agree on crucial matters, such as:

Custody, child support, health insurance, and medical expenses
Division of property
Any other issue specific to your case

You have a divorce settlement agreement that outlines negotiated terms
Both of you waive the rights to:

Notice of entry of the decree
Appeal the judge's order
Request a new trial
Ask for findings of fact and conclusion of law
Filing for Quick Divorce in Nevada
One of the many advantages of friendly divorce in Nevada is that you don't need a lawyer to execute the process—you can do it all on your own!
Here's how to file for divorce in Nevada:
Collect, fill out, and sign the necessary divorce papers with your spouse
Make at least two copies of each original document—one to keep for yourself and the other for your spouse
File the joint petition at your local county clerk's office
Draw up a divorce settlement agreement
Speed Up Your Nevada Divorce With DoNotPay's Help
Getting a divorce without a lawyer doesn't have to be as difficult as it may sound. You can handle most of the issues on your own. The one part of the process you shouldn't complete by yourself is drafting a divorce settlement agreement. It is the most important document for an uncontested divorce, so it must be written with the utmost care, and DoNotPay can help with that!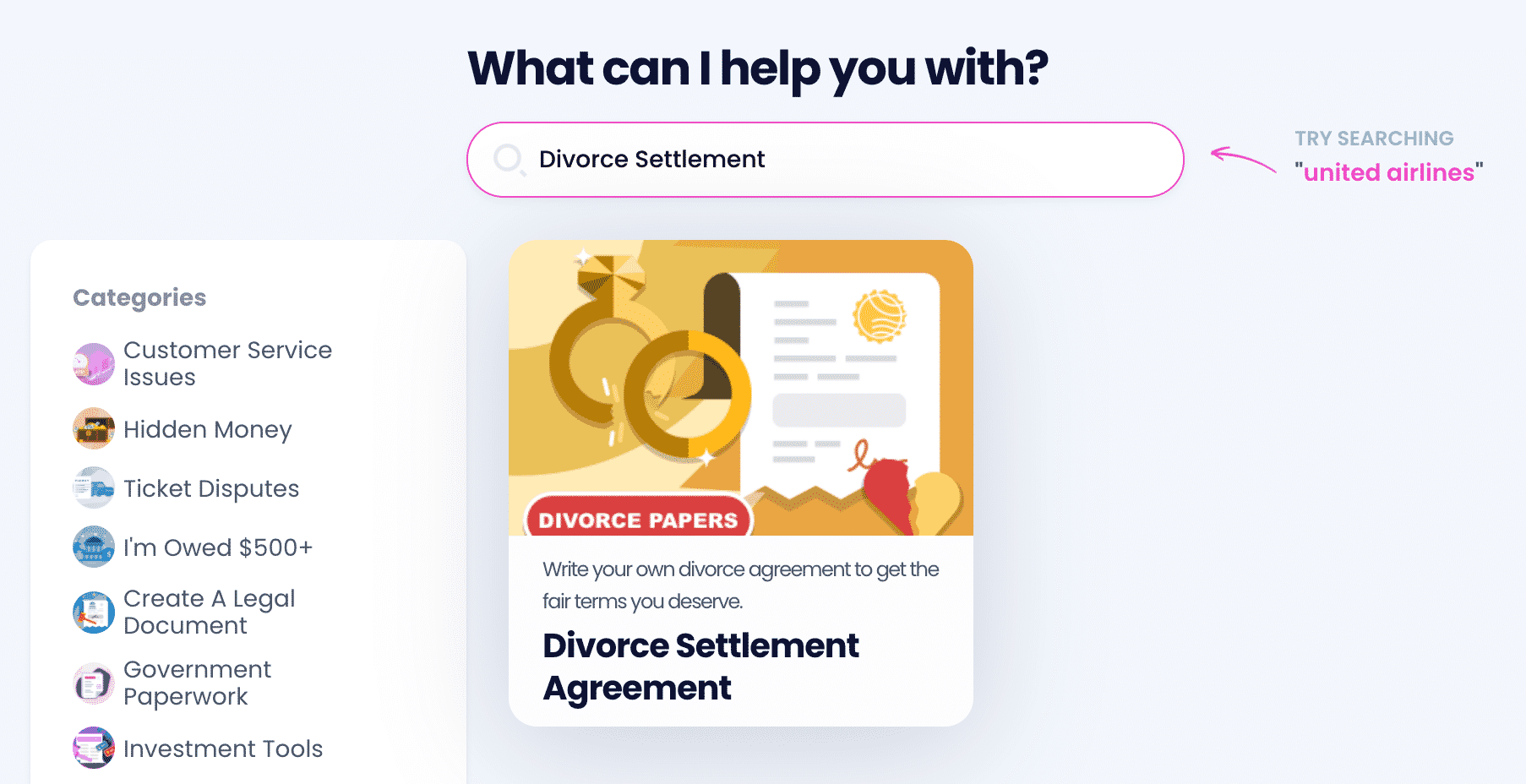 Follow these steps to acquire a personalized divorce settlement agreement:
Choose the Divorce Settlement Agreement tool
Answer several questions
Notify us if you need a notary
We will prepare and send you the document within minutes! DoNotPay can help you with so much more! Visit our learning center to find out more about divorce in general or in Nevada:
Divorce in General
Divorce in Nevada

How to file for divorce online

How to tell your kids you're getting a divorce
Our App Solves Your Legal Issues!
Do you really have to set aside astronomical amounts to pay lawyers for drafting legal documents or taking a person or business to small claims court?
The answer is no—all the cash remains in your pocket, thanks to DoNotPay! From now on, you can perform many legal tasks from home with the help of our app. It enables you to create flawless powers of attorney, divorce settlement agreements, and child travel consent forms in a snap.
That's not all—once we generate these documents for you, we also help you have them notarized via a video meeting. No need to waste your time and fuel visiting notary offices.
Check Out Other Perks DoNotPay Offers!
DoNotPay provides a wide selection of services, from creating virtual credit cards and burner phone numbers to getting refunds from companies and canceling subscriptions. Have you received an unfair parking ticket? Appeal it with our app before you know it! Are email spam and robocalls making your life a living hell? No scammer stands a chance against our efficient AI-powered tools and features!
We also work in your favor when it comes to safety. Our app offers perfect ways to prevent copyright infringement, stalking and harassment, work discrimination, sex offenses, and disputes with annoying neighbors.