How Long Does a Divorce Take in Illinois? Find Out With DoNotPay
Divorces can be complicated, stressful, and long—some can drag on for years. How long does a divorce take in Illinois? We'll answer this question for you, but that's not all we can do. DoNotPay can help you get a fast divorce in Illinois by creating the perfect divorce settlement agreement in a snap.
Subscribe to our platform to find out how to settle your divorce out of court and without involving lawyers.
Divorce Laws in Illinois—Full Explanation
Illinois is a no-fault divorce state, which means that the court doesn't care whose fault the breakup of marriage was. Your divorce can be contested or uncontested, depending on whether or not you and your spouse agree on divorce-related concerns.
Another option that Illinois offers is an expedited form of divorce, which is called a joint simplified dissolution of marriage. You can file for a joint simplified dissolution if you and your spouse:
Meet the residency requirements
Have been married for less than eight years
Have no children together and aren't expecting any
Don't own a house together
Have less than $10,000 in joint assets
Earn less than $20,000 individually
Have a combined income of less than $35,000
How Long Does It Take To Get Divorced in Illinois?
The length of your divorce mainly depends on the type of divorce you file for:
No agreement with your spouse—If you decided to get divorced but didn't make an agreement with your spouse, you'll go through a series of court hearings and spend a bunch of money on lawyers. In this case, your divorce could drag on for years, which can be torture, especially if you have kids
Mutual agreement on all terms of the divorce—If you and your partner both agree to get a friendly divorce, the process will be shorter. By spelling out the terms of your divorce in a divorce settlement agreement, you can avoid long court hearings and potentially finalize the divorce within a month of filing for it. This approach will also cost you less than any other option
In both cases, you'll have to file a petition for dissolution of marriage with the court. You'll also need to serve the papers to your spouse and wait for their answer.
What Requirements Do You Need To Meet Before You File for Divorce?
The requirements that you must meet before you file for divorce in Illinois are:
You or your spouse need to have been a resident of Illinois for at least 90 days if you don't have children together
If you and your spouse have children, you need to have lived in Illinois for 180 days prior to filing for divorce
How Long Do You Have To Be Separated Before a Divorce in Illinois?
If you or your spouse decide to file for divorce on the grounds of irreconcilable differences, you have to have lived separately for at least two years. If both of you agree to divorce, you need to have lived separately for six months.
How To File for an Uncontested Divorce in Illinois
If you'd like to file for an uncontested divorce in Illinois and finish the whole process quickly and at a low cost, follow these steps:
Steps
Details
Talk to your spouse
It is important that you and your spouse agree on everything if you want a quick divorce. Talk to your partner before filing and make sure you agree on all terms. If you have differences, mediation might come in handy
Collect and file all the necessary forms
Do the research and check with your county clerk what types of forms and documents you need to collect, complete, and file. In most cases, you can find the required forms online.

DoNotPay offers you information on Will, Lake, and DuPage County

Make a divorce settlement agreement
A divorce settlement agreement is an important part of your divorce process. It should contain all the terms of the divorce that you and your partner agree on, including:

This type of document serves to protect both you and your spouse
How To Speed Up the Divorce Procedure in Illinois
If you want to speed up your divorce in Illinois, consider doing the following:
Prepare all the necessary documentation prior to filing for a divorce
Book a few mediation sessions if you and your partner can't agree on all terms of your divorce—this way, you'll be more efficient with your divorce
Rely on DoNotPay to create you a divorce settlement agreement in a snap
DoNotPay Helps You Get a Divorce Settlement Agreement in Minutes
DoNotPay created a new product that will help you speed up your divorce. With the help of our platform, you can create a mistake-free divorce settlement agreement in a few simple steps without breaking the bank.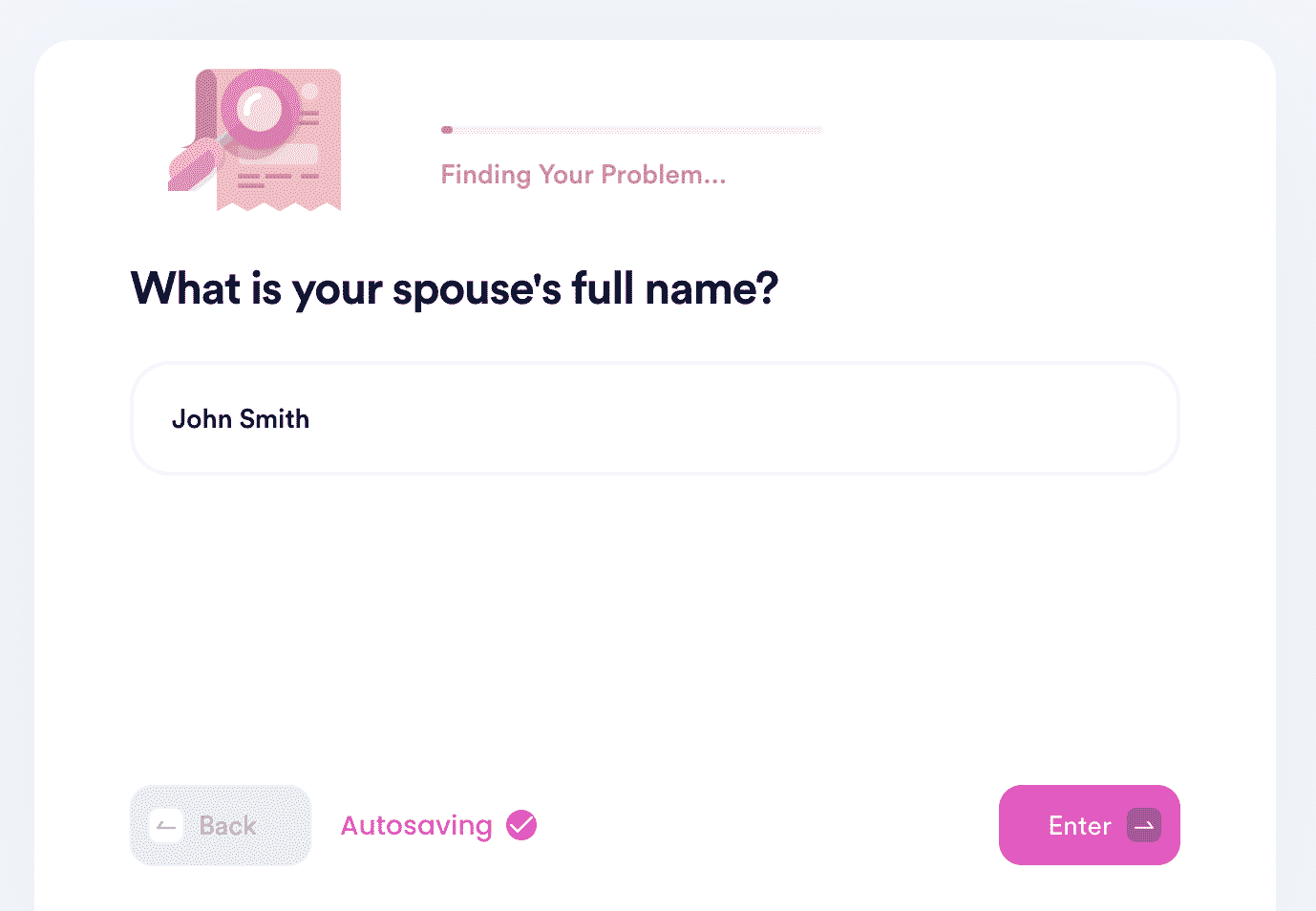 Sign up for DoNotPay and follow the instructions below to create a divorce settlement agreement effortlessly:
Open our Divorce Settlement Agreement product
Add all the necessary information about your spouse and children (if you have any)
Provide details about your income and financial assets, and indicate how you want to allocate them
DoNotPay will generate the perfect divorce settlement agreement, and all you need to do is sign it with your partner. You should also get it notarized for extra protection.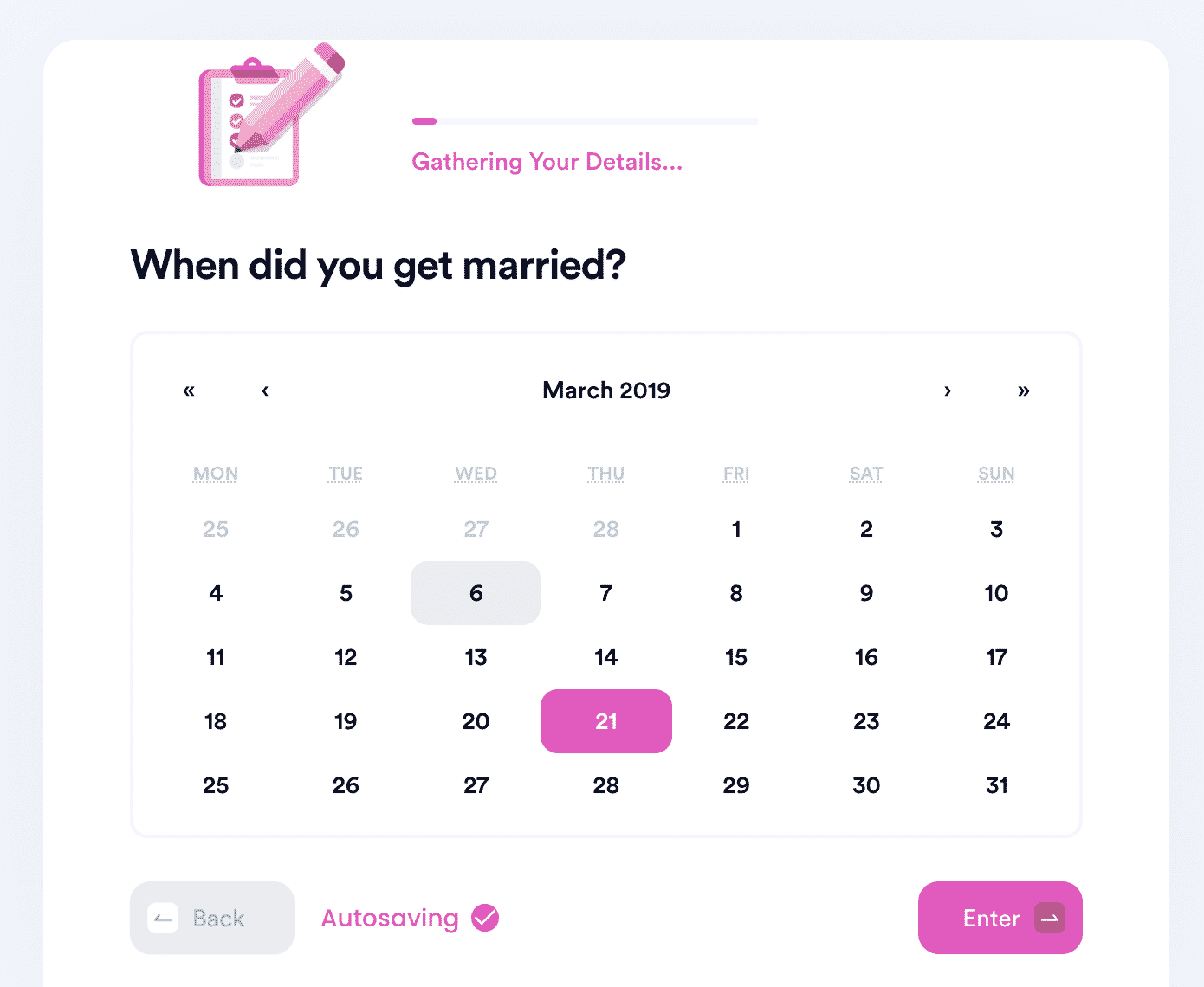 You can find more information in DoNotPay's learning center. Some of the questions we can help you answer are:
Deal With Your Problems Like a Pro With DoNotPay
Looking for an app that's got enough features to solve any issue you're facing? Look no further—DoNotPay has got your back! Whether you can't sleep from your noisy neighbors or you want to connect with your locked-up relatives, we'll be able to help. We'll bring justice to any person or company that has wronged you and take them to small claims court for you.
The robot-lawyer app can generate numerous legal documents in your name, including:
Once you receive the documents, we can set you up with an online notary so you can get your agreements notarized from the comfort of your home.
Possibilities With DoNotPay Are Endless
DoNotPay stands out not only by the quality of products it offers but by the sheer amount of features it boasts. Check the table below out to see only some issues we can help you resolve: