How Long Does a Divorce Take in GA? It Can Be Quick and Smooth
The divorce road can be bumpy if you don't have up-to-date info about the procedures and state laws. The whole process can be smooth and fast once you learn what type of divorce to choose, how to file for divorce, which papers to complete, or how long you need to wait for the hearing.
How long does a divorce take in GA? If you make a wise choice, the process doesn't have to be time-consuming! This article shows you how to speed up the whole divorce procedure and how DoNotPay can assist you with the essential part of your paperwork—a divorce settlement agreement.
How Long Does a Divorce Take in GA?
How long a divorce in GA takes depends on different factors, including the following:
Mandatory waiting period
Court's availability
Type of divorce
Mandatory Waiting Period for a Divorce in GA
State laws mandate a 30-day waiting period after a spouse has been served with the divorce papers. It is the same for both at-fault and no-fault-based divorces.
Keep in mind that, in case you cannot locate your spouse and need to serve them by publication, this period is prolonged to 60 days. That is how long the spouse has to file their response from the date of publication.
Court's Availability
As lots of courts have a busy schedule, your motion might not be reviewed as soon as the mandatory waiting period expires. It might take up to 60 days for an uncontested divorce to get to the court's schedule.
This period is typically longer for contested and fault-based divorces, where the judge will need to:
Schedule hearings
Review all the presented evidence
Make decisions on different aspects
Type of Divorce
The duration of a divorce in GA depends on the type of divorce you file for, meaning:
Fault-based and contested divorces are often long and complicated
No-fault and uncontested divorces tend to be fast and straightforward
Fault-based divorces in Georgia are the ones in which a spouse might cite one of the following grounds for divorce:
Cruelty
Adultery
Desertion
Incarceration
Abandonment
Incurable mental illness
Aside from the mandatory waiting period of 30 days, the last two reasons have the following time criteria you also need to take into account:
| Fault-Based Grounds for Divorce | Time Factors |
| --- | --- |
| Abandonment | To file for divorce based on this ground, a spouse has to prove that the other one willfully deserted them for a minimum of one year |
| Incurable mental illness | A spouse has to spend at least two years under constant care of mental health professionals before another spouse can file for divorce based on this ground |
A contested divorce implies you and your spouse don't agree on one or more divorce aspects and need a judge to make the decision for you.
Keep in mind that fault-based and contested divorces usually take a long time. This type of divorce is also costly since you'll need to pay a hefty retainer fee for an attorney to protect your interests.
How Long Does It Take To Get an Uncontested Divorce in Georgia?
If you file for an uncontested divorce in GA, the whole procedure won't be as time-consuming and will also cost a lot less. The following table provides more details about this type of friendly divorce:
DoNotPay Provides Efficient Assistance With Divorce Settlement Agreements
A certified way to avoid any delays in your divorce is to prepare the divorce settlement agreement that:
Is fair to both parties
Presents the terms of your divorce in a clear and concise manner
Complies with state-specific legal requirements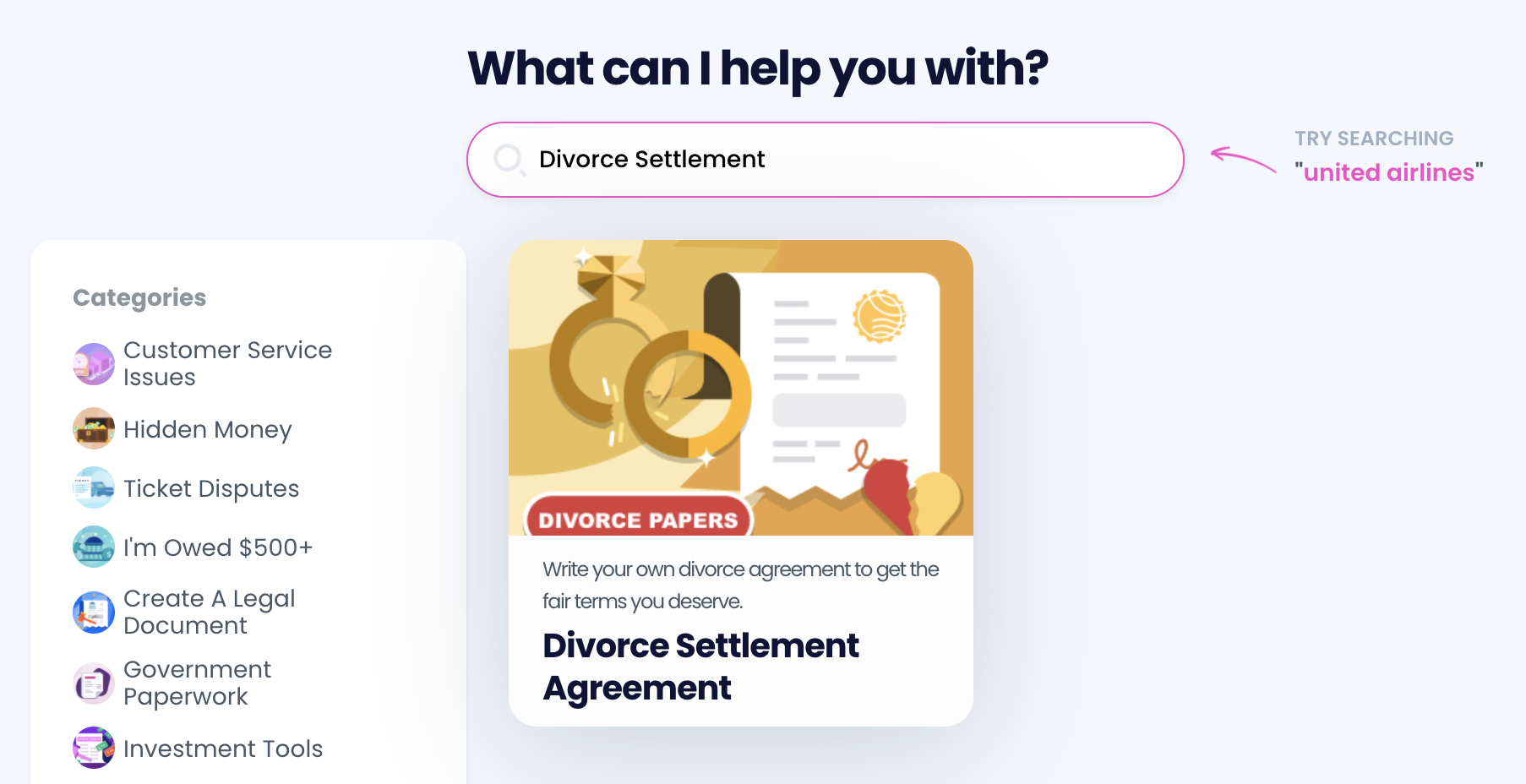 Our AI-powered app can help you with this! Sign up for DoNotPay and complete these steps:
Pick the Divorce Settlement Agreement feature
Provide information about your situation, i.e., children, assets, debts, income, etc.
Let us know if you'd like to get the agreement notarized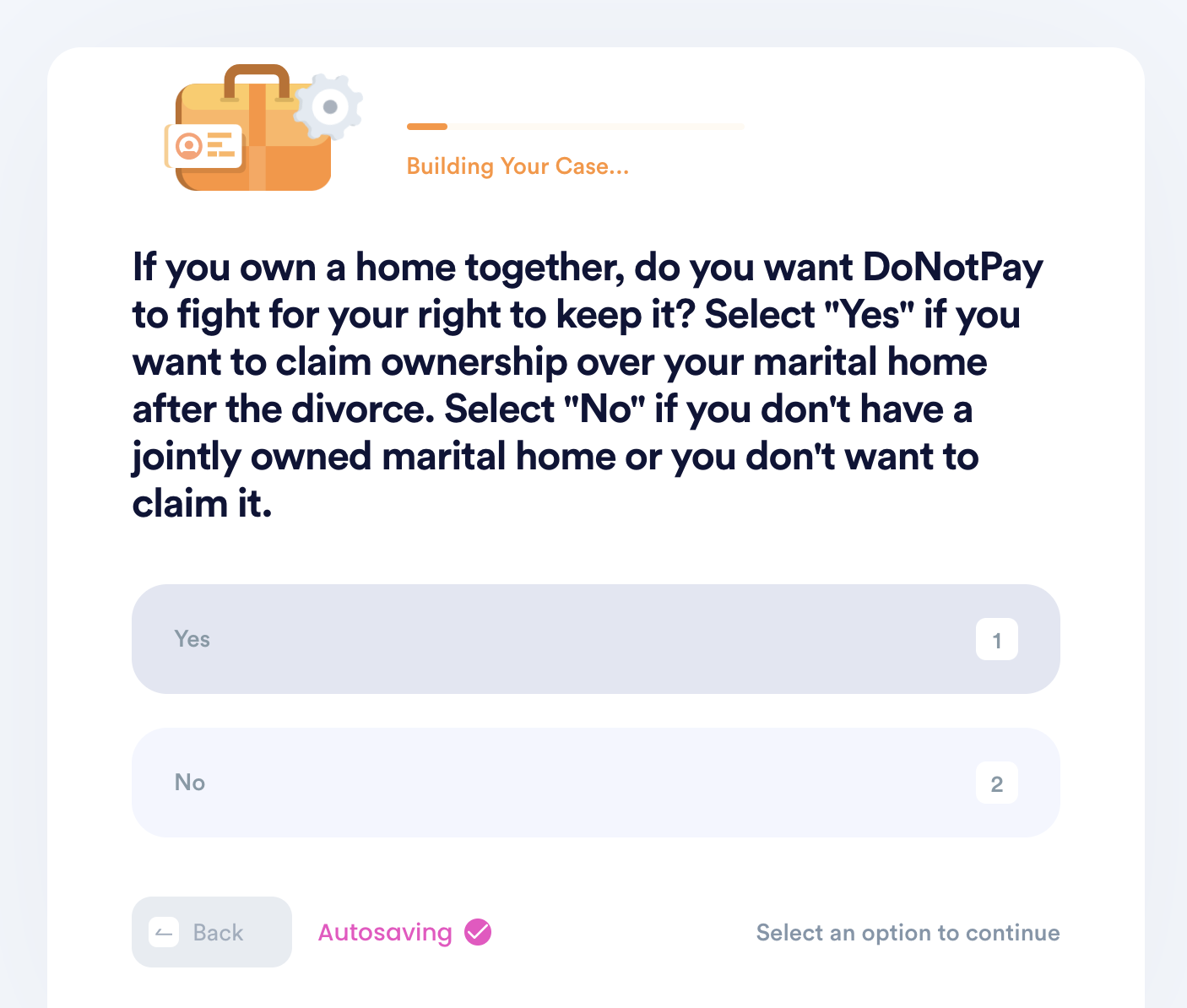 DoNotPay will use the provided data to generate a reliable divorce settlement agreement in a matter of minutes!
Prepare for Your Divorce Properly
You should collect as much information as possible to protect yourself and decrease the cost and duration of the divorce proceedings.
Use DoNotPay's helpful guides to get familiar with all relevant aspects of a divorce. Here are some of the divorce-related questions that we offer answers to:
Stuck in a Bureaucratic Mess? DoNotPay Is Here To Help!
Since handling dull administrative tasks is a burden and no one likes doing them, DoNotPay developed a variety of neat features to ease many processes! With our nifty app, you can:
Deal With Companies Like a Pro
We all love shopping, but it's no secret that companies sometimes turn a fun experience into a nightmare, especially when they refuse to cooperate. DoNotPay is here to help you reach customer support without the hour-long wait and sue an uncooperative merchant in small claims court if necessary!
Need a refund? We can show you how to get your money back from any company in a snap!
Should you need to file an insurance or warranty claim and request gift card cash back or an item return, you can count on our app to assist you! DoNotPay can also show you how to discover any unclaimed funds under your name so that you can continue shopping like a pro.