How Long Does a Divorce Take in AZ? DoNotPay Has the Answer!
How long does a divorce take in AZ? Multiple factors affect the length—such as what type of divorce you're getting and whether there are any underage children involved. The mandatory waiting period in Arizona also plays a big role as you will have to wait 60 days for the divorce to end.
Want to be done with your divorce as fast as possible? DoNotPay has some tips that will make the whole ordeal go smoothly and end amicably.
How Long Does It Take To Get a Divorce in Arizona?
The length of a divorce in AZ is impacted by various factors, including:
Factor
Explanation
Having underage children
If you have any children with your spouse, you must settle on certain issues, such as:

Parenting time
Child custody

Even if you agree on these matters, you will have to file extra paperwork to determine the financial support the children will receive

Property and debt division
Deciding who will handle debt created during the marriage can also impact the length of the divorce. Splitting houses and vehicles also takes a lot of time during the process
Court caseload
Your county court might be overloaded with paperwork and hearings. This might affect the length of your divorce
Type of divorce
An uncontested divorce can be finalized anywhere between 90 and 120 days, and contested cases can go on for over six months
What's the Fastest Way To Get Divorced in Arizona?
The fastest and most efficient way to get a divorce in AZ is to opt for an uncontested divorce. This type of divorce requires fewer forms to fill and less time to spend in court as there won't be a need for many hearings.
To be eligible for an uncontested divorce, you will have to agree on key divorce issues, such as alimony and property division.
If you're unable to reach an agreement, you should try divorce mediation. During AZ mediation sessions, couples are provided with solutions for their issues, which speeds up their divorce process.
Uncontested Arizona Divorce Process Timeline
The uncontested divorce timeline in Arizona starts when one person—also called the plaintiff—files their divorce papers and serves them to the other party. You will need the following documents:
Petition for the Dissolution of a Non-Covenant Marriage
Summons
Notice of Right to Convert Health Insurance
Joint Preliminary Injunction
Creditor Notice
Information on Parenting Information Programs (if you have any minor children)
According to Arizona state laws, these papers need to be delivered to the other party by a professional server or a person appointed by the court.
Once you serve the papers, your spouse will have 20 days to answer. When they agree to the provisions outlined in the petition, you will need to wait 60 days before the divorce is finalized.
The way you file papers is different in every county, but don't worry—we got you covered! Learn how to get divorced in:
Finalizing the Arizona Divorce Process
Once the required waiting period is over, the plaintiff must file a marital settlement agreement. The judge will then review the document, and if they deem it reasonable and fair to both parties, they will finalize the divorce. This is why it's important to have a flawless settlement agreement. You can get one by:
Hiring a lawyer to create it for you—As lawyer fees are expensive, be prepared to pay a hefty sum
Subscribing to DoNotPay—We can create a tailor-made settlement agreement for you in a jiffy that won't cost you a fortune
Get a Personalized Divorce Settlement Agreement With DoNotPay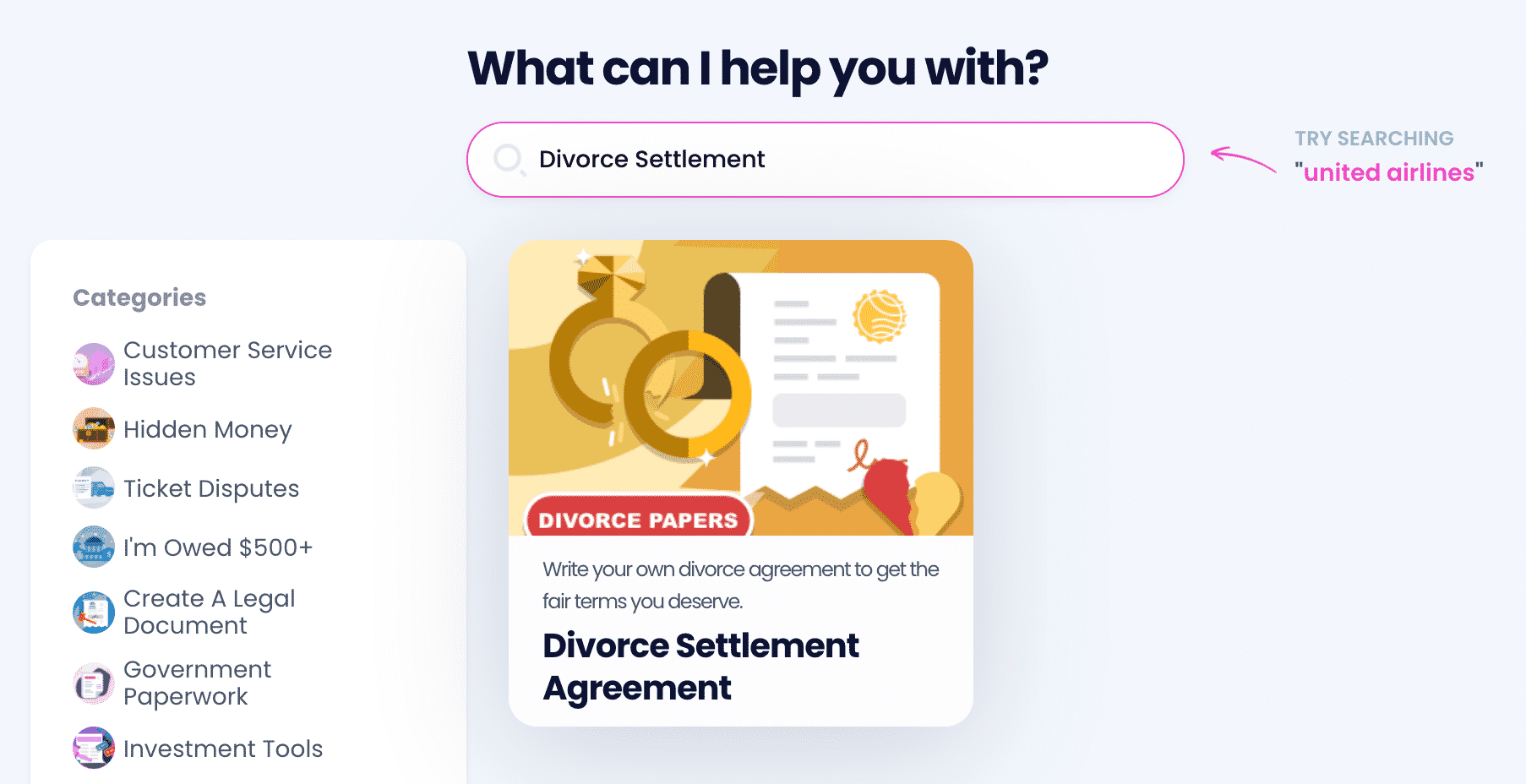 You don't have to spend unnecessary amounts of money on lawyer fees to get a divorce settlement agreement. DoNotPay offers a more affordable and efficient solution! With our Divorce Settlement Agreement product, you'll be able to get this important document in a few clicks: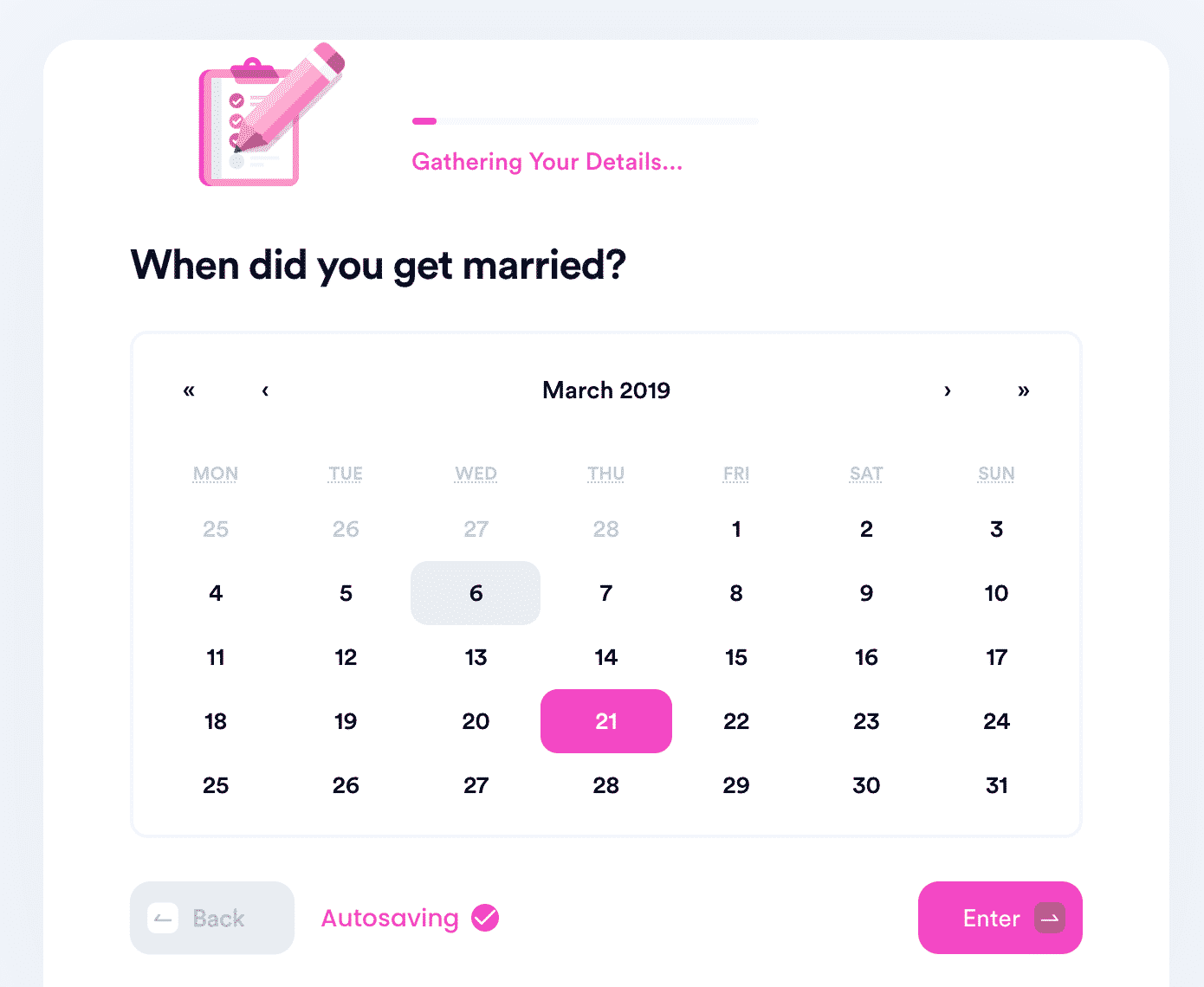 Select our Divorce Settlement Agreement
Answer our chatbot's questions about your:

Spouse
Children (if any)
Assets
Income

Choose whether you want to get your document notarized online
Once you submit your request, you will receive a customized divorce settlement agreement in no time. You can then have it notarized online by following the link we send you via email.
Check out DoNotPay's handy guides to learn more about divorce, including:
| | |
| --- | --- |
| Arizona-Specific Guides | General Divorce Guides |
| | |
To Sue or Not To Sue?
Hiring a lawyer to help you sue a company can be helpful, but it can also cost you an arm and a leg. Luckily, you can avoid wasting hundreds of dollars and use our robot lawyer to sue any company in small claims court instead!
DoNotPay offers you a variety of other features you will find quite useful when dealing with bureaucratic issues. Check out the list below to see what else our app can help you with:
Shopping Without Dropping
Whoever said you should shop until you drop didn't have access to DoNotPay's various features. With our app, you can make your shopping experience smooth sailing and stress-free!
Here's a fragment of what you can accomplish by using our neat features: