How Long Do You Have To Claim Life Insurance?
No one likes to think about losing a loved one, especially when it involves you handling bureaucratic tasks at such a difficult time.
What do you do in a situation when someone passes away, and you are the beneficiary? You'll need time to grieve but also deal with paperwork. We'll tell you if there is a time limit for claiming life insurance money and how to file a claim with DoNotPay!
How Long Does a Beneficiary Have To Claim a Life Insurance Policy?
What if months or years pass without you knowing about the insurance policy you have the right to claim? Will you still be able to get the money after the insurance holder passed away?
Yes, you won't lose the right to claim the life insurance policy no matter how much time passes. The only important part is that the insurance policy was in effect when the owner died.
How Can You Check if You Are the Beneficiary?
Various factors can keep a beneficiary from claiming a life insurance policy. Sometimes, people don't know that they are listed as a beneficiary in the first place. This is the most common problem that can lead to insurance money becoming unclaimed.
You can avoid any unnecessary confusion by visiting the National Association of Insurance Commissioners' Life Insurance Policy Locator Service that allows you to search for matching policies.
Here's a short list of entities that have the right to be a life insurance beneficiary:
A spouse

A child (who is an adult)

Parent

A trust

A sibling

Business partner

Charitable organization
How Do You File a Life Insurance Policy Claim?
Even though you can claim a life insurance policy anytime, the sooner you do so, the sooner you'll get the money that is rightfully yours. This is how the process of filing a claim normally works:
Collect the necessary documents

Contact the insurance company

Stand by until the claim is processed

Get the death benefit
What Documents Do You Need To File a Life Insurance Claim?
To file a life insurance policy claim, you'll have to collect the required documentation to prove that you are the rightful beneficiary. This is what you'll need:
Death certificate

Policy document

Claim form
Sometimes companies might ask for the deceased person's Social Security number as well. You'll have to discuss the specifics with the insurance company you are dealing with.
How Is a Life Insurance Policy Paid Out?
Insurance companies offer different ways of paying out life insurance policies. The two most popular ones are:
| | |
| --- | --- |
| Type of Payout | Short Description |
| Lump sums | The beneficiary gets the entire death benefit at once |
| Annuities | The beneficiary gets paid annually for a certain number of years in accordance with the policy (between five and 40 years ) |
You will have to check with the insurance company of the deceased person's choice what type of payment is available and how you're going to get the money.
DoNotPay Can Help You File Insurance Claims in No Time
DoNotPay will be by your side if you are dealing with one of the dullest tasks known as filing insurance claims. Insurance companies often have the best ads and commercials where they explain in detail how important it is for them to protect you.
When the time comes to collect your claim, they try to do everything in their power to prolong the process. If you turn to DoNotPay for help, you'll only need to follow these easy instructions:
Open DoNotPay in a

Find and select the insurance type you want to claim

Type in your contact details and policy number

Tell us why you are filing a claim

Explain the details of the accident
DoNotPay will submit the claim for you right away. The company might contact you for some further questions.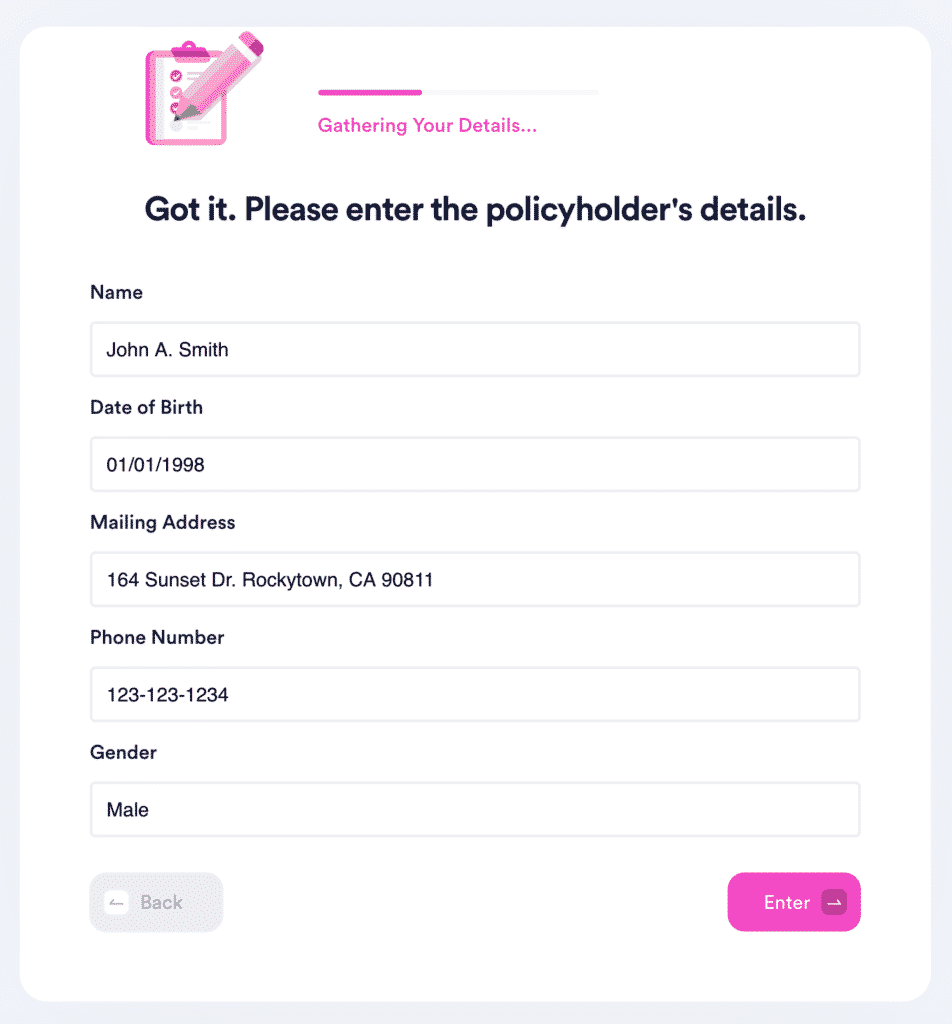 DoNotPay can help you claim:
Vehicle insurance

Home insurance

Medical insurance
Your virtual assistant also has all the info about accident insurance and can tell you everything you ought to know about unemployment insurance claims.
DoNotPay Deals With Rejected Insurance Claims With Ease
It is not rare for insurance companies to refuse claims when people submit them the first time. While these institutions have no problem finding reasons not to give someone money, that doesn't mean you should stand by and accept the company's decision without a fight.
Submit your appeal letter with DoNotPay in a few easy steps:
Open DoNotPay in your

Find the insurance type

Select the

Appeal Denied Insurance Claim

feature

Finalize the process
The company needs to explain the reason behind refusing your claim, and you deserve to get your answers. If you use our feature, they'll see you mean business and won't give up easily.
Don't Let Companies Take Your Hard-Earned Money!
People love to subscribe to all sorts of services—especially if there are free trials involved. The problem is that most of them forget that they signed up for anything in the first place. Companies are aware of this, which is why they auto-renew memberships as soon as the free trials expire.
Don't let them get away with it—use DoNotPay to sign up for free trials and cancel subscriptions right before they renew. If you want to save even more money, use our platform to learn how to handle high bills, parking tickets, college application fees, canceled or delayed flights, or faulty services you should get refunded for.
Use DoNotPay To Stop Illegal Activities and Earn off Scammers!
Our AI-powered platform can assist you in dealing with all sorts of scammers. If you got any of the following, the world's first robot lawyer will help you seek justice:
Do you want to protect yourself and your loved ones from stalking and harassment as well? Use DoNotPay to learn how! If the situation with a stalker escalates, our app is going to help you take them to small claims court by preparing all the paperwork and your court statement.
Don't stop there—check out how you can bypass phone number verification, claim any type of warranty, or pass any government test with flying colors!