How Long Do You Have To Be Legally Separated for Divorce
If you're wondering, "How long do you have to be legally separated for a divorce?" you're in the right place. DoNotPay has the answer to this question and can help you understand other divorce-related issues.
We can help you draft a divorce settlement agreement for your uncontested divorce in a few clicks! to get a low-cost divorce quickly and painlessly.
Legal Separation Explained—Do You Have To File for Separation Before Divorce?
Legal separation is a court-ordered type of separation where you and your partner live apart and have separate lives. In some states, legal separation is obligatory before you're eligible to file for divorce. During a legal separation, spouses can think about whether they want to file for a divorce or stay together.
When you file for a legal separation, a judge can make orders about:
You can consider legal separation as a stepping stone between mutual separation and a legally binding divorce.
What Is the Difference Between a Legal Separation and a Divorce?
Even though legal separation is in many ways similar to a divorce, it still has a lot of differences. The biggest difference is that a divorce ends a marriage officially while a legal separation doesn't. As opposed to a divorce, legal separation is reversible, so if the couple decides to reconcile, they can.
Check out the table below to find out more about the difference between a divorce and legal separation:
Divorce
Legal Separation

You can remarry
You can't inherit property from your partner
If a child is born after the divorce, it's not legally the child of the other spouse
You can no longer use your ex-spouse's health insurance and benefits

You remain legally married to your spouse, and you can't remarry
When filling out administrative forms, you have to mark the box for married
You can inherit property from your partner
If a child is born during separation, it is legally the child of the other spouse as well
You can still use your spouse's health insurance and other benefits
How Long Should You Be Separated Before You Are Legally Divorced?
If you want to file for a no-fault divorce on the grounds of irreconcilable differences, you and your spouse have to be separated for some time. The time will depend on your state's law. Check out the table below for additional info:
| | |
| --- | --- |
| Separation Period | Locations |
| No specific statutory requirements | |
| Two-month wait period | |
| Six-month wait period | |
| One-year wait period | |
| 18-month wait period | |
How To File for Divorce After Separation
Once your wait period is over (if your state has one), you can file for divorce. The outcome of your divorce will largely depend on which type of divorce you opt for, as follows:
Contested divorce—This is a long process that involves expensive lawyers and court hearings. When you choose a contested divorce, you initiate it without involving your partner
Uncontested divorce—In an uncontested divorce, both parties agree to have a divorce, and they work together to reach an ideal solution that is mutually acceptable. This option allows you to avoid:

Spending a fortune on lawyer fees
Attending exhausting court hearings
The list below will reveal all the steps you need to take when filing for an uncontested divorce:
Hire a mediator (optional)
Fill out and file divorce papers with the county court
Create a divorce settlement agreement
Why Hiring a Mediator Is a Good Idea?
Divorce mediation could do you good if you and your spouse don't agree on all terms of your divorce but would prefer resolving your issues out of court. A mediator is a neutral third party that can help you and your partner reach a solution that works for both of you. Mediation can be a way to a friendly divorce.
If you already know how you want to handle divorce-related matters and agree on all aspects, mediation isn't necessary.
Filling Out and Filing the Court Forms
You will need to fill out divorce paperwork and file it with the right court. Forms are available online and at a county clerk's office. You should do thorough research on which court forms you need before you file them since each state and county has different requirements.
Serving Divorce Papers
Each state has different rules about who can deliver the divorce papers. In most cases, you'll need a third party that isn't a part of your divorce to deliver the papers, while in some states, you can serve your spouse with the papers.
Why You Need a Divorce Settlement Agreement
A divorce settlement agreement is an important document to have because it spells out the terms of your divorce. The divorce settlement agreement will help you and your spouse outline all the important details of divorce-related matters, such as child custody, division of property, alimony, and similar.
You can get your agreement online or hire a divorce lawyer to draft one, but both options have their downsides. If you opt for an online divorce settlement agreement, you risk having a document filled with errors. Hiring a lawyer can cost you a small fortune since they generally charge by the hour, and a lawyer can take a long time to write your settlement agreement.
You can avoid all this if you choose DoNotPay to draft this document.
How To Get a Cheap and Fast Divorce With DoNotPay
DoNotPay can help you get a divorce without going to court by helping you generate a divorce settlement agreement in a few minutes. We will save your time and money and make sure that you have a legally binding document that you'd otherwise have to create yourself.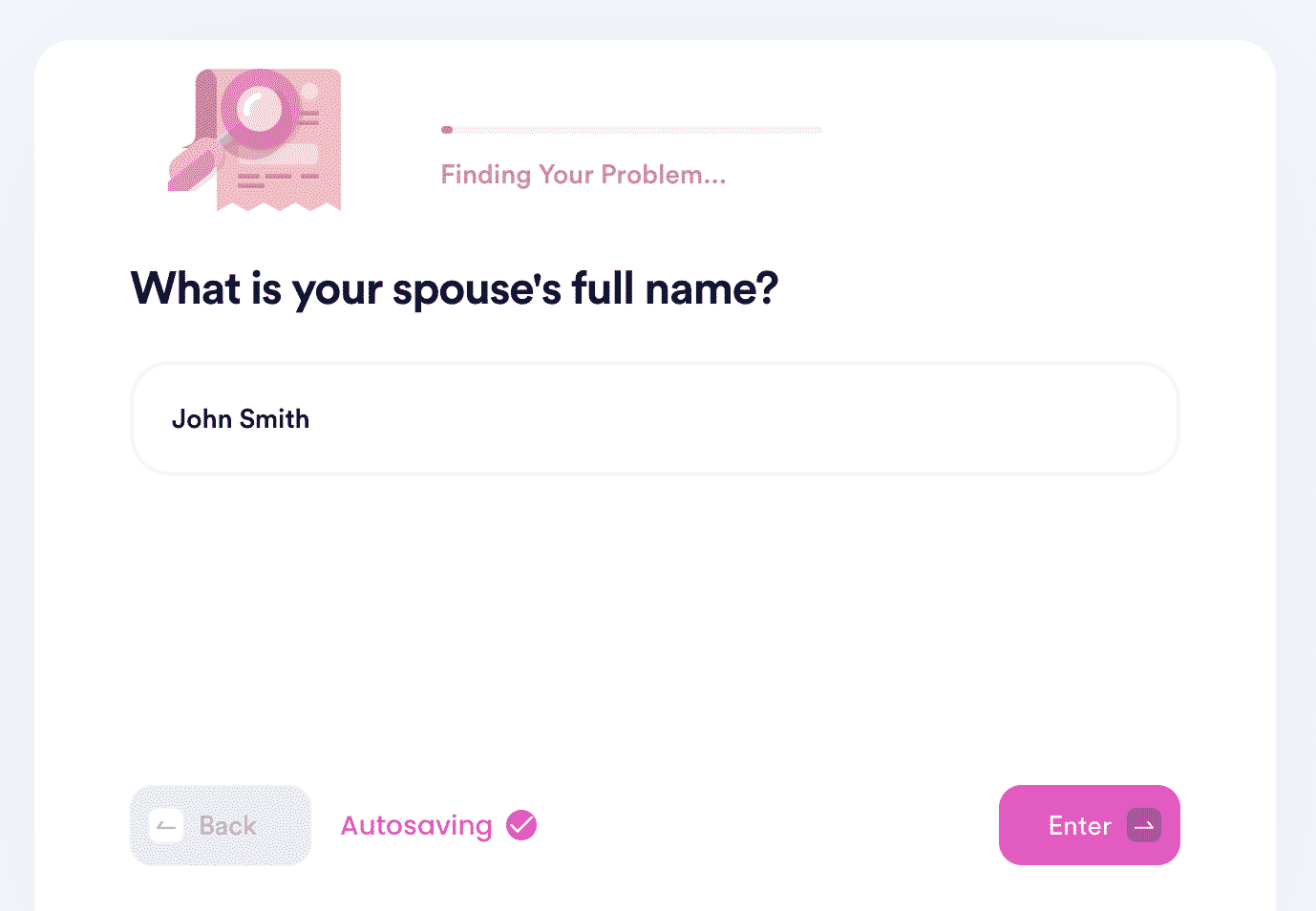 To create this document, you only need to and follow the steps below:
Enter Divorce Settlement Agreement into our search box
Answer a few questions regarding your spouse's name, address, the date of your wedding, etc.
Add all the information about your income, and indicate how you wish to allocate your assets
Once you complete these steps, you'll have the perfect divorce settlement agreement that you and your spouse can sign. Our platform can also help you get your document notarized without leaving your house.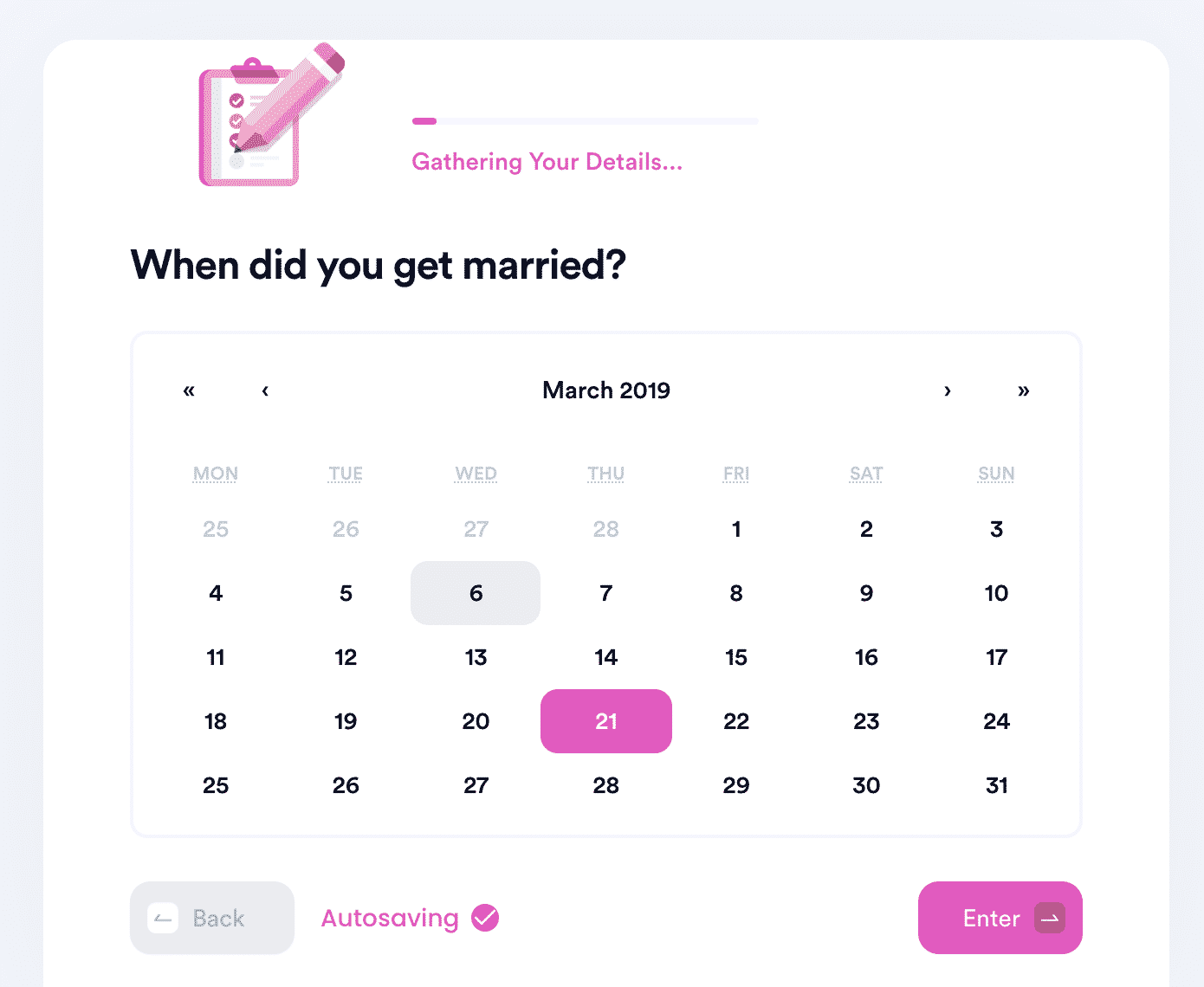 DoNotPay Is Righting Wrongs Left and Right
DoNotPay is a platform that puts its subscribers' safety in the first place. We can keep you safe from sex offenders, stalking, and harassment. In case you're a victim of a crime, we can help you get compensation.
Fight for discrimination at your workplace with the world's first robot lawyer or sue any company or person in small courts if you feel like you've been wronged.
Is There Anything DoNotPay Can't Do?
The short answer is no, and the list of our AI-based app's features keeps growing by the day. We offer professional assistance with issues that no other platform can help you with. Sign up now and: