How Long Do I Have to Sue for Work Related Injuries?
Employers are obligated by law to provide a safe workplace. Despite OSHA, state, and local regulations, more than 7 million people are still injured at work every year.
If you've been hurt on the job, you typically have up to 2 years to file a claim for compensation for your medical expenses, lost work, and other expenses.
Filing a claim against an employer isn't easy, and you might think you need to hire pricey lawyers because you know your lack of experience could jeopardize your claim. That doesn't mean you can't . Read on to find out how to proceed with your case.
Reasons to File a Lawsuit Against Your Employer
If you have been injured on the job, you might be under the impression that the only recourse you have is to deal with workman's compensation insurance. While this is indeed often the case, you may be surprised to hear that there are circumstances that allow you to take an employer to court for your injuries.
These circumstances include:
Sue for intentional misconduct
Employers are obligated to provide a safe workplace for all employees per the Occupational Safety and Health Administration (OSHA) as well as state regulatory bodies.

If an employer intentionally ignores issues that violate these guidelines, or otherwise puts you and other employees at risk, you may have grounds for a lawsuit if you're injured.

Sue because your employer is not insured
In the majority of states, employers are required to carry workman's compensation insurance if they meet the minimum criteria through the state.

Some employers choose to willfully ignore this requirement, others simply aren't aware and don't have anything in place. Either way, if you're hurt on the job, you might be able to sue your employer in civil court for compensation.
File a Lawsuit Against Your Employer by Yourself
If you're considering the option of filing a lawsuit against your employer in small claims court on your own, be aware that it's a tedious process. You'll need to gather evidence of injury, document your interactions with the employer, provide proof you've had medical care, and complete the legal forms, and file them with the appropriate court in a timely manner.
To be successful, your claim needs to include:
Accurate records and proof of your injuries.

Photographs, videos, and other visual proof of injuries.

Written documentation of medical attention you've received.

Documentation of the conditions of the workplace.

A reasonable evaluation of the compensation amount you're seeking.

A demand letter explaining why you're suing and what you expect the employer to do.
Dangers/Issues With Filing a Lawsuit by Yourself
It's understandable that you may want to avoid hiring a lawyer. It's certainly within your legal right to prepare and file a lawsuit against your employer without an attorney. In fact, there are plenty of guides online that will assist you in the process. But, you may want to rethink your strategy. There are a lot of things that can go wrong if you choose to do it alone.
Lack of Legal Expertise.

Perhaps the biggest danger you face when filing a lawsuit against your employer on your own is that you're not a legal expert. No matter how much research you do online, you simply don't have the experience and knowledge necessary to properly file a claim. Mistakes along the way can result in your case being dismissed, or you may not receive the compensation that you're asking for.

Missed Deadlines.

When it comes to filing a lawsuit against your employer, you need to be aware of certain restrictions. For example, there is a statute of limitations in most states that limit the amount of time you have to bring a suit against your employer. In most cases, this is anywhere from one to five years, but most often it's two years. If you miss a deadline by one day, your case will be dismissed.
How to Sue Your Employer With DoNotPay
Hiring an attorney is a hassle and do-it-yourself lawsuits are difficult to put together properly and even harder to win. A simpler, faster, easier way is DoNotPay. In a few steps, you'll be on your way to collecting the compensation you deserve. All you have to do is:
Log-in to

Select the

Sue Now product.
Enter the dollar amount you are seeking.

Produce either a demand letter or court filing forms.

Describe the reason for the lawsuit.

Submit any supporting proof including photos or videos.
That's it! Once you enter your information, the DoNotPay app will generate a demand letter or court filing forms for you almost instantly. We'll even mail a copy of your demand letter to the individual or business you are suing so the process is seamless and efficient.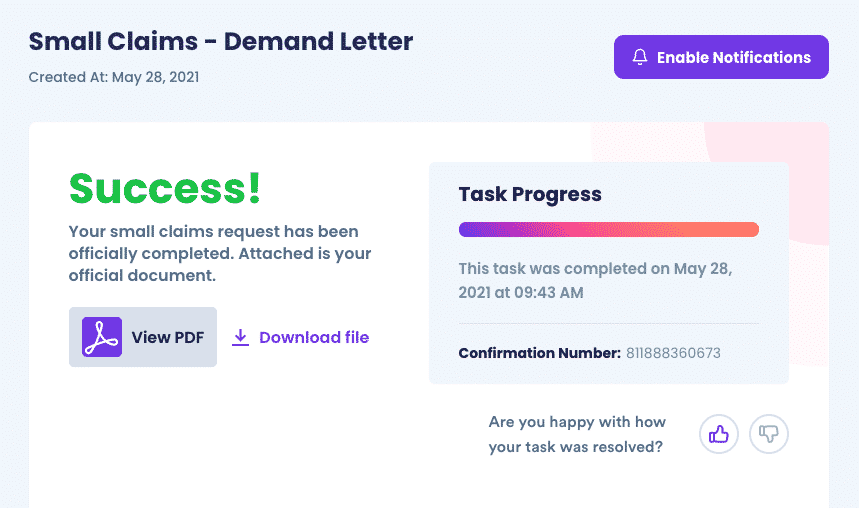 Ditch the Expensive Lawyers
You don't need an expensive lawyer to effectively file a small claims suit against your employer. is an innovative, AI-powered app that helps you bring your case to small claims court quickly and accurately even if you're not a legal expert.
It's fast, easy, and capable of handling claims against large companies as well as individuals. Just access the DoNotPay chatbot and answer some questions about your case. The app will create a demand letter, complete legal forms, and provide a script for your court appearance against any of the following companies and more!