How Is Property Divided in a Divorce in California? Find Out Now
One of the most important questions in any divorce is how your joint property will be divided up in the settlement. Many divorcing couples go to great lengths to protect their property, spending thousands of dollars on lawyers to make sure that the settlement they get is fair.
The basis of any divorce settlement in California is the letter of the law and adhering to the process. How is property divided in a divorce in California? DoNotPay is here to help you understand the legalities!
How Does Divorce Law Work in California?
Filing for divorce in California requires you to fill out several forms and lodge them with the clerk of your county court.
You do not need to allege that your spouse has done anything wrong in California, and the paperwork you need to file for divorce is as follows:
Depending on your spouse's response to your divorce petition, the court will classify your divorce as:
If your spouse wants to contest the divorce, it will most likely go to trial. If the response signifies acceptance of the terms of the divorce settlement, it will be classified as uncontested, meaning that you should be able to avoid court hearings. You may not even have to engage an attorney to fight your case.
Note that you must declare everything in your divorce case—trying to hide assets will lead to conflict, expense, and serious consequences.
California Divorce Laws—Property Division Explained
It is in your—and your spouse's—best interest to aim for an uncontested divorce.
A contested divorce in California can cost around $17,500 per spouse, meaning that the assets you are trying to protect may be eaten up by the process.
Divorce settlement in California takes account of all the assets that have declared in your divorce papers and treats them as follows:
Community property and quasi-community property
Separate property
Mixed property
Community Property
Any property you acquire in California during the marriage is considered community property, meaning that it belongs to you and your spouse on a 50/50 basis.
If you acquired property in another state, it will still fall under California jurisdiction and be known as quasi-community property, falling under the same 50/50 ownership ruling.
Separate Property
Any property that you or your spouse acquired before the marriage is separate and belongs to you. The same applies to gifts or inheritances made to one of you during the marriage or earnings from property acquired before the marriage.
If you have legally separated before filing for divorce, anything you acquire or earn after the date of separation is yours alone.
Mixed Property
In rare cases, property can be classified as mixed, meaning it is part-separate and part-community.
As an example, if you sell a house that you owned before the marriage and use the proceeds to make a down-payment on a new property after marriage, the new property's purchase value is yours. If the new property increases in value, though, an increase in equity could be seen as community property.
How Do You Get the Best Settlement in a California Divorce?
Your best course of action in a California divorce is to try and work with your spouse towards a settlement agreement before your case lands in court. A settlement agreement is a legal document that regulates how the following should be separated in your divorce:
If you and your spouse can agree on a divorce settlement, you stand a good chance of:
How Can You Draw Up a Settlement Agreement?
You and your spouse need to work together to draw up your settlement agreement. You need to be prepared to negotiate a settlement, and your options to reach a consensus are:
Settlement Agreement Sources
Explanation
Lawyer
You and your spouse can engage attorneys and let them negotiate on your behalf before drawing up the settlement agreement for you. You should be aware that this can quickly become expensive—California lawyers can charge between $300 and $400 per hour.

If the broad details of your settlement are agreed upon, you can also use a mediation process to iron out minor points. A trained mediator can help you reach an agreement at a fraction of the cost of a lawyer

Online
Several companies offer online settlement agreement templates—you can negotiate the settlement with your spouse and fill out a generic agreement to reflect what you have agreed.

The danger with online templates is that they are often too generic and do not cover all the points you and your spouse need. Some templates could also be invalid in California
DoNotPay has the solution—we can generate a comprehensive and watertight settlement agreement for you in a few minutes. There's no need for lawyers or complicated editing to get the document you need!
DoNotPay Helps You Get a Fair Settlement in California!

If you want your property to be divided fairly after your California divorce, DoNotPay is the place to go! Our Divorce Settlement Agreement product will give you a tailor-made legal document that ticks all the boxes—you and your spouse can proceed knowing your settlement will help the divorce process run as smoothly as possible.
Here's how to set up your divorce settlement agreement:
Select our Divorce Settlement Agreement feature
Take us through what your agreement should include by following the prompts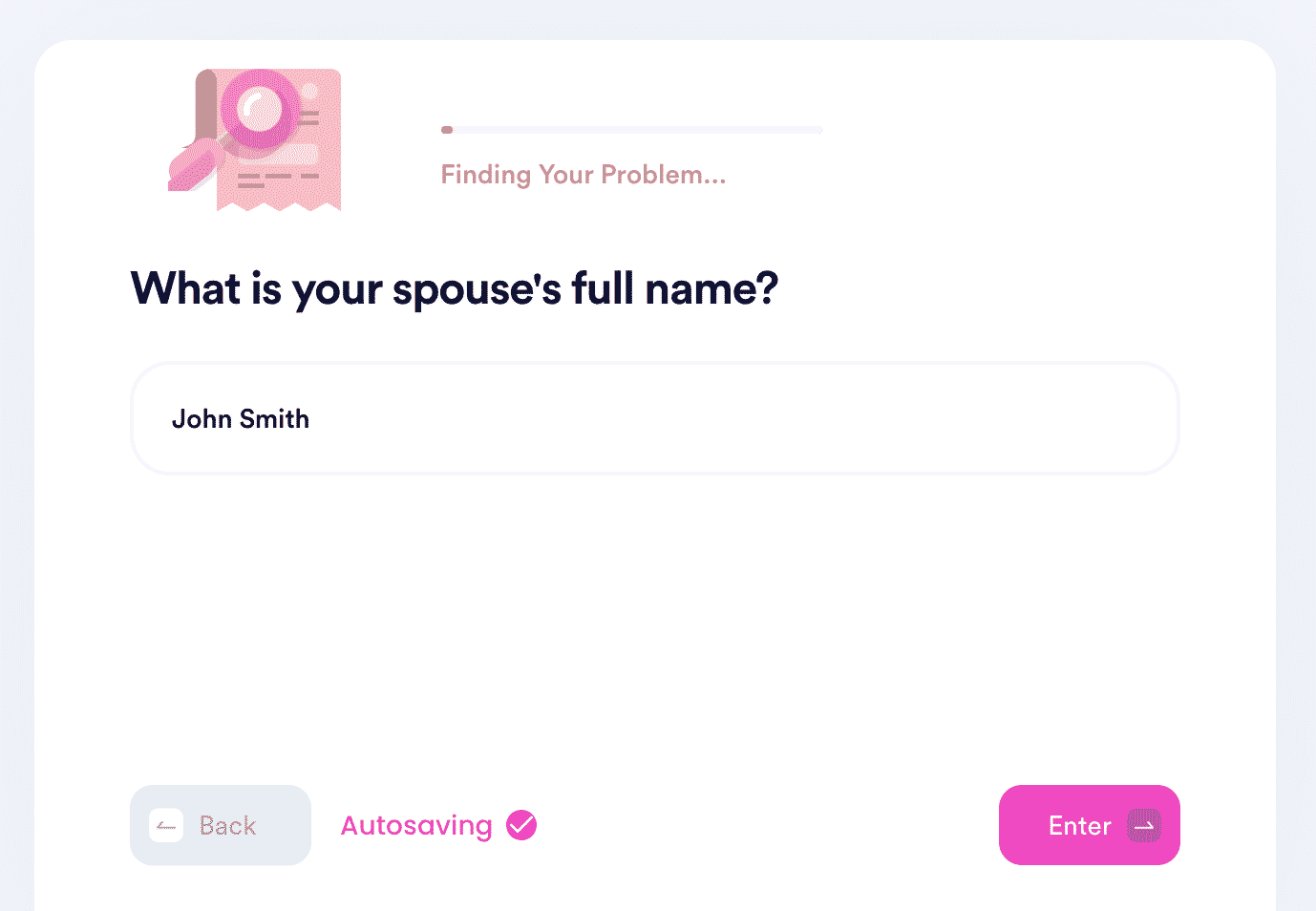 Once we have all your details, we will create your agreement in an instant. You and your spouse have to sign the document and have it notarized. If you don't know where to look for a notary in your area, DoNotPay can help with our online notarization service!
Specific County Laws and Procedures in California
If you are looking for info on specific counties in California, here are some examples of the help DoNotPay can offer:
We can also help you get a quick divorce in San Diego or learn more about specific legislation around military divorce in California if you are based there.
Why Waste Money on Lawyers When You Have DoNotPay?
Although certain tasks require you to get a lawyer's assistance, you don't have to spend hundreds of dollars for their service. With DoNotPay, you can avoid figuring out the legal jargon and have peace of mind dealing with bureaucratic tasks the easy way.
Need help preparing for a small claims court appearance or composing a neighbor's complaint letter? Looking for an easy but efficient way to draft a power of attorney or divorce settlement agreement? Use DoNotPay's features to draft legal documents, sue companies, request refunds, claim warranties, and file insurance claims while still saving a pretty penny!
Communication Is the Key
The best way to resolve issues is through clear communication, but companies don't always make it easy to do so. That's why DoNotPay came up with various features that help make communicating and solving problems a piece of cake. Sign up for our app and forget about waiting in lines for hours to speak to a customer service rep!
Here's what you can do with our app: