A Trouble Shared? How Is Debt Divided in Divorce?
Whatever your reason for divorce, it is the irrevocable end of your life together with your spouse, meaning that everything you had together must be split up.
When you think of your assets and real estate, you automatically assume that your divorce will involve dividing those between you and your spouse.
How is debt divided in divorce? DoNotPay takes a look at the law and helps you understand how your liabilities fit into a settlement.
How Is Debt Treated in Divorce Law?
When you file for divorce, one of the key elements in your divorce papers is your financial affidavit.
You and your spouse list all your assets and liabilities, and these form part of your settlement when your divorce is granted.
Both your assets and debts are classified in one of three ways, namely:
Separate—Assets or debt that you owned before the marriage or acquired after separation is usually considered yours alone
Community or marital—Anything acquired during the marriage is regarded as marital or community property or debt
Mixed—In some cases, property and debt can be both separate and marital. If you bought a property with a mortgage before your marriage, as an example, and subsequently extended the mortgage to renovate the property after you got married, the mortgage would be designated a mixed debt
Laws vary from state to state, and there are two approaches to splitting debt in divorce:
Equitable distribution
50/50 split
Equitable Distribution
Equitable distribution states see debt as the joint responsibility of both spouses in a divorce.
These debts are known as marital debt and can include:
Credit card bills
Mortgages
Car loans
Personal loans to buy furniture
In a divorce, a judge will divide marital debt equitably, meaning that it will be split according to each spouse's:
Ability to pay the debt off
Responsibility for the debt being incurred in the first place
The resulting split might not be equal but should be fair.
50/50 Split
There are nine 50/50 or community property states where marital debt is split down the middle.
Any debt that has been incurred during the marriage is usually considered marital debt and should be borne equally by both spouses.
Debt that one spouse incurred before the marriage is normally deemed a separate liability and remains the responsibility of that spouse.
The community property states are:
How Can You Manage Your Debt After Your Divorce?
The above laws are only imposed if your divorce ends up in court, and a judge has to rule on your settlement.
If your divorce is friendly, you can reach an out-of-court settlement that regulates how your debt is divided according to you and your spouse's wishes.
You will still have to keep within your state's legal framework, but if you and your spouse sign a divorce settlement agreement, you can, at least, control how everything is split.
A simple example would be as follows:
You agree to take over sole responsibility for the mortgage on the house you bought as a married couple
Your spouse signs over their portion of the ownership of the house to you
As long as the agreement is fair and signed by both spouses, a judge will normally accept such an arrangement.
How Can You Set Up a Divorce Settlement Agreement and Avoid a Court Ruling?
A divorce settlement agreement is a legal document that regulates how both your assets and your liabilities should be split after your divorce.
To be accepted in court, it needs to cover:
You will usually negotiate and finalize a settlement agreement:
To help you negotiate and draft your settlement agreement, the available resources are:
Settlement Agreement Resources
Explanation
Lawyer
You and your spouse can engage attorneys to negotiate and draft your settlement agreement for you. They will take time to understand your exact financial position and guide you on what demands and concessions to make.

This will come at a potentially high cost—lawyers charge up to $450 per hour, and even an uncontested divorce can cost each spouse thousands of dollars.

If you want to avoid the expense of a lawyer, you can look at mediation as a lower-cost option. A mediator can help you and your spouse negotiate successfully face to face at a fraction of a lawyer's cost

Online service
If you and your spouse agree on everything, you can jump straight into drafting your settlement agreement. Various online divorce services offer templates for you to fill out, but caution is advised. Many of these templates are too generic to be of any use. You may risk a judge rejecting your agreement if it doesn't cover everything
DoNotPay has the solution to keeping you out of court while avoiding expensive lawyers' fees!
We can create a comprehensive settlement agreement online that makes sure your debt is split according to your and your spouse's wishes!
Keep Control of Liabilities in Your Divorce With DoNotPay!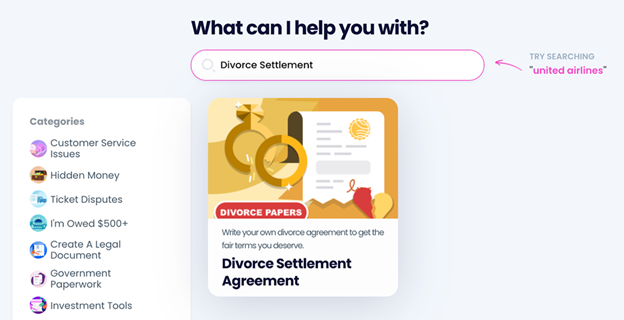 DoNotPay believes that you should have full control of how your finances are handled in your divorce!
Our Divorce Settlement Agreement feature is designed to help you achieve that. You get a settlement agreement that:
Takes account of your joint wishes
Is legal and valid in court
Makes lawyers' fees unnecessary
To set up your custom settlement agreement, here's what you need to do:
Sign up with DoNotPay in your web browser
Go to our Divorce Settlement Agreement product
Fill out the terms you and your spouse have agreed on
Once you have given us all the details, we will generate your agreement in a flash.
You and your spouse can go ahead and sign it in the presence of a notary. If you are unsure where to find a notary in your area, we can even organize online notarization for you!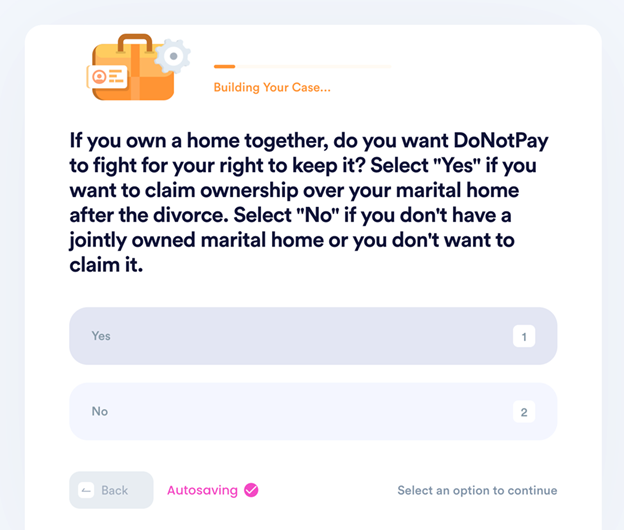 Learn How To Solve Legal Issues in Minutes!
Do you need to draft a legal document? Spending hundreds of dollars on lawyers is not the answer. We came up with a faster and more affordable solution. Not only can our app draft child consent forms, divorce settlement agreements, and powers of attorney for you, it can also provide legal assistance by helping you take anyone to small claims court!
Drafting numerous documents is not all DoNotPay does for you! Aside from drawing up contracts and agreements, we can also assist you in getting them notarized online from the comfort of your home or office!
Explore DoNotPay's Other Nifty Features
There is more assistance on the way! You can use DoNotPay's features to handle various tasks with ease, including:
We can also help you protect your safety. If you don't know how to deal with copyright infringement, stalking and harassment, work discrimination, sex offenses, and disputes with annoying neighbors, DoNotPay has got you covered.