How Does Jury Duty Work? Here's What You Need to Know
Jury duty is essential because it ensures a fair legal and justice system for all American citizens. Before you go to jury duty, you should get acquainted with the process. How does jury duty work, how can you prepare for it, and how much does it pay? This article provides answers to these and any other questions you might have.
If you need help notifying your employer about your jury duty leave, subscribe to DoNotPay and get an airtight leave request letter in a matter of minutes.
What Does the Jury Duty Process Entail?
To understand how jury duty works, you should first get familiar with the eligibility criteria and the jury selection process.
You are eligible for jury duty if you are:
A U.S. citizen
Between 18 and 70 years of age
Fluent in verbal English
Not a caregiver of a mentally or physically disabled person
Keep in mind that receiving a summons doesn't necessarily mean you will be on jury duty—you must also pass the selection process.
The complete jury duty process consists of the following parts:
Courts use software to randomly select eligible people
After getting picked, you will receive a summons to appear in court at a specified date
When you go to court, you will fill out a questionnaire to participating in the jury selection process
During jury selection, lawyers question the jurors to ensure there is no conflict of interest
After you have been selected for duty, you have to appear in court for all case proceedings
The trial can last from one day to several months, and it ends once the jury reaches a verdict.
How Much Does Jury Duty Pay?
Most federal jurors are paid $50 per day during the trial, but county jurors are only reimbursed for food, drinks, and travel. In case your employer does not give you paid leave, you can ask for reimbursement from the court.
Consult the following table for guides to state-specific jury duty pay laws:
Can You Request an Exemption From Jury Duty?
If you cannot go to court, you can ask for a delay to a more convenient time. While jury duty laws vary by state, you can always request an exemption if you have a valid reason, such as:
Financial hardship
Medical reasons
Education
Caregiver duties
Federal law does not allow employers to refuse time off or fire their employees for jury duty. If you use that as an excuse not to appear in court at the scheduled date and time, you will be in contempt of court and will have to reappear after a couple of weeks.
In case your employer is not convinced that you are being honest, you should show them a copy of the jury summons for verification.
How Often Can You Be Summoned for Jury Duty?
Under federal law, U.S. citizens do not need to fulfill their duty more than once every two years. If you have served as a juror within the last two years and have been summoned again, you can request to be excused. Keep in mind that your request needs to be in writing and should include your previous jury proceedings.
Use DoNotPay To Write a Formal Jury Duty Leave Request Letter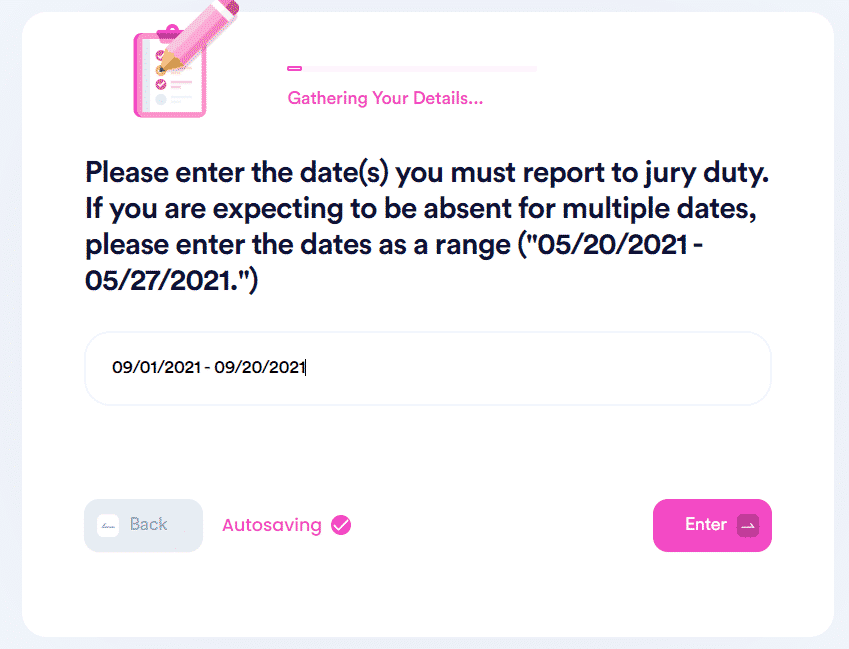 Is your boss refusing to give you a leave to fulfill your civic duty? If you want to confront them and request time off but don't know how you should rely on DoNotPay. Our AI-powered app can help you draft a leave request letter and send it to your employer on your behalf. Here is what you need to do:
Open DoNotPay in your web browser
Choose the Request Jury Duty Leave tool
Enter information about your jury duty
Upload a photo of the jury summons
Let Our App Assist You With the Paperwork
You don't have to deal with bureaucratic tasks on your own! DoNotPay is here to help you cancel your memberships, appeal parking tickets, discover unclaimed funds, and get any document notarized online.
If you need help covering your bills or you'd like to get extra cash by signing up for clinical trials, we are your go-to!
We can also assist you in drawing up and sending out the following documents:
Keep Your Online Safety Intact
Staying anonymous is almost impossible these days, but with DoNotPay's help, your contact and payment details will remain private.
Thanks to our Burner Phone product, you'll be able to keep your phone number to yourself and get a temporary one you can use when you register on various platforms.
If you want to avoid getting charged and revealing your personal info when signing up for free trials, we can help you kill two birds with one stone. Get our multifunctional virtual credit card and skip submitting your name, email address, and payment details.
With our app, you can also handle stalkers and harassers, fight workplace discrimination, and block spam.