How Does a Stay-at-Home Mom Get a Divorce? DoNotPay Has the Info You Need!
Divorce is a daunting prospect. Popular culture has it that filing for divorce involves expensive attorneys, long court battles, and bitter fights over every detail of your life.
If you are dependent on your spouse for financial support, divorce may seem like a pipe dream—you need it to be fast, cheap, and guaranteed to give you enough to live on after it's over.
DoNotPay is here to help keep you out of court, save you the expense of lawyers, and get your divorce finalized as quickly as possible.
How does a stay-at-home mom get a divorce? With DoNotPay's help!
How Does Divorce Work?
Divorce entails the separation of everything that belongs jointly to you and your spouse.
You don't need a reason for divorce, as every state accepts the idea of a no-fault dissolution, in which you only need to claim that:
You and your spouse have irreconcilable differences
The marriage has irretrievably broken down
Either spouse can file divorce papers as long as they fulfill their state's residency requirements and adhere to any waiting time the state demands.
How Can You File for Divorce?
You can file for divorce by following two steps:
Filing divorce papers
Filing Divorce Papers
Your first step is to get the correct forms from your local county court—or that of your spouse—and fill them out.
The forms will usually include a:
Petition for divorce
Summons for your spouse
Statement of your joint and individual finances
You will need to list everything relevant, including:
Children and dependents from the marriage
Your joint income and expenses
Your joint assets and liabilities
Serving the Papers
In most divorce cases, you will have to have the divorce papers delivered to your spouse, and they will have to confirm receipt in writing.
The only exceptions to this are when your spouse agrees that the divorce will be uncontested and either waives their right to service or files uncontested divorce papers jointly with you.
Such friendly divorces are the first prize, as you can often avoid court appearances, and you may not even need a lawyer to help you.
In many cases, though, you will have to go through the process of service and wait for a response from your spouse.
Resources for Stay-at-Home Moms Getting Divorced
The factors that make divorce difficult if you are a stay-at-home mom are the:
Cost of the divorce process
Difficulty of survival after the divorce has been granted
Cost of the Divorce Process
The costs involved in getting a divorce are all manageable and can be kept under control if you are prepared. The main cost elements are:
Divorce Cost Element
Explanation
Filing divorce papers
The cost of filing varies from state to state but ranges from $75 in North Carolina to $435 in California
Serving the papers
If you use the county sheriff, service will usually cost around $50, but a private process server may charge more
Negotiating and drawing up a settlement agreement
Finalizing your divorce depends on you and your spouse reaching a settlement and signing an agreement to that effect.

If you can't agree, your case will be deemed a contested divorce and will be fought out in court—which can quickly become expensive.

Even if you can agree on a settlement, the process can cost more than $5,000 if you use attorneys to negotiate for you.

Your divorce settlement agreement is the highest variable cost in the whole divorce
Difficulty of Survival After the Divorce Has Been Granted
Popular myth says that you will be able to survive on the alimony you will be paid by your spouse.
This is rarely true in today's world, as most states use a system of equitable distribution when dividing assets between the spouses in a divorce.
In theory, this means that the better-earning spouse will have to pay alimony to the lower-earning one. Only several states, though, still allow a stay-at-home mom to receive enough alimony to live comfortably.
Most states will expect you to look for employment as soon as possible and will only grant alimony for a limited period. In many cases, the period of alimony payments won't last longer than half the duration of the marriage.
So, if you have been married for four years, you will most likely face the following scenario:
Alimony will be set at an equitable level that takes account of both spouses' needs
Payments will cease after a maximum of two years
The court will also impose similar equitable distribution on your joint assets. You may be awarded the house to minimize the upheaval to your children, but you will also possibly be expected to take over the mortgage payments.
Debts—such as a mortgage, credit card debts, or car installments—will also be divided between you.
You may find that your time as a stay-at-home mom will end as a result of your divorce.
What Can You Do To Get the Best Deal?
Your best option is to avoid a court deciding on your settlement by negotiating an out-of-court agreement with your spouse.
This means drawing up a settlement agreement that covers:
You can engage lawyers to negotiate the settlement and draw up an agreement for you, but this will send your costs skyrocketing.
If you can negotiate face-to-face with your spouse, you stand a chance of keeping your costs in check. Even if you can't agree on every point of your settlement, you may be able to resolve minor differences by opting for mediation as a low-cost alternative to a lawyer.
Once your settlement is agreed upon, you can have it drafted as a legal document.
Various websites offer online settlement agreement templates for you to fill out, but these are often too generic to cover your exact needs—some may not even be valid in your state.
DoNotPay has the answer—we can put together a comprehensive, tailor-made settlement agreement for you that covers every point you and your spouse have agreed on!
DoNotPay Is Your Savior as a Stay-at-Home Mom!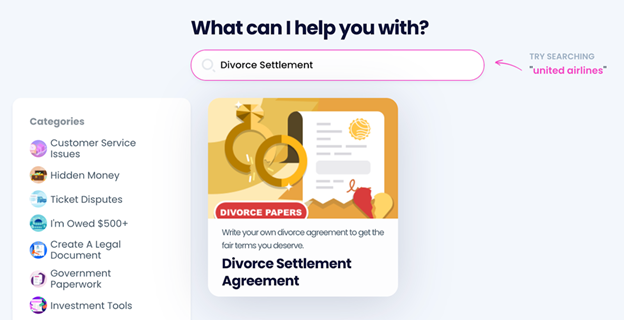 DoNotPay is here to help you get the future you want!
Our Divorce Settlement Agreement feature is your go-to resource when it comes to getting a fair settlement that will allow you to move on with your life.
Once you have worked out a settlement with your spouse, we will create the perfect agreement that encapsulates it and makes it legally binding.
Here's how to set your settlement agreement up:
Open your web browser and sign up with DoNotPay
Click on our Divorce Settlement Agreement feature
Follow the prompts and give us the terms you have agreed on with your spouse
Once you are done, we will handle the rest—your agreement will be generated in an instant.
You and your spouse can go ahead and sign it in the presence of a notary. If you are unsure where to find a notary in your area, we can even organize online notarization for you!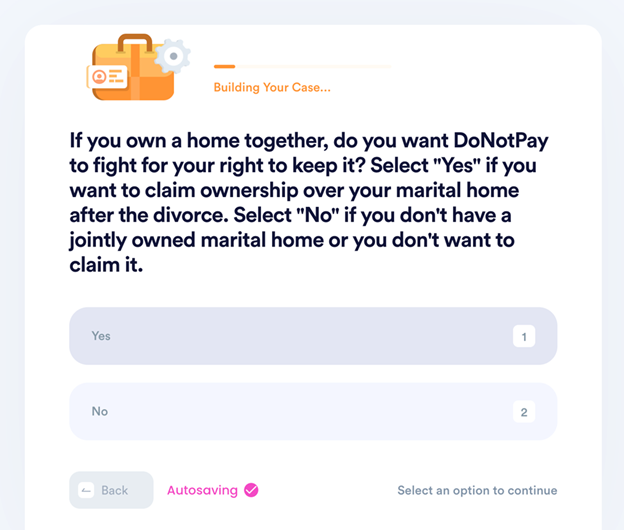 Use DoNotPay To Complete a Variety of Tasks at Any Time
Why waste time and money completing mundane tasks on your own when you can let DoNotPay assist you? Take a look at the table below to find out what our AI-powered app can do for you:
| DoNotPay Can | Services |
| --- | --- |
| Protect your safety and privacy | |
| Draft legal documents | |
| Help you get your money back | |
DoNotPay Has More in Store for You!
Since communication is key, you'll appreciate our feature that helps you get in touch with customer service reps quickly! We'll also show you how to send faxes online and have your documents notarized by an online notary with ease!
Going on vacation? Use DoNotPay to take a valid passport photo at home or get a tourist visa!