How Do You Get Divorce Papers Without Spending Big Bucks?
Divorce is one of the most stressful events in a person's life. Apart from being emotionally draining, it can cost quite a lot when you have lawyers guiding you through the process. Fortunately, you don't need a lawyer if you and your spouse end the marriage on friendly terms. The issue people worry about the most when considering getting divorced without lawyers is obtaining and handling divorce forms.
Worry no more! In this article, we'll answer all your paperwork-related questions, such as:
Where Can You Get Divorce Papers?
The first step to getting a marriage dissolution is collecting the right documentation. The easiest way to do that is online. Each state, and sometimes each county, has a website where you can find packages of forms often called DIY or self-help divorce forms.
You can also acquire the necessary paperwork offline. If you prefer the traditional way of handling issues, you should go to a local clerk's office in your county and ask the clerk for divorce papers. If they don't have the required documents in the office, you can ask them to send you the forms via mail.
Can You File Divorce Papers Online?
If you as a couple qualify for an uncontested divorce, you can file for divorce online. Uncontested dissolutions are a faster, simpler, and better solution for all involved parties. Reaching an out-of-court settlement can save everybody time, money, and trouble. An uncontested divorce is available to couples who can negotiate major issues and agree on important terms. If you believe you're eligible for this type of marriage dissolution, you should confirm before starting the process. Issues you have to agree on to have a DIY divorce include:
Division of real and personal property
Division of debt
Spousal support (alimony or spousal maintenance)
Child custody
Parenting plan
Child support
If you meet your state's residency requirements and you also agree on the grounds for a divorce and other state-specific issues, you can file for a divorce online.
Which Divorce Forms Do You Need for an Uncontested Divorce?
Different states have different rules and requirements regarding the divorce forms you need. Which papers you have to obtain also depends on the marriage dissolution type and specifics of your case. In the following table, you can find the most common documents used in uncontested cases:
Divorce Form
Description
Petition
A divorce petition is the most important document used to start the process. The petition contains all the information a court needs to approve your request. You're filing this document at your local clerk's office after paying the filing fee
Summons
It is a document that informs the other party (the respondent) that you (the petitioner or plaintiff) have filed a petition for divorce. A summons informs your spouse about the further steps in the process
Financial affidavit
A financial affidavit describes the financial situations of both you and your spouse. It helps with the division of debts and property
Notice
The purpose of a divorce notice is to inform your spouse about the hearing
Settlement agreement
A settlement agreement (also called divorce or marital settlement agreement) is one of the most important divorce forms in uncontested divorces. It defines the terms of your divorces and outlines all the matters you've agreed on during negotiations. The agreement legally binds you and your spouse to respect the terms. To write it, you can:

Download a template
Hire a lawyer

Divorce decree
A decree is a final document in a divorce. When a judge signs this form, your divorce is finalized
Use DoNotPay To Get an Ironclad Divorce Settlement Agreement
When you're getting an uncontested dissolution of marriage, a properly written divorce settlement agreement is non-negotiable. Downloading a template and writing the document on your own is too risky, but what else can you do if you can't afford a lawyer? You can—and should—rely on DoNotPay!
Our comprehensive database of state laws and requirements makes writing a settlement agreement child's play!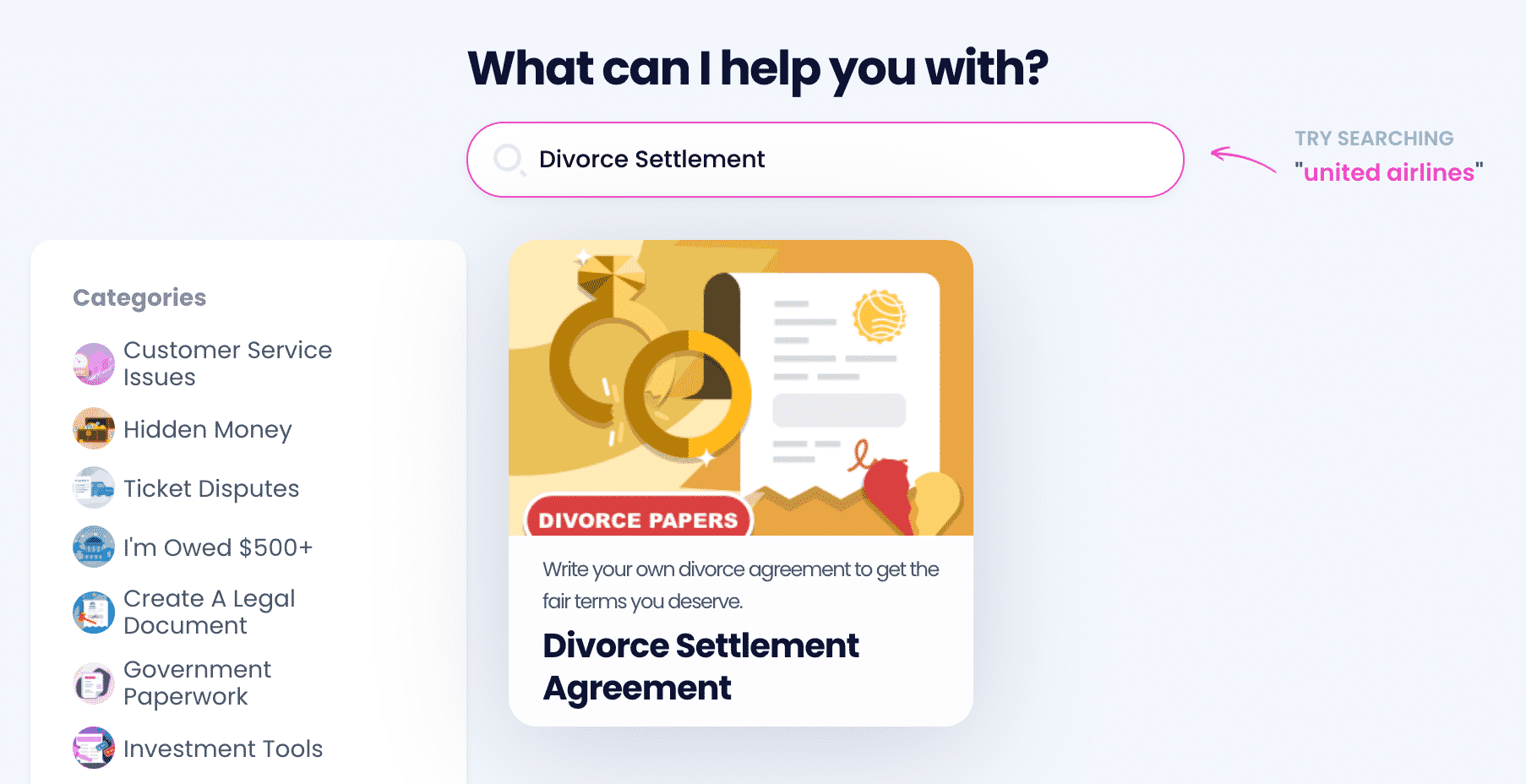 Here's what we need you to do:
Open the Divorce Settlement Agreement feature
Provide information about your spouse, children, and assets
Notify us if you need a notary public
You'll receive a customized divorce settlement agreement that complies with your state's rules and meets your needs.
If you want to learn more about divorces, you should visit our learning center. We can answer many divorce-related questions, such as:
Consult the following table if you need divorce papers for a specific state:
DoNotPay Is Righting Wrongs Left and Right
DoNotPay is a platform that puts its subscribers' safety in the first place. We can keep you safe from sex offenders, stalking, and harassment. In case you're a victim of a crime, we can help you get compensation.
Fight for discrimination at your workplace with the world's first robot lawyer or sue any company or person in small courts if you feel like you've been wronged.
Is There Anything DoNotPay Can't Do?
The short answer is no, and the list of our AI-based app's features keeps growing by the day. We offer professional assistance with issues that no other platform can help you with. Sign up now and: