Answered—How Do Small Business Loans Work?
Running a small business requires a lot of money on a day-to-day basis, which you may not have if you are only starting out. Small business loans allow entrepreneurs to have some breathing space and focus on their business instead of its expenses.
How do small business loans work? In this article, we will show you:
What it means to get a small business loan
We will also explain how you can land a loan by using DoNotPay—the first-ever robot lawyer that can help you make an error-free loan request letter as swiftly as possible.
How Do Small Business Loans Work?
Small businesses need ready-to-use capital to keep themselves afloat. If you cannot acquire the capital by yourself, that does not mean you have to shut up shop—that is where loans come in.
Small business and startup loans can help owners with a specific issue they need to solve with financial aid, such as:
A loan program usually specifies what purpose it is for, so you need to see whether you qualify on that basis before you get into the details of it.
When you receive a loan, you will have a set list of terms that revolve around the repayment structure and interest rates.
Types of Loans
Small business loans can come from:
All these sources offer various types of loans that have different requirements and terms.
Check out the following table to see some examples of the best loans you can find out there and the way they work:
| Type of Small Business Loan | Description | Interest Rate |
| --- | --- | --- |
| Credit for a small business | As is the case with normal lines of credit on a credit line, you can borrow money up to a certain limit. As a business, you will have to repay with interest. If you are not sure about the amount of money you need, you should opt for this type of loan as you can take out new ones frequently | 10–99% |
| Merchant cash advance (MCA) | An MCA allows you to borrow money and repay it from future earnings. Two parties agree upon the repayment schedule and factor rate in advance | Factor rate of 1.1–1.5 |
| Startup loans | These loans are for those who want to found a new business but do not have the means to cover the initial startup costs. Depending on the lender, you can get a loan of up to $750,000 | 8–13% |
Government-Backed Loans
The following table shows the two types of loans with which the U.S. government helps entrepreneurs:
| Type of a Small Business Loan | Description | Interest Rate |
| --- | --- | --- |
| The United States Small Business Administration (SBA) small business loans | This is one of the most coveted types and, in turn, the most difficult to get. If you receive this government-backed loan after a lengthy process, the SBA will guarantee to your lender the repayment will happen. If you cannot pay the loan back, the SBA will, thus removing any risk on the lender's part | 2.75–4.75%, can vary |
| Microloans | This type is reserved for businesses that do not require a large amount of money to get going. Microloans come from the government and nonprofit organizations and can help you get a boost of up to $50,000 | 8–13% |
What Are the Requirements for a Small Business Loan?
Aside from the purpose of the loan, you will also need to prove other elements of your business to receive one. Some criteria for a small business loan the majority of lenders ask for include:
Your personal and your company's credit score—The required credit score depends on the lender and the type of loan, usually asking for a score of at least 700
Business age—Some lenders do not lend to newcomers whose future is uncertain, and they will demand you are several years in business already
Cash flow—Bank statements and financial sheets with which you can prove your business is healthy and that you have a budget capable of returning the loan with interest
Collateral—Think of it as a mortgage. You will need to offer an asset that is your company's property as a guarantee that you will repay the loan. If you do not, the lender will take the collateral
How DoNotPay Can Help You Secure a Small Business Loan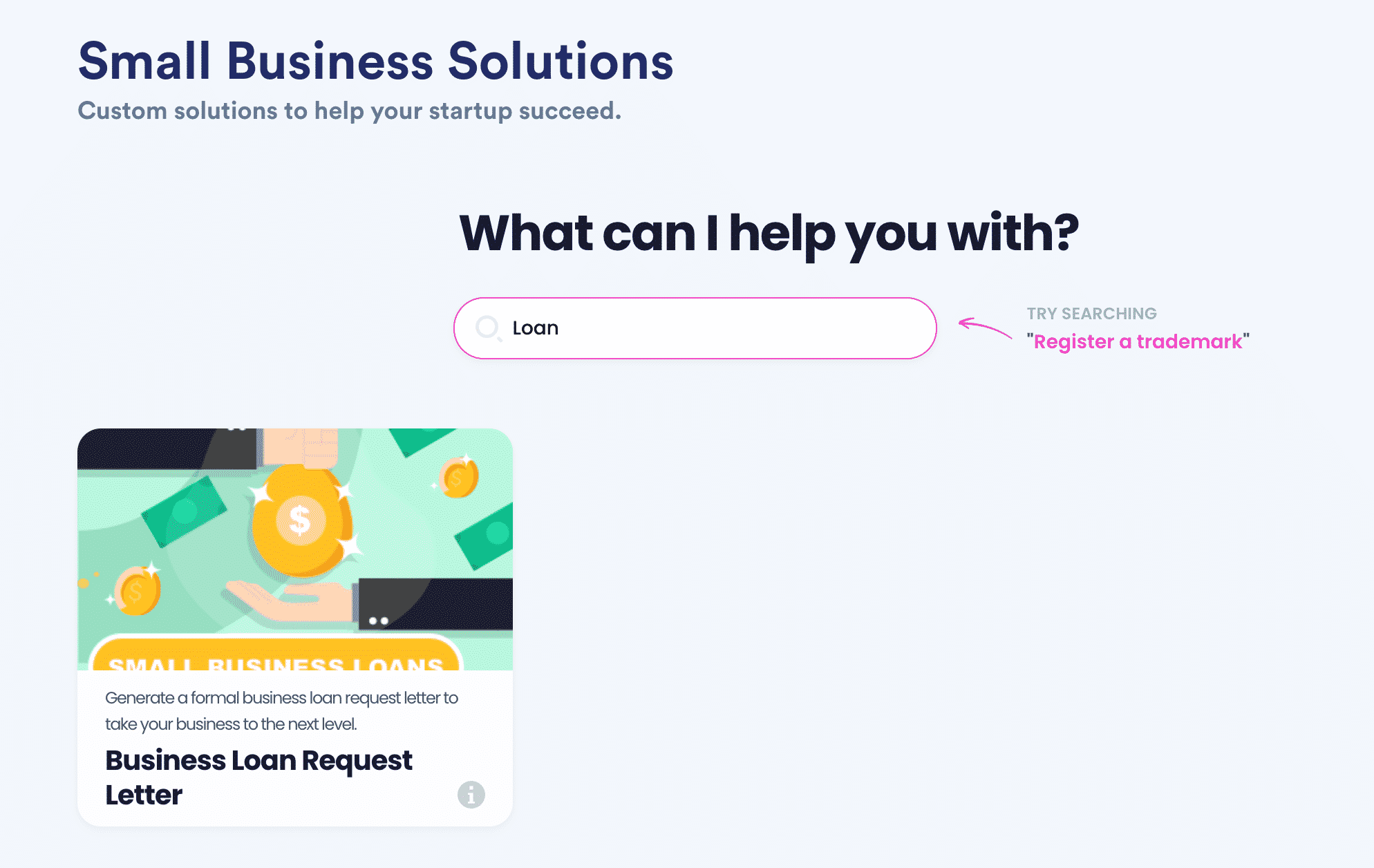 With so many details required, lots of business owners fail to fill out a loan request letter. The lack of information is often the reason why businesses do not receive any financial aid.
This is where DoNotPay comes in. When you subscribe to our app, we will generate an error-free request via our Business Loan Request Letter feature that you can use for any lending institution.
Our app will also ask you to upload all relevant documents, so you do not have to worry about leaving out any piece of paperwork. All you need to do is the following:
Gather your personal and business credit scores
Prepare business financial statements, such as:

Cash flow
Profit and loss
Balance

Answer a few questions about your company and the purpose and the amount of the loan
Upload all necessary documents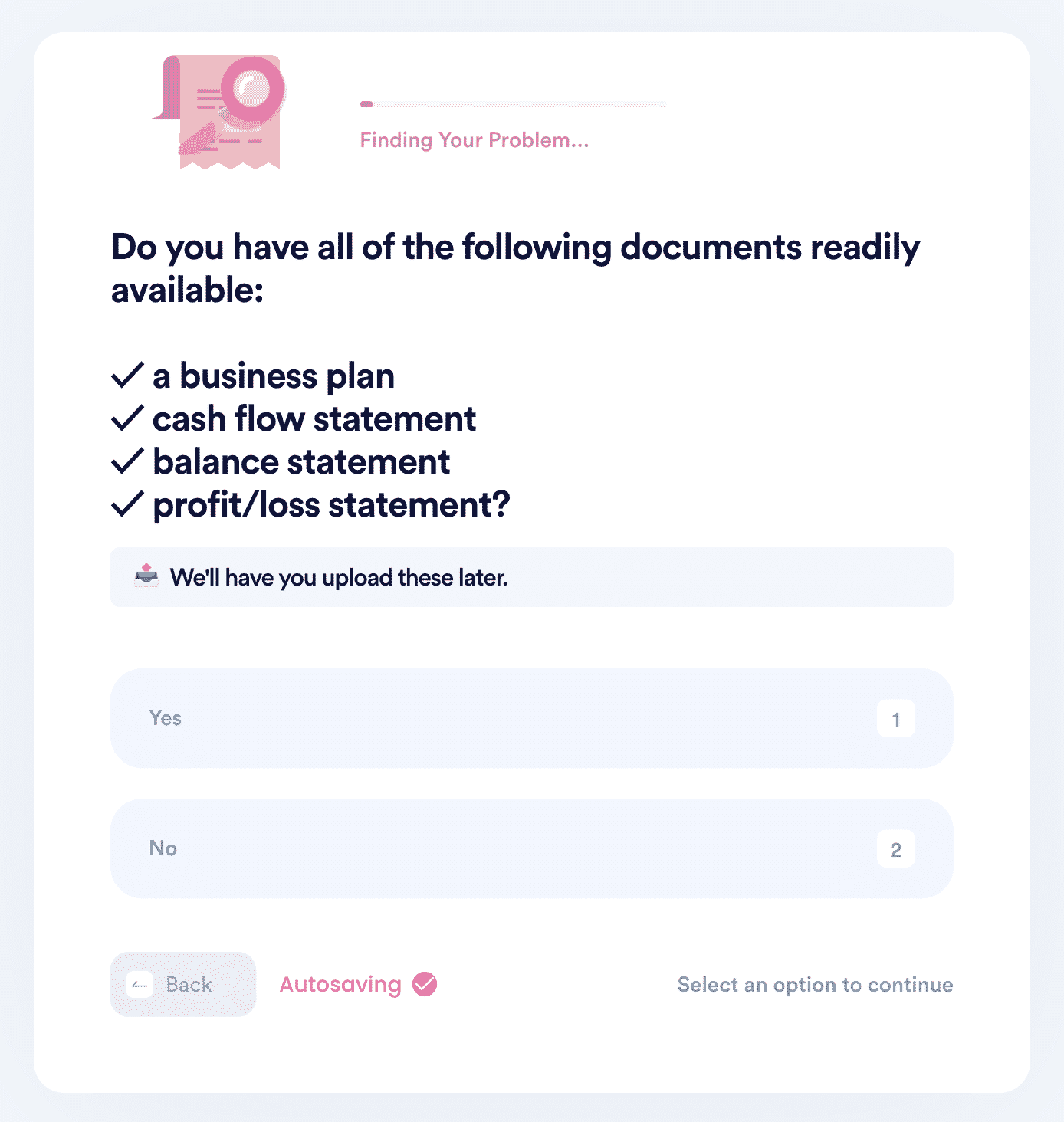 When you complete these four steps, we will generate a formal request letter that you can use instantly.
Don't Waste Ages on Tedious Administrative Tasks—Rely on DoNotPay
Running a small business can be a challenging endeavor, but you can count on DoNotPay to make the situation easier! We have developed a number of handy features that you can use to deal with your business-related hurdles. With our help, you can:
Send mail to your customers, investors, or business associates without wasting time going to the post office
Register your business slogan, logo, or name as a trademark to prevent brand infringement
Avoid copyright violations on your website by registering a DMCA agent
Protect the privacy of your clients' data by filing the Privacy Shield program self-certification request
Contest unjust chargebacks and keep the revenue
Deal with clients who breach the contract without wasting money on collection agencies or lawyers
Worked Hard on Creating a Good Business Reputation? Don't Let It Go to Waste!
Has one of the angry clients or envious competitors decided to leave a mean online review that could have a negative impact on your business? DoNotPay is here to help you remove it! We will analyze the problematic review and report it until it is taken down.
Don't know how to protect your trademark and make sure no one else is using it? Our app can monitor the trademark on a monthly basis and send cease and desist letters if necessary.
Let our app take care of many other issues—such as filing 83(b) election forms, registering for an Employer Identification Number (EIN), taking out small business loans, and similar—while you concentrate on the creative side of your business.