How To Claim a Loss on the Sale of an Inherited Property for Tax Purposes Efficiently
In case you've decided to sell your inherited real estate, you need to be careful about making a profit in the sale process. What if you have made a loss? You might be able to claim it on your taxes.
will show you how to claim a loss on the sale of an inherited property for tax purposes.
What Is Capital Gains Tax?
Capital gains tax is a tax you need to pay on any profit you make from the sale of your inherited property. How much you need to pay for capital gains depends on what you decide to do with the inherited house.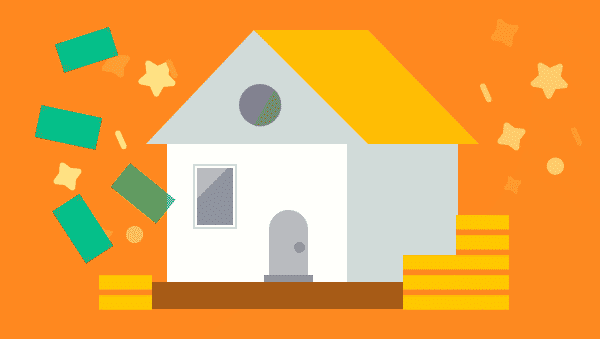 You should know that fixing it up will raise its market value and lead to higher capital gains tax when you decide to sell the inherited property.
How To Avoid Capital Gains Tax
If you choose to sell the inherited real estate the moment you obtain it, you will not have to pay capital gains tax on that sale.
Make sure you check the capital gains tax exemption before you decide to sell your inherited property, as this tax rule can easily change.
Do You Owe Tax From the Sale of Your Inherited Property?
When a person dies, the executor of the estate or a representative needs to file final tax returns. The representative must include the property transfer to you on the final tax returns.
When you are the owner of an inherited home, you need to list all gains and losses on your annual tax return. You can claim a:
Gain if you have made a profit from the sale of your inherited property

Loss unless you used the inherited home as your residence
All inherited properties qualify for the government's lower property tax rates.
What Is the Principle of an Inherited Property?
The basis of an inherited property is the fair market value (FMV) of an inherited home:
At the time of the original owner's death—the executor of the estate does not have to file an estate tax return

On the alternate valuation date—the executor of the state must file an estate tax return and choose to use the alternate valuation on the return
You should contact the executor of the estate to find out the FMV of your inherited property.
This basis helps you determine what gains or losses you had on the sale of an inherited property. To make it easier to understand, take a look at this example:
| | | | |
| --- | --- | --- | --- |
| Original Price | FMV When Inherited/Basis | Sale Price | Taxable Gain |
| $150,000 | $350,000 | $400,000 | $50,000 |
The Internal Revenue Services (IRS) will tax you only on the gains you have made, not the total sale price.
When Can You Claim a Loss on the Sale of an Inherited Property for Tax Purposes?
You can claim a loss on the sale of an inherited property if you and your siblings:
Sold the house at the FMV that is less than the inherited value

Have not used the inherited home for personal purposes

Used an

arm's length transaction

to sell your inherited property

Did not plan to convert the inherited home to a personal residence before the sale
In case you fulfill these requirements, you can:
Avoid the capital gains tax expense

Claim a loss on the inherited property sale
When To Report a Gain or Loss From the Sale of an Inherited Home
Once you have sold the inherited property, you need to report it to the IRS. Here is how you can do it:
Calculate the gain or loss from the sale

Report it on the following forms:

Attach these two forms to your personal tax return
Bear in mind that you need to report the sale of your inherited property the same year you sell it.
DoNotPay Breezes Through the Property Tax Exemption Process
We provide information and assistance with property tax exemptions and appeals by identifying ways for you to lower and pay your property taxes.
If you would like to see what property tax exemptions you qualify for, we can create a thorough guide. The manual will include the details relevant to your specific conditions and the location of your properties.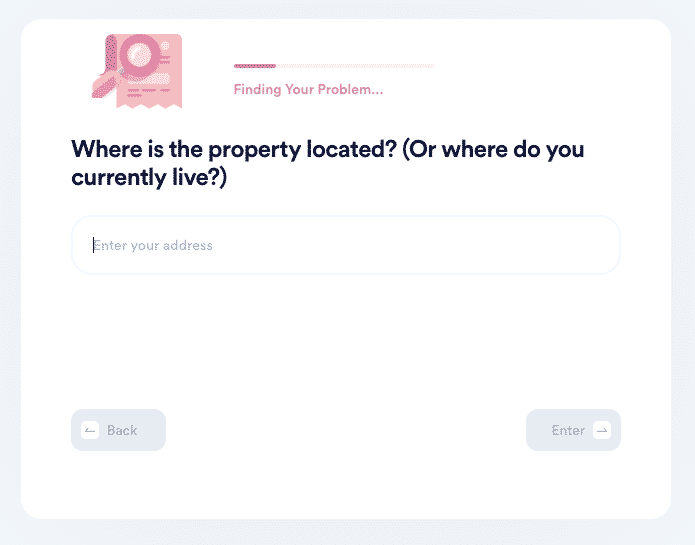 You can get your property tax exemption and appeal guide following these quick steps:
Access DoNotPay from any

Opt for our

Property Tax

feature

Answer a few simple questions about you and your property
In a few clicks, you will get your personalized property tax exemption manual. Review the provided advice and follow the instructions to reduce your future tax bills.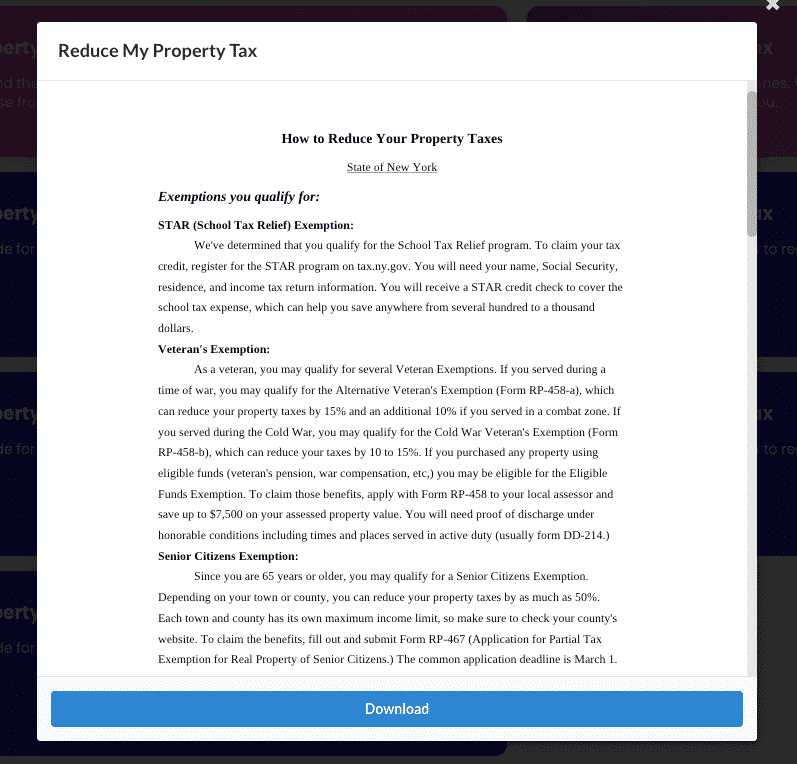 DoNotPay clarifies the tax assessment process, helps senior citizens get property tax exemptions easily, and provides a list of states with low property taxes to make purchasing new property much easier. We can also help you claim forgotten inheritance money.
Save time, energy, and money by using our app at any time and any place from your cell phone, laptop, or desktop computer.
How Else Can DoNotPay Help You Find and Save Cash?
Our Missing Money feature helps you find any unclaimed assets in your name in any state. An additional perk is that you can claim your money right in the app—no need for further research!
We can also make sure you don't pay for any unfair parking citations and get the rightful compensation from airlines for any canceled or delayed flight.
Don't let big companies scare you into not claiming your warranties or insurance. DoNotPay helps you file these claims and appeal any rejections in minutes, which brings you closer to getting your money.
We can also delay your bill payments, get your college fees waived, or sign you up for paid clinical trials to earn some extra cash!
DoNotPay Keeps the Spammers Away
Whether you're dealing with email spam, text scammers, robocalls, or severe harassment, DoNotPay can help.
Use our virtual credit card or the Burner Phone feature to sign up for free trials safely—without revealing your real info. DoNotPay will make sure that no company can reach you when you use our tools.
We provide a fake email address, credit card info, and phone number that are in no way connected to your real data.
We can also help you cancel services or request a refund without you having to contact the company directly.