How Can I Get a Divorce for Free? DoNotPay Knows!
It's no secret that a divorce can be an expensive, complicated, and time-consuming endeavor. You need to collect the relevant information to prepare for the divorce process well. This includes learning about filing procedures, necessary forms, separation and waiting periods, and court and lawyer's fees.
Are you wondering, "How can I get a divorce for free?" DoNotPay provides the information and helps you go through the process without paying the earth!
Can I Get Divorced for Free?
You can get a divorce with no money if you ask around and gather the right information on the following aspects:
Get Familiar With
Additional Information
Fee waiver procedures
If you cannot afford court filing fees, you should apply for a waiver by completing a fee waiver form. Once you file your application with the court, you:

Might need to provide additional documentation proving your financial situation
Will need to wait for your request to be reviewed

Free legal aid services
You can get free legal advice on matters you cannot understand from a:

Legal aid society
Volunteer lawyers program

To get information on affordable legal aid, you should:

Get in touch with the city or state bar association
Run an internet search
Can I Fill Out the Necessary Forms Alone?
Most states provide free divorce forms you can download from your local court's website.
Since the packets of forms usually come with detailed instructions explaining how to complete the forms, you can fill them out alone. There's no need to hire an expensive lawyer to prepare the paperwork for you.
If you've got some questions, you could get in touch with the:
Court clerk's office
Free legal aid services
Where To Look for Free Legal Services
If you cannot afford to hire a lawyer but need help with certain legal topics, you could use one of the following websites:
Uncontested Divorce—A Money-Saving Option
Filing for an uncontested divorce is a low-cost and fast option. Before you can file for this type of divorce, you need to negotiate an out-of-court agreement with your soon-to-be ex-spouse on all divorce aspects, such as:
If you and your spouse go through a friendly divorce and agree on all matters—alone or through mediation—you:
To seal the deal and ensure both you and your spouse will respect all the agreed-upon matters, you need to draw up a settlement agreement.
Sign up for DoNotPay to get a reliable yet affordable divorce settlement agreement with zero hassle.
DoNotPay Is the Best Way To Prepare a Divorce Settlement Agreement Hassle-Free
While preparing the required documentation to file with the court, you should know where to seek dependable help. When it comes to the court forms, you can use the provided instructions and legal aid services.
What about additional legal documents? Our award-winning AI-powered app can help you generate a divorce settlement agreement in a flash!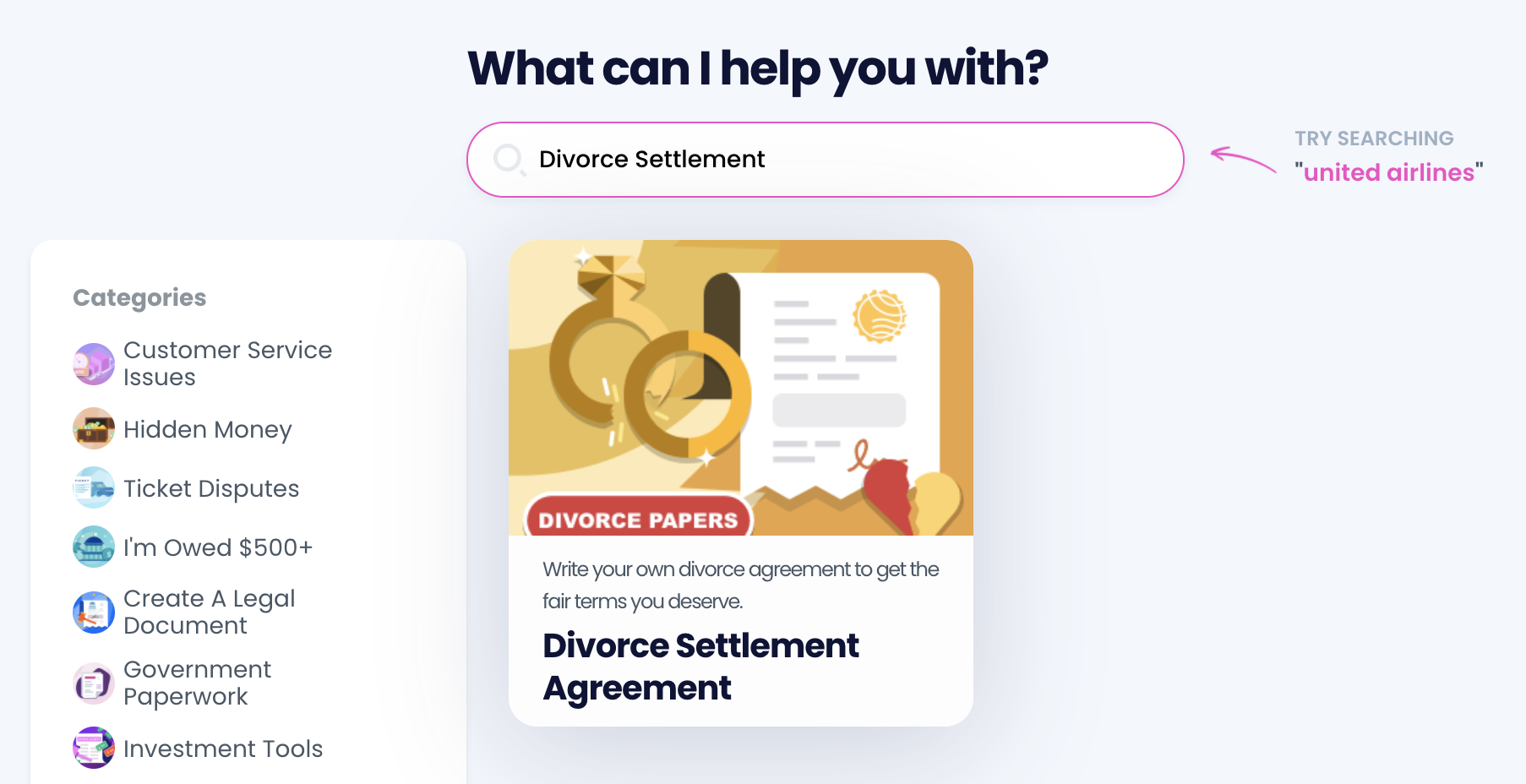 Here's how simple the process is—subscribe to DoNotPay and:
Choose our Divorce Settlement Agreement product
Provide necessary information about what you and your spouse have agreed on
Pick if you'd like to get the document notarized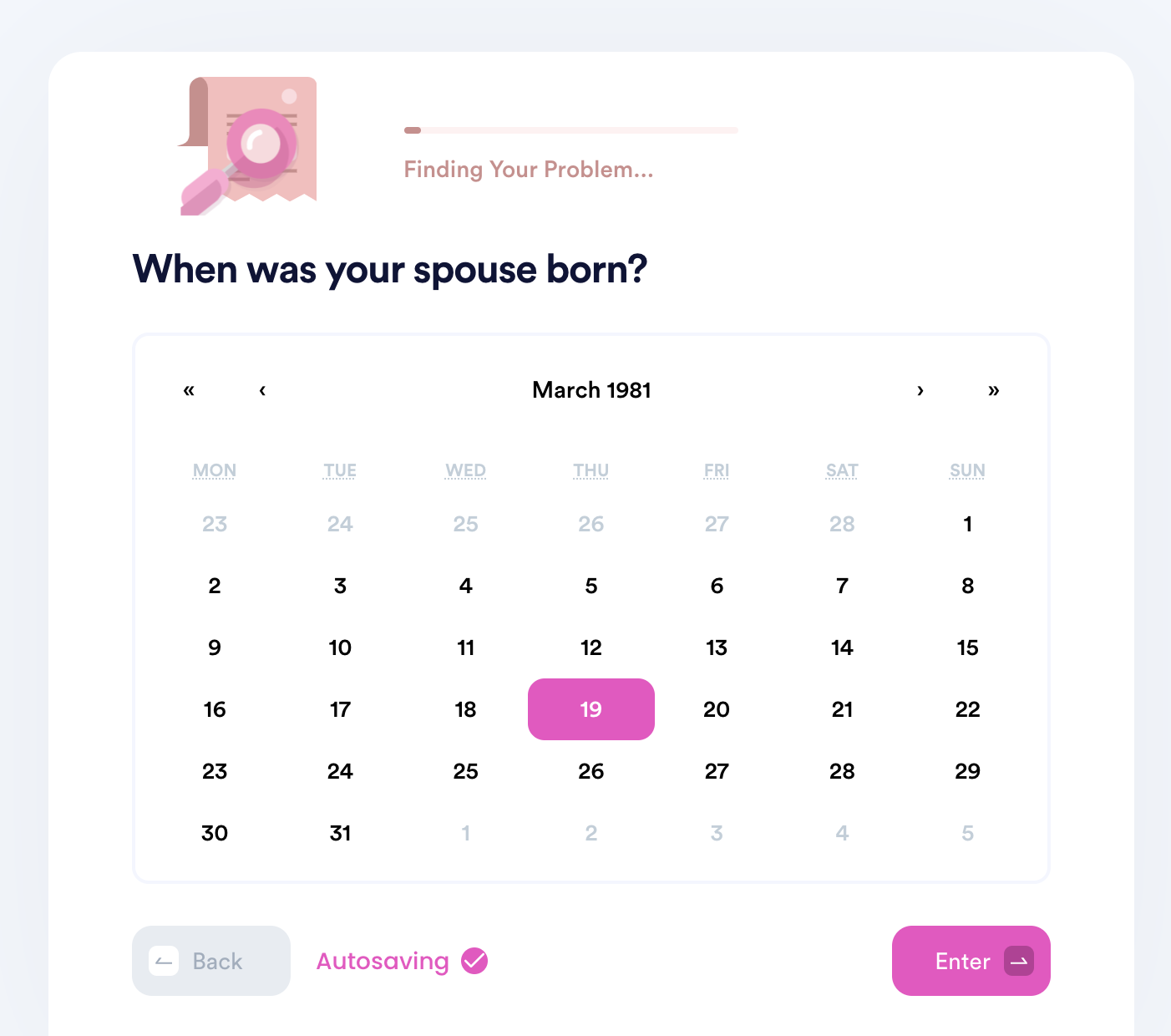 What's next? Once you get an agreement that abides by your state laws and meets personal requirements, you should present it to the judge for approval.
Get Familiar With Divorce-Related Topics To Keep Your Divorce Costs Under Control
To keep the lid on your expenses during a divorce, you should gather as much information as possible. Being in the loop is the best way to know where you can save some time, money, and nerves.
Are you wondering about the cost of divorce in your state? Take a look at the following table listing our articles that cover divorce costs in different states:
You might find our other guides useful as well. Find out:
Stuck in a Bureaucratic Mess? DoNotPay Is Here To Help!
Since handling dull administrative tasks is a burden and no one likes doing them, DoNotPay developed a variety of neat features to ease many processes! With our nifty app, you can:
Deal With Companies Like a Pro
We all love shopping, but it's no secret that companies sometimes turn a fun experience into a nightmare, especially when they refuse to cooperate. DoNotPay is here to help you reach customer support without the hour-long wait and sue an uncooperative merchant in small claims court if necessary!
Need a refund? We can show you how to get your money back from any company in a snap!
Should you need to file an insurance or warranty claim and request gift card cash back or an item return, you can count on our app to assist you! DoNotPay can also show you how to discover any unclaimed funds under your name so that you can continue shopping like a pro.