How Can an Employer Verify Jury Duty? DoNotPay Has All the Answers
If you have been called for jury duty, the first thing you need to do is inform your employer. You might be afraid to ask for time off from work, but you cannot avoid jury duty without a valid reason. If you are worried that your employer might think that you are being dishonest, you need to provide evidence.
How can an employer verify jury duty? What proof can you present to your manager? If you have to serve as a juror, you can and request an official leave from work.
Jury Duty FAQs
If it's your first time being summoned for jury duty, you might have a lot of questions. Find answers to some of the frequently asked questions in the table below:
How Can My Employer Verify Jury Duty?
If your employer is not convinced that the court has called you for jury duty, showing a written jury summons along with a formal leave request letter will help.
In case you are asked to report to court for more than two days, you can request a juror history report to show to your employer.
After attending the jury sessions, you can also request a certificate of attendance confirming the days you were available.
How Can Employers Deal With Jury Duty?
Employers must understand how to deal with staff members frequently missing work due to jury duty. Here is what an employer can do:
Get acquainted with state laws to know the amount of paid time off they need to provide
Know how to manage the workload if an employee leaves in the middle of a project
Figure out how to ease the transition process and avoid any interruptions
Avoid pressuring the employee to ask for an exemption if there is no need to do so
Can My Employer Reject a Jury Duty Leave Request?
Your employer cannot stop you from fulfilling your civic responsibility, but you must be aware of your legal rights before you inform them. Federal law mandates that your employer cannot:
Fire you for serving as a juror
Intimidate you to skip jury duty
Discourage you from taking time off
Force you to take unpaid time off
They can ask you to request a postponement if you are critical to business operations at the moment.
How Can DoNotPay Assist You in Taking Time Off?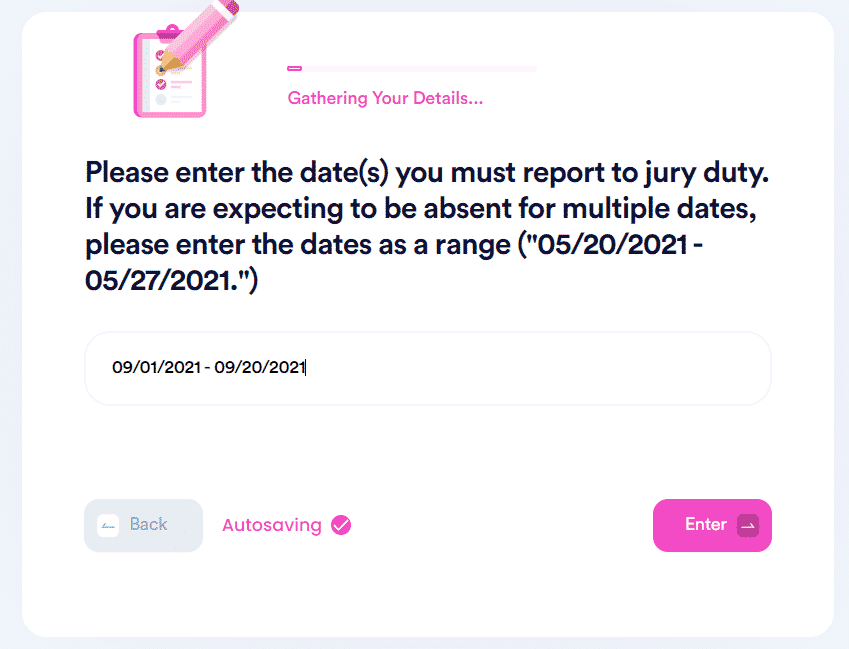 While you are preparing for jury duty, it might be difficult to let your employer know that you need time off. DoNotPay can help by creating a formal leave request letter. Once you , you should follow these steps:
Go to the Request Jury Duty Leave product
Enter details about the jury service
Provide information about your leave of absence
Upload a photo of the court summons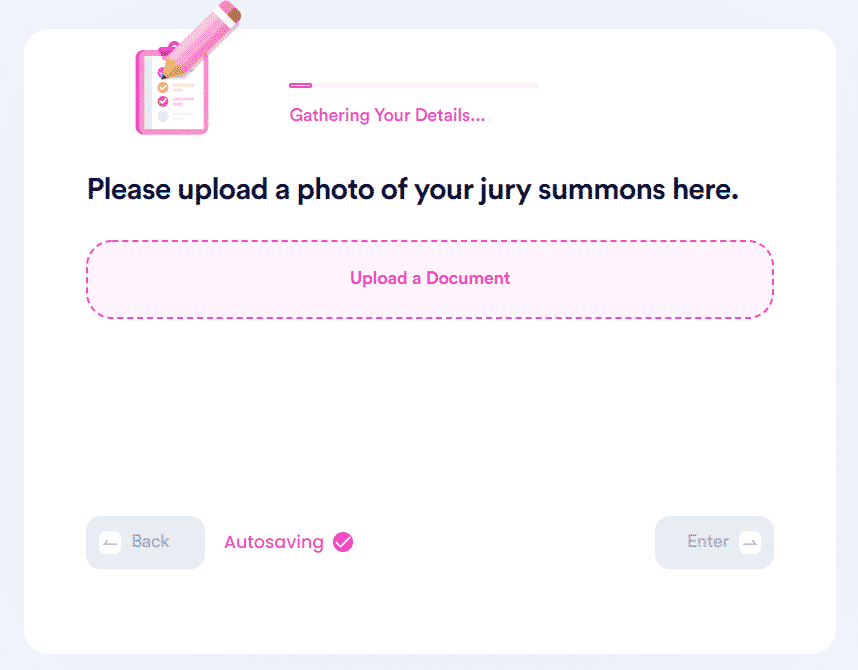 You can also check out DoNotPay's learning center for helpful guides to state-specific jury duty info, as listed in the table below:
DoNotPay Has More Products in Store for You!
Our app is adept at solving numerous issues and completing various tasks in your stead.
You may want to use DoNotPay to protect your work from copyright infringement, reduce your property taxes, send defamation demand letters, or file FOIA requests.
Through the same app, you'll be able to skip many bureaucratic hurdles. Here are more tasks DoNotPay can help you with:
Use DoNotPay To Keep in Touch
If your friend or family member is in jail, we can help you locate them and send and receive letters with ease. Do you need to send other letters but hate going to the post office? You can use our Mailing Service product and save time.
We can also help you send online faxes, reach customer service, and contact embassies or government representatives.
In case you're drowning in email and text spam, our app can end it for good. Even if robocalls are bothering you, we have a solution!