Top 6 Hotel Price Hacks You Can Try 
If you travel often, you may want the best hotel deals that can help you save money for your next vacation. While it may be good to determine when the hotel prices are the lowest and what discounts you can redeem to save money, sometimes there's more than one trick you can pull to save more money on your stay. 
That being said, the best hotel price hacks require patience and determination. You may not stay in the most luxurious hotels, but you can get pretty good deals in hotels with nice staff, internet connection, and cozy furniture. In this guide, we'll discuss hacks you can try to get the best hotel offers and ways you can achieve this faster with DoNotPay.
Can I Refuse to Pay Hotel Fees?
Some hotels charge expensive, unexplained mandatory fees, for amenities you might not even need. You can:
Ask for fees to be waived outright
Refuse to pay surcharges by pointing out prematurely that you're not using certain services or demanding reimbursement of charges that hadn't been explained earlier.
Negotiate for reimbursement at the front desk for fees that are automatically charged.
Making these claims on your own can be difficult. And it can be a futile request if the fees are charged automatically, as the front desk staff cannot simply offer a refund. But DoNotPay can help you make a claim without making a scene in the hotel.
Tips to Pay Less for Your Hotel Stay
With hotel price hacks, saving money on hotel expenses goes a long way in creating a happy vacation. Here are 6 great ways you can pay less for your hotel stay:
| | |
| --- | --- |
| Go off-season. | The best way to save money during your hotel stay is by booking in when there are fewer people traveling. Some hotels charge as high as $500 during the high season and $125 per room during off-seasons. |
| Book in midweek. | You can try to stay in your favorite hotel during the week rather than on weekends. Most hotels will charge a lower rate during the weekdays. |
| Search for coupons. | Hotels regularly offer coupons to promote their services. You can find coupons and offers on hotel websites and social media. Sometimes you can get up to 50% off if you're lucky. |
| Shop around. | Sometimes the best way to get a good offer is by shopping around to find the best deals. You can low-ball their prices to see if you can get a better deal, as you would while doing other shopping activities. |
| Buy packaged items separately. | Some hotels can overcharge items like food, internet, and other entertainment packages. If you find that it's cheaper to get the items separately, just pay for what you find necessary and avoid the rest. |
| Buy used reservations. | It's common to find travelers with unwanted room reservations they can't cancel. You can find sites like that offer a chance to buy transfer reservations at a discounted price. |
If you have good negotiation skills, you can try and get better offers by calling the front desk. You can also inquire if they offer a room match for a low price
Pay for Less on Your Hotel Stay With the Help of DoNotPay
DoNotPay is known for making the best cases, allowing you to win every time. You can ask to pay less for your hotel stay with DoNotPay, especially if you notice any irregularities.
If you want to lower your hotel bill but don't know where to start, DoNotPay has you covered in 4 easy steps:
1. Go to the Hotel Bill Negotiations product on DoNotPay.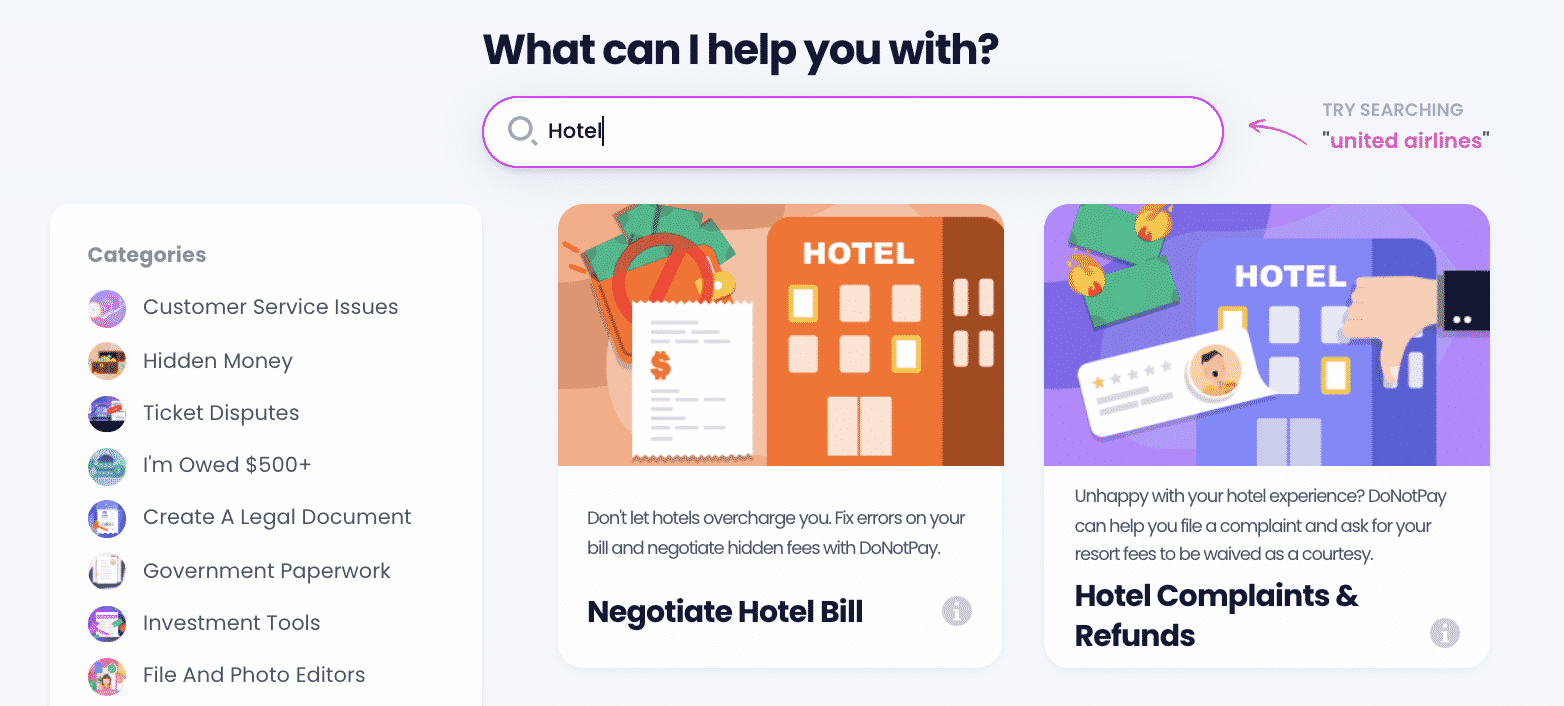 2. Answer a few questions about your hotel bill, which charges you want to have refunded, and the details of your reservation.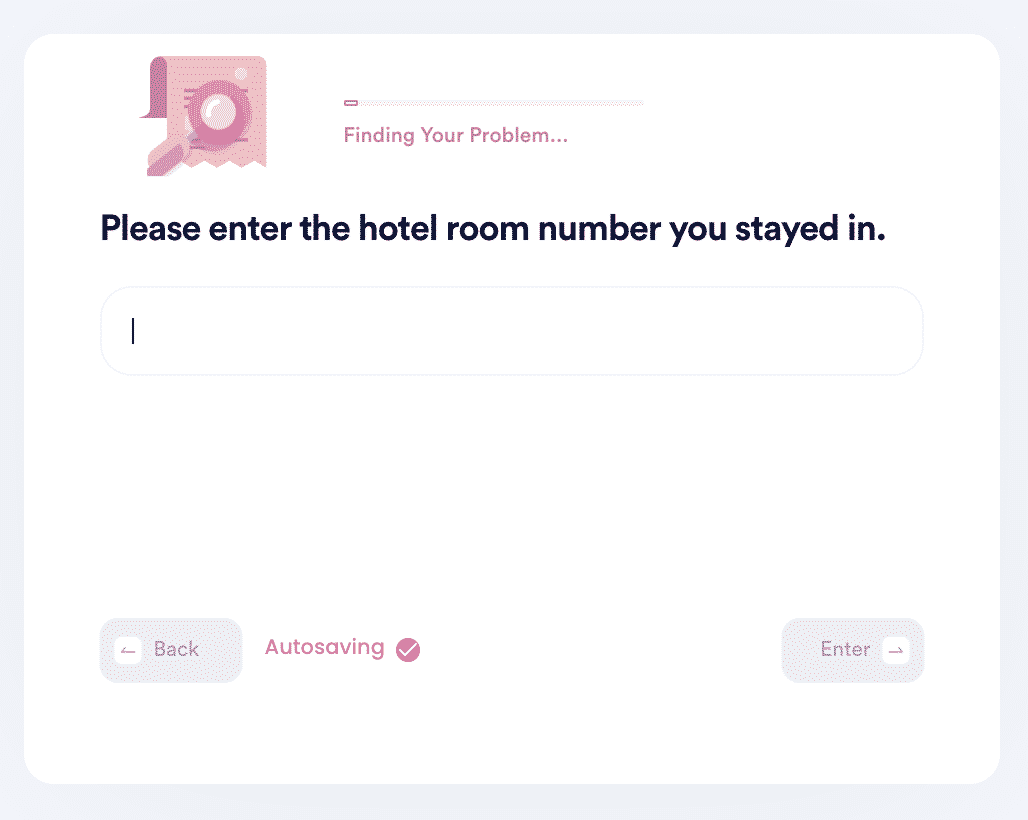 3. Tell us whether this is for a past reservation or you're still at the hotel (this helps us decide whether negotiation or chargeback is a better option for your case).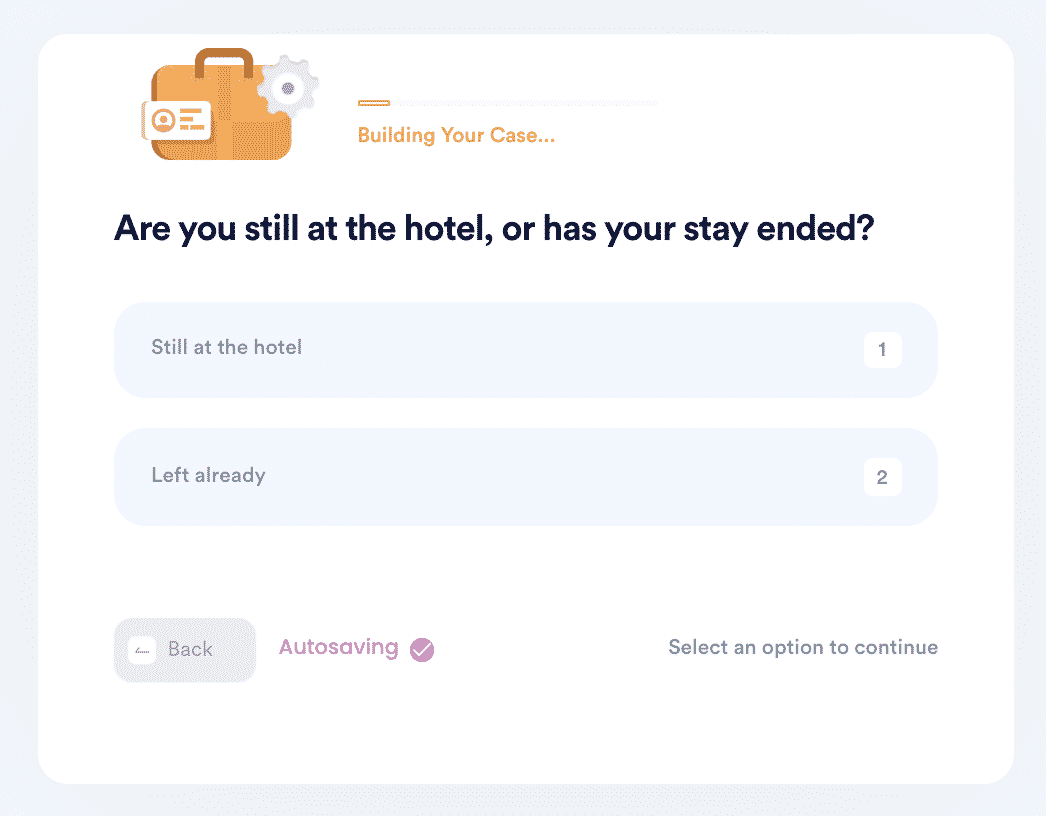 4. Choose whether you want us to contact the front desk or general manager (if you've already tried contacting the front desk already).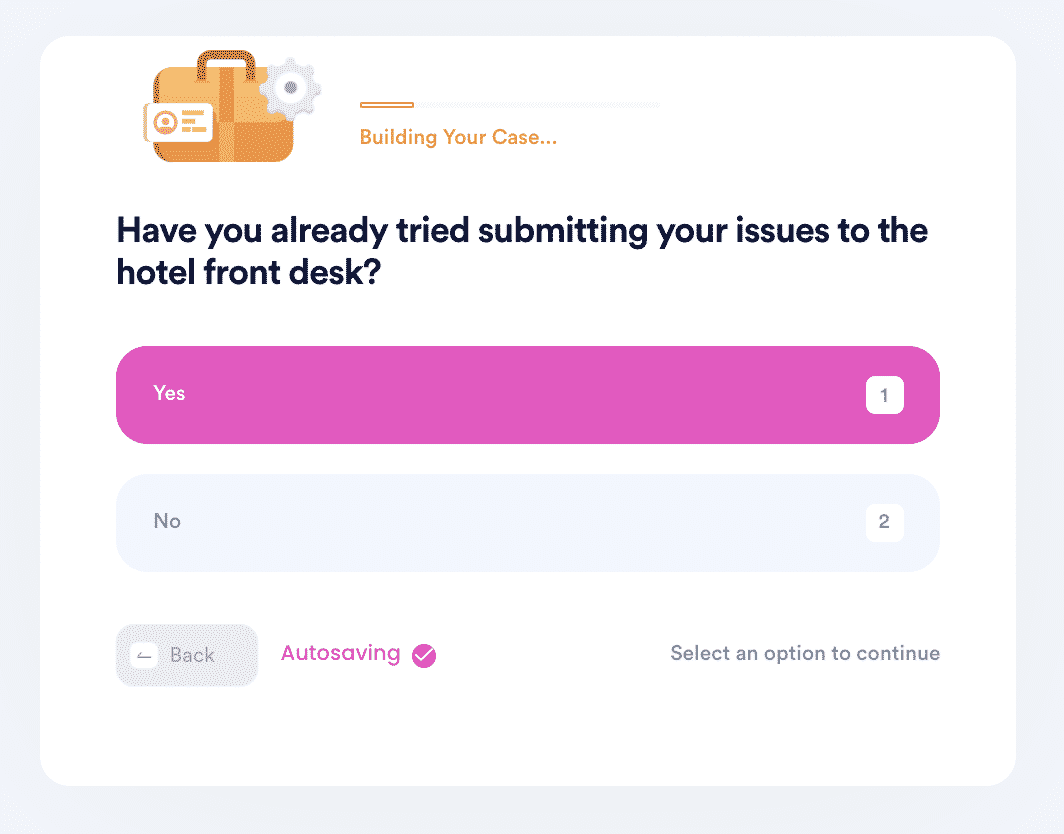 Why Use DoNotPay to Pay For Less for Your Hotel Stay
DoNotPay has helped thousands of Americans win small and large cases without a hassle. You can use DoNotPay since it doesn't take long, therefore it is practical to win your case within days.
Other reasons to trust DoNotPay include:
Fast—You don't have to spend days trying to locate managers or call the front desk to get reimbursement for unlawful charges.
Easy—You don't have to fill out tedious forms or keep track of all the steps the managers or front desk employees are taking to help make your stay more peaceful and cheaper
Successful—With ample experience in our hands, you can rest assured knowing that we'll make the best case for you
DoNotPay Works Across All Hotel Companies
DoNotPay can approach hotels and restaurants in the US to make sure your stay is comfy and convenient. Whether you're in a Vegas resort resting or just looking to get your hotel parking fee waived, DoNotPay can help you make the best case.
What Else Can DoNotPay Do for You?
Helping you claim waivers and lower your hotel bills is just one thing DoNotPay can help you with. We work across many industries to build the best case.
Six additional resources you might be interested in include:
To get the best hotel deals, you need to be vigilant about the best deals and hidden hotel charges. But you can also use DoNotPay to stay alert on the best ways to lower your hotel bill. Sign up and learn how DoNotPay can help you today.