Quit Foaling Around and Learn All About the
Horse Lease Agreement
It seems as if nowadays you can write a contract for anything that comes to your mind. That is great news for any equestrian who may need a horse lease agreement. 
DoNotPay can tell you everything you ought to know about this type of contract and help you create other legal documents.
What Is an
Equine Lease Agreement
?
People often lease their horses when they don't have time or finances to care for them but still wish to keep the ownership. This is a smart choice because it cuts down the owner's costs and keeps the animal at work—healthy and properly cared for.
The equine lease agreement is signed between a lessor and a lessee. It should contain numerous statements that will protect all of the parties and the horse.
What Are the Key Points of Every Horse Lease Agreement?
If you are the one leasing a horse, you'll want to make sure you don't lose it. The lessee might sell it or keep it for themselves if you don't state the necessary conditions in the contract. You can only rely on written agreements for protecting your property. 
Take a look at the table below to see the important details every equine lease agreement ought to contain:
Required Info
Details

Lessor and Lessee Personal Info

Name

Address

Phone

City

Email

Horse Description

Name

Age

Gender

Color

Height

Breed

Registration or tattoo

Registration association

Distinguishing markings

Lease Terms

Lease start and end date

A number of days to give notice if anyone wishes to terminate the agreement

Form of payment

Amount of monthly or daily charges

Lessee Entitlements

Number of rides per week

The equipment to be used on the horse

Other horse care (stall cleaning, feeding, veterinary care, etc.)

Lease Purpose

Lessons

Practice

Shows

Jumping

Trail riding

Protective Gear and Riding Apparel

An SEI approved riding helmet

Appropriate footwear (tall boots, paddock boots, or regular shoes with a low heel)

Relevant Statements

Riding privilege

—Establishing who has the riding privilege (only the lessee or their friends and family as well)

The sole owner of the horse

—Confirming that the lessor remains the sole owner of the horse and that the lessee may not sell it

The right to inspect

—Allowing the lessor to show up whenever they want to see how the lessee is taking care of the horse 
You should also make sure that both parties sign the document to make it official.
Horse Lease Agreement and the Hold Harmless Clause
Another important part of every equine lease agreement is the hold harmless clause. This clause is a necessity for all dangerous activities. Horseback riding falls into this category, which is why you ought to include the clause in your contract. Hold harmless clause states that the lessee needs to agree to hold the lessor harmless from all actions, personal injuries, and damage to property caused by the horse.
Types of Horse Lease Agreements
When making an equine lease agreement, you may choose between two types of contracts:
Full lease

—The owner won't use the horse while it is leased. The lessee doesn't have many restrictions

Partial lease

—The lessee may have the horse only for a while. There are specific time frames when they have the right to ride the horse. It is also known as the half-lease agreement
Use DoNotPay To Generate Different Legal Documents
If you wish to get a legal document without spending a fortune on lawyers, you can use DoNotPay. It is important to handle this process properly to cover everything and protect your interests. Your virtual assistant will make sure of it. You only need to complete a few simple steps:
Open DoNotPay in any

web browser

Type in the name of the document you want us to generate

Answer some questions regarding your personal info
DoNotPay will provide you with a contract that includes all the info needed, but you still need to get both parties to sign it and make it legally binding.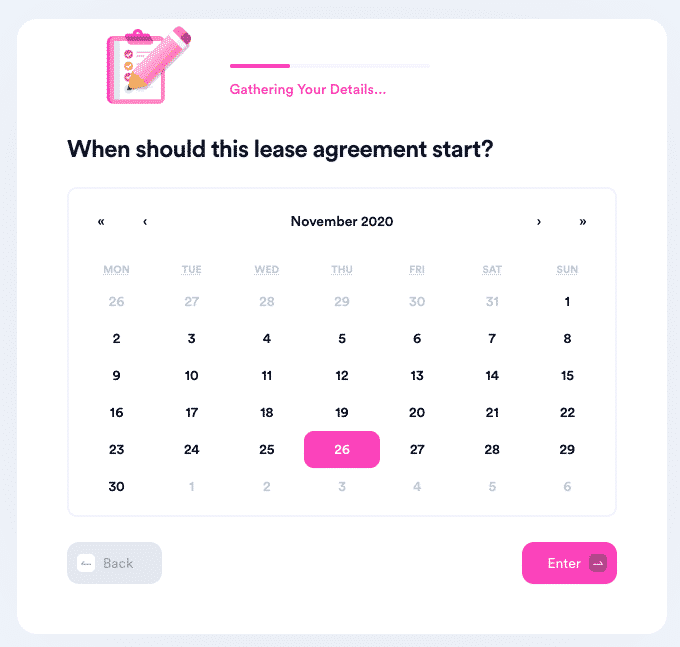 If you wish to find out everything about contract templates and various other documents, you should check out our guides. See the list below:
Check Out DoNotPay's Extensive Offer of Legal Documents You Can Create
If you wish to create a legal document easily and without spending a lot of money, you should use DoNotPay. There are numerous contracts we can make for you. Take a look at the offer in the list below:
General Business Contract

Intent To Purchase Real Estate

Quitclaim Deed

Estoppel Certificate

Promissory Note

General Affidavit
Keep Your Money in Your Pocket and Save Time
With our assistance, you can also appeal parking tickets in any city, get help with bills, make an appointment with the DMV, protect your copyright, and avoid phone number verification!
If you feel like you were wronged either by a faulty product or a delayed or canceled flight, DoNotPay will also help you request a refund from any company or airline hassle-free.
Being on a tight budget isn't easy—knowing that, we've developed features that will get you free trials, unclaimed money, extended warranties, college application fee waivers, and so much more!
Fend Off Scammers With DoNotPay's Help
Are you sick of having a cluttered inbox or getting robocalls? So are the majority of Americans. If you want to get rid of email spam, text message spam, or annoying robocalls, DoNotPay can help you put a stop to them once and for all.
Do you feel like serving justice to companies that wronged you or stalkers and harassers that won't give you a break? Use our AI-driven app to fight for your right!