Can You Be Granted a
Honolulu Property Tax Exemption
?
If you own a home in Hawaii, you might be interested in possible ways of lowering your property taxes. One option to do so is to check whether you qualify for property tax exemptions. DoNotPay can help you find out if you have the qualifications to be granted a Honolulu property tax exemption in no time.
What Is Property Tax and How Does It Work?
Property tax is an annual cost homeowners need to pay to the state. Depending on the value of your property and the surrounding land you have in Honolulu, you'll need to pay a certain amount in taxes.
A property tax assessor makes a property tax assessment based on several factors like the size of your property, neighborhood, and location.
Where does that money go? These funds are going to certain fields in the local community, such as:
Law enforcement

Libraries

Hospitals

Road constructions

Fire protection

Education
How Does
Honolulu Real Property Tax Assessment
Work?
You can use a formula to calculate your property tax in Hawaii—you multiply the Net Taxable Value with the Tax Rate and divide the total by $1,000. You can find the tax rates on the County of Hawaii Real Property Tax Office website. The Net Taxable Value will be mailed to you at the appropriate time.
Ways To Reduce Your Property Taxes in Honolulu
If you feel like you are giving too much money on property taxes each year, you are not alone. People are always looking for help to pay their property taxes. Here's some useful advice to lower property tax costs:
Being present while the property assessor is performing the property evaluation

Not renovating your home right before the assessment

Looking for any inaccuracies on your tax bill

Searching for property tax exemptions

Filing a property tax appeal
You should try all these options and see if they work. In case you are looking for an easy way of handling the last two, use DoNotPay.
What Are the
City and County of Honolulu Property Tax Exemptions?
Property exemptions in Honolulu can be divided into two large categories. If you want to see whether you qualify for any, check out the table below:
Type of Property Exemption
Who Qualifies and for What Amount
Qualifications

Homeowner Exemptions

Homeowners:

Under the age of 60 ($40,000)

Age 60–69 ($80,000)

Age 70 or older ($100,000)

Own and occupy the house as your principal home for more than 200 calendar days in a year

Disability Exemptions

People with Hansen's disease ($50,000)

Blind individuals ($50,000)

Deaf people ($50,000)

Totally disabled persons ($50,000)

Totally disabled

veterans

(completely exempt)

Must be hospitalized or under temporary release because of Hansen's disease

Have eyesight that does not exceed 20/200

Have a loss in the speech frequencies of 92 decibels in the better ear

Be completely mentally or physically disabled (from a stroke, for example)

Be a veteran who got injured while on duty
Hawaii Property Tax Exemption
—Find Out if You Are Eligible With DoNotPay!
Many people don't know how to lower their property tax expenses. Sometimes they decide not to act on the issue because the procedure seems too complicated. Not with DoNotPay! You can use our app to learn whether you qualify for a property tax assessment in Honolulu in a few clicks. You only need to follow these simple instructions:
Access DoNotPay from a

web browser

Locate the

Property Tax

feature

Provide some info about yourself

Tell us more about the property you own
DoNotPay will generate your guide to property tax reductions the moment you complete the simple questionnaire. We'll also make sure you know how to collect the forms and submit your applications. DoNotPay can also tell you everything about the states with low property taxes and tax exemptions for senior citizens.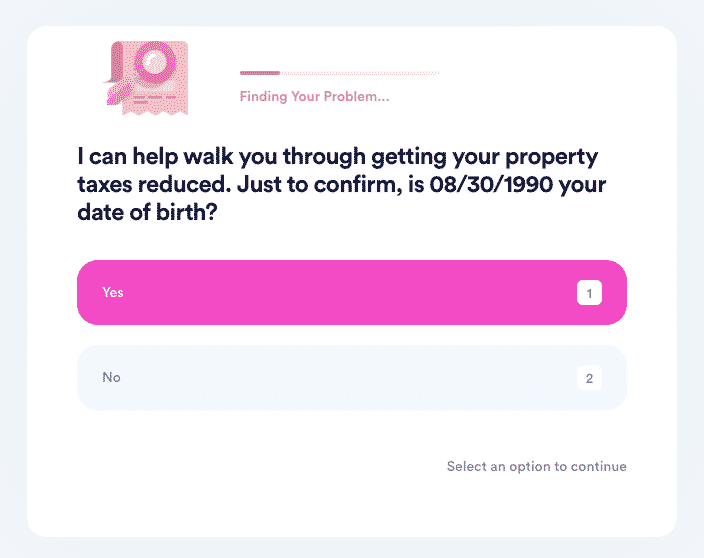 Can You File a Property Tax Appeal in Honolulu?
You have the right to file a property tax appeal to the Board of Review of the City and County of Honolulu or the Tax Appeal Court of the State of Hawaii. You won't be able to file an appeal only because you are unsatisfied with the amount of your property tax bill or due to an increase in your property tax bill. Here are four appropriate reasons for filing an appeal in Honolulu:
Assessment of the property is more than 10% of the market value of the property

Inequality or lack of uniformity due to mistakes in the application

Exemption denial even though you clearly qualify for it

Illegality based on any ground under the Constitution or U.S. laws
If you want to file a property tax appeal without any issues, use DoNotPay. We'll tell you how to reduce your property assessment value and explain the best way to negotiate with your property assessor.
Don't Let Companies Take Your Hard-Earned Money!
People love to subscribe to all sorts of services—especially if there are free trials involved. The problem is that most of them forget that they signed up for anything in the first place. Companies are aware of this, which is why they auto-renew memberships as soon as the free trials expire.
Don't let them get away with it—use DoNotPay to sign up for free trials and cancel subscriptions right before they renew. If you want to save even more money, use our platform to learn how to handle high bills, parking tickets, college application fees, canceled or delayed flights, or faulty services you should get refunded for.
Use DoNotPay To Stop Illegal Activities and Earn off Scammers!
Our AI-powered platform can assist you in dealing with all sorts of scammers. If you got any of the following, the world's first robot lawyer will help you seek justice:
Do you want to protect yourself and your loved ones from stalking and harassment as well? Use DoNotPay to learn how! If the situation with a stalker escalates, our app is going to help you take them to small claims court by preparing all the paperwork and your court statement.
Don't stop there—check out how you can bypass phone number verification, claim any type of warranty, or pass any government test with flying colors!