Use DoNotPay To Helm Your Honduras Tourist Visa Application to Success
Honduras is graced with spectacular beaches and plentiful eco-tourism hotspots. The country offers you a great setting to rest and rejuvenate because it is never overcrowded with tourists!
Your excitement for a warm and cozy holiday can fizzle out the second you start looking into the Honduras tourist visa policy. From elaborate paperwork requirements to offbeat vaccination rules—there's nothing comforting about the procedural legwork involved here.
Don't let complex visa policies ruin your travel plans. DoNotPay's Tourist Visa Guide feature gives you real-time support throughout the application process and minimizes the risk of delays and rejections. To turn your Honduras vacation dreams into a reality, sign up!
Honduras Tourist Visa—Requirements for U.S. Citizens
Currently, U.S. citizens don't need a tourist visa to travel to Honduras if they:
Own a valid U.S. passport that doesn't expire within the next six months
Are traveling strictly for recreational purposes
Have a return or onward travel ticket to prove that they will leave Honduras within 90 days
At present, the Honduras border officers may ask you for vaccination certificates for the following diseases before allowing you to enter the country:
Yellow fever
Measles
Rubella
Rabies
Typhoid
Hepatitis A and B
COVID-19
You must also make a declaration to the officers if you are carrying more than $10,000 in cash or an equivalent amount in any other currency.
If you are crossing the Honduras border in a personal vehicle, you must show your driver's license and vehicle registration documents to get a driving permit for 30 days—that can later be extended up to six months.
Honduras Visa-Free Access—Can I Ask for an Extension?
If you think 90 days is not enough for your trip, you can reach out to the immigration department in Honduras to ask for an extension. Once you convince the authorities on why you need it, they may grant you another 30 days for a visa-free stay.
In case you are denied an extension—or you want to stay in Honduras for more than 120 days—you have no option but to apply for a special temporary residency visa.
How To Apply for a Long-Stay Tourist Visa for Honduras
To apply for a long-stay tourist visa—i.e., a special temporary residency visa (STRV)—you need to reach out to your nearest Honduran embassy or consulate. The officers will give you an application form that you need to fill out and submit with the following documents:
A copy of the front page of your U.S. passport
An invitation or sponsorship letter from your host in Honduras
Proof of financial solvency
A copy of the return or onward ticket or travel itinerary
Travel and medical insurance
A notarized consent letter if you are traveling with a person under 21 years of age
Receipt for the fully paid visa fee ($30–$60)
The officers may ask you for additional documentation during the verification and interview processes. You will be issued an STRV once your application is approved by the authorities, but the processing may take two to three months.
Your STRV can be valid for up to five years and may enable you a single or multiple entries, depending on your travel intent.
Not Sure About an STRV? Travel to Honduras on a CA-4 Visa!
Honduras signed the Central America-4 (CA-4) Border Control Agreement in 2006, along with Nicaragua, Guatemala, and El Salvador. This agreement enables reciprocal travel between the signee countries, just like what the Schengen Agreement does for certain European countries.
The table below will help you understand various aspects of the CA-4 Agreement applicable to a U.S. tourist visiting Honduras:
Aspect
Details
Entry perks

You can enter Honduras freely if you have a valid tourist visa for any of the other three member countries
Your total period of stay in all four countries should not exceed 90 days

Extension provision

You can extend your CA-4 visa stay in Honduras for another 90 days after paying the extension fee to the border authorities

Restricted number of entries

You are allowed to enter Honduras on a valid CA-4 visa multiple times—as long as you don't exhaust the total number of entries permitted by the visa

Consequences of a CA-4 region ban

You will be denied entry in Honduras if you are banned from entering any of the CA-4 nations for any reason
The ban will uphold even if you have a visa to enter Honduras
DoNotPay Can Be Your Savior When Complex Visa Policies Drag You Down
From figuring out how to get a Honduran visa to checking the CA-4 Agreement rules, planning your trip to the country can get downright exhausting. Your days of worrying over tourist visas will be over once you use DoNotPay to simplify the chore!
Our Tourist Visa Guide product can assist you through the visa application process for any country!

If you need to apply for a tourist visa, DoNotPay will:
Give you the comprehensive list of documents required for your visa application
Generate a handbook that will aid you throughout the application process
Let you download a PDF version of the application form (if you have to apply through an embassy)
Contact any embassy to get mailing instructions—this is especially helpful during pandemic travel restrictions
Lead you to the official government portal if the country has an online application website

DoNotPay's assorted visa support is a couple of taps away:
Log in to DoNotPay and hit the Tourist Visa Guide tab
Confirm that you possess a valid U.S. passport
Type your destination country and start interacting with our chatbot
It will only take you a couple of minutes to submit your application using our functional tools!
You can also renew your passport before the trip and create passport photos from the comfort of your home with our app!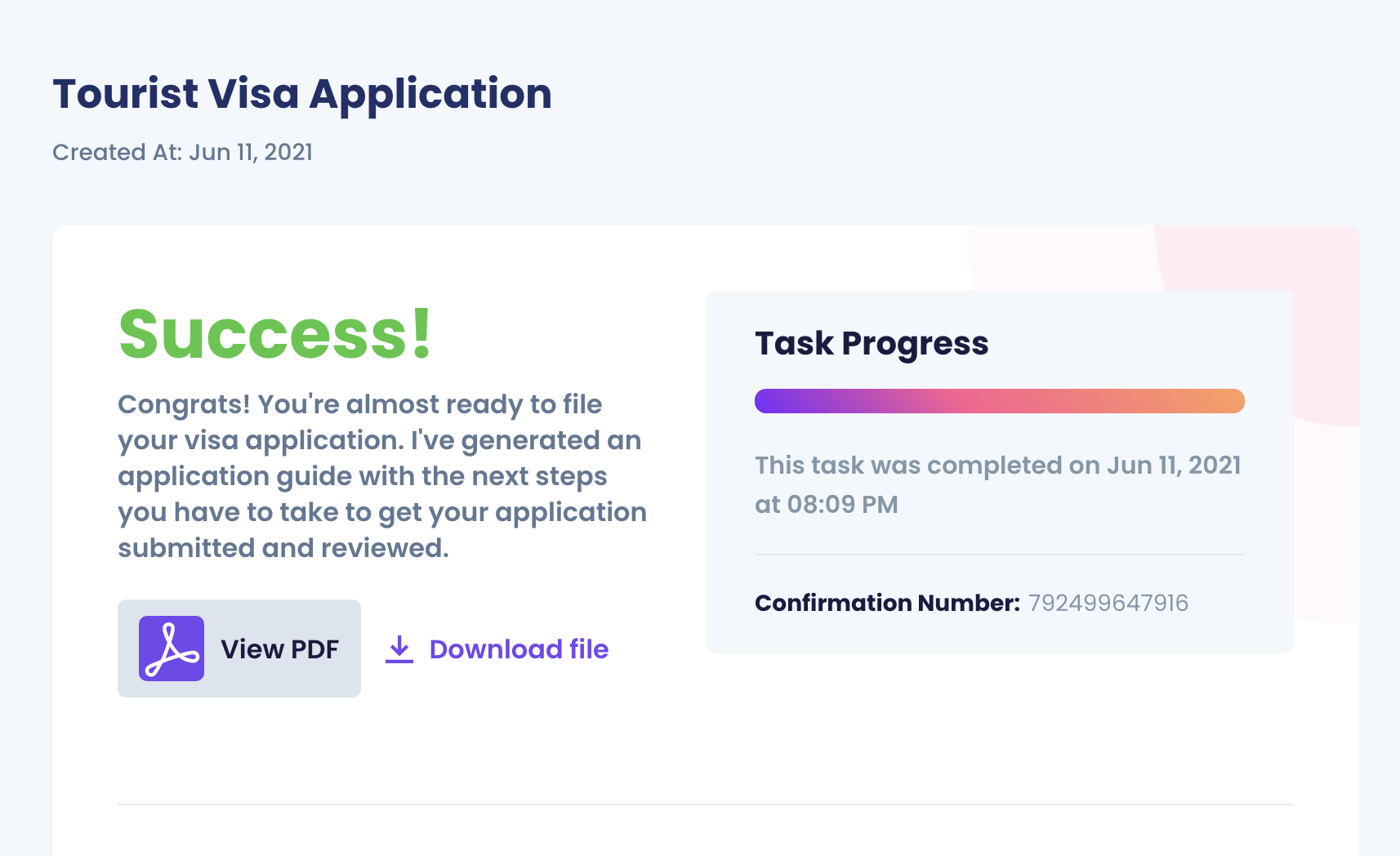 We take the stress factor out of the whole process so that you can focus on relishing your next trip!
Unwind in North and Central America While DoNotPay Handles the Tourist Visa Trouble
You deserve a break from your monotonous daily routine—and North and South America offers you the best destinations for a laid-back vacation!
Make sure to use our tourist visa guides for other countries before planning your trip—you can check some out in this table:
Have Your Documents Created and Notarized in Less Than Five Minutes!
Why spend hundreds or even thousands of dollars on lawyers when the ideal solution is only a few clicks away?
DoNotPay saves the day by enabling you to generate numerous legal documents. Creating proper child travel consent forms, divorce settlement agreements, and powers of attorney has never been easier!
Our perks don't stop here—you can also have your documents notarized electronically from any location. Once you obtain a notary stamp and signature, your paperwork can be faxed online without outdated machines.
Explore Everything DoNotPay Has To Offer
Day-to-day tasks you must deal with don't have to be a burden or rocket science. Signing up for DoNotPay is your ticket to performing them the easy way! We offer a wide selection of products that don't cost an arm and a leg but do excellent work when it comes to solving your administrative issues!
Our services will help you: