The Homestead Property Tax in a Nutshell

Property tax rates vary across the U.S. Depending on the property and location, property taxes will set you back between $560 and $7,800 annually. Even the lowest average amount can be a huge hit to your wallet.
Learning about the homestead property tax and other exemptions will help you figure out how to lower your property taxes significantly.
How Are Property Taxes Calculated?
A property assessor determines the value of your property. Once the property tax assessment is complete, the next step is to multiply the assessed value by the mill rate. One mill is equal to $1 in property tax per $1,000 of the property's value.
Property tax rates vary depending on your location. Here are some of the highest and lowest property tax rates in the U.S.:
| | | | |
| --- | --- | --- | --- |
| States With Low Property Taxes | Tax Rate | States With High Property Taxes | Tax Rate |
| Hawaii | 0.26% | Texas | 1.81% |
| Delaware | 0.43% | Nebraska | 1.76% |
| Alabama | 0.33% | New Jersey | 1.89% |
| Louisiana | 0.18% | New Hampshire | 1.86% |
| District of Columbia | 0.46% | Illinois | 1.73% |
| West Virginia | 0.49% | Wisconsin | 1.76% |
What Does Homestead Mean for Property Taxes?
Homestead refers to an owned primary residence as opposed to a rental property. If you own a home and live in it, you may be able to get a homestead property tax exemption.
How Does the Homestead Property Tax Exemption Work?
Homestead tax exemptions exclude part of your home's value from being taxed. This exemption may be a percentage, as is the case in Pennsylvania. 
For example, if the set percentage is 50% and your home's assessed value is $150,000, the homestead exclusion will be $75,000. Depending on your state of residence, the exclusion can also be a fixed amount.
Some states impose a limit on the amount of money the exemption can cover. Sometimes, the limit may change, which could increase the homestead property tax exemption.
Which States Have the Homestead Exemption?
Almost all U.S. states offer a homestead tax exemption. To verify whether the state you live in offers a homestead property tax exemption, check your state's official IRS website. The eligibility factors may also change over time. This means that even if you don't qualify for the exemption at the moment, you might in the future.
Am I Eligible for a Homestead Exemption?
In some states, all homeowners living in their primary residence qualify for a homestead exemption. In others, only certain groups, such as senior citizens, people with disabilities, and low-income homeowners, are eligible for it.
You can check with the local authorities whether you're eligible for a homestead tax exemption, but contacting different officials and digging through numerous websites to find the info you need is too much hassle. Skip the drama and use DoNotPay to get all the nitty-gritty details of reducing your taxes!
Other Exemptions to Property Tax Besides Homestead
You can explore other property tax exemptions you may not be aware of, such as the ones for the agricultural property owners and the School Tax Relief (STAR) homeowners. This way, you will boost your chances of saving money on taxes.
Check out our articles about different exemptions in U.S. cities, counties, and states:
| | |
| --- | --- |
| Property Tax Exemptions in Different Cities and Counties | Property Tax Exemptions in Different U.S. States |
| | |
What Is Another Way To Save Money Besides the Homestead Property Tax?
If you need help paying your property taxes, you may start wondering how to save a penny or two before you cover your tax bill.
You can take a few steps to make sure you're not paying your property taxes more than you have to:
Don't do any renovations right before your property assessment so as not to increase the market value of your home

Be present during the assessment to ensure a fair estimate

Check your tax bill for mistakes

File a

property tax appeal

as a last resort
DoNotPay's Ultimate Guide on Property Tax Homestead Exemption
We saved the best for last! DoNotPay's Property Tax guide will save the day by uncovering ways to pay less on your property taxes.
Our AI-powered app will ask you several questions. In a matter of minutes, you'll obtain our guide containing everything you need to know about your property tax, such as:
Property tax exemptions

All property tax exemptions you are eligible for

Guidelines for gathering evidence and necessary forms

Instructions on how to submit your applications for the property tax exemptions

Property assessment appeals

Tips for negotiating with your tax assessor

Steps for appealing property assessments

Instructions for gathering proof to reduce the assessed value of your home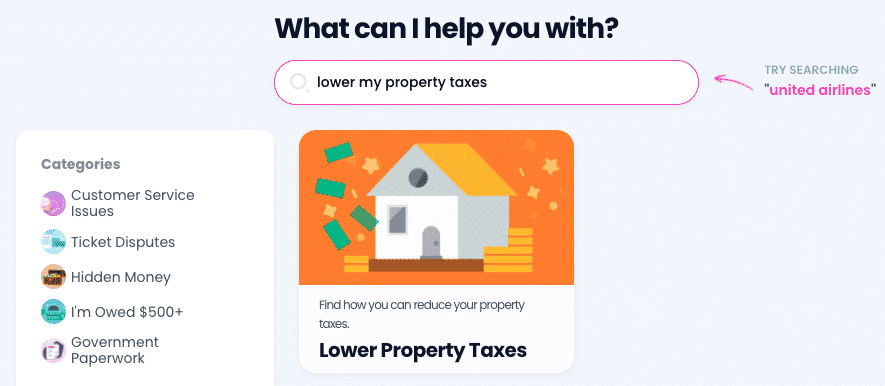 How Do I Get DoNotPay's Property Tax Guide?
To get your hands on our Property Tax guide and reap the benefits, follow these instructions:
Visit DoNotPay in a

web browser

Navigate to the

Property Tax

feature

Provide us with the necessary info (e.g., your age, location, and income)

Submit a few details regarding your property
Once our app collects all the relevant info, we will automatically generate a guide unique to your situation. You'll be able to rely on DoNotPay's tips and instructions to fast-track your journey to lower property taxes.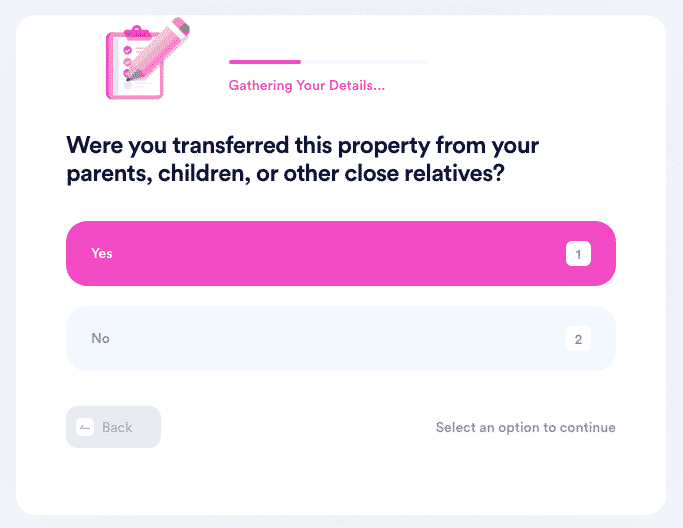 Use Our Robot Lawyer To Eliminate Pesky Tasks
Administrative tasks are often time-consuming, which is why many people give up on them before even trying to tackle them. Requesting refunds, canceling services, signing up for clinical trials, reporting stalkers and robocalls, and trying to find unclaimed money are all processes that would usually take a long time to resolve.
With the help of DoNotPay, though, all of these admin hurdles become a piece of cake. In just a few minutes, our app can assist you in appealing parking tickets, getting in touch with your imprisoned loved one, getting an extended warranty, reporting copyright infringement, and so much more!
Don't Break the Bank—Sign Up for DoNotPay!
Our app can save you lots of money by helping you get a refund from any airline, sign up for a free trial without your credit card info, earn off persistent and illegal spam emails, and get an application fee waiver for a college you apply to.
With DoNotPay, you can even schedule a DMV appointment or jump the phone queue when getting in touch with a customer service representative without breaking a sweat!