How To Start Homeschooling in PA—DoNotPay Answers Your Questions
The Pennsylvania school system may be good, but homeschooling offers you an opportunity to personalize your child's education and make it even better.
Homeschooling is a major step, but once you have started, Pennsylvania makes homeschooling easy for parents wanting to move out of traditional schooling.
DoNotPay has all the info you need to start homeschooling in PA—the process may be easier than you think!
What Are the Basics of PA Homeschool Law?
Every child between the ages of eight and 16 has to attend school in Pennsylvania, but opting out of traditional schooling requires you to jump through a few hoops.
To be eligible to be a homeschool teacher, you need to have:
No criminal convictions in the last five years
Once you are homeschooling your child, you have to comply with the following ongoing assessment procedures:
Home education evaluation
Standardized testing
Fulfillment of graduation criteria
Immunization
Home Education Evaluation
Your child must be interviewed every year by a state-approved homeschool evaluator.
This is designed to make sure each homeschool student is progressing in line with their age and school grade.
Standardized Testing
The state requires every homeschooled child to take standardized tests in grades three, five, and eight.
Fulfillment of Graduation Criteria
In contrast to many other states, your child can achieve a state-recognized high school diploma in homeschool.
If you have fulfilled all the ongoing requirements up to your child's final school year, getting a diploma involves:
Submitting a portfolio or affidavit for 12th grade
Being interviewed by a certified evaluator
Getting the standard state diploma certificate countersigned by the evaluator
Immunization
You have to prove that your child has received all the state's required vaccines and that the immunization records are up-to-date.
Is There a Required Curriculum in Pennsylvania?
PA homeschool laws require you to teach the following subjects:
School Level
Required Subjects
Elementary

English, including reading, writing, and spelling
Math
Science
Geography
U.S. history
Civics
Safety education
Health and physical education
Music and art

Secondary

English, including language, literature, speaking, and essay-writing
Math, including algebra and geometry
Science
Geography
Social studies, including civics, U.S. and PA history, and world history
Music and art
Physical education, health, and safety

Electives can include:

Economics
Biology
Chemistry
Foreign languages
Trigonometry
To qualify for a high school diploma, your child must complete the following in grades nine through 12:
Four years of English tuition
Three years of math, science, and social studies
Two years of arts and humanities
PA legislation states that your homeschooling hours must total a minimum of 180 days or 900 hours per year, with the requirement increasing to 990 hours in secondary school.
Where Can You Get Curriculums or Teaching Material in Pennsylvania?
Once you have got through the barriers to entry, Pennsylvania is highly supportive of your homeschooling activities.
Most school districts offer you free access to:
Public school curriculums
Textbooks and teaching materials
Extracurricular activities and field trips run by your local school
This means that your child can follow the same subjects at the same time as public school peers, as well as participate in sports, bands, drama groups, and other clubs.
Use of your school districts materials isn't mandatory, though, so you are free to:
The pros and cons of each of these approaches are:
Curriculum Type
Pros and Cons
Created curriculum
Developing your own teaching program means you can choose a mix of teaching methods to better stimulate your child.

You are not limited to one teaching style but can incorporate methods such as:

You can also share the teaching with other homeschool parents by starting or joining a homeschool co-op

Off-the-shelf program
Ready-made curriculums are convenient and comprehensive, providing you with everything you need to homeschool—your most important job is to prepare and concentrate on teaching effectively.

Most pre-packaged programs stick to one teaching approach, though, so you should choose carefully according to:

The child's preferred way of learning
Your budget
Your teaching experience with unfamiliar methodologies
How Do You Get Started With Homeschooling in PA?
Getting your homeschool started in Pennsylvania consists of the following steps:
Preparing an affidavit
Having it notarized
Sending it to your school district
Preparing an Affidavit
You need to prepare an affidavit stating your intention to homeschool your child. The document has to include:
Your child's name, address, and school grade
Name of the proposed teacher and confirmation of their eligibility
Affirmation that you will be teaching in English
Confirmation of your child's immunizations and health checks
Promise to teach all the required subjects for the correct number of hours
Summary of the teaching objectives for each subject
You can begin homeschooling at any time, but your affidavit—or letter of intent—must be received by the school district before you take your child out of school.
This might sound complicated, but DoNotPay has you covered—we can and forward it on your behalf!
DoNotPay Makes Setting Up Your PA Homeschool Easy!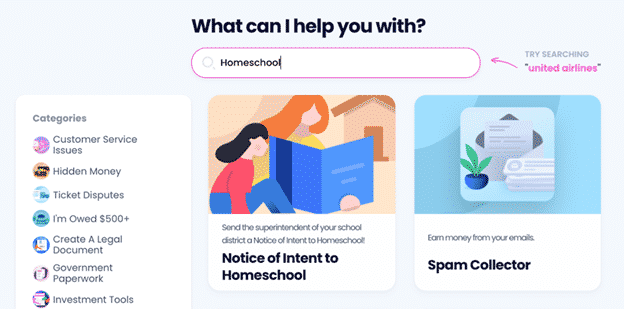 Our Notice of Intent to Homeschool product takes the major administrative hurdle off your hands by generating your PA affidavit for you—your letter will be ready to send in a few clicks!
Here's what you need to do:
Click on our Notice of Intent to Homeschool feature
Work through the short questionnaire to give us the details about your homeschool plan
Your letter will be ready in an instant. You can choose to print it out or let us help you get it notarized online and sent automatically!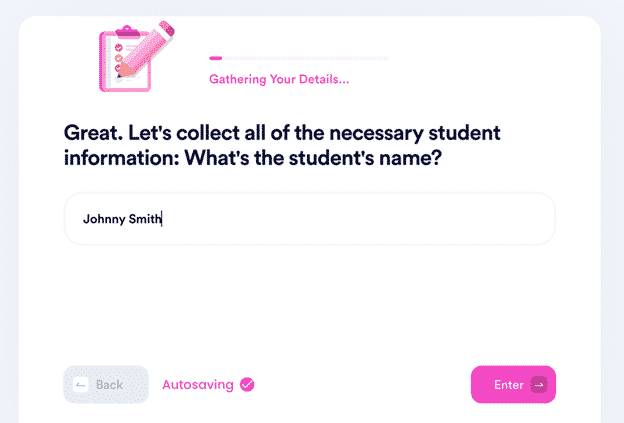 Don't Let Admin or Legal Issues Wear You Down—Hand Them Over to DoNotPay
Do you believe you may have some missing assets? Use DoNotPay's nifty product before the government claims them! Have you ever wanted to enter sweepstakes without purchasing anything? Our app will sign you up for them quickly! Trying to figure out how to reduce your property taxes or utility bills? DoNotPay can show you the way. Want to avoid getting charged for free trials that never fail to auto-renew into paid subscriptions? We'll help you cancel them before they expire.
Anything else you may need? Check out how our app can:
Check Out Our Other Robust Products
It doesn't stop there—DoNotPay can help you send a defamation demand letter, create passport photos, get gift card cash back, get any document notarized, request access to public records, claim insurance and warranty, request a college application fee waiver, appeal parking tickets, and much more.
Sign up now to get access to any of our products for one low monthly fee!