All You Have To Know About Homeschooling in America
Recently, homeschooling in America has skyrocketed due to the COVID-19 global pandemic. Many parents in the United States are rapidly learning how to homeschool their children because they believe that it is the best possible solution for their family.
In this article, we explain specific homeschooling details and the way DoNotPay can help you transition to this type of education.
How Many Students Are Homeschooled in the United States?
Before the COVID-19 pandemic, 2% of Americans were homeschooled. This percentage grew rapidly up to 8%, and it continues to surge.
The Reasons for Homeschooling in America
The reasons why so many parents in the U.S. are taking the role of a homeschool teacher are numerous. Here are some of them:
Homeschooling Laws in the U.S.
When you are preparing to homeschool your child, you should understand what requirements you have to meet to start homeschooling legally.
These are the aspects of homeschooling that are usually regulated by law:
Homeschooling is legal in all 50 states, yet each of them has specific requirements that you, as a homeschool parent, have to meet.
Alaska, Idaho, Indiana, Michigan, Missouri, Oklahoma, Texas, and New Jersey are considered the easiest states for homeschooling. To help you find the homeschooling info about your state faster, we've created these practical guides:
Homeschooling in the United States—Is Homeschooling Better Than a Standard School?
Homeschooling vs. public school is one of the subjects that starts many debates. While a major argument against homeschooling is the lack of social skills in homeschooled students, many benefits come with education at home.
The two most common arguments in favor of homeschooling are:
Greater academic success due to an individualized education of homeschooled students—For instance, they have better results on SAT
For some parents, these two arguments are not enough to decide whether homeschooling is good or bad. To make the decision, they will have to take homeschooling requirements into consideration. The choice to homeschool will also depend on whether they are working parents, single parents, need assistance teaching certain subjects, etc.
How To Get Started With Homeschooling
To make the transition from public or private school to home school, you have to understand every step of the way.
If you are one of the parents ready to begin homeschooling, here is a list of actions you will have to take to switch to homeschooling with success:
Once you get all of the nitty-gritty details about homeschooling, you will be able to say whether it is better than a standard school and whether you should homeschool your child or not.
If you decide to get started in homeschooling, DoNotPay will be there to support you. We'll create a letter of intent to homeschool that will notify the school about your decision to begin educating your child at home.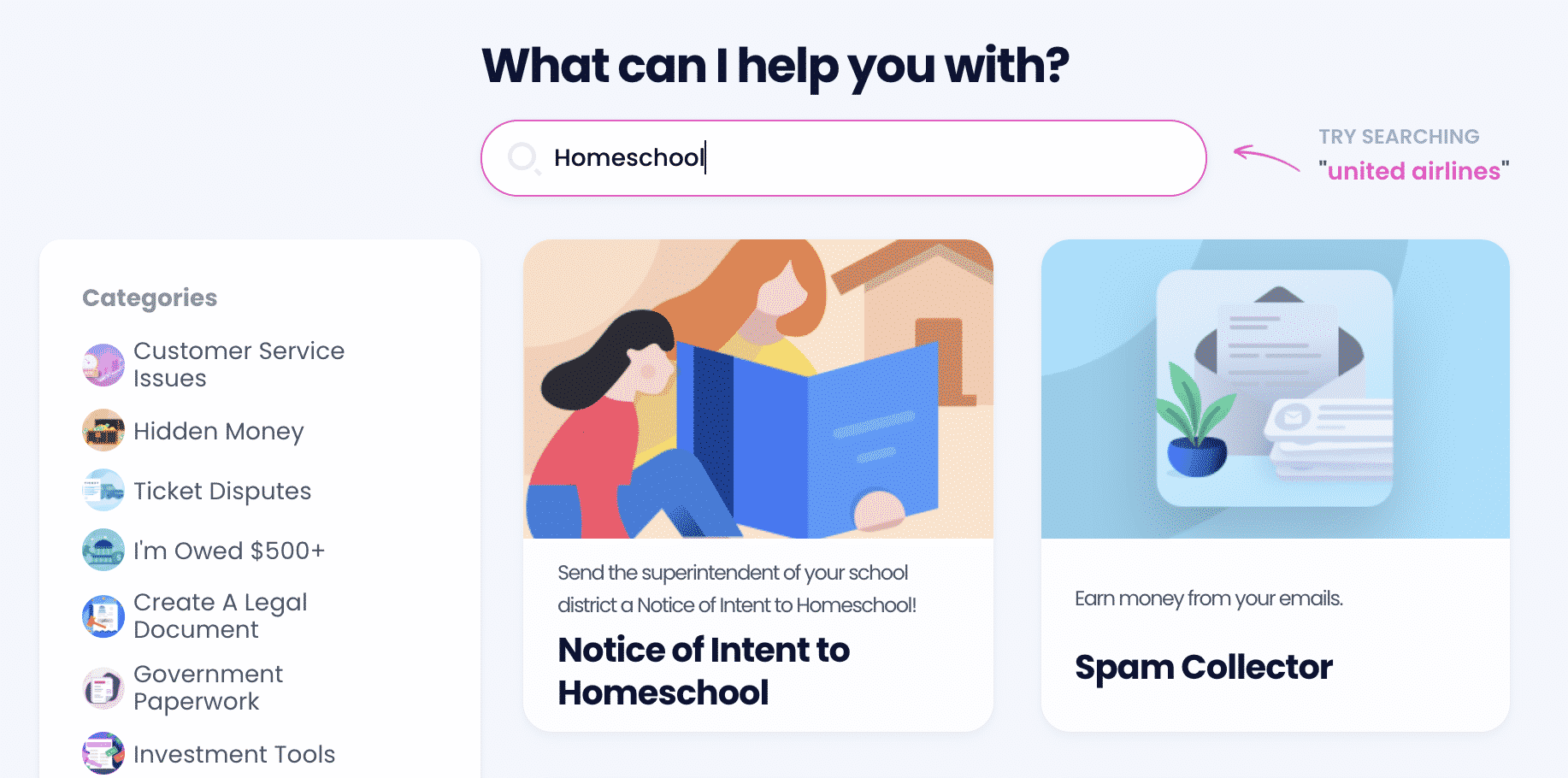 DoNotPay Generates a Letter of Intent To Homeschool in a Matter of Minutes
To make sure your transition from a public school to homeschooling goes smoothly, you should turn to DoNotPay. We will write a letter of intent to homeschool on your behalf within minutes! Whether you decide to start the process at the beginning or middle of a school year, we can help you out.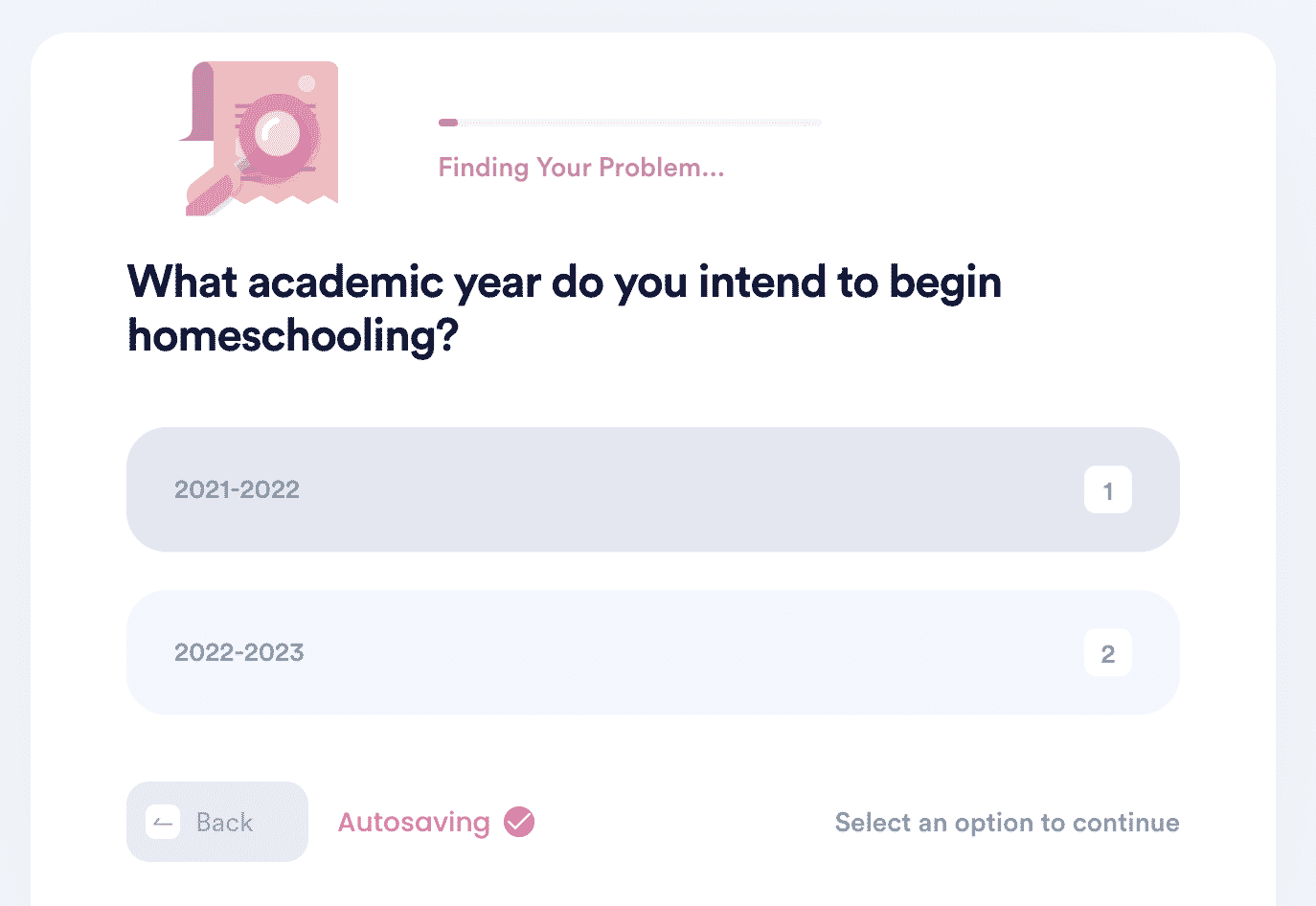 Here is what you need to do:
Find the Notice of Intent to Homeschool feature
Tell us your school district
Answer several questions about yourself and your child
DoNotPay can send the letter to the school on your behalf or let you download the PDF version and send it yourself.
If the homeschooling law in your state requires you to have the letter notarized, we can help you find an online notary.
Should you need additional assistance regarding homeschooling issues, take a look at the following articles:
Explore DoNotPay's Product Range
Are you looking for additional assistance from our app? We're happy to inform you that DoNotPay provides you with a number of useful tools that you can use to complete mundane tasks in the blink of an eye! Sign up for our app and let us help you get:
DoNotPay Resolves Your Financial Issues in a Few Taps
You don't have to struggle to figure out how to resolve financial problems yourself when you have our app at your disposal. In only a few clicks, you'll be able to discover any unclaimed money under your name, submit insurance and warranty claims, or request compensation for delayed flights.
But that is not all! Lowering your utility bills, appealing parking tickets, or canceling memberships and subscriptions is also something you can do in no time and with minimum effort if you use DoNotPay! Work smarter, not harder!