Best Tips for Homeschooling High School Students
If attending high school is hard and stressful for your child, your safest bet is to take them out and start homeschooling them. Embarking on such an adventure can be challenging, as the entire organization of your child's learning routine will depend on you. DoNotPay shows you the easiest way to start homeschooling high school students and keep up with all the responsibilities and related administration.
Most Prominent Types of High School Homeschooling
Parents who decide to homeschool their children have a bunch of available programs at their disposal. The most common methods of homeschooling for high school students are:
Traditional homeschooling at student's home with a customized curriculum
Online homeschooling programs
Interest-led learning, also known as "unschooling"
Mix-and-match homeschooling approach
Traditional Homeschooling
The standard homeschooling method allows parents to coordinate classes, design the curriculum, and choose appropriate learning materials themselves. If they have a high school diploma, they can even teach their children. In case they don't, they can find a certified teacher or someone else with experience to do it. If necessary, homeschooled students and their parents/teachers can seek help and support in various co-ops and associations.
Online High School Homeschool
Online homeschooling enables students to get the required education without physically attending high school. Such programs are usually offered by public or private schools and include virtual courses and materials. Unlike many standard homeschooling options, this option isn't free since parents usually must purchase the necessary curriculum and pay tuition fees if applicable.
Unschooling or Interest-Led Learning
Unlearning is an approach where students refuse to study according to predetermined curricula for mass education and follow their interests instead. They are allowed to turn to their preferred subjects according to their inclinations and wishes, following their natural curiosities. The approach is relatively new and still in development.
Mix-And-Match Homeschooling System
If you are attracted to multiple homeschooling options or can't decide, the good news is that you can combine methods. Many parents find mix-and-match to be the most beneficial for students as it offers variety and continual engagement.
How Does Homeschooling Work in High School?
The transition from a regular high school to homeschooling can be difficult for both parents and students. It involves several important phases listed below:
Decide which homeschooling style you want to use—Consider the needs of your child to determine what method fits them best. Take into account the learning preferences of your child and discover what motivates them
Research the available options in your district—Each U.S. state has different high school homeschooling laws. The requirements include specific subjects, curricula, homeschool hours, and paperwork. Before the transition, you must check whether you meet the basic requirements. You can also seek assistance and support from local organizations, co-ops, or other homeschooling parents
Make a homeschooling plan—In this phase, you should:

Find out whether you keep records and plan how to do it effectively
Chart out your goals

Notify the school authorities about your decision to homeschool—If state laws require you to inform the local school officials about the transition, you must create and send a letter of intent to homeschool. To get it in less than five minutes without endless research,
Pros and Cons of Homeschooling Programs for High School
Although homeschooling high school students has various advantages, it is not an easy endeavor. Check out the following table for more details:
Benefits
Disadvantages

Children have the opportunity to specialize in the desired fields by pursuing the subjects they like
The schedule is more flexible and gives students more space for personal activities during the day
The approach is efficient due to the freedom students get
You can spend more time with your kids and have better control over their studying routine
Children are less exposed to bullying, drugs, and other common problems in schools
It will be easier for you to maintain your influence as a parent

You have more responsibilities since you have two roles—a teacher/organizer and a parent
If your child wants to go back to the regular public school, the school authorities will determine which grade should they be in
Students can't socialize as much as they would in public schools
If you purchase the curriculum instead of making it yourself, there may be extra fees
You cannot always follow the structure and pace of the public school education
Get Your Notice of Intent To Homeschool With DoNotPay in No Time
DoNotPay helps you draft a letter of intent to homeschool in a few clicks! Answer a few questions from our chatbot, and we will generate this document for you in an instant. We can also send it in your stead and help you get it notarized if the laws in your state mandate it!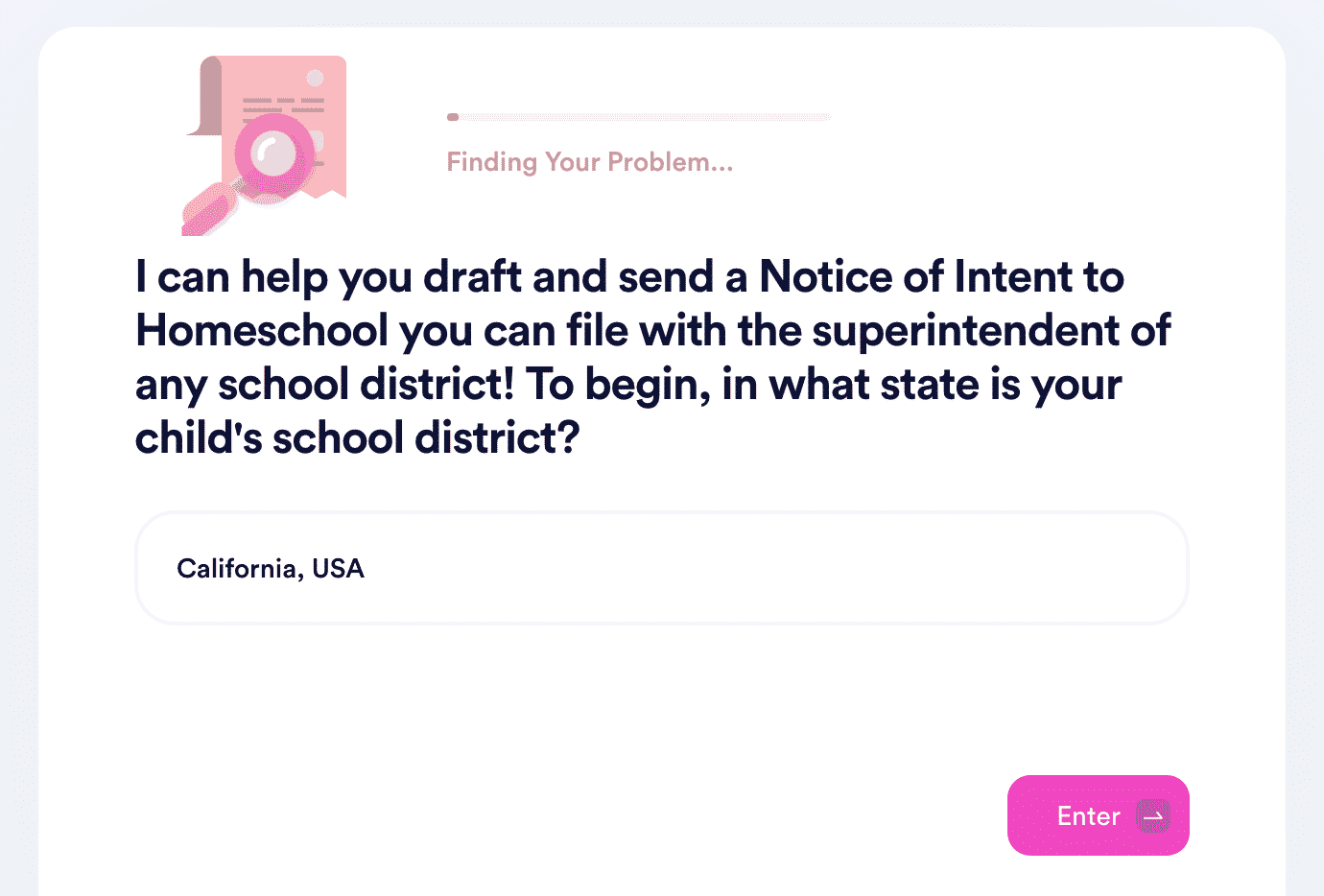 Here's how to get your letter:
Navigate to the Notice of Intent to Homeschool option
Provide the relevant information about you, your child, and the school district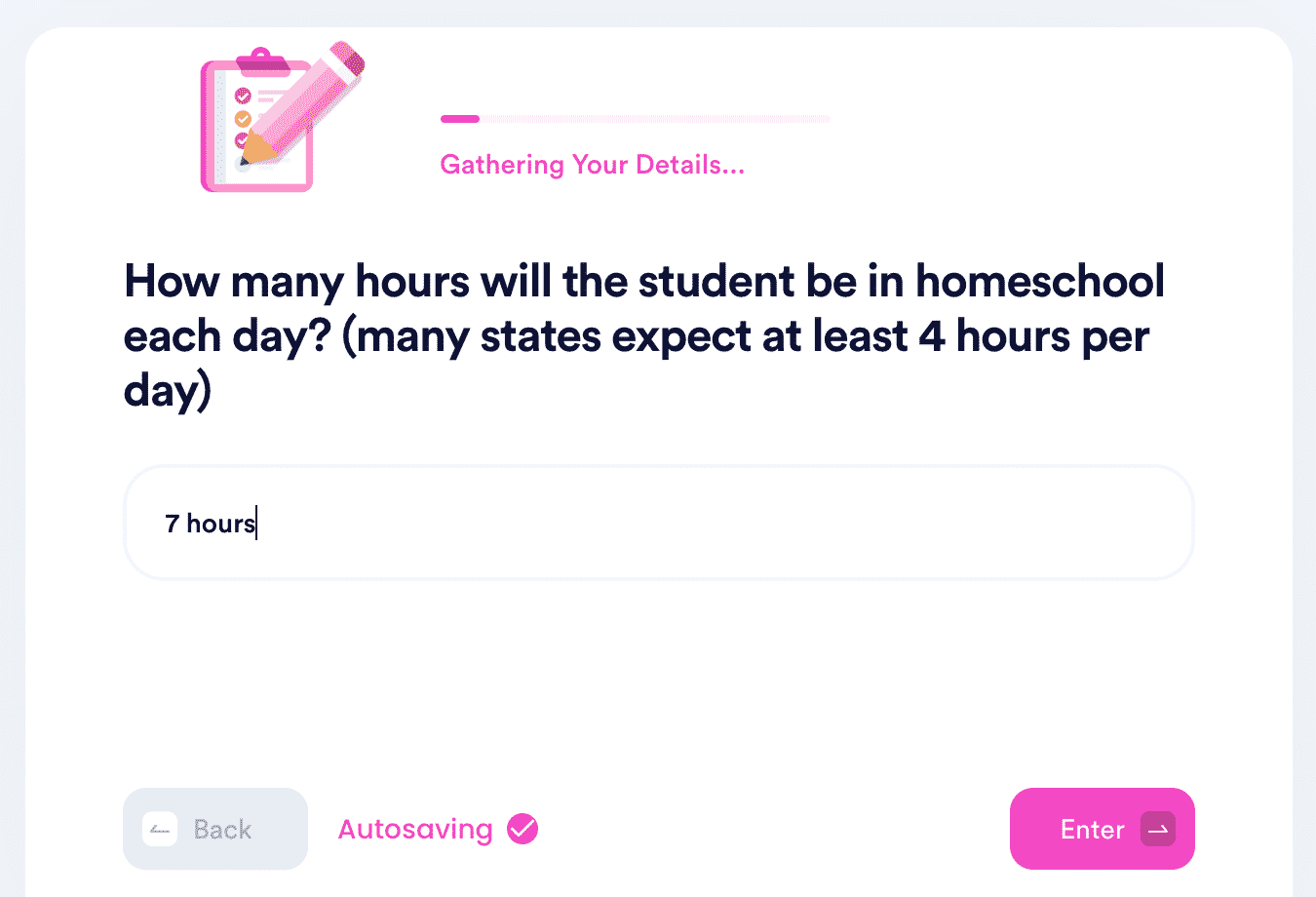 Do you have more homeschool-related dilemmas? Explore our extensive learning center with numerous helpful guides! We will teach you:
Don't Let Admin or Legal Issues Wear You Down—Hand Them Over to DoNotPay
Do you believe you may have some missing assets? Use DoNotPay's nifty product before the government claims them! Have you ever wanted to enter sweepstakes without purchasing anything? Our app will sign you up for them quickly! Trying to figure out how to reduce your property taxes or utility bills? DoNotPay can show you the way. Want to avoid getting charged for free trials that never fail to auto-renew into paid subscriptions? We'll help you cancel them before they expire.
Anything else you may need? Check out how our app can:
Check Out Our Other Robust Products
It doesn't stop there—DoNotPay can help you send a defamation demand letter, create passport photos, get gift card cash back, get any document notarized, request access to public records, claim insurance and warranty, request a college application fee waiver, appeal parking tickets, and much more.
Sign up now to get access to any of our products for one low monthly fee!