What You Should Know About Homeschooling an Only Child
Homeschooling an only child has its challenges, but there are also many advantages to it. Consider all the pros and cons listed in this comprehensive guide, and decide for yourself if homeschooling is the right choice for your family.
Advantages to Homeschooling One Child
If you have only one child and are planning to start homeschooling, you should be aware of its main advantages:
A closer relationship with your child and undivided attention—since it's only you and your child each day, you will form a stronger bond and have the freedom to devote your time only to their needs
Spending less time on lesson planning and administrative duties—it is much easier to create one set of lesson plans and track the progress of one child
Fewer costs— homeschooling only one child, you only have to buy one curriculum, and you can consider some pricier options if you want. You'll save on other activities as well—extracurricular activities, field trips, tickets to museums, theaters, and zoos are cheaper for one kid
Disadvantages of Homeschooling an Only Child
Consider some disadvantages to homeschooling an only child. This option creates a lack of:
Possibility for your child to learn how to be a team player—in a traditional school, children learn how to work together in groups, while in homeschool, they learn how to interact with their siblings. An only child misses out on both of these
Socialization—building friendships with peers can be difficult for homeschooled students
Discounts for multiple kids—many classes and tickets come with multiple-child discounts. Having only one child, you can't use them
Parents who go with this option can face judgment from other parents in their environment.
Homeschooling Laws
The first step you need to take after deciding on homeschooling your child is to check the homeschool laws for your state.
You don't have to be a certified teacher to homeschool your child in any U.S. state, but some states may require you to have a high school diploma or its equivalent. You may be allowed to hire someone else to provide home instruction to your child in some states.
Note that you can start with homeschooling whenever you want. If they're enrolled in a public or private school, you can take them out even in the middle of the year.
While some states require homeschool parents to teach specific subjects for a certain number of days or hours a year, others have little to no requirements.
The Best Tips for Homeschooling an Only Child
Homeschooling one child does not have to be a lonely or boring experience. The following tips will help you to make a successful start to your homeschooling journey:
Include the whole family in fun science projects or field trips whenever possible
Choose a curriculum that will allow your child to work more independently—this way, you'll have more free time
Host group activities, such as:

Art group
Book club
Science club

Do school in a park or library
Join a co-op
What Is a Co-Op, and Why Should You Join It?
Homeschool co-ops are formally organized groups that meet on a regular basis to enable group academic teaching. They can meet in a home, library, community center, or any other place that is spacious enough for a larger group of students. Co-ops are usually run by:
Co-ops are typically based on academic readiness, but they can also be based on grade levels or age. Fees are usually required to apply, join, and pay teachers in most co-ops.
How To Join a Co-Op
To join a co-op, you need to find one first. Google homeschool co-ops in your area or ask local parents for info. Most co-ops accept new members during the summer (before school begins). They might be religious or secular, and sometimes, parents are expected to volunteer.
What Are the Benefits of Joining a Co-Op?
Joining a co-op has so many benefits for homeschooled students with no siblings. Some of them are:
Group learning
Change of scenery
Teamwork
What Is a Letter of Intent To Homeschool, and How To Write It
A homeschool letter of intent is a document that informs a school district that a student will be homeschooled rather than attending a public or private school. A majority of states in the U.S. require homeschool providers to submit this letter to their school district.
A letter of intent should include the following information:
The name, address, and signature of the homeschool provider
The student's name and date of birth
The grade in which the student would be entering if they enrolled in school
The start date of homeschooling
To find out if your state requires submitting a letter of intent to homeschool, take a look at the table below:
You can avoid the tedious task of writing a homeschool letter by .
How Can DoNotPay Help?
DoNotPay is the pocket-lawyer app that can take administrative tasks off your plate. You don't have to bother with drafting a letter of intent to homeschool when we can do it for you.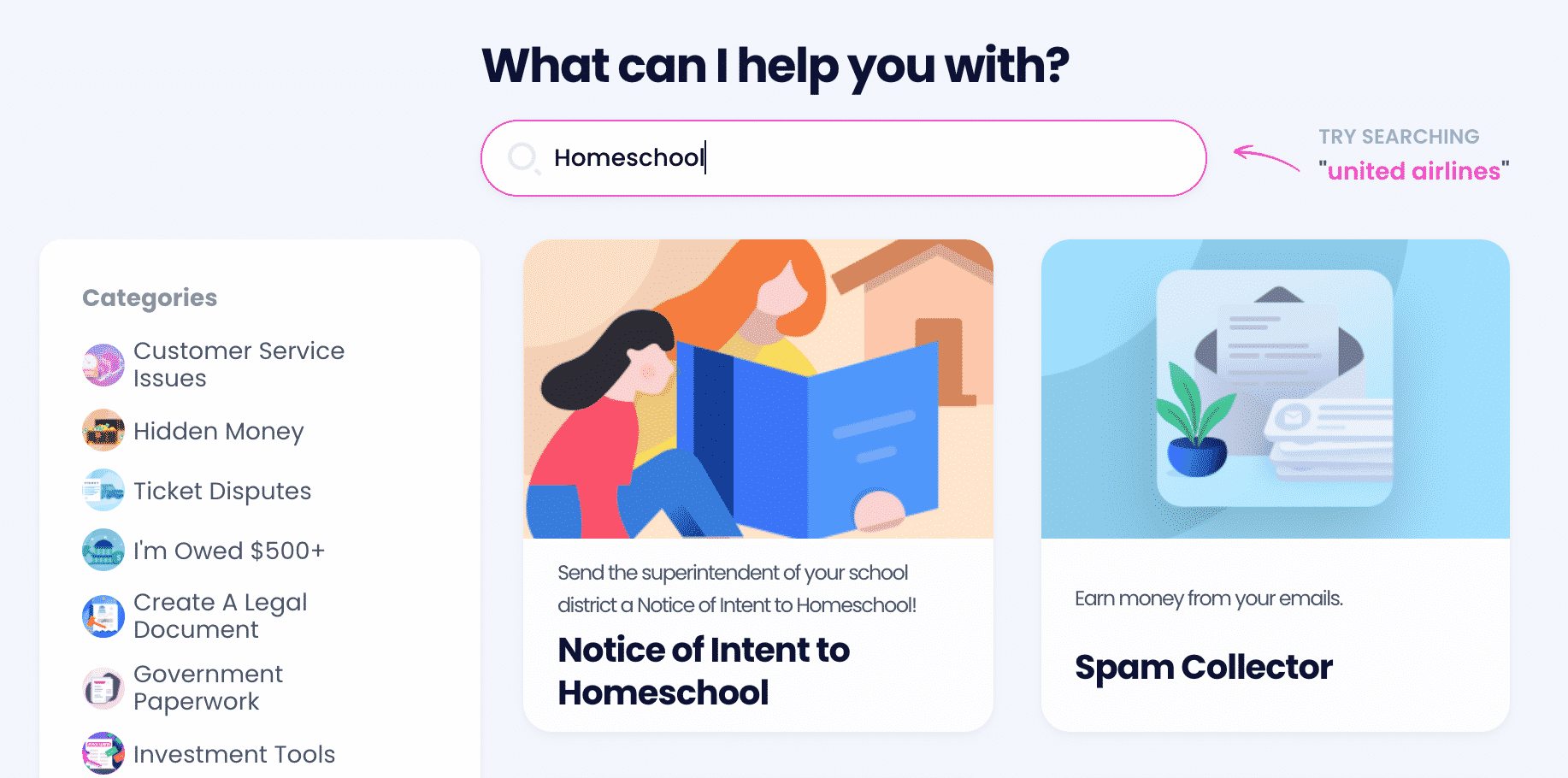 Here's what you need to do:
Open the Notice of Intent to Homeschool product
Provide information about:

Your school district
The homeschool provider
The homeschooled student
The start date of homeschooling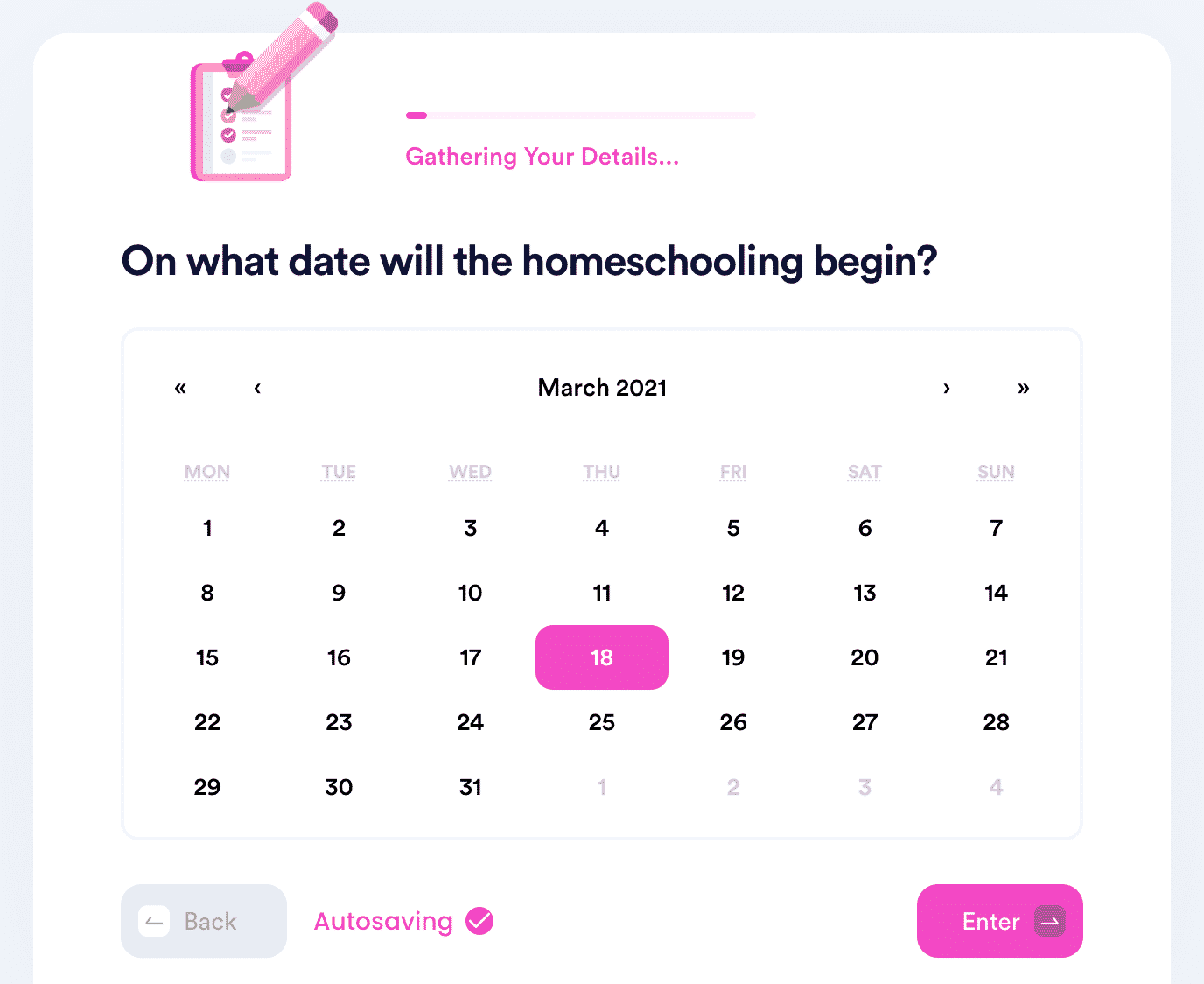 You can get the letter notarized virtually and have it sent on your behalf or generate a PDF to submit it on your own.
Resolve Any Other Issue You Have Swiftly With Our Assistance
The world's first robot lawyer is capable of tackling any legal or administrative task in your stead. We can draw up any legal document for you—including a power of attorney, child travel consent form, and divorce settlement agreement, to name just a few—help you sue any company or individual in small claims court, send a letter of warning to your noisy neighbors, help you reduce your property taxes and utility bills, and a lot more.
Sign up now if you want to stop email and text spam, claim any insurance or warranty, appeal parking tickets, schedule a DMV appointment in a flash, mail anything worry-free, find your missing assets, create passport photos, or contact embassies and consulates effortlessly.
Let DoNotPay Guide You Through Any Obstacle
Are you tired of corporations not taking their customers seriously? So are we, and that's why our nifty product will assist you in suing any company or individual in small claims court!
If you don't want to have any online service take advantage of you, you can sign up for any free trial completely risk-free with our virtual credit card's help, cancel any membership on time, and demand a refund or chargeback in a split second. DoNotPay can also draw up an airtight return request and send it to a company of your choice instantly.