Want To Homeschool in Nevada?
Are you exploring homeschooling as an option for your child and wondering where to start? Here's a tip—collect the right information first so that you can understand the process and comply with legal regulations.
You need to know what your school district is, whether you must let the school know of your intent to homeschool (and how), and what additional requirements you should fulfill.
If you're still not sure if you should homeschool in Nevada, this article provides the information you need to make the decision that's best for your child.
How To Start Homeschooling in Nevada
To start teaching your child at home, you'll need to meet Nevada homeschooling requirements and take the following steps:
Once you receive a written acknowledgment from your school district, you can begin homeschooling your kid.
Nevada Homeschooling Begins With a Notice of Intent
According to homeschool laws in Nevada, every homeschooling process starts with a Notice of Intent to Homeschool. This document should include the following information:
Your:

Child's full name, age, and gender
Name and address

A statement confirming that you:

Have the legal right to manage your child's education
Take full responsibility for your kid's education during the homeschooling period

An Educational Plan of Instruction with a list of all required subjects
If you plan on being your child's homeschool teacher, sign up for DoNotPay, and we'll:
Help you create a letter of intent to homeschool in a flash
Send the document to the right address on your behalf
Nevada Home School Laws—Required Subjects
Keep in mind that a Nevada homeschool educational plan needs to cover the following subjects:
Math
Science
English (including reading, composition, and writing)
Social studies (including history, geography, economics, and government)
DoNotPay Generates a Rock-Solid Notice of Intent To Homeschool
To draw up a notice of intent to homeschool, you don't have to:
Explore state laws
Hire a pricey attorney
Use unreliable online forms
Our AI-powered app can produce this document customized to your specific situation.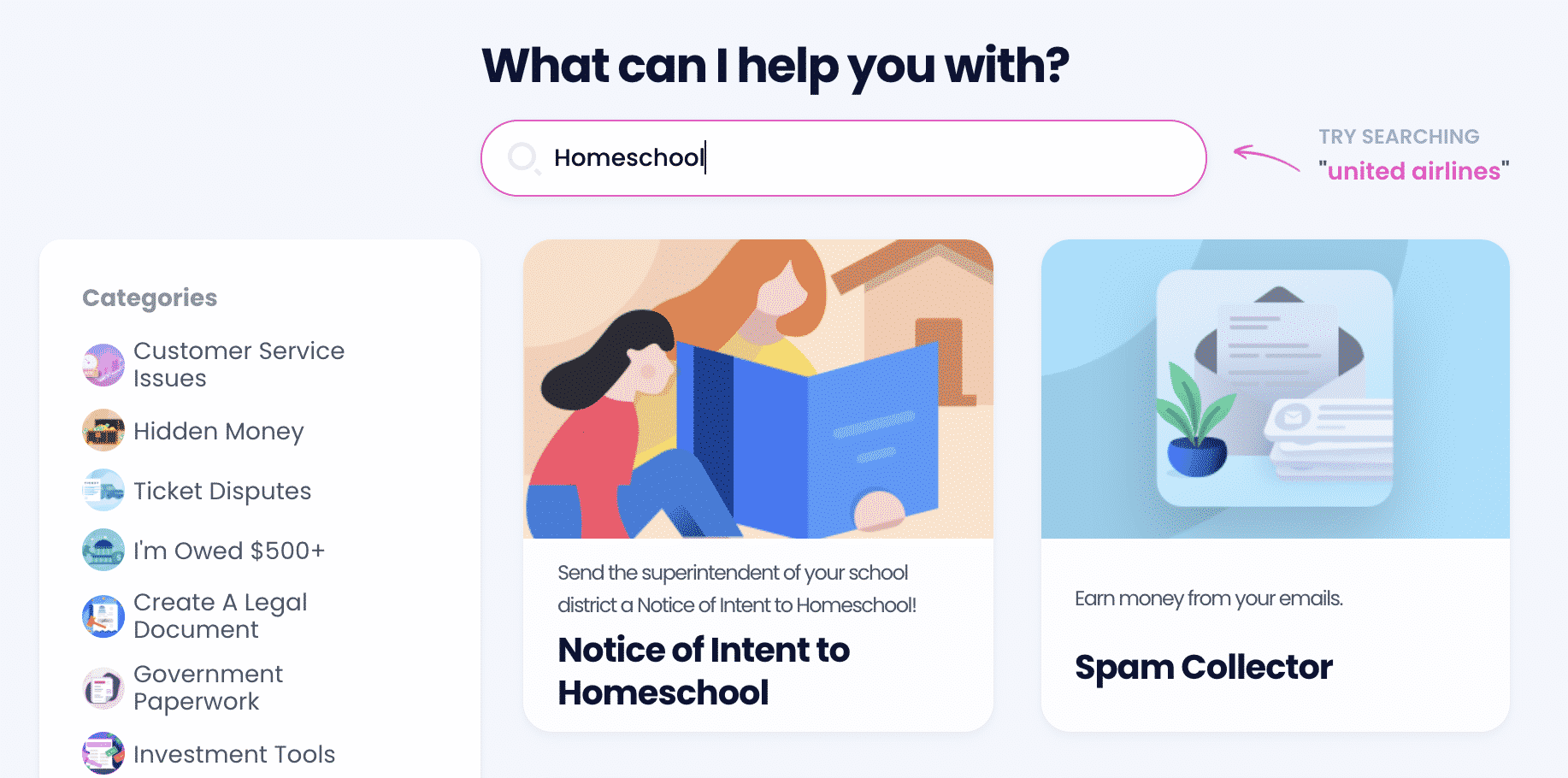 Open DoNotPay and follow these short steps:
Access the Notice of Intent to Homeschool feature
Enter data about yourself, your school district, and your child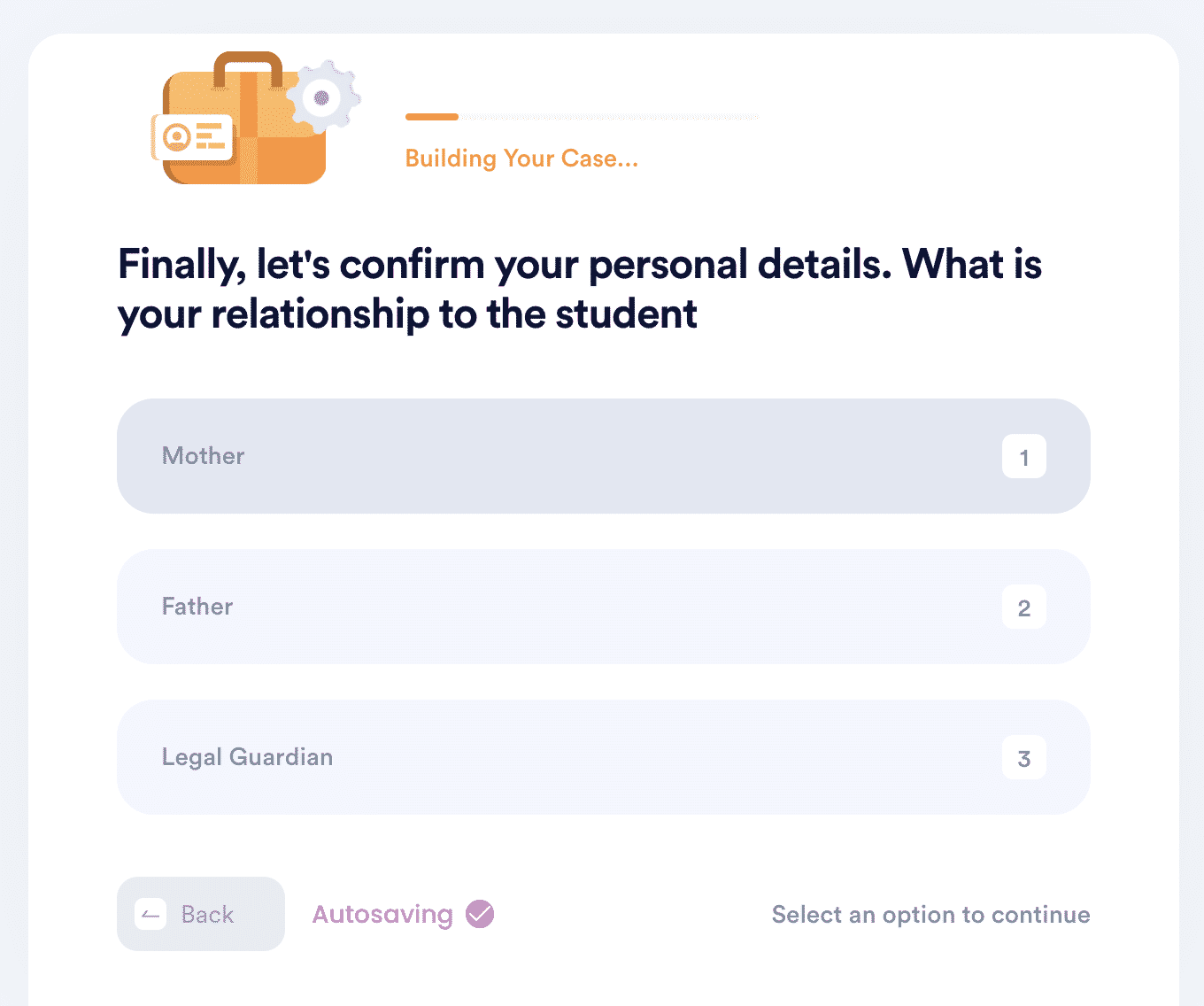 What's next? You can choose to have the letter notarized and let us know whether you'd like us to send this document to:
Your school district directly
You in a PDF format (if you'd prefer to mail the letter yourself)
How To Homeschool in Nevada—Recordkeeping and Standardized Tests
Nevada homeschool laws don't require you to keep records. You might want to do that anyway because maintaining a homeschool portfolio can help you:
While homeschooled students in Nevada don't have to take standardized tests, they can do so if their families find this to be an easy way to monitor and record their development.
What About Graduation Requirements?
Nevada doesn't have any specific homeschool graduation requirements, which might put it on the list of the easiest states to homeschool your child in.
Nevada Homeschool Organizations
If you're starting to homeschool your child or have moved to Nevada recently, you might appreciate the information and support of available homeschool co-ops, groups, and associations.
They offer up-to-date information on, for instance:
Events
Programs
Field trips
Requirements
In case you'd like to join some, you should know that there are two main homeschool associations in the Silver State—Nevada Homeschool Network and Northern Nevada Home Schools.
Gather Additional Info About Homeschooling With Our Help
To get familiar with various aspects of homeschooling, you should explore DoNotPay's learning center. We publish many useful guides to help you deal with the process seamlessly.
Take a look at some of them below:
Stuck in a Bureaucratic Mess? DoNotPay Is Here To Help!
Since handling dull administrative tasks is a burden and no one likes doing them, DoNotPay developed a variety of neat features to ease many processes! With our nifty app, you can:
Deal With Companies Like a Pro
We all love shopping, but it's no secret that companies sometimes turn a fun experience into a nightmare, especially when they refuse to cooperate. DoNotPay is here to help you reach customer support without the hour-long wait and sue an uncooperative merchant in small claims court if necessary!
Need a refund? We can show you how to get your money back from any company in a snap!
Should you need to file an insurance or warranty claim and request gift card cash back or an item return, you can count on our app to assist you! DoNotPay can also show you how to discover any unclaimed funds under your name so that you can continue shopping like a pro.