Bilingual or Non-English-Speaking Family? Why Not Homeschool in Spanish?
Spanish-speaking schools are not easy to find—at which point homeschooling could become an alternative to consider.
DoNotPay shows you what is required to homeschool in Spanish—from methods and curriculum choices to standardized tests!
How Does Homeschooling Work?
Depending on where you live, there are more or less strict laws on homeschooling—ranging from annual assessments and fixed curricula to almost complete freedom to teach the way you want in some states.
The laws you will need to check up on to find out what your state requires are concerned with:
Who Can Teach
Some states require no other qualification than being a parent, whereas others expect you to be a certified teacher.
If your state allows you to teach, you should also make sure that you have the subject knowledge to teach the required syllabus at the correct level. If not, you may have to look at getting external help for some subjects.
What Subjects Should Be Taught
Most states expect you to teach the core curriculum of:
Reading
Writing
Math
Science
History
Civics, government, and citizenship
Physical education
There will often also be options such as literature, fine arts, geography, and economics.
How To Notify Your School District
Each state has different laws on when you need to tell your school district about your intent to homeschool.
You can start homeschooling at any time in many states, but you may have to give a notice period under local law.
How Often Students Are Assessed
You could run into problems here if you want to homeschool in Spanish.
While there are no limitations on you teaching the required syllabus in Spanish, many states require regular student assessments through standardized tests that are in English.
The tests are mandatory in many states at bi-yearly intervals—some states insist that your child is assessed every year.
What Are the Assessment Options for a Student Homeschooled in Spanish?
The following states only offer standardized tests in English:
Many other states only offer Spanish-language assessments for certain subjects, the most common being math.
The numbers of states that offer Spanish assessments for the most important subjects are:
| Subject | Number of States With Spanish Assessments |
| --- | --- |
| Math | 31 plus Puerto Rico and the District of Columbia |
| Science | 12 |
| Social studies | Four |
Language assessments are conducted in English across the nation.
You can check for more detailed information on your state by looking on the Education Resources Information Center website.
If you decide to homeschool your child in Spanish, you need to make sure that they can complete their assessments in English. Bilingual teaching may be the best compromise.
How Do You Choose the Right Spanish Curriculum?
When it comes to choosing a Spanish language curriculum, you have two options:
Designing Your Own
If you feel confident in your abilities as a teacher and understand your state curriculum requirements, you can design your own teaching plan.
While this can represent a fair amount of work each year, you can:
Buying a Ready-Made Package
Several providers offer off-the-shelf curricula in Spanish, although many of these concentrate on teaching the language as a second tongue.
Of those that offer school curriculum tuition in Spanish, most go for a bilingual approach, which is a sensible way to make sure your child is equipped to pass your state's assessments.
Your budget may be an issue, but curricula are available at various price points, so you should be able to find something suitable.
How Do You Get Started With Homeschooling in Spanish?
Whichever language you have chosen as your instruction medium, your first step is to check your state requirements on notifying your school authorities.
In those states that require notification, you have to send a letter of intent before you can take your child out of school.
The letter will usually have to contain the following information:
Your contact details
The name, address, and grade of your child
Your teaching qualifications, if required by your state
Your proposed curriculum in some states
Writing an acceptable letter of intent to homeschool can be tricky—get it wrong, and you may fall foul of truancy laws.
Thankfully, DoNotPay can and even send it automatically to your school district!
DoNotPay Helps With All Your Spanish Homeschooling Needs!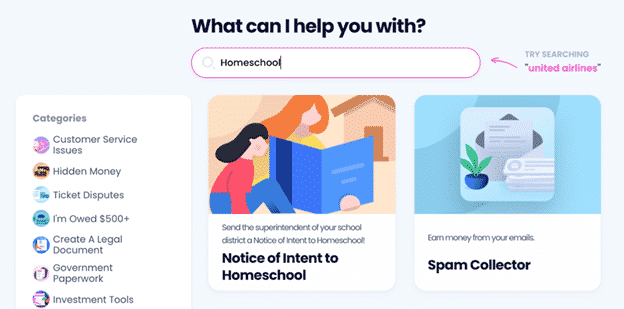 If you have decided to take the plunge into homeschooling, DoNotPay can get you into calm waters quickly and easily!
Our Notice of Intent to Homeschool product gives you the letter of intent you need to tell your school district of your plans—and we can even get it sent for you if you choose!
Here's what you need to do to get your letter set up:
in your web browser
Go to our Notice of Intent to Homeschool feature
Answer a few questions to give us your details
Job done—you can print out your letter, or we can deliver it for you.
If you need to have the letter notarized in your state, our online notarization service gives you a true one-stop shop!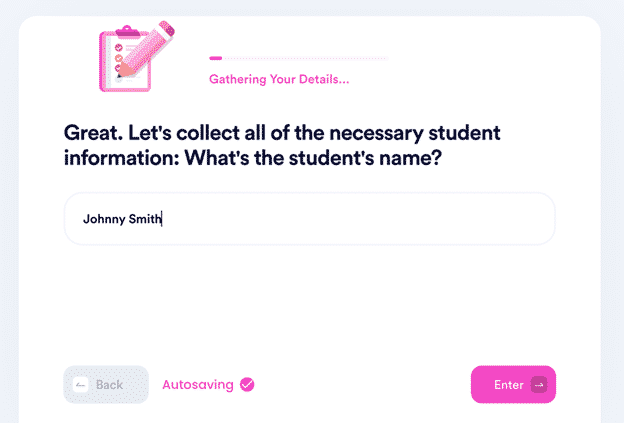 Don't Let Admin or Legal Issues Wear You Down—Hand Them Over to DoNotPay
Do you believe you may have some missing assets? Use DoNotPay's nifty product before the government claims them! Have you ever wanted to enter sweepstakes without purchasing anything? Our app will sign you up for them quickly! Trying to figure out how to reduce your property taxes or utility bills? DoNotPay can show you the way. Want to avoid getting charged for free trials that never fail to auto-renew into paid subscriptions? We'll help you cancel them before they expire.
Anything else you may need? Check out how our app can:
Check Out Our Other Robust Products
It doesn't stop there—DoNotPay can help you send a defamation demand letter, create passport photos, get gift card cash back, get any document notarized, request access to public records, claim insurance and warranty, request a college application fee waiver, appeal parking tickets, and much more.
Sign up now to get access to any of our products for one low monthly fee!