Want To Offer More? DoNotPay Looks at Homeschool High School Electives To Enrich Education
If you have decided to homeschool your kids, you will have spent time researching your state regulations, relevant laws, and the correct curriculum you will need to teach.
The curriculum only covers the necessary subjects, though, and your child could benefit from the vast range of elective subjects on offer at the high school level.
DoNotPay has the guide you need to choose homeschool high school electives that will broaden your child's horizons and perspectives. We can also help you create a rock-solid letter of intent to homeschool as soon as you sign up!
How Does Homeschooling Work?
Whatever your reasons for deciding on homeschooling, as a parent, you will want to offer as broad an education as possible while staying within the guidelines of your local school district.
Once you have notified your local authorities of your intention to homeschool, your first step is to plan your teaching curriculum and ensure you have the necessary resources and qualifications to be a good teacher. If not, you may have to consider enlisting somebody else's help.
Once that is sorted, you can plan your teaching schedule, set sensible goals, and start the homeschooling journey.
In most states, there are few restrictions on when you can start homeschooling, so you can begin the process at the earliest suitable time.
What Are High School Homeschool Electives?
Most high schools offer programs outside the normal school curriculum that are designed to enrich and broaden students' experience and knowledge.
They are not mandatory courses but allow students to try their hand at subjects they may not normally learn about.
Students can choose electives based on their:
Hobbies and interests
Future career aspirations
Need to balance their time between normal school hours and extracurricular activities
The most popular elective subjects at high school include:
| Elective Subject | Explanation |
| --- | --- |
| Foreign languages | Employers and colleges value even basic knowledge of a foreign language, and language learning also broadens cultural horizons |
| Public speaking | The ability to speak in front of an audience is one of the most highly-prized skills in many jobs |
| Writing | Creative writing, content creation, and journalistic writing all train students in synthesis, summarizing, and articulation |
| Personal finance | Many students find the ability to plan and control their personal finances invaluable when they enter the adult world |
| Programming, coding, and IT | Most jobs demand solid IT skills, and coding or advanced computer knowledge is a benefit to any jobseeker |
Other homeschool high school elective ideas can be based on subjects and areas of interest that are further away from the mainstream. These can include:
Arts and crafts
Music, ensemble playing, and instrumental training
History or geography
Literature appreciation
Philosophy, critical thinking, and psychology
Driver education
How Can You Build Electives Into Your Homeschooling Curriculum?
The curriculum you build for your child has to cover the basics as prescribed by law, but within that framework, you have a fair amount of leeway.
Each state has specific regulations about which subjects need to be taught. Some states are strict in imposing mandatory subjects, while others are more lenient in setting the curriculum.
Before you decide on a curriculum, you should check your state's legislation:
Your options for putting a curriculum together are:
Choosing a Ready-Made Homeschool Curriculum
There are numerous ready-made curriculums on offer, and your choice should be based on:
Your child's learning preferences
The time available for teaching
Any religious considerations
The cost involved versus your budget
Creating Your Own Curriculum
If you are comfortable with your teaching planning abilities, you can create your own curriculum, bearing in mind that it has to be within your state's guidelines.
Designing your own curriculum and teaching plan allows you to:
Take account of your child's learning preferences
Plan time better
Mix teaching methods to suit your and your child's needs
Build in any religious considerations that are important to you
Once your basic plan is chosen, you can build in your homeschool elective curriculum based on:
Your child's wishes
Your available resources
You should allow your child a good amount of leeway to choose their electives—these subjects are designed to be fun and should generate excitement in your child.
DoNotPay Helps You Get Your Homeschooling Journey Started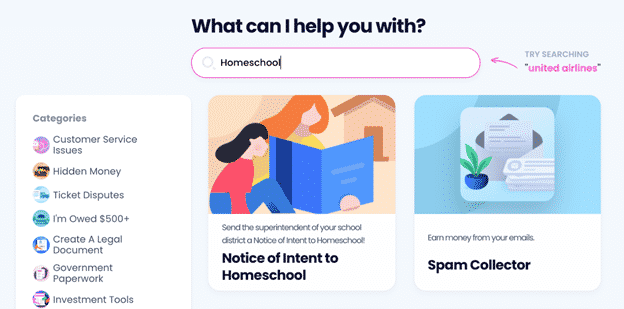 Homeschooled kids have opportunities and advantages that many students in traditional education miss out on.
With your core curriculum and elective subjects in place, you can start your journey towards homeschooling.
That journey usually starts with you informing your school district or your intention to homeschool—this is where DoNotPay comes in.
Our Notice of Intent to Homeschool product creates the letter you need to inform your school authorities of your homeschooling plans. It is a legal requirement in many states and needs to follow a prescribed format. We handle all of this for you—here's how to get your letter prepared:
Subscribe to DoNotPay in your web browser
Click on our Notice of Intent to Homeschool feature
Answer the questions to give us the information we need
Your state may require you to have your letter notarized—no need for you to go hunting for a notary, though, as DoNotPay can do this for you online. You can even choose between sending your letter automatically to your school district superintendent or printing it out for you to deliver!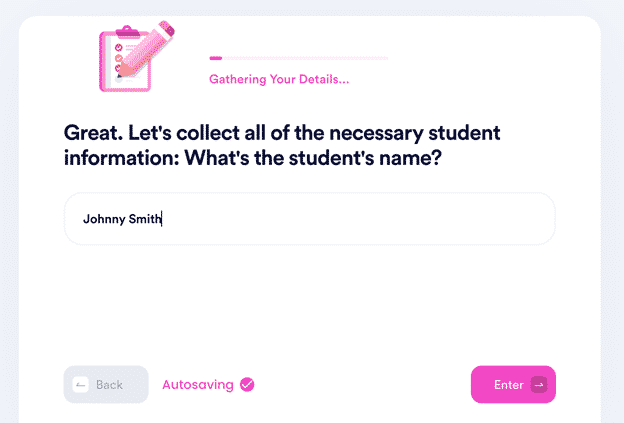 Don't Let Admin or Legal Issues Wear You Down—Hand Them Over to DoNotPay
Do you believe you may have some missing assets? Use DoNotPay's nifty product before the government claims them! Have you ever wanted to enter sweepstakes without purchasing anything? Our app will sign you up for them instantly! Trying to figure out how to reduce your property taxes or utility bills? DoNotPay can show you the way. Want to avoid getting charged for free trials that never fail to auto-renew into paid subscriptions? We'll help you cancel them before they expire.
Anything else you may need? Check out how our app can:
Check Out Our Other Robust Products
It doesn't stop there—DoNotPay can help you send a defamation demand letter, create passport photos, get gift card cash back, get any document notarized, request access to public records, claim insurance and warranty, request a college application fee waiver, appeal parking tickets, and much more.
Sign up now to get access to any of our products for one low monthly fee!