Homeschool Enrollment—A Complete Guide
Are you considering whether you should homeschool your child? In that case, you need to start gathering data about the cost, state laws, and procedures regarding taking your child out of school and justifying your intent to homeschool.
If you're wondering about homeschool enrollment, DoNotPay sheds light on the topic. We offer relevant information on homeschooling and can also help you deal with the necessary paperwork.
Why Should You Consider Homeschooling?
While some parents might still be reluctant to take their children out of school, you should know that homeschooling might be the best way to educate your child.
Here are some reasons why parents choose to homeschool:
Get Familiar With U.S. Requirements for Homeschool Enrollment
Requirements for homeschool enrollment vary from:
State Laws on Homeschool Enrollment
Check out the following table to learn about state laws on homeschooling throughout the U.S.:
Homeschool Enrollment Process
You need to research and follow your state procedures to be able to teach your child at home. Here's a list of common steps you must take to homeschool your child:
Steps To Take
Details
Get to know the required homeschooling application and registration criteria
As you need to comply with your state requirements for homeschool enrollment, you should inquire about different aspects, including if you have to:

Have a certificate to homeschool your child—If you do, you can hire someone until you get the required paper
Start homeschooling at the beginning of the school year—You can probably do it in the middle of the year if your child, for instance, gets ill

Select a program
You should choose a homeschooling curriculum that is best suitable for your:

Child—You can create a curriculum to meet your child's learning style and pace
Whole family—You can pick a program that fits your family's needs, depending on whether, for instance:

Determine what subjects to include
As some subjects are mandatory in your state, you need to make sure your chosen curriculum covers these
Collect useful information
You could start gathering data about homeschooling associations and groups in your state since these organizations can help you get necessary resources and information about:
Enroll your child in homeschooling
Based on most state laws, you'll need to send a letter of intent to homeschool to your school district. to create this letter hassle-free
DoNotPay Can Generate Your Letter of Intent To Homeschool in a Breeze
To prepare the required letter of intent to homeschool, you don't have to read comprehensive state laws on homeschooling or get legal assistance.
Our app can generate this letter for you in a matter of minutes! DoNotPay is a robot lawyer that is familiar with all necessary state and county requirements.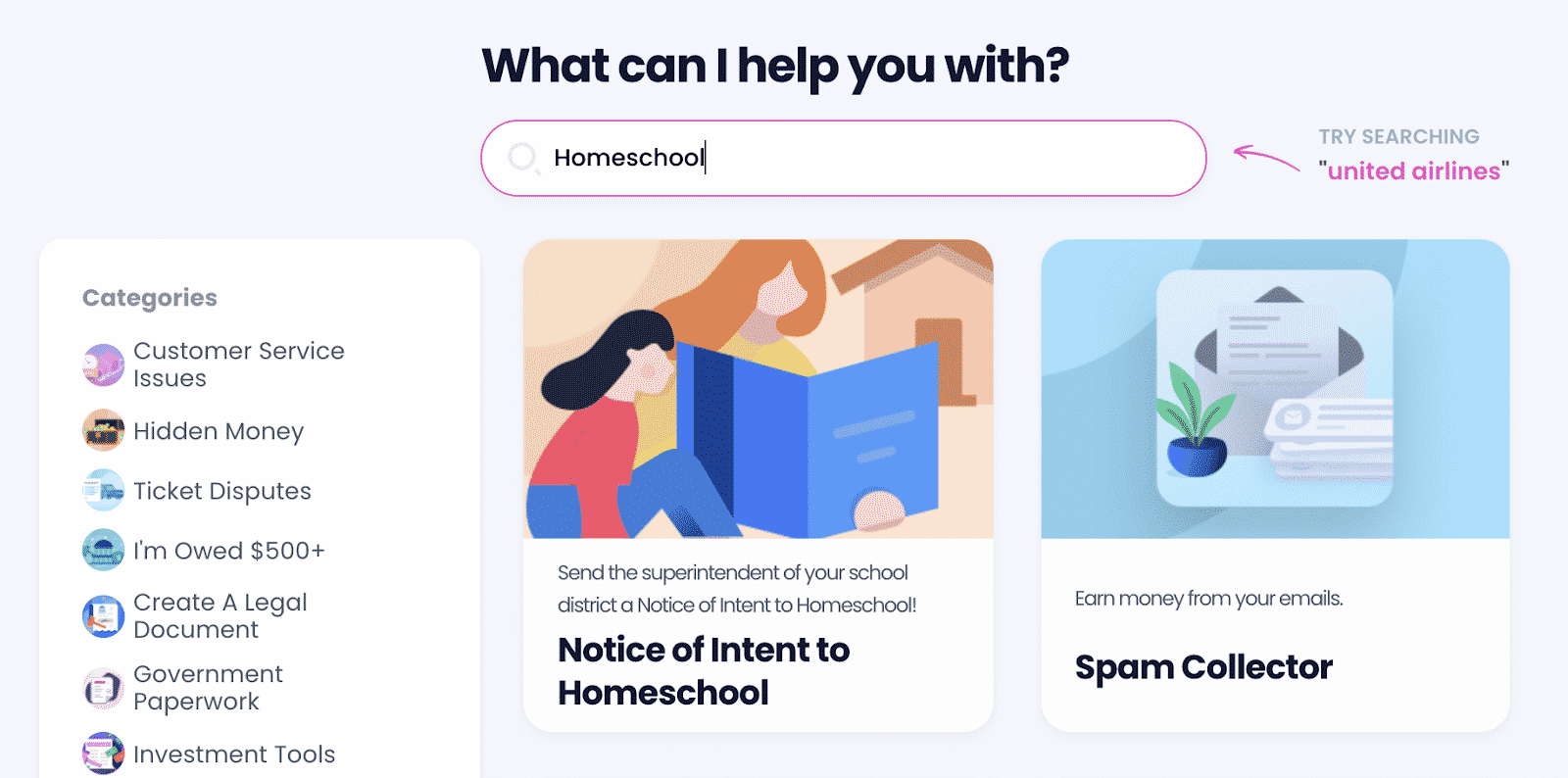 Here's what you should do:
Pick our Notice of Intent to Homeschool product
Provide information about the student, yourself, and your school district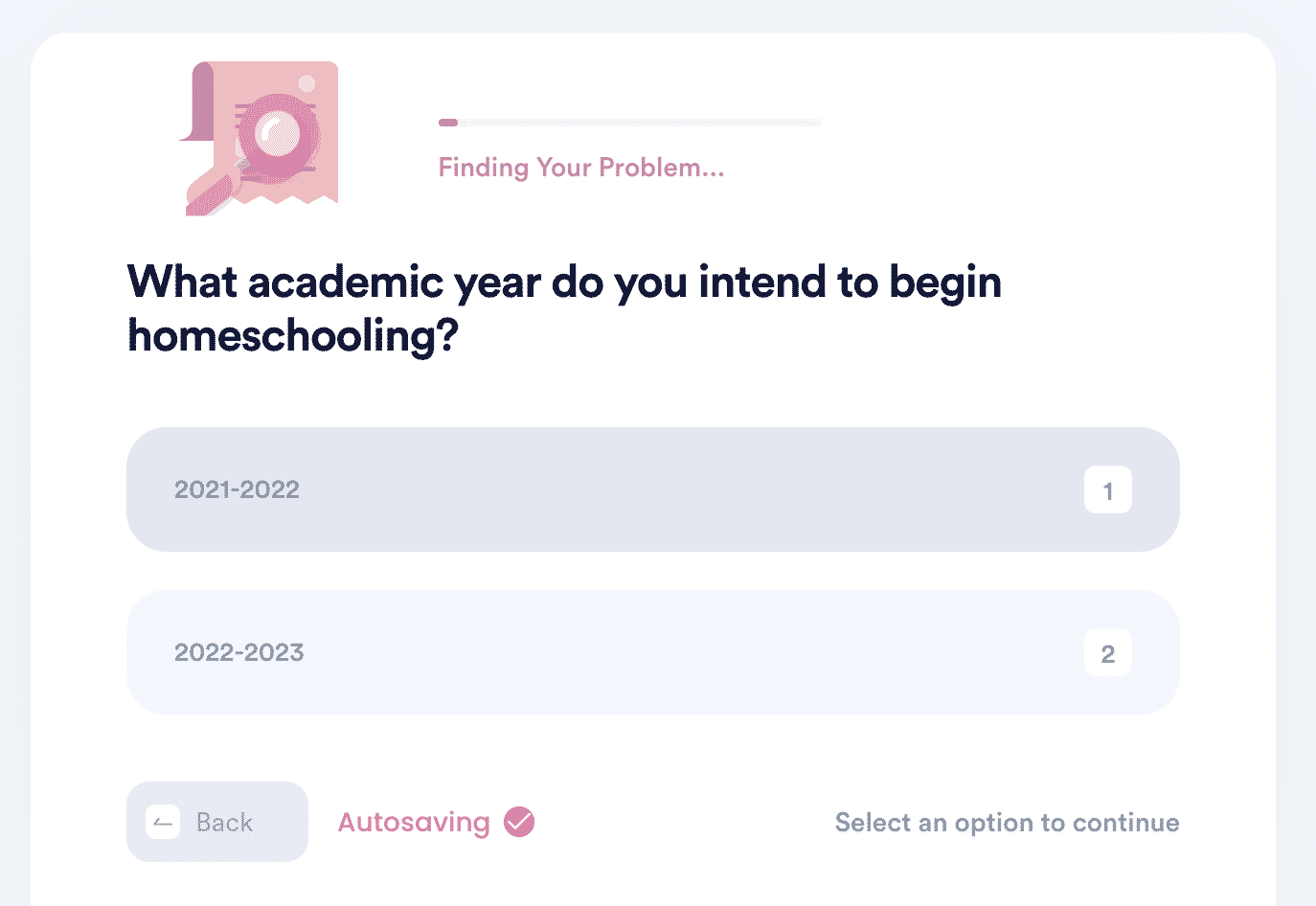 Once you provide us with the information, we'll create the letter. When finished, DoNotPay could:
Help you notarize the document if your state laws require it
Mail it directly to your school district in your stead
Send the letter to you in PDF, if you prefer mailing or taking the letter yourself
Homeschooling and College
If you're wondering whether your homeschooled child will be able to attend college afterward, you can stop worrying. Not only do the majority of homeschooled students go to college, but colleges recruit many of these children directly.
Most higher education institutions don't make a difference between children who went to regular schools and students who were homeschooled.
To get into college, all students have to:
Submit the required documentation (including their transcript and diploma)
Take an SAT or ACT
Get Familiar With Different Homeschool Aspects
To prepare well for a new educational path, you should explore various homeschool topics. DoNotPay provides lots of useful guides that will help you understand the process. Here are some questions we answer:
Stuck in a Bureaucratic Mess? DoNotPay Is Here To Help!
Since handling dull administrative tasks is a burden and no one likes doing them, DoNotPay developed a variety of neat features to ease many processes! With our nifty app, you can:
Deal With Companies Like a Pro
We all love shopping, but it's no secret that companies sometimes turn a fun experience into a nightmare, especially when they refuse to cooperate. DoNotPay is here to help you reach customer support without the hour-long wait and sue an uncooperative merchant in small claims court if necessary!
Need a refund? We can show you how to get your money back from any company in a snap!
Should you need to file an insurance or warranty claim and request gift card cash back or an item return, you can count on our app to assist you! DoNotPay can also show you how to discover any unclaimed funds under your name so that you can continue shopping like a pro.