Advantages and Disadvantages of Homeschool Dual Enrollment
Once you've made up your mind to homeschool your child, you must cover the practical aspects of the process. Venturing into homeschooling entails collecting info about the legal requirements, available curricula and teachers, and the cost of home-based education.
Your child's future academic pursuits should also be considered because it's never too early to start thinking about college. Homeschool dual enrollment offers numerous benefits to homeschooled students with university ambitions. DoNotPay analyzes the pros and cons and helps with paperwork along the way.
What Is Homeschool Dual Enrollment?
Homeschool dual enrollment—also called dual credit, early college enrollment, or credit-in-escrow—allows a homeschooled student to take a college class while still in high school. This way, your child receives both college and school credits while homeschooled.
Keep in mind that homeschool dual enrollment isn't:
Suitable for all homeschool parents and their children—You should assess the needs and abilities of your child and the entire family before enrolling your kid into college classes
Necessary for high school graduation—While not required, homeschool dual enrollment might benefit your student in their education and college admission
The Cons of Homeschool Dual Enrollment
As homeschool dual enrollment might not be a good fit for every child, you should consider the potential disadvantages of this process before you initiate it:
Readiness—You should talk to your kid about the whole process and the classes they'd like to attend. Present the benefits of dual enrollment, but don't hide the negative sides since some children aren't ready to take on more responsibility
Flexibility—Depending on what is required for homeschooling in your state, you need to assess if your child will have enough time for additional coursework. Considering the mandatory homeschool hours and classes, your child might need to give up some extracurricular and sports activities during homeschool dual enrollment
Environment—Keep in mind that your child will spend time with college students, and the environment might not be suitable for your kid. Topics discussed in some classes could also be inappropriate for a high school student
The Pros of Homeschool Dual Enrollment
If you're not sure why your child should attend college coursework while taking homeschool subjects, take a look at some of the advantages in the table below:
Benefits of Homeschool Dual Enrollment
Details
Save time
If your child chooses two similar classes at high school and college, they could:

Take only the college-level course (as it's more advanced than a high school one)
Still earn credits for both classes

Save money
Depending on your state, you could save money since dual enrollment is:

Free in some states
Cheaper than what colleges charge regularly

You should check dual enrollment opportunities at your local colleges

Transition to college life
You can help your child with their college classes because you're still teaching them at home. That way, your kid's transition to college life might not be as challenging. Homeschool dual enrollment also offers an opportunity to:

Interact with their classmates—College group projects might be a good way for your homeschooled student to experience teamwork
Communicate with professors—Your child should learn how to express their views or fight for their rights appropriately and politely
Dual Enrollment at Homeschool Might Affect Future Career Paths
Homeschool dual enrollment gives your child a chance to explore their interests by:
Selecting fields they'd like to explore further—If you cannot teach specific subjects your child is interested in—e.g., music or special IT skills—they could take these as part of their dual enrollment program
Attending different introductory classes—This is a good way for your child to explore potential career options. At the same time, the student won't feel the pressure of fitting the chosen college classes into a specific degree program
If homeschool dual enrollment is your reason to take your child from regular school to homeschool them, ensure the student is ready for the task because it is demanding. Teaching at home also requires the patience and dedication of the parent. With extensive paperwork involved, you should organize your time wisely.
to create a notice of intent to homeschool as it is a required initial step for the homeschool enrollment process.
DoNotPay Generates a Notice of Intent To Homeschool Quickly and Efficiently
Since you have to notify your local school district of your intent to homeschool your child in most states, you must draw up a letter of intent and send it to the relevant institution.
We can make this document in your stead so you can focus on the creative and rewarding aspects of teaching at home.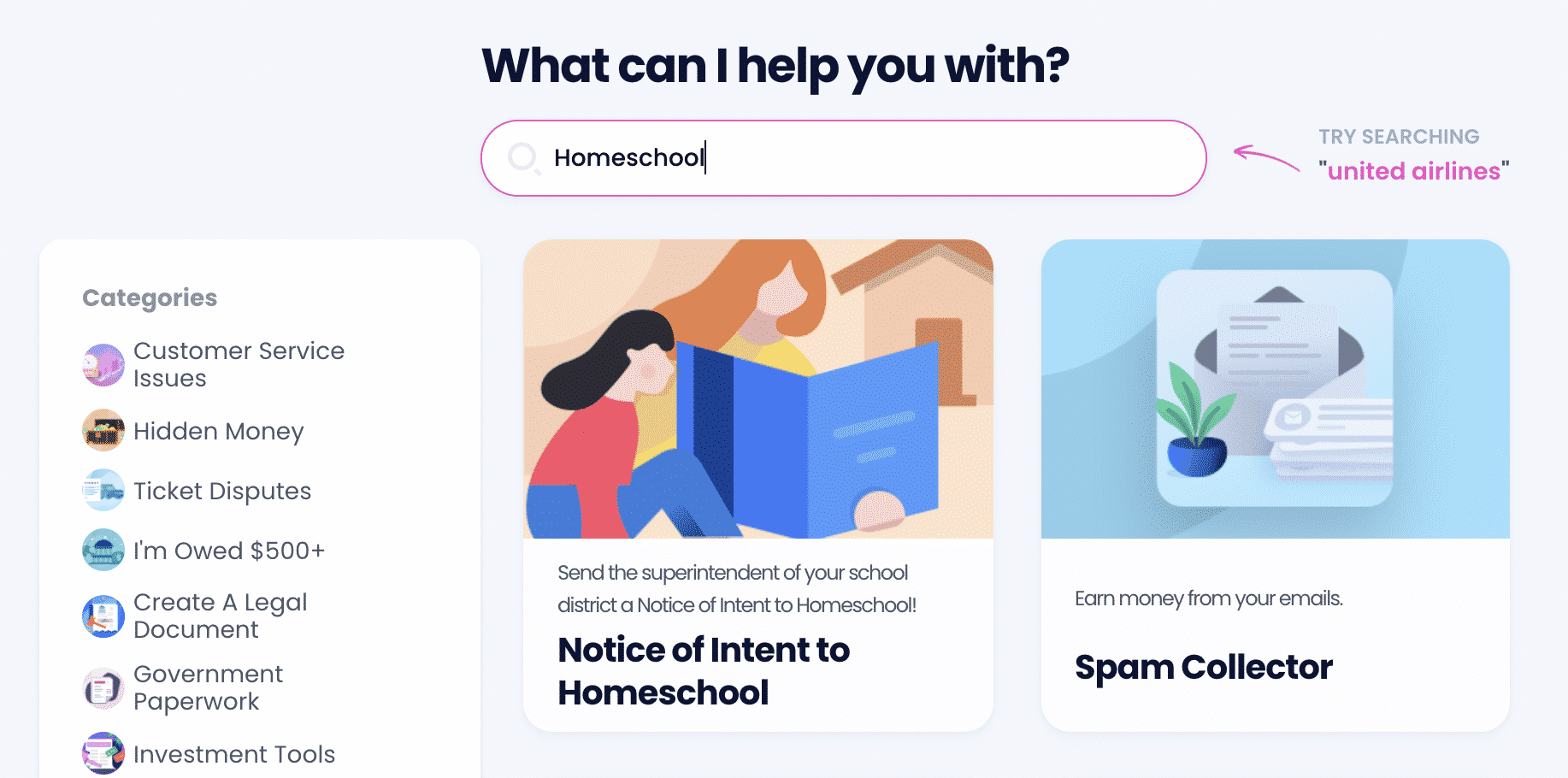 and take these steps:
Open the Notice of Intent to Homeschool feature
Provide information about the homeschooled student, teacher, and your school district
Choose if you'd like DoNotPay to:

Get your letter notarized
Send the notice of intent to the right address
Provide you with a PDF file you can print and file yourself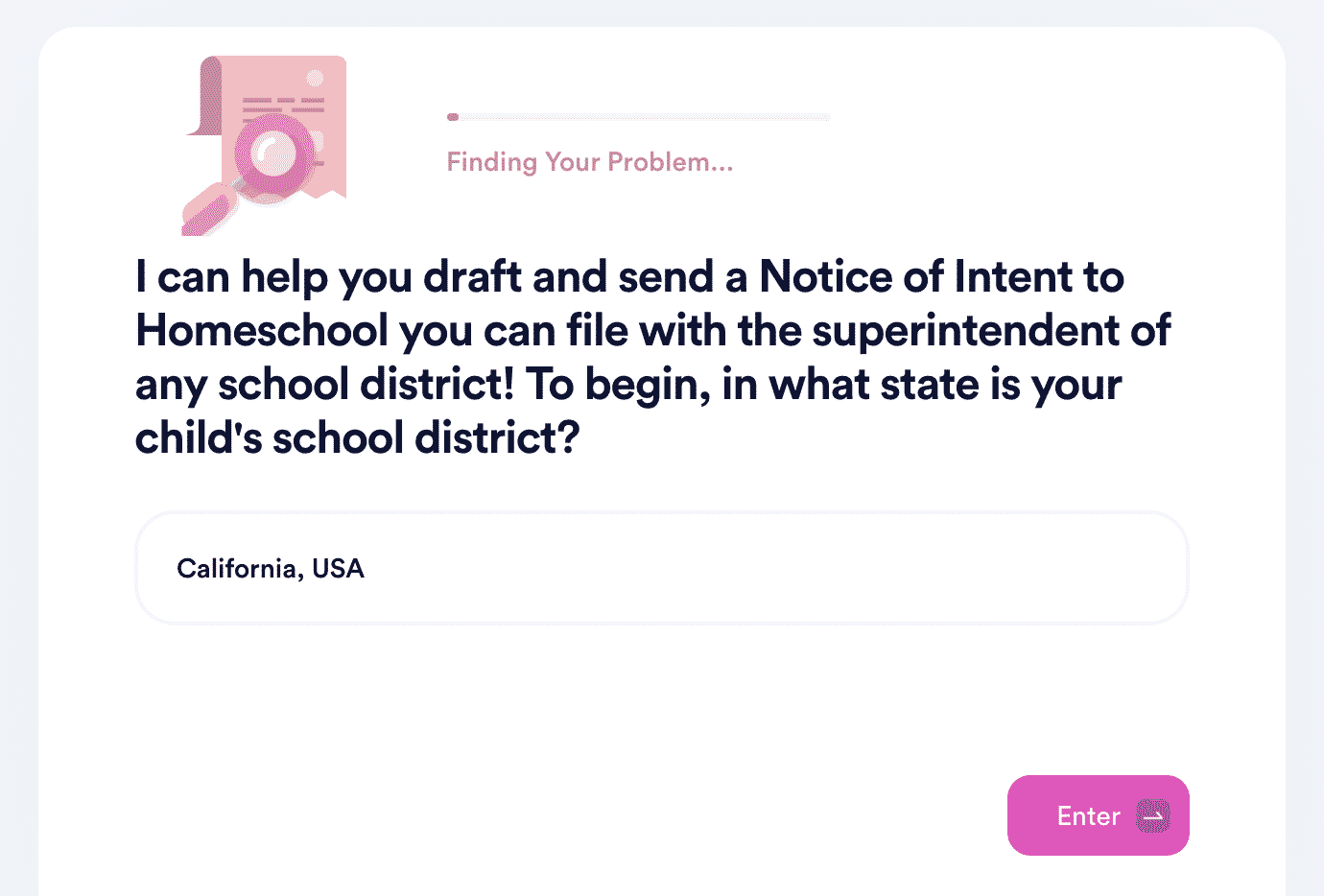 If you'd like to explore other homeschool topics, check out our helpful articles on:
Can DoNotPay Help Me With Any Other Admin or Legal Issue? You Bet It Can!
DoNotPay's robust products can assist you in fighting companies, individuals, and institutions that have wronged you in any way. Once you subscribe to our platform, we'll ensure that you never have to deal with any of the following again:
Our Product Range Offers So Much More
Subscribing to DoNotPay will bring you peace of mind as you won't have to go through tedious task completion on your own anymore. With our AI-powered app, you can get what's rightfully yours in the blink of an eye.
If you want to claim warranty or insurance, find your missing assets, get compensated for a canceled flight or a violent crime that you were a victim of, track your missing parcel, or draw up a child travel consent form, divorce settlement agreement, power of attorney, or any other legal document, you can count on us to lend you a helping hand.
Sign up today to get access to the entirety of our product range and forget about dealing with time-consuming and energy-draining chores!