Find the Best Home Warranty in Florida With DoNotPay
If you are a homeowner, it's in your best interest to protect your investment. Whether you just bought a new house or want to secure an existing one, a home warranty is the best choice.
A home warranty can give you peace of mind that if almost any appliance or home system breaks down, you can get it repaired at a fraction of a cost.
Don't wait for your systems or appliances to let you down before considering a home warranty.
If you want to protect your home, we can give you a rundown on the best Florida home warranties.
What Are the Best Home Warranty Companies in Florida?
Every home warranty in America has different pros and cons, as well as monthly fees. If you are stuck on which one you should choose to protect your home, we can give you reviews on the best ones.
It can be daunting to search through all the websites and options, so we have compiled a list of the best home warranties in Florida:
Company Name 

Advantage

Price

24/7 responsive customer service

Home inspection not required

$45.81 to $55 per month

Complete coverage

Responsive customer service

$49.90 to $59.99 per month

Affordable

Lower service fees

$35.85 to $55 per month

Year-round service requests

Best value for the price

$28 to $43.50 per month

Longest work guarantee

In-house service

$43.18 to $59.09 per month
What Is Usually Covered by a Florida Home Warranty?
Most home warranties in Florida cover appliances like washers, dryers, refrigerators, and stoves. They also cover ventilation, heating, and air conditioning (HVAC) systems.
These warranties do not cover damage done by natural forces.
If you want to cover your swimming pool, spa, or a second refrigerator, you can purchase additions to your warranty plans. Some more expensive plans cover these by default.
How To Claim a Florida Home Warranty?
If you want to claim a home warranty by yourself, you should expect each company to have a different warranty claiming process. You can find the details here:
Company Name 
How To Claim the Warranty

Contact customer service at

1-888-531-5403

Visit their

website

and request service

Call

1-855-613-4555

and request service
Most companies offer requests via phone, but be aware that waiting times can often be lengthy. If you can, it's best to submit an online request.
Claim Your Home Warranty in Florida With DoNotPay
If your appliance or home system was damaged and you want to claim your warranty fast, we can help you speed up the process. Claiming a warranty by yourself takes time, but we can assist you through the process with ease.
To obtain your warranty the easy way, this is what you should do:
Open DoNotPay in your

web browser

Find the

Claim Warranty

feature

Tap on

Home Warranty

Provide the name of the company and details about your problem

Click on

Submit My Claim
This is all you have to do to claim your warranty. We will now create a warranty claim letter in your name and send it to the company. You can expect to hear from them directly regarding your problem and the maintenance appointment.
DoNotPay's app can also help you claim other warranties, such as a car warranty or an extended warranty for used cars. If your dealer refuses to cancel the extended warranty, we can also help you solve this problem.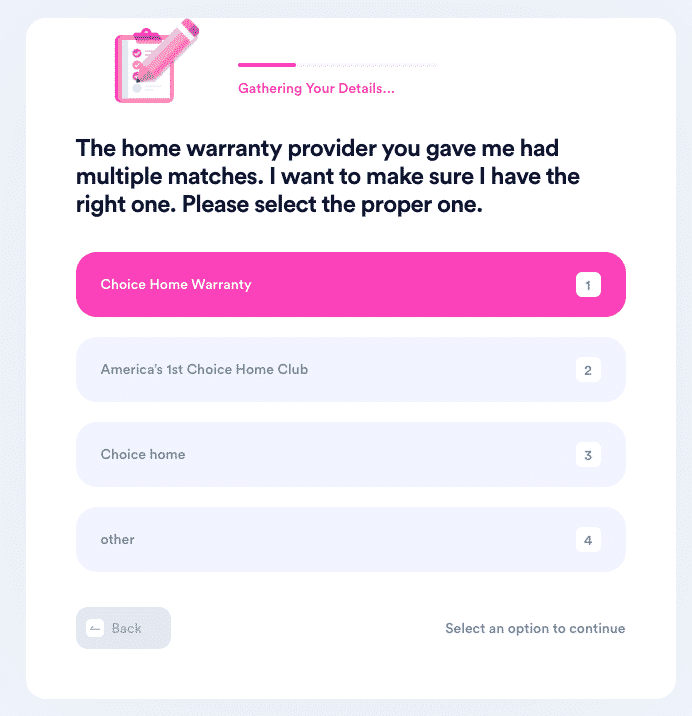 Appeal a Rejected Warranty Claim With DoNotPay
Has your warranty claim been rejected? This happens often, and it's an obstacle customers rarely overcome. Companies deny claims so that customers would drop the case and give up. If you give up, you can lose a lot of money and your investment. With DoNotPay's help, you can file an appeal and claim your warranty successfully!
Here is how you can file an appeal with DoNotPay:
Open DoNotPay in your

web browser

Find the

Claim Warranty

feature

Click on

Appeal a Denied Warranty Claim

Choose whether you're appealing against a claim denied by the

product manufacturer

or an extended warranty provider

Provide details about your original warranty claim and the company

Click on

Submit
We will now generate an appeal letter in your name and send it to the warranty company automatically. After that, the company will contact you directly regarding your appeal. Even if you don't know all of the information regarding your claim, DoNotPay will use applicable warranty laws to generate the letter.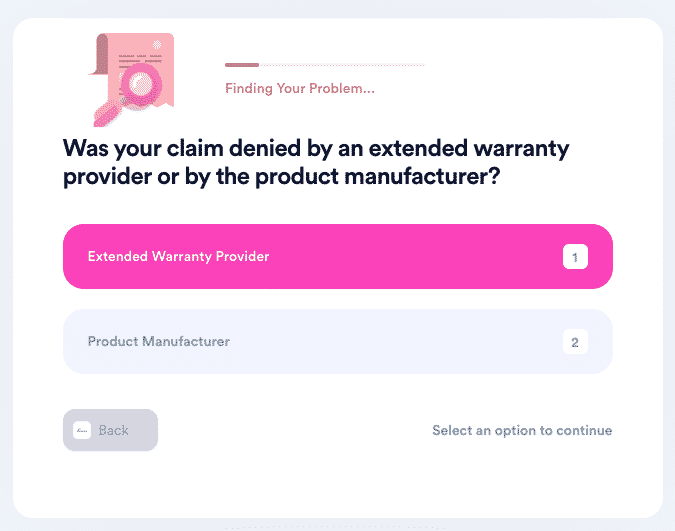 What Else Can Our Award-Winning App Do for You?
If you think that's impressive, wait until you've heard about other features we boast!
Our AI lawyer can draft paperwork for you, locate unclaimed funds under your name, cancel subscriptions, sue robocallers, and protect you from stalkers and harassers—all in one nifty browser app!
Our services have been recognized by the esteemed ABA Brown award, serving as a testament to our abilities to assist you with your small claims issues, free trial auto-renewals, college fee waivers, public records, copyright protection, and much more!
More Benefits of DoNotPay
DoNotPay is a useful tool for handling many otherwise annoying life's trifles, including: