The Easiest Way to Claim Home Warranty In Arizona
With so much stress of keeping up with your health, family, and work, feeling safe in your own home can be another burden. Luckily, you can safeguard against many unpredictable inconveniences by obtaining a home warranty. It is a huge investment, but it can save you a lot of trouble in the long run.
Choosing a home warranty is no easy feat. You have to weigh the pros and cons, check home warranty reviews, and consider your budget. Not to worry—DoNotPay is here to help you find a reliable warranty for your home in Arizona!
What Are Popular
Home Warranty Companies in AZ
?
If you google home warranties in Arizona, many ads of different home warranty companies will pop up. Don't waste time checking every site and reading the same praising words about each company.
Cut to the chase! DoNotPay will assist you in considering the benefits, drawbacks, and pricing of popular companies—American Home Shield, Choice Home Warranty, and Select Home Warranty:
Home Warranty Company
Benefits
Drawbacks
Price

Offers 24/7 online service

Doesn't require a home inspection or maintenance

Lets you set the price of a service call on your own

Allows you to create your plan

Doesn't let you choose your technician

Poor customer service

Systems Plan: $49.99 per month

Appliances Plan: $49.99 per month

Combo Plan: $59.99 per month

Offers after-hours service

Allows free cancellation within 30 days

Basic Plan: $36 per month

Total Plan: $44 per month

Has affordable service fees

Offers free roof coverage

Provides a 90-day repair guarantee

Offers low coverage caps

Has a slow response to warranty claims

Bronze Care: $35.83 per month

Gold Care: $35.83 per month

Platinum Care: $37.50 per month
Use DoNotPay To File a
Home Warranty
Claim in
AZ
Different home warranty companies have different methods for submitting warranty claims. Regardless of which company you decide on, DoNotPay will swoop in whenever you need to file a warranty claim. Not only can we handle warranties for your home but for your car and any purchased item, too. 
Focus on choosing the best warranty company for your home, and we'll deal with the claims.
Check out how it works:
Visit DoNotPay in your

web browser

Choose our

Claim Warranty

feature

Click on

Home Warranty

Enter the warranty company name and answer some questions

Submit

your claim
You have done your part—we take it from here! DoNotPay will build your case and send your warranty claim letter to the home warranty company. Once the company receives the claim, its customer service rep will contact you to schedule warranty service.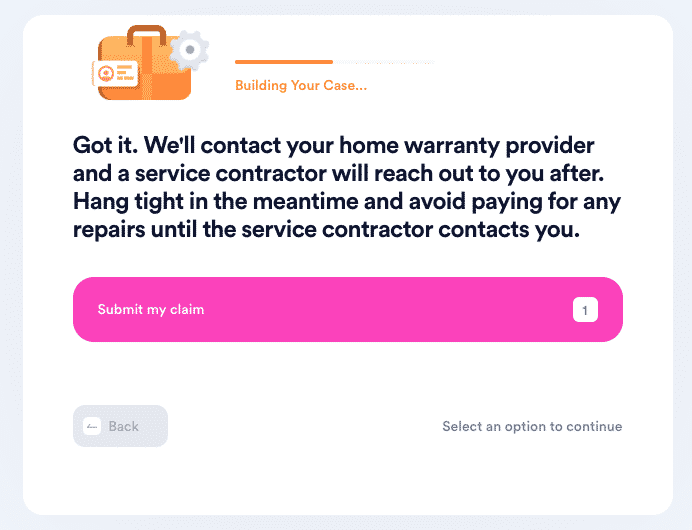 Appeal Any Rejected Warranty Claim With the Help of DoNotPay
When you have to deal with a company rejecting your warranty claim, you could use a hand. Lean on our app to be your virtual assistant! DoNotPay—the first robot lawyer—is adept at managing legal, financial, and administrative issues. The American Bar Association recognized our efforts to assist numerous people in legal battles. We received the 2020 Louis M. Brown Award for Legal Access. You can rest assured you're in good hands!
All you need to do is:
Access DoNotPay from your

web browser

Locate our

Claim Warranty

option

Click on

Appeal a Denied Warranty Claim

Answer a few questions about your original warranty claim

Tap on

Submit
Once you go through these short steps, we'll hit the company with an appeal letter we created based on your info and relevant warranty laws to back it up.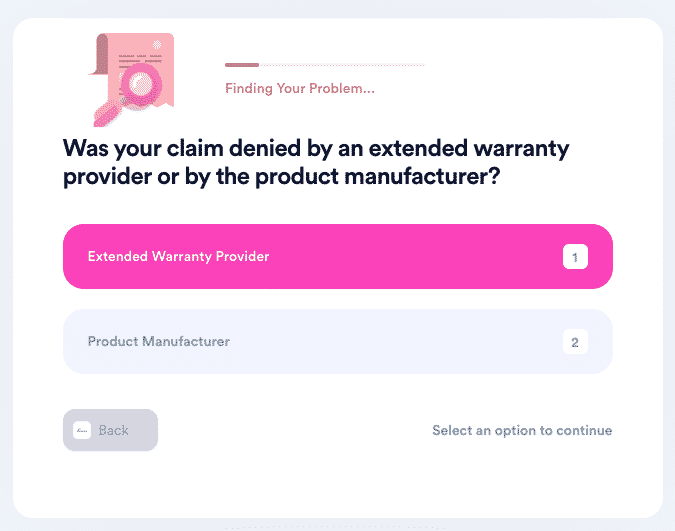 DoNotPay Helps Arizonians in More Ways Than One
Check out our succinct and informative guides on solving problems you may face as an Arizona citizen. Learn how to:
When Problems Arise, Turn to DoNotPay
Apart from working towards getting you the best home warranty of America, we can show you how to block home security robocalls.
DoNotPay can also provide assistance with your car warranty troubles, such as obtaining and claiming an extended warranty for used cars, as well as facing a dealer that refuses to cancel your extended warranty.
When issues get too hot to handle, we'll do our best to offer a shortcut or a quick fix. Open DoNotPay in a web browser when you need help with:
Contesting your traffic tickets

Appealing your speeding tickets