The Essential Info About Homeschooled Students
Before getting started in homeschooling, consider the effect this learning environment will have on your child. It's crucial to understand how homeschooled students do academically compared to their peers in private and public schools.
DoNotPay is here to present the essential information regarding children acquiring knowledge at home. We can also help you inform the authorities of your wish to homeschool your child by sending them a letter of intent.
What You Should Know About Homeschooling in the U.S.
Around two million students are being homeschooled in the United States due to various reasons, such as religion, illness, or safety concerns.
The homeschooling situation in the U.S. is not the same in all parts of the country. Some states are more homeschooling-friendly, while others have strict regulations. You can check out DoNotPay's guides to all state policies in the table below:
The COVID-19 outbreak in 2020 forced many families to take their children out of schools and start teaching at home mid-year. This was an opportunity for parents to see how the process works and assess potential benefits, so many decided to stick to home-based teaching.
Are Homeschooled Children at an Academic Advantage Compared to Their Peers in Schools?
Parents still wondering whether it is a good idea to homeschool are mostly worried about their child missing out on education provided by certified teachers.
According to available research, there is no reason for concern since homeschooled students either perform the same or better than their peers. Even if you are not a certified teacher, you know your child better than anyone and can focus your time and energy on their specific needs.
Homeschooling allows you to adjust the learning process to the child's skills and temperament.
Records also show that homeschooled children perform better in college than students from public schools because homeschooling offers more room for independent learning, similar to the mostly unsupervised study environment in college.
Do Homeschooled Students Lack Socialization?
Another common concern of homeschooling parents is keeping their children in a perfect bubble and not having them adequately prepared for the real world. Even though your child won't be surrounded by as many children as in school, you can still help them socialize.
Homeschooling socialization comes with an advantage—you can choose the company for your children. There are numerous co-ops you can join, so your kids can be friends with other homeschooled students. Many states let homeschooled children join sports leagues, which is a great opportunity to meet other students.
Homeschooled Students and Teachers—How Will the New Situation Affect Your Relationship?
For children who are used to going to school and are supposed to switch to a new learning dynamic, homeschooling is a big change. Parents are in the same situation, and many worry about how becoming a teacher to their children may affect their relationship. You shouldn't worry if you manage to:
Maintain authority
Separate school time and family time
As long as the child can see you as an authority during homeschooling hours and respect you as a teacher, both of you will thrive in this environment. If anything, you and your child will bond and strengthen your relationship by spending so much time together.
What Do You Need To Do To Get Started With Homeschooling?
After you've weighed the pros and cons of homeschooling, you need to think about taking the first steps toward teaching at home. Most states require parents to inform the local authorities about their choice to homeschool. You will need to send a letter of intent to homeschool to the superintendent in your school district.
If you don't know how to create this legal document, you can turn to DoNotPay for help!
Create a Letter of Intent in a Flash With DoNotPay
You don't need to waste time creating a letter of intent yourself—DoNotPay can handle the task in a matter of minutes. Our app will make sure this important legal document is written according to local law. You only need to:
Select the Notice of Intent To Homeschool product
Provide us with necessary information about your school district
Answer some questions about yourself and your child
After you complete the short questionnaire, you can choose to:
Get your letter of intent notarized
Have us mail the letter on your behalf
Download the PDF and send the letter yourself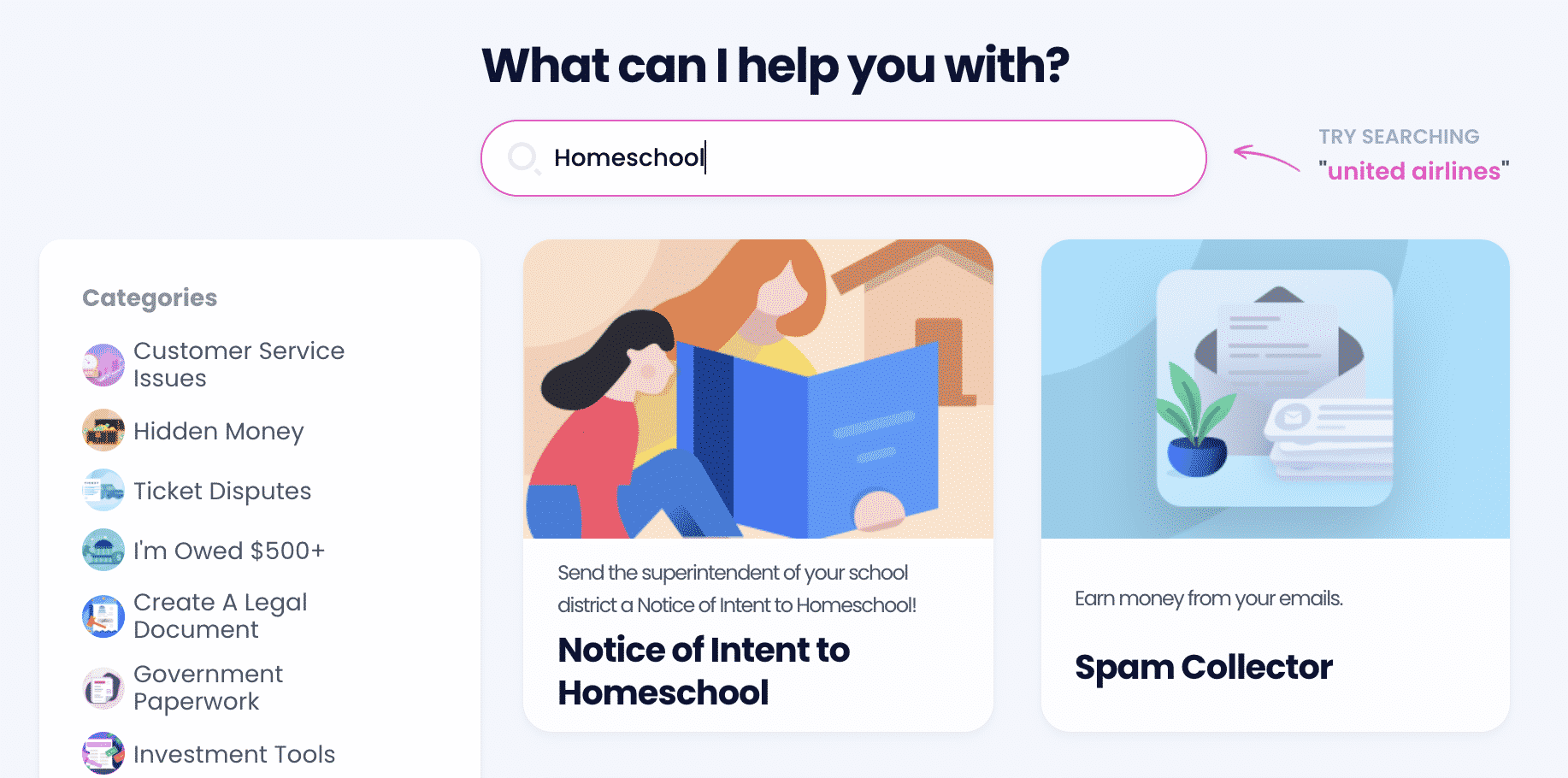 You can count on DoNotPay for more useful information on homeschooling. We can tell you:
DoNotPay Helps You Run Errands Without Leaving the Comfort of Your Home!
If you're on a tight schedule and you can't afford to spend hours running errands, DoNotPay steps in with a perfect solution! You can skip going to the post office to request an item return or visiting a notary public to get your documents notarized—Our app will help you get it all done without going anywhere!
Visiting your local Walmart to have your passport photo taken is unnecessary since DoNotPay can help you get it at home!
Consult the list below to see what other tasks you can complete using our app:
Unsubscribe From Unwanted Services at Any Time
Companies tend to keep charging their clients monthly subscription fees automatically if they don't end their subscriptions. Stop wasting money on forgotten memberships—DoNotPay will show you how to terminate your subscription in a few clicks!
You can also learn how to sign up for a free trial without getting charged, create a burner phone number or a virtual credit card hassle-free!